At midnight, New Zealand officially moved to our Phase 2 response as Omicron spreads in the community. This new stage is about remaining vigilant with self-management, as we collectively work to slow the spread of the virus and continue to keep our health service and communities in check.
Ready to step up to the plate, so to speak, are Auckland's leading restaurants. Scanning vaccine passes on arrival, limiting diners to a 100-person capacity and asking that patrons wear masks when not at their designated table not only abides by government guidelines, but helps everyone at that location feel safer.
"Our operators are well-oiled machines when it comes to upholding strict safety measures," says Samantha Saxton-Beer, Marketing & Brand Manager of Viaduct Harbour. With the added benefit of a waterfront setting with generous, wide-open spaces (including decks and terraces), the pandemic is not stopping them from delivering the quintessential waterfront experience that people come to the Viaduct for.
It also means operators can go a step further in spacing their tables. Peter Gordon's food embassy Homeland, for example, has spaced tables two metres apart (as opposed to the prescribed one metre). "You'll find this kind of 'above and beyond' approach is being taken at many sites across the wider Viaduct precinct," says Saxton-Beer. "I'm incredibly proud of our hospitality community for coming out shining from this period."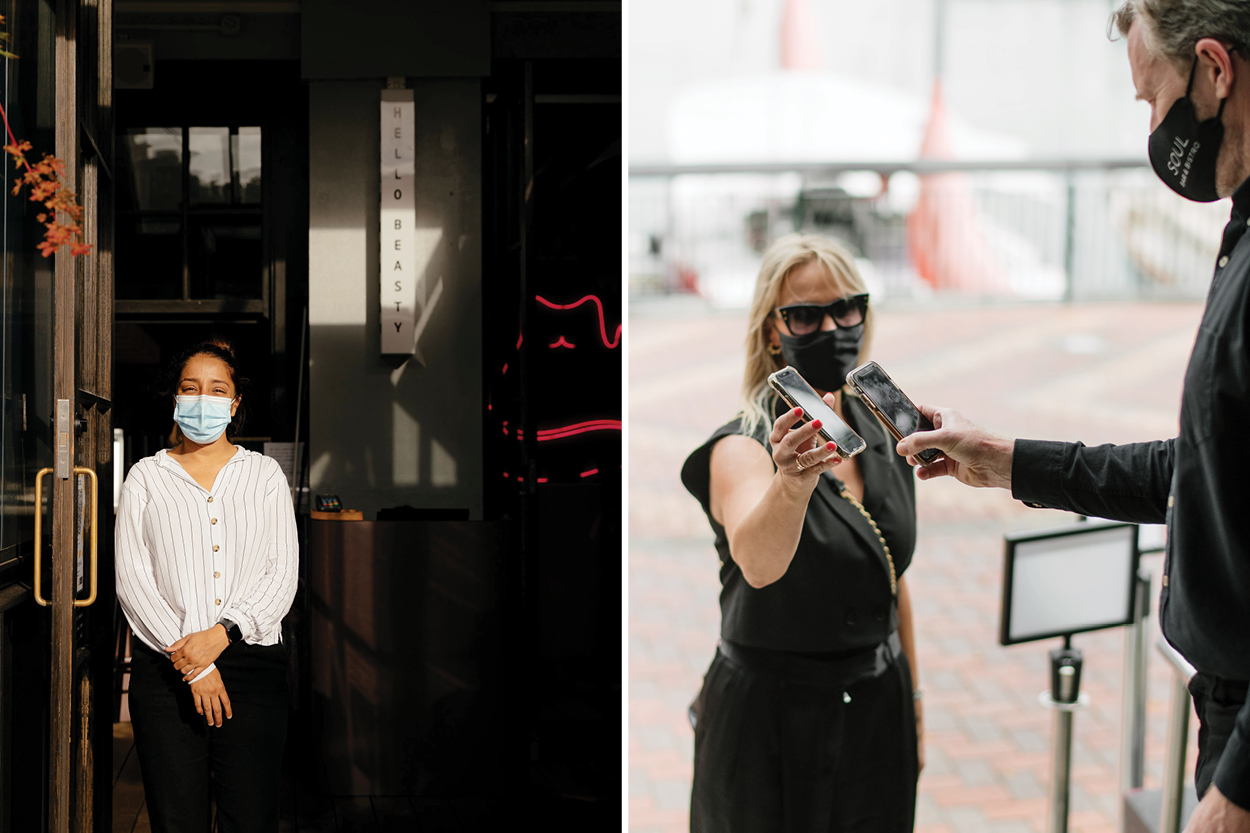 It has been said that our country has natural advantages that puts us in a position to be proud. (The Strategic Covid-19 Public Health Advisory Group chairman, Sir David Skegg, told RNZ he believed our country was more prepared for the Omicron outbreak than any other he could think of.)
By the same token, many of Auckland's leading restaurants are already in a position to turn the restrictions into an opportunity to enhance dining experiences. At the Viaduct's Soul Bar & Bistro waiters welcome guests as soon as they arrive, and introduce themselves at the table (over an offering of hand sanitiser) to ensure they have created a sense of connection in these strange times.
"Everything that is being mandated, we are taking really seriously," says Olivia Carter, the Viaduct establishment's Commercial & Events Manager. "As soon as you see Soul, you can tell."
While they are strict, that doesn't mean fun has been ruled out. Soul is still employing DJs to keep up the good vibes going for their Friday and Saturday service — and to encourage people to still come to the city for a (only slightly more sensible) night out. The tables can't be cleared to make way for a dancefloor, but there is still plenty of toe tapping from both the waiters and their guests. "Our staff are really thankful for everyone coming through the doors, and they want to make sure they have a good time," adds Carter.
The Nourish Group looks after a stable of sophisticated restaurants including Soul, Andiamo and Jervois Steak House. "If anything, we hope our guests feel even more comfortable coming in, knowing that we're doing everything we can to keep them safe," says the Group's Director Richard Sigley.
At their bars and eateries, including The Brit and The Crab Shack, diners can digitally order and pay for a meal (or the next round) from their table, which keeps patrons seated safely, and helps the staff who can be run off their feet.
As a result of the pandemic, there have been severe staffing shortages across the industry. Sigley's words to the wise diner are to come to a restaurant prepared with what is required of you — with a mask and pass, patience and understanding. No shows are a "no-no", so if your plans do change (as they could) it's crucial to inform the venue of any booking changes.
"I think hospo has been getting a bad reputation for being high-risk and there is a lot of nervousness about visiting us, but with a little understanding and some modifications, we can still offer a fantastic and safe experience," he adds. "Even if people are hesitant to dine in, grabbing an outdoor table or asking about take-away options will go a long way in carrying the industry through these trying times."
Being able to adapt is a skill all busy restaurants have needed to ensure a seamless and safe experience. "It has been a challenge throughout every stage of the pandemic over the past two years," says Lucien Law, the Co-founder of Savor Group, which owns such delicious eateries as Azabu, Amano, Ebisu, Bar Non Solo and Ostro. "While we can't fill our venues as we have before, we are still ensuring our guests have the best time they can, as safely as we can."
With teams that are driven by looking after others, and creating memorable experiences, it's no surprise that the safety of Savor Group's staff and customers are a top priority. As well as enacting the usual requirements, and robust health and safety policies, Savor Group has been treating its venues with Zoono, a long-lasting antimicrobial solution that is non-toxic, since the first lockdown in 2020. But that's not all — the team is also continuing to develop their offering across their restaurants and online store, to keep things new and exciting.
"We are continuing to create a wonderful vibe through what we do best, to deliver exceptional food, beverage and service," says Law. "We are forever grateful for the support that people have given us, whether it be through our online business or through visiting our venues."
Ultimately, these pandemic years are about looking after one another. And, as the news, conversations and situations we find ourselves in become increasingly charged (both politically and in terms of our protection) looking after ourselves is something we need to make an effort with as well.
As Saxton-Beer says: "We need to be mindful of taking time out to do the things that we enjoy most, the things that restore our energy and mental health. Now more than ever is the time to book in that lunch with your best friend."