Lockdown has reawakened within us the need to bake. Whether it be for procrastination or as an activity to lift the spirits, baking at home has never had a more engaged audience. Capitalising on this with her Instagram (@kitchenoftreats) bursting with tantalising sweet treats, Liv Glazebrook is coming to our rescue with a raft of recipes to fulfil our lockdown needs. But this one caught our eye. The perfect mix of satiating and sweet, these pecan and caramel sticky buns are set to hit the spot, especially when served fresh from the oven. Here's how to make them at home.
Pecan caramel sticky buns recipe
Serves 12
Ingredients
Dough
¾ cup water
¾ cup whole milk
8g active dry yeast
¼ cup caster sugar
1 teaspoon salt
3 tablespoons neutral oil
4 cups high grade white flour
Filling
1/4 cup butter, softened
1/4 cup brown sugar
2 ½ teaspoons ground cinnamon
3/4 cup brown sugar
1/2 cup cream
1 ¼ cups roughly chopped nuts (this recipe uses pecans, you could also use walnuts or macadamias)
Method
1. Mix together water and whole milk, heat in the microwave until lukewarm then add yeast and stir until dissolved.
2. In a large bowl, mix the yeast mix with the sugar, oil, salt and 1¼ cups flour. Beat on medium speed until smooth. Stir in the remaining flour to form a soft dough.
3. Turn the dough onto a floured surface before kneading with hands until smooth and elastic — approximately 6-8 minutes. Place in an oiled bowl. Cover and let rise in a warm place until doubled (about 1 hour).
4. Punch the dough and turn onto a lightly floured surface. Use a rolling pin to flatten the dough into a rectangle shape, ensuring it maintains an even thickness.
5. Spread softened butter over the dough rectangle, then mix together sugar and cinnamon and sprinkle on top. Use your fingers to gently press the sugar/cinnamon mix into the dough. Give it another roll with the rolling pin.
6. Roll up the dough (from the long-side) and carefully cut into 12 even slices.
7. In a small saucepan combine brown sugar and cream until it is incorporated and smooth to form a caramel. Pour this caramel into the bottom of a baking dish, making sure that it evenly coats the bottom. I used a glass 40cm x 25cm baking dish.
8. Sprinkle chopped pecans over the top of the caramel.
9. Arrange the 12 rolls on top of the caramel and pecans, then cover and let rise in a warm, draught-free place until doubled in size.
10. Bake at 180°C for 25mins, the scrolls should be golden brown.
11. Remove from oven and allow to cool for 2 minutes, then place a large serving tray over the top of the baking dish. Very carefully (using oven mits) hold onto both the tray and dish and flip over. Remove the baking dish and allow to cool for 15mins.
12. Serve immediately so that your sticky buns can be enjoyed warm.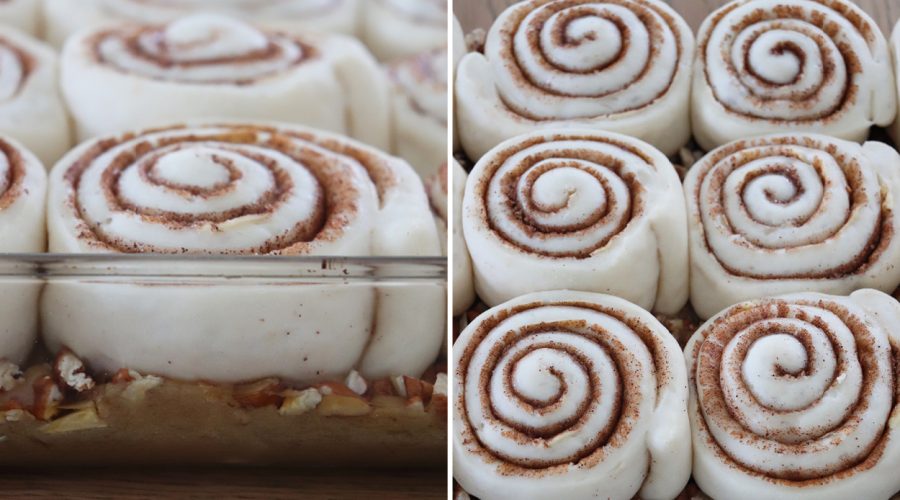 Notes: Bread maker method
1. Mix together water and whole milk, heat in the microwave until lukewarm and add yeast. Stir until dissolved.
2. Pour the yeast mix into the bread machine followed by the sugar, salt, oil and flour. Set to dough setting as per bread machine instructions.
3. Once complete, turn dough onto a lightly floured surface and roll into a rectangle. (Follow the rest of the method above.)