By now we all know the comfort that can be found in a home-baked cookie. But, not all chocolate chunk cookies are created equal. Liv Glazebrook from @kitchenoftreats has adapted this recipe to include Whittaker's Dark Ghana and Creamy Milk chocolate as well as a sprinkling of sea salt flakes for a synthesis of sweet and salty. Read on for her unrivalled recipe and its tasty tips.
Favourite Salted Chocolate Chunk Cookies Recipe
Makes 28 (depending on size)
Ingredients:
125g salted butter, cubed
415g all-purpose flour
1 ¼ teaspoons baking powder
1 teaspoon baking soda
½ teaspoon salt
320g brown sugar
100g granulated sugar
2 large eggs
2 teaspoons vanilla
250g Whittaker's 72% Dark Ghana chocolate, chopped into large chunks
150g Whittaker's 33% Creamy Milk chocolate, chopped into large chunks
Flaky sea salt for sprinkling on cooked cookies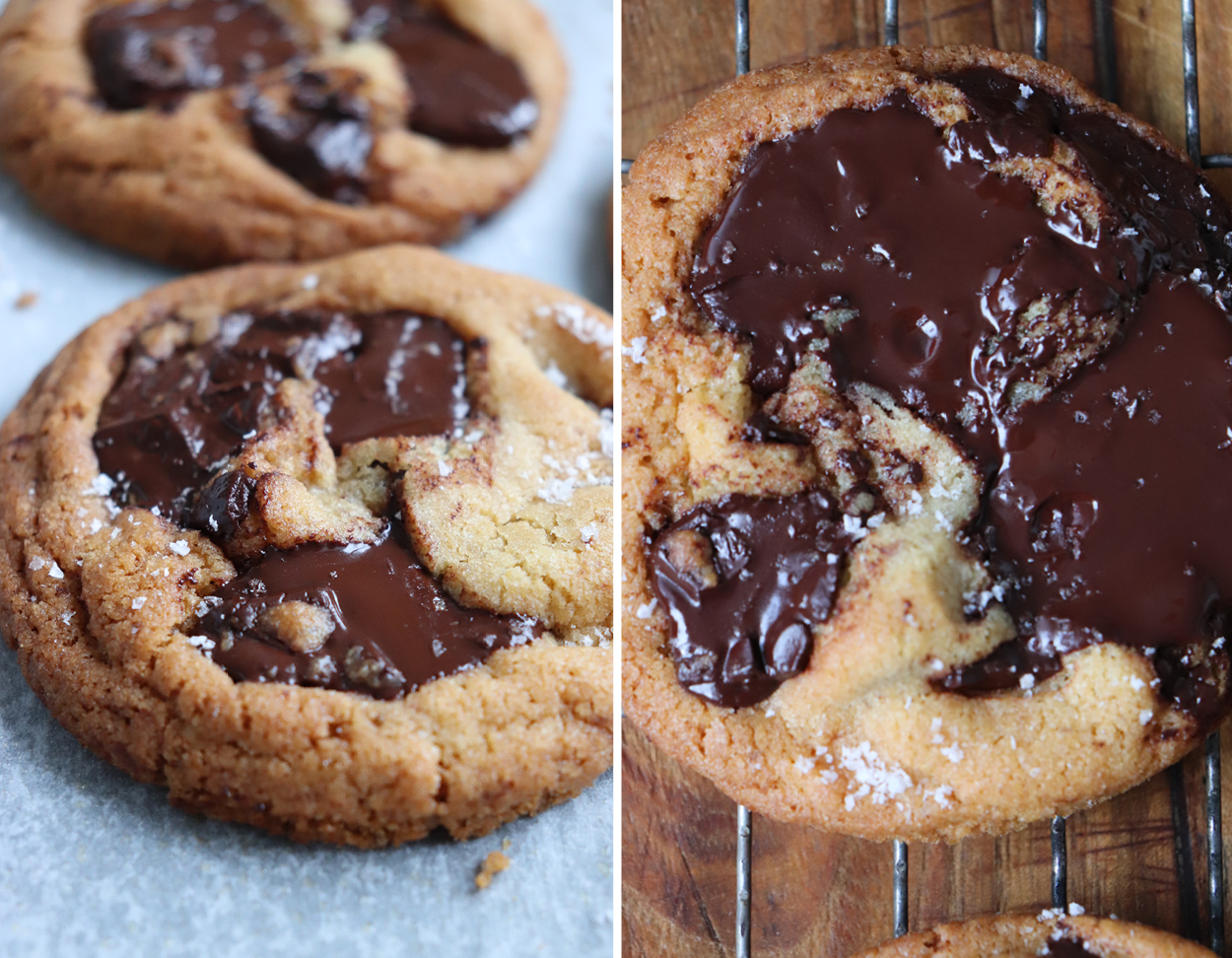 Method:
1. In a medium saucepan over the lowest heat possible, melt the butter. (Note – the butter should be barely melted, we don't want the butter to lose any moisture otherwise the cookies will be dry.)
2. In large bowl, sift together the dry ingredients (flour, baking powder, baking soda, and salt.) Set aside.
3. Add the sugars to the melted butter and mix until it is well integrated.
4. Then add the eggs, one at a time to the butter mixture, mixing well after each addition until combined. Stir in vanilla.
5. Add your wet mixture to the dry ingredients and combine all together using a spatula. Once blended, add most of chopped chocolate and mix until just incorporated (reserving about 50g of Dark Ghana to add to the top of the cookies).
6. Roll the dough into small balls (50g each) and place on a baking tray (you don't need to worry about spacing them out). Press the remaining chocolate onto the top of each ball (this creates 'chocolate pools' when the cookie cooks).
7. Transfer the cookie balls on the tray to the fridge for about 1 hour.
8. Towards the end of the chilling process, preheat the oven to 180˚C and line 2 baking trays with baking paper.
9. Place about 6 cookies on each tray. Bake for 10-14 minutes — cookies should be nice and golden on the outside.
10. Remove from oven, sprinkle with flakey sea salt and allow to cool for a few minutes before transferring to a wire cooling rack.
11. Once cool, store in an airtight container.
Top Tips:
Feel free to chop and change the chocolate you use, but don't substitute high quality chocolate with chocolate chips – the chocolate is what makes the cookies so delicious.
I use Whittaker's 72% Dark Ghana to add onto the outside of the cookie — it seems to make for the best 'chocolate pools'.
Chilling the dough is not necessary, but allows the flavours to develop and helps ensure the cookies hold their shape when cooked. (I chill for 1 hour, but you can chill them for up to 24hrs in the fridge).
The dough freezes well, once the dough balls are chilled, transfer to an airtight bag and store in the freezer. When it comes to cooking, the dough can be cooked straight from frozen. (No defrosting is required— just reduce oven temperature to 165˚C and increase baking time as required.)
Adapted from a Tara O'Brady recipe.