If you love ordering beef tartare when dining out but have always been too nervous to try making it at home, we suggest trying your hand at the famous Jervois Steak House recipe — certainly one of the restaurant's signature dishes. It might be remarkably simple to put together, but this means the freshness and quality of your ingredients is paramount. Read on for JSH Executive Chef Gareth Stewart's top tips and find the recipe below.
"Beef tartare is a quintessential steakhouse dish; diners will often judge the quality of a restaurant on its execution. It's also something that's both impressive and a bit different to serve at a dinner party. At Jervois Steak House, we've kept our ingredients classic, but with the presentation, we've changed the model so you mix in the garnishes yourself. Make sure you foster a close relationship with your butcher; tell them you're making tartare so they can give you the highest quality cut of meat with no sinew or fat. And remember to always keep it on ice right up until serving, so it's properly chilled."
Tip: Look out for meat that is too red and really spongy to the touch. Firm meat that has a darker colour means that it has had time in the hook which is what you want. We use Taupō Farms at JSH which is sustainably and ethically farmed. Grass-fed is also perfect for tartare as it has the best flavour when eaten raw.
For local butchers operating via contactless delivery, consult our guide to the specialty stores trading during lockdown.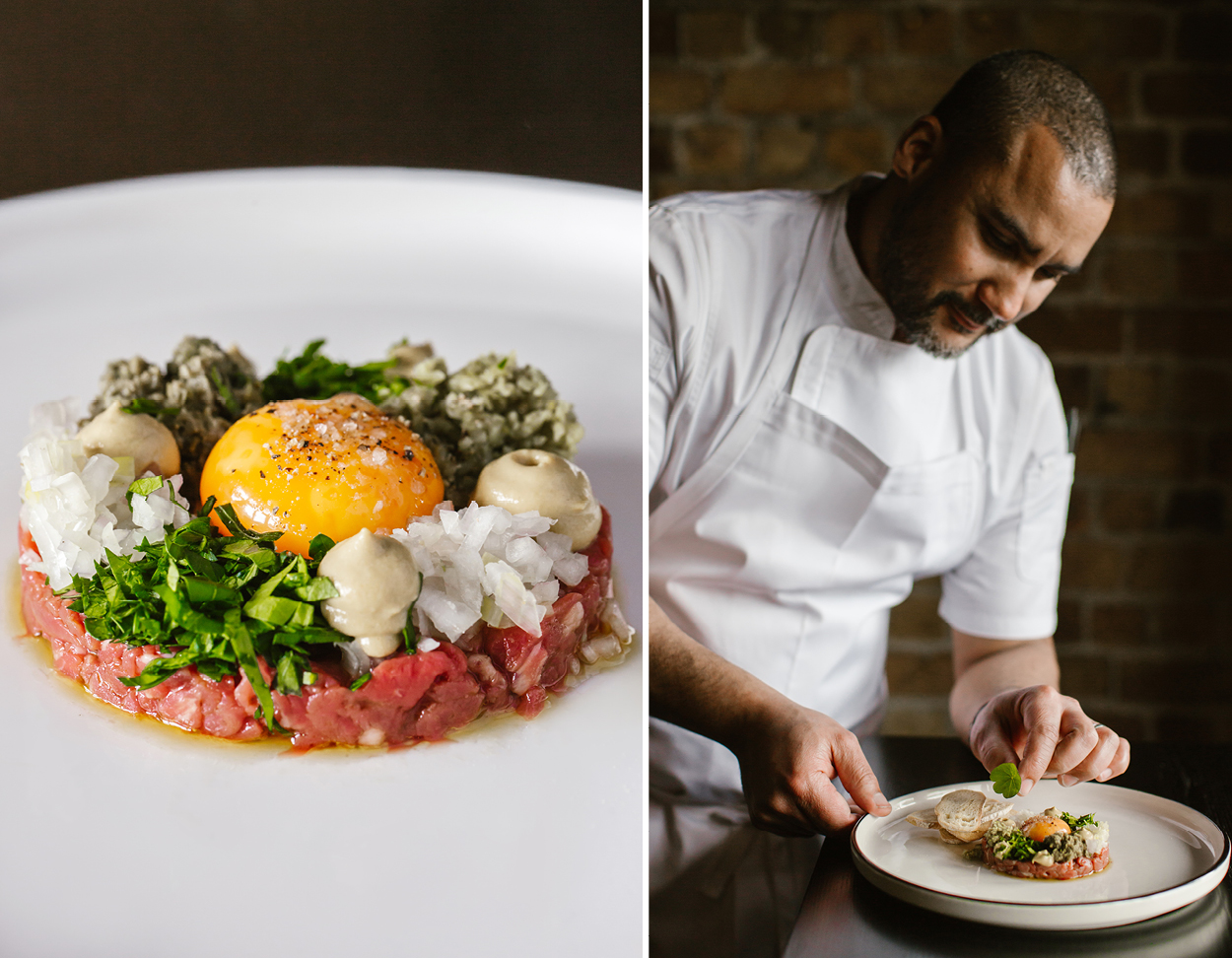 Jervois Steak House's Classic Grass-Fed Beef Tartare Recipe
Serves 4
Ingredients
360g beef eye fillet
2 tsp Worcestershire sauce
3-4 drops Tabasco sauce (or any preferred hot sauce)
1 each medium-sized baguette for toasts
150ml extra virgin olive oil for brushing the toasts
8 tsp finely chopped shallot
4 tsp finely chopped parsley
4 tsp finely chopped capers
4 tsp finely chopped cornichons
4 tsp Dijon mustard
4 raw egg yolks
Flaky salt, for seasoning
Black pepper
Equipment
Tray
Pastry brush
Bowl
Medium-to-large sized round pastry cutter
Method:
1. Preheat the oven on the grill setting, for toasting the bread.
2. Slice the bread into 16-20 thin slices and lay onto a baking tray. Brush with extra virgin olive oil and season with flaky salt. Toast until golden on both sides.
3. Season the beef with salt and pepper and combine with the Worcestershire sauce and hot sauce in the bowl. Divide the seasoned beef into four balls.
4. Place a pastry ring cutter onto a serving plate and push one of the beef balls into the ring to make it level. Repeat for the remaining three plates.
5. Leaving space for the yolk in the centre, place the shallot, parsley, capers, cornichons and mustard in small piles around the top of the seasoned beef.
6. Separate the eggs using the shell to catch the yolk and carefully place the yolk into the centre.
7. Season the yolk with a pinch of flaky salt.
8. Leave it up to your guests to break the yolk and mix everything together and use the toast to scoop up your classic beef tartare.