Is being good at cooking an inherent, or a learned skill? I had assumed it was the latter. But when I put the question to Hercules Noble, a culinary wunderkind whose star is on the rise, his answer is characteristically balanced. "You do need courage and you definitely need to be a bit bold, but cooking is mostly instinctive," he tells me, before offering a caveat, "that doesn't mean you have to be naturally gifted, it just means that you have to have had enough experience."
Experience, it seems, comprises most of Noble's culinary education. He grew up in an open-minded, creative home with parents encouraging him to pursue something that he loved. His mum even helped him get his first job in the kitchens of Little & Friday. After deciding against a traditional university degree, Noble sought work on a vineyard in Bandol, in the South of France — the same vineyard, in fact, that his father had worked on when he was of a similar age. At the Châteaux de Pibarnon, Noble learned as much about food as he did wine, spending his mornings sorting through grapes and his afternoons at the local markets, sourcing ingredients for dinner, which he would cook for the whole domaine.
"We had access to the incredible produce of the Mediterranean," he explains, "but we also had food coming in from places like North Africa." He pauses, "have you ever had a fresh date? Not the dry ones we get here, but a truly fresh one? They're incredible." Noble (and his food) made such a good first impression that he was invited back to the Châteaux the next summer, and the summer after that, hosting pop-up restaurants and parties that helped him to refine (without knowing it at the time) the socially-focused, open style of cooking he would eventually offer his clients as a private chef.
Noble's ability to grab opportunities and learn as much as he can from the people who subsequently fall into his orbit, has served him well. For example, when a family friend in New York was diagnosed with cancer, the young chef offered to fly over and manage the strict diet his friend's illness demanded. "Having to research, track and weigh everything I was cooking, I learned a hell of a lot," he tells me, "like the fact that cruciferous vegetables should always be chopped 45 minutes before cooking, because it allows an enzyme they contain to multiply, upping their nutritional density."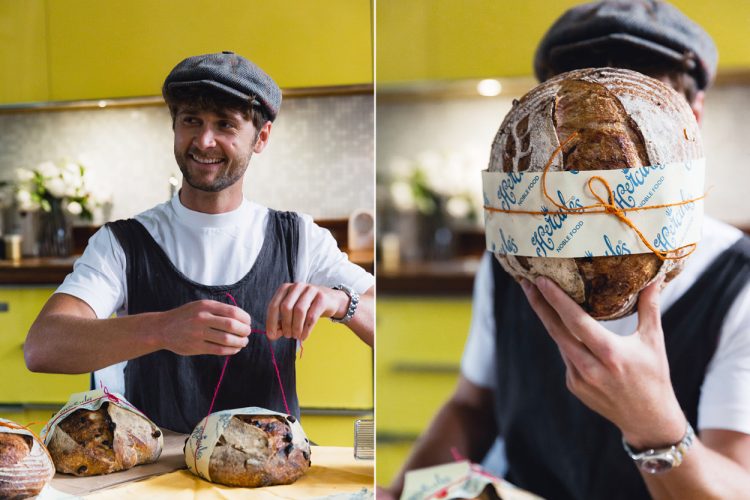 Last year, Noble was invited to spend lockdown as the private chef for a large household in Coatesville, where he was given a carte blanche to cook breakfast lunch and dinner for around 15 people everyday. "I have a habit of not thinking about things and just sort of jumping into them," he tells me, "but it was so much fun, I really thrive off that sort of thing."
Noble's ability to think on his feet in a creative way is the backbone of his prowess in the kitchen. And the fact that he is where he is without any formal training is quite astounding. "Lots of YouTube," he divulges, laughing, when I ask about where he turns for guidance. "And, honestly, Jamie Oliver," he continues, "he gets a bad rap sometimes because he does accessible, simple food, but I'll often go back to his recipes when I need some inspiration."
In fact, simplicity seems to be one of Noble's guiding principles. He creates hyper-seasonal food that is pared-back, wholesome and infused with unexpected elements, dreaming up original flavours that aren't tied to any specific 'cuisine.' His oeuvre is defined by the combination of his versatility and a natural tendency for balance. A menu by Noble might include dishes like roast peppers with capers and white anchovies, mozzarella with marinated apple, guava and macadamia and plum and rosemary tart. When he caters a pop-up restaurant or a party (as he sometimes does at establishments like Ponsonby wine bar, Annabel's), he might cook spiced chicken and mushroom tacos with date and garlic aioli or snapper ceviche with burnt orange and burnt baby capsicum on an open grill. 
Despite having worked around the world, Noble tells me his favourite kitchen is still the one on his family's land, Brodie's Creek on the Karikari Peninsula. Up there, the oven is wood-fired, the stove-top is al fresco, the ingredients are grown on the land and the living quarters — like Noble's self-made shipping container bedroom — are stripped-back and refreshingly unpretentious. "Being at Brodie's and having my own garden is what inspires me," he says. "It's easy to say 'seasonal ingredients', but when I actually have those things growing in front of me, and I'm standing in the sun in this beautiful environment with an open fire to cook on, and friends and family to cook for, that's what I love."
Noble's affinity with the land up north inspired him to start working towards using only ingredients grown and sourced in New Zealand. He recently started making sourdough which has found a keen audience on Instagram for its unique iterations like olive-rosemary and orange-dark chocolate. He has also started using fresh-from-the-farm dairy to create flavoured butters that will accompany the bread. "I think Covid-19 has been a bit of a warning," Noble says, "it's given us an opportunity to knuckle down and support local a lot more."
Noble's love for food is amplified by the freedom he has around it. Freedom to be creative, considered and challenged. To offer dining experiences that are tailored specifically to the individual and to change his modus operandi when he feels like it. Success, for this chef, doesn't mean scaling-up or creating products for the masses. Instead, it's about keeping things personal. "I like to listen to what someone wants and respond with original ideas. Experimentation is where the creativity comes in," Noble explains, "which, I think, sets me apart, and allows me to feel connected to the people I cook for."