Whoever it was who first decided to throw their food into a deep pool of hot oil, we would like to take a moment to show them our appreciation. The process of deep-frying can take any food from zero to hero in a matter of minutes and the chefs in this town seem to be well aware of its capabilities. But while deep-frying potatoes to turn them into the delicious hot chips we know and love is common, eateries have really started pushing the boundaries around what can be achieved with a deep fryer. Here, we round up some of our favourite deep-fried delights in Auckland.

Korean-style hot dog from Han
The modern Korean restaurant, Han, offers two renditions of the classic North American fair food on its lunch menu. The K-Dog sports a housemade bun and specially made sausage by Grey Lynn Butchers and is undeniably delicious. But in terms of satisfying the craving for deep-fried goodness, it's the Korean-style hot dog under the 'Smaller Bites' that you should make a beeline for. The juicy sausage is wrapped in thick, fluffy bread and deep fried to give it a doughnut-like texture. It is then coated in sugar and paired with kimchi yoghurt to achieve a tantalising combination of sweet and savoury.

Fried birthday cake from Lowbrow
Deep-fried is basically synonymous with Lowbrow. Hot wings and fried chicken sandwiches are just the beginning at this eatery, where they even go as far as to throw vegetables into the sizzling oil. But while the deep-fried nacho pickles are delicious, the fried birthday cake is the true stand-out. Milk-battered chunks of vanilla funfetti sponge cake are paired with a waffle cone-flavoured soft serve, to offer a dish that is truly one-of-a-kind.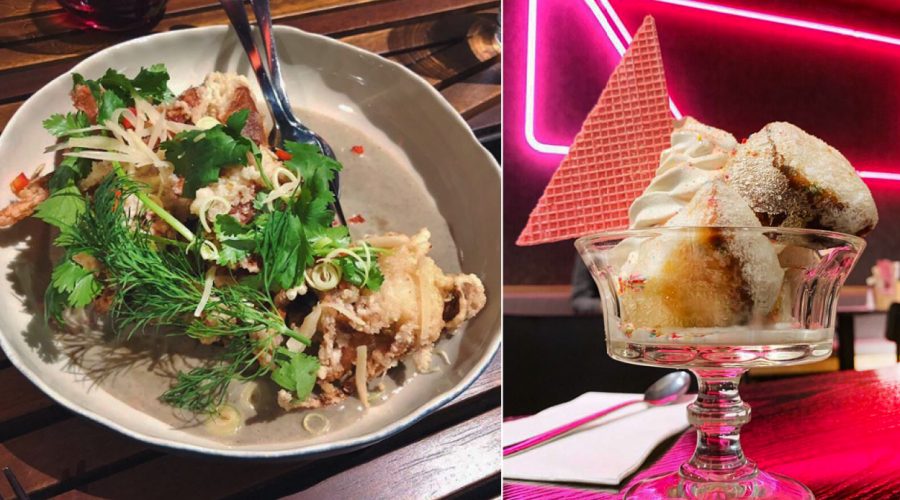 Tempura eggplant from Azabu
Speaking of deep-frying vegetables, you can't get much better than Azabu's tempura eggplant. The batter is fluffy, light and crispy beyond words and is glazed with a semi-sweet hatcho miso sauce. The delightfully thick hatcho miso is kept separate from the tempura batter which stops the batter from going soggy. The eggplant, meanwhile, is so tender that it melts in your mouth with every bite, offering an enticing contrast between the crunch of the batter and the soft vegetable inside.

Fujian oyster pie from Sha Xian Snack
Situated on Dominion Road, you wouldn't expect this lowkey restaurant to serve up dishes as other-worldly as its Fujian oyster pie, where Sha Xian Snack takes battered oysters to a whole new level. The crispy, deep-fried pie is filled with finely chopped vegetables, seaweed and a juicy oyster which bursts with ocean flavour and with chilli oil sitting on every table in the restaurant, we recommend dousing the pie in spice for an extra kick.

Crispy kumara fries from Kai Eatery
Despite deep-fried potatoes (in their usual form) being far too basic for this round-up, Kai Eatery's crispy kumara fries are the only exception. Large slices of kumara are battered and deep-fried to achieve the ultimate level of crispiness. The deep-frying process caramelises the kumara, accentuating its underlying sweetness, while the whole dish is sprinkled with a plum sugar seasoning which is utterly delicious and almost impossible to find anywhere else.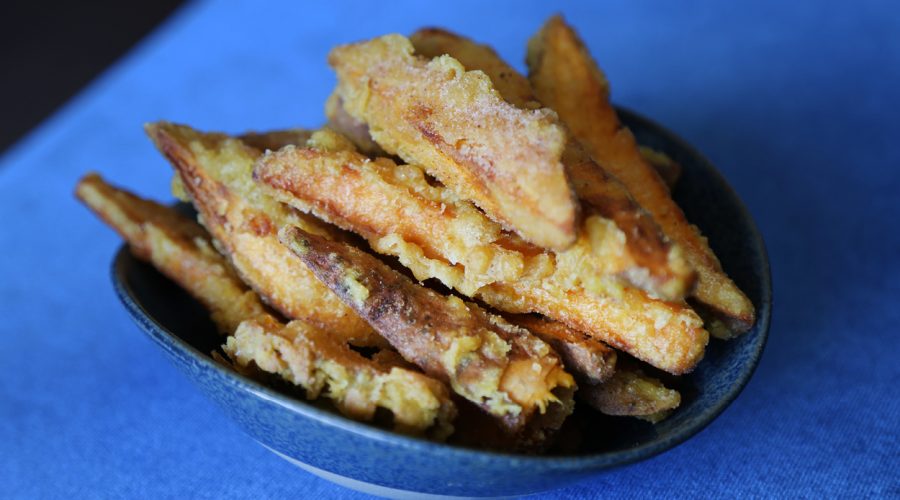 Crispy soft-shell crab from Saan
When you think 'deep-fried,' it would be normal to immediately envisage oil-dripping, artery-clogging indulgence. However, Saan showcases the cleaner, more pure side of deep-frying with its soft-shell crab. The light and crispy crab sits in a bed of coconut cream sauce which pairs perfectly with the side of sticky rice which you can roll into little balls and use to soak up as much of the tasty sauce as possible.

The fish hoagie from The Fed
There's nothing quite like a fried fish sammie and The Fed does one of the best we have ever tasted. The battered fish is seasonal, ensuring optimal tastiness every time and the buttered, pillowy-soft, toasted bun is lined with a crunchy slaw to elevate the crispiness of the deep-fried fish. Finished with a drizzle of slightly spicy Beaver's Coney Island mustard to cut through the rich flavours of this indulgent sandwich, we guarantee your fried food cravings will be happily satisfied.

Zhaliang from Sun World Chinese Restaurant
Yum cha is renowned for its steamed dumplings and comforting congee, but the deep fried dishes are not to be missed. One of our favourites is the zhaliang — a fluffy, deep-fried dough that has been wrapped in a soft rice noodle sheet. Basically a kind of Chinese doughnut roll, we recommend opting for the drizzle of sweet hoisin sauce and rich peanut sauce before it's served. The server will usually also ask if you'd like a sprinkle of sesame seeds, to which the answer should always be yes. This adds aroma and necessary richness to the dish.