However you celebrate Easter, there's no denying the joy of finding a delicious treat to enjoy. Like all great egg hunts, Denizen has set out to find the most enticing examples that can be devoured come Easter weekend.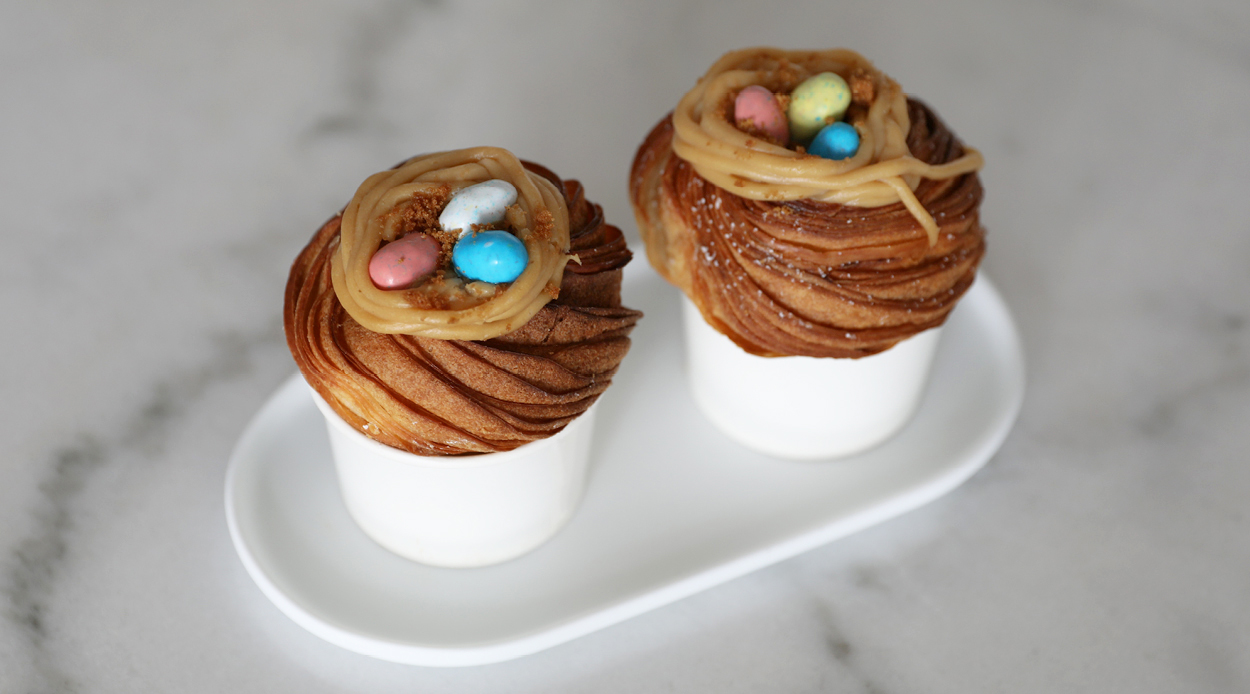 Holiday cruffins courtesy of Luna Bakehouse
To celebrate Easter the sweetest way, the incredible talents at Newmarket's Luna Bakehouse have taken their most famous delicacy and given it a holiday twist. The Easter Biscoff Cruffins (adorned with mini chocolate eggs of course) are perfectly flaky and not too sickly, with a delicious dollop of the much-loved spread on top — the perfect addition to a delicious cruffin.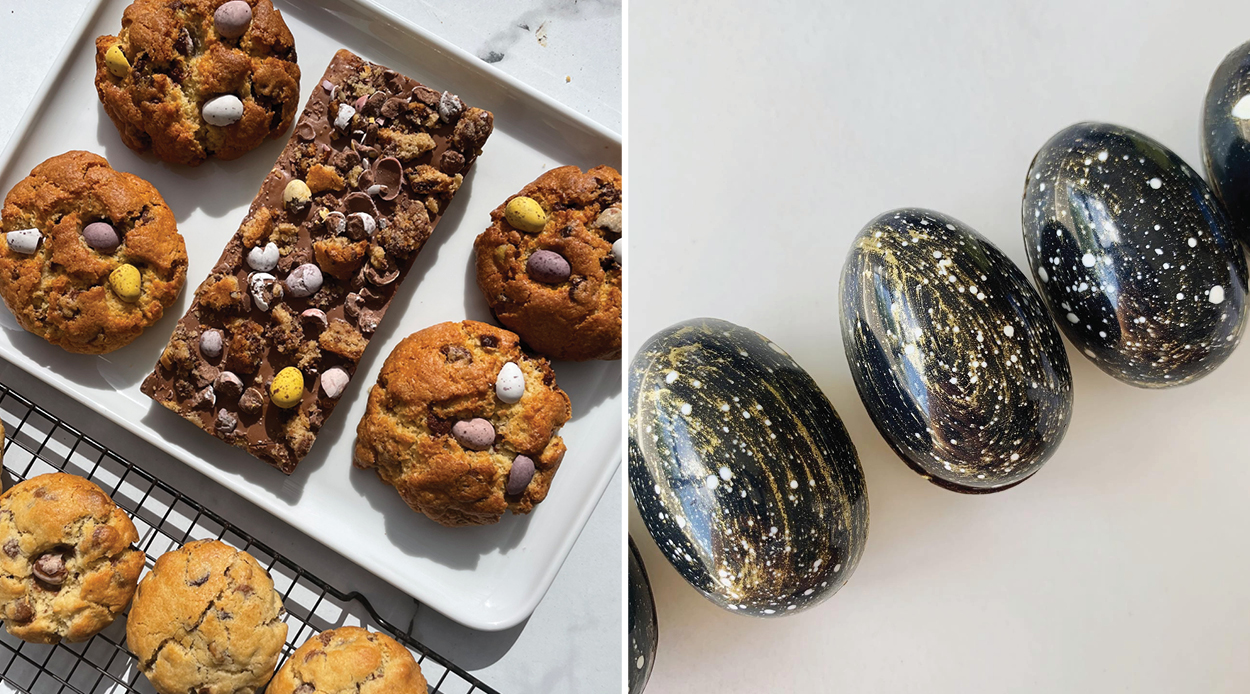 Sugar & Tempt
From the cult-followed cookie account Sugar & Tempt comes three delicious new offerings for Easter. The first is a NYC Mini Egg Easter Cookie, which exhibits the perfectly crunchy exterior, and soft gooey interior we have come to expect, packed with Equagold Milk Couverture Chocolate, as well as crushed and whole Cadbury speckled Mini Eggs. The Easter Cookie Bar is the first in a new Cookie Bar Collection. The base is made out of Sugar & Tempt's signature NYC Original Chocolate Chip and Walnut Cookie, with a thin layer of lusciously smooth caramel, topped off with a layer of melted chocolate and sprinkled with chunks of the same NYC Original Cookie, and Mini Eggs. The Easter Bundle includes both of these, with the addition of Mini NYC and Egg Easter Cookies. Orders go live on Sunday the 3rd of April here, with limited numbers available.
Honest Chocolat's painted, edible eggs
If you like your Easter treats to have an arty and artisanal touch, look no further than the Honest Chocolat boutique at Commercial Bay. Limited-edition creations for this year's collection are all made to honour the planet and its natural beauty. The Earth egg is made of organic 70 percent dark chocolate, with moreish chocolate almond clusters hidden inside, and an interpretive painting of the globe on the outside. The Tree egg is made with velvety milk chocolate and hand-sculpted to look like the bark on its namesake, with pieces of apple and vanilla fruit jelly hidden inside.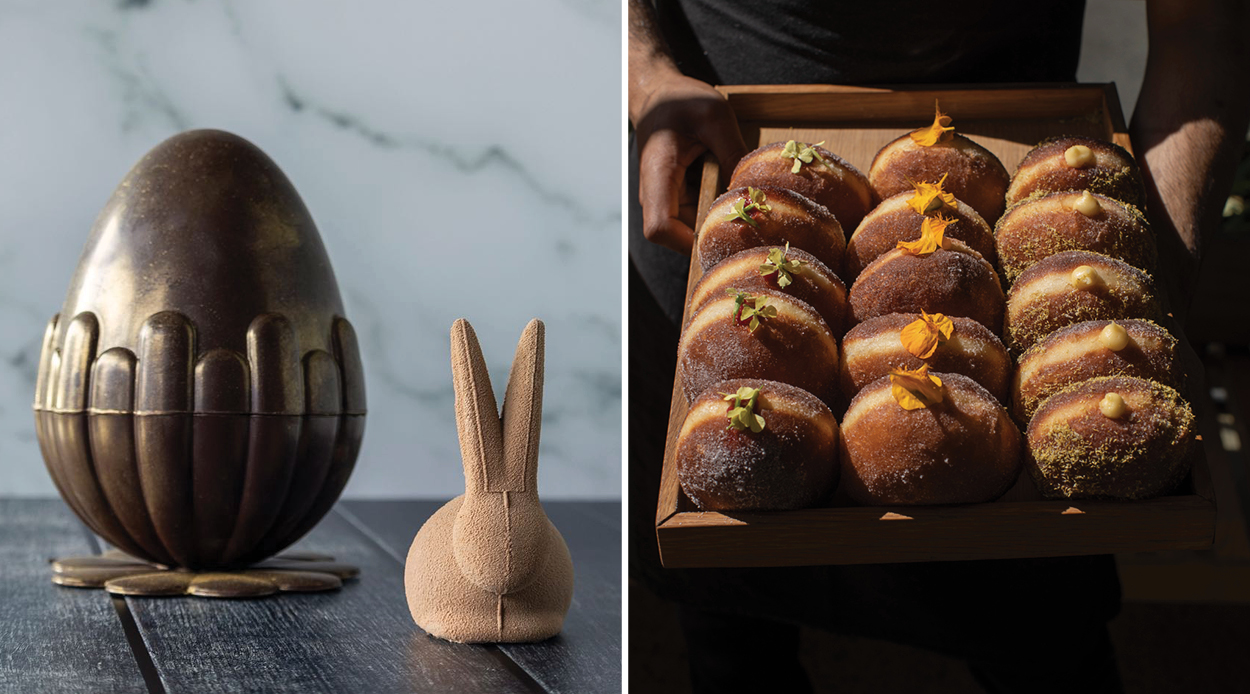 La Petite Fourchette's smashing chocolate egg
French patisserie La Petite Fourchette is creating a bit of drama this Easter with its new Dark Chocolate Smash Egg. The large creation is made with 55 percent Callebaut, dusted with gold, and comes with a cute wooden hammer so you can break your way to the goodies inside it. These include delicate rocher cocos, mixed sable biscuits, pistachio and dark chocolate bonbons, and melt-in-the-mouth white chocolate bonbons.
Alpha's custom custard doughnut
Alpha may have only just sprouted up in front of Pasture in Parnell, but this excellent brunch spot is already creating exciting Easter treats. For the occasion, its limited-edition doughnut is filled with a sweet and spiced sugar-cured egg yolk. Using sweet egg yolk for Easter comes from the Spanish and Portuguese tradition, and has been embraced here for its time-honoured tastiness. Plus, when you pull the doughnut apart at Alpha, it will look like an oozy egg, in the spirit of Easter egg hunting.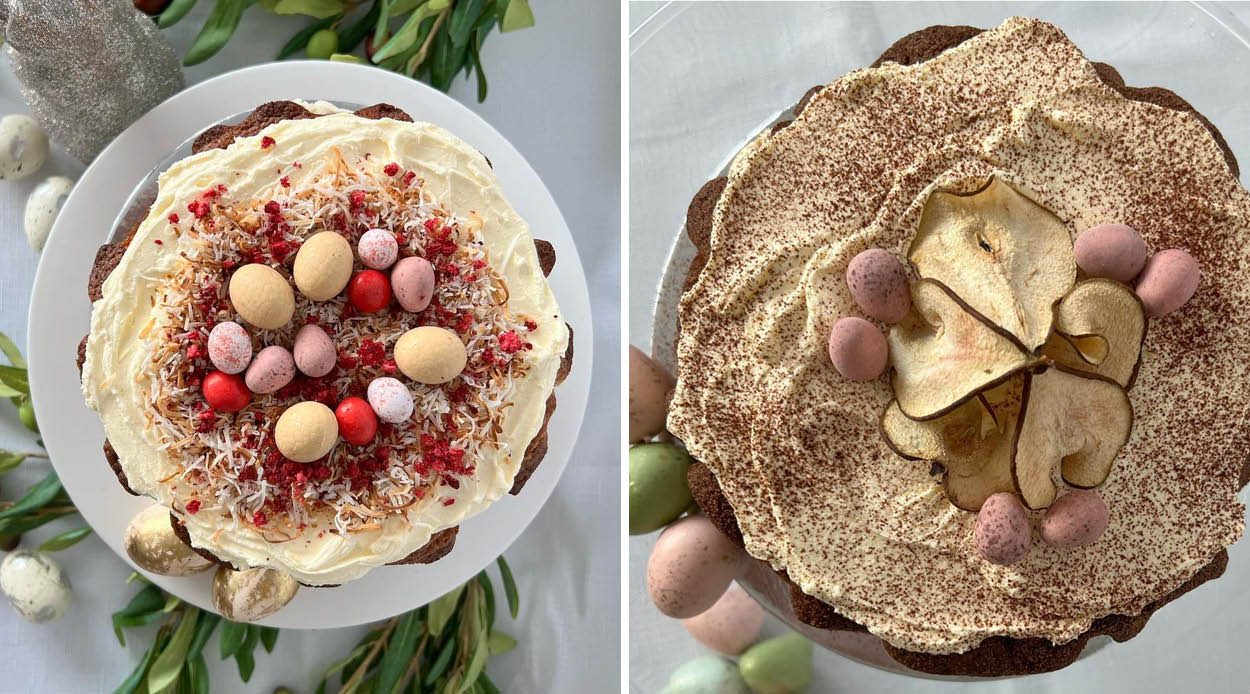 Easter-inspired cakes from Cote Catering
The mother daughter duo behind Cote Catering have been fervently creating holiday masterpieces for families across the city to enjoy — but it's perfectly acceptable to revel in one on your own too. As an Easter-weekend special, two delightful flavours have been dreamt up. The white chocolate and raspberry cake is perfect for anyone who favours decadent and delicious, or the spiced pear and ginger cake is warm and comforting, like all holidays should be. If you find yourself stuck, play it on the safe side and order one of each.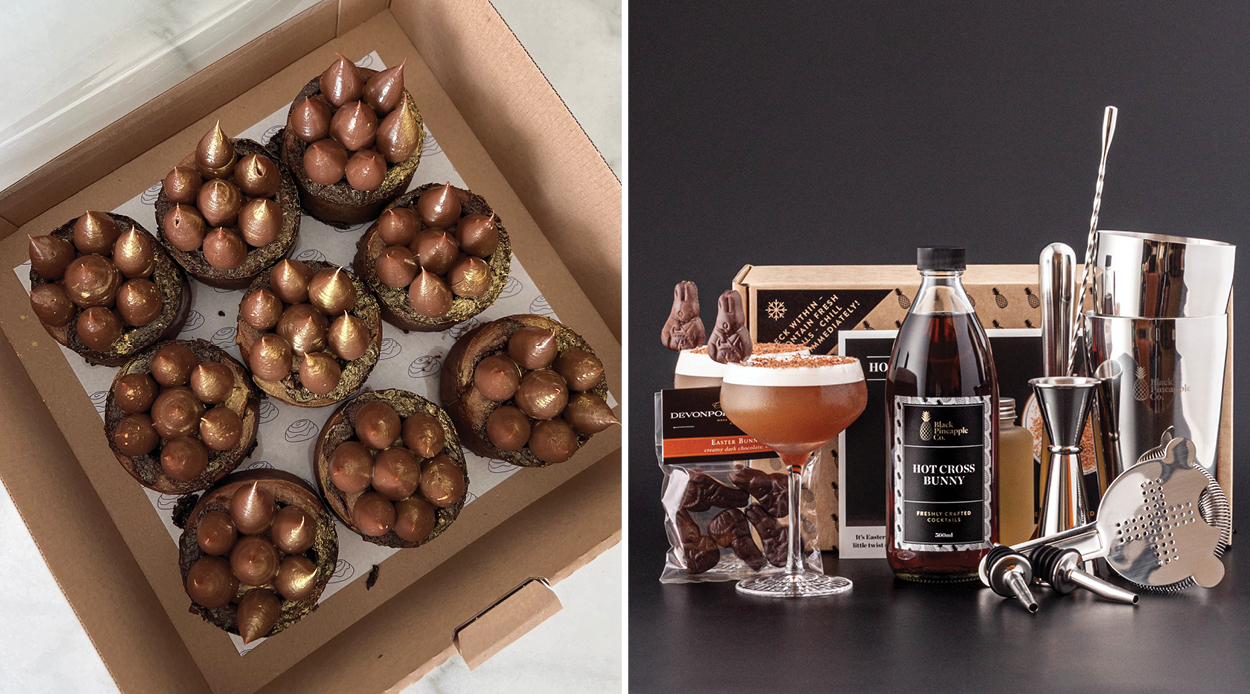 Bunanza's decadent buns
As you will know by now, we love a hot cross bun — but when you need something a little more, Bunanza stays true to its name with its Easter release — a rich chocolate cinnamon bun with intense milk chocolate crémeux piped devilishly on top, with a dusting of gold all around. Delicious.
Black Pineapple's Hot Cross Bunny cocktail kit
It seems Black Pineapple Co. has a cocktail for every occasion, and so they should. Its limited-edition, Hot Cross Bunny Cocktail is decidedly decadent, with dry gin, lemon oil, white cacao and home-made Hot Cross Bun syrup. All you need to do is fluff it up in a shaker and serve with a sacrificial chocolate rabbit on the side of your glass. These kits are known to sell out fast, so hop to it.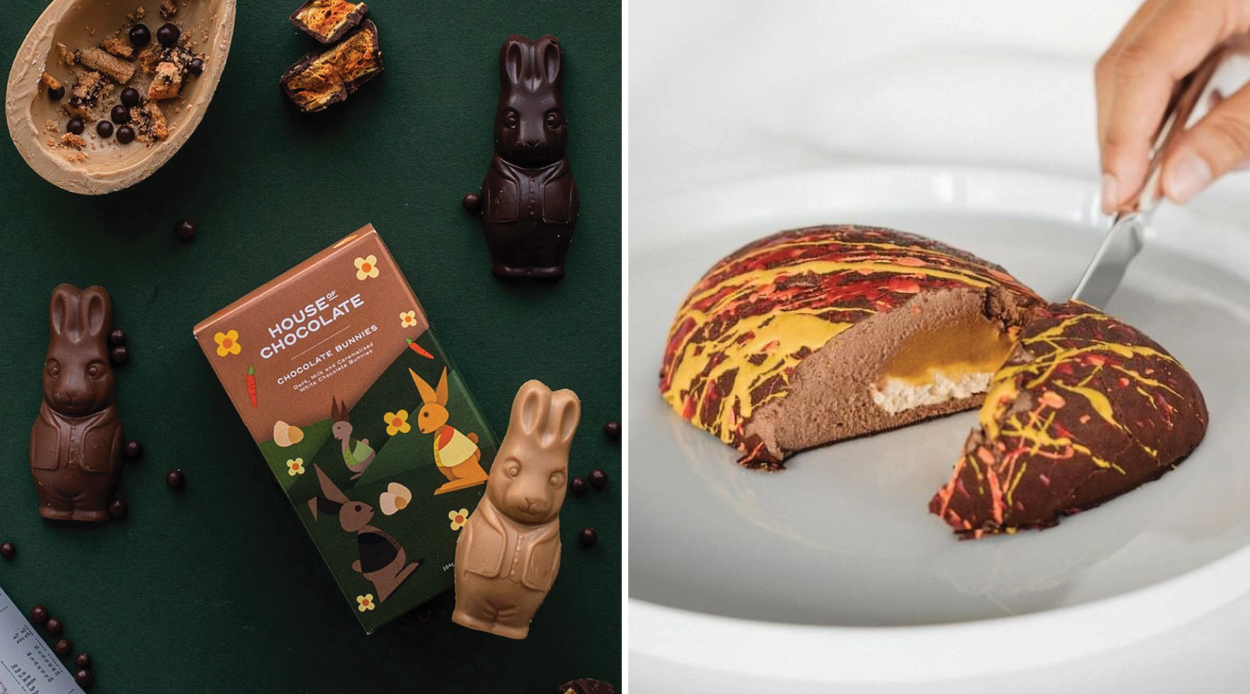 House of Chocolate's newest additions
For egg aficionados, the Chocolatier bunnies at House of Chocolate have been busy taste testing and trialling the very best Easter eggs for this year. The team is introducing two new medium-sized chocolate eggs, the White Chocolate Egg and the Dark Chocolate Berry Egg (both filled with a delicious surprise inside), alongside its full Easter range, which has something for every discerning palette. A special mention goes to House of Chocolate's Easter Celebration cake, a dark chocolate cake layered with mixed spice ganache and covered in chocolate, speckled eggs and a hot cross bonbon.
The Pantry at Park Hyatt's new creations
There is something delicious for every occasion at The Pantry at Park Hyatt, and as we near Good Friday, Executive Pastry Chef Callum Liddicoat and his team have gone above and beyond to create a much more elegant take on the popular crème egg. Reminiscent of fine French pastries, the egg has a centre of salted mango caramel and a lightly whipped caramel chantilly. This is then delicately dunked in a 55 percent Valrhona Itakuja chocolate, and adorned with colourful chocolate designs for an artistic touch. It's so good, we've written a dedicated post on The Pantry's Easter offering.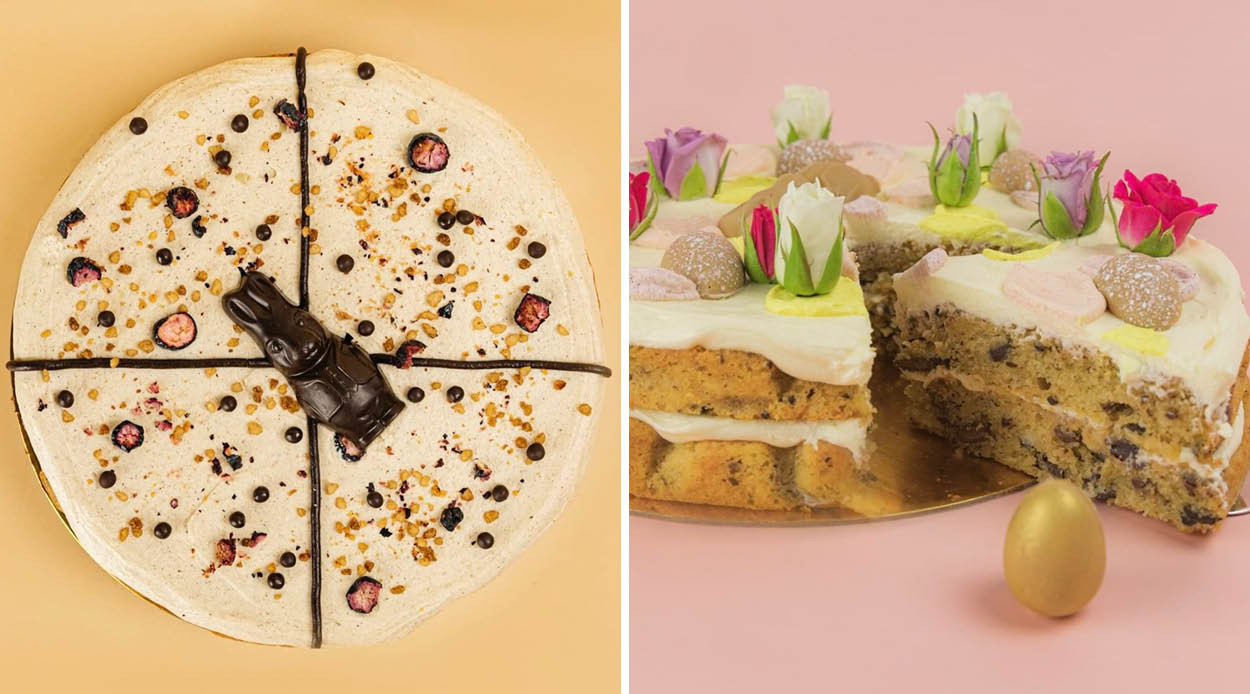 The Caker's limited-edition Easter cake
Auckland's favourite cake-maker has baked up the most exciting in holiday fare, with the Triple Chocolate Golden Egg Hunt Cake. Bringing together a marriage of The Caker's much-loved flavours and rustic nature, with the addition of a treasure hunt to bring joy to kids and adults alike, this limited-edition offering is filled with pieces of milk, dark and white chocolate, iced with the softest vanilla bean cream cheese icing imaginable and finished with pastel smears, speckled egg halves, a roasted white chocolate bunny and a garden of spray roses. And nestled somewhere within the cake itself is one delightful golden egg; an Easter surprise reminiscent of Wonka fortune.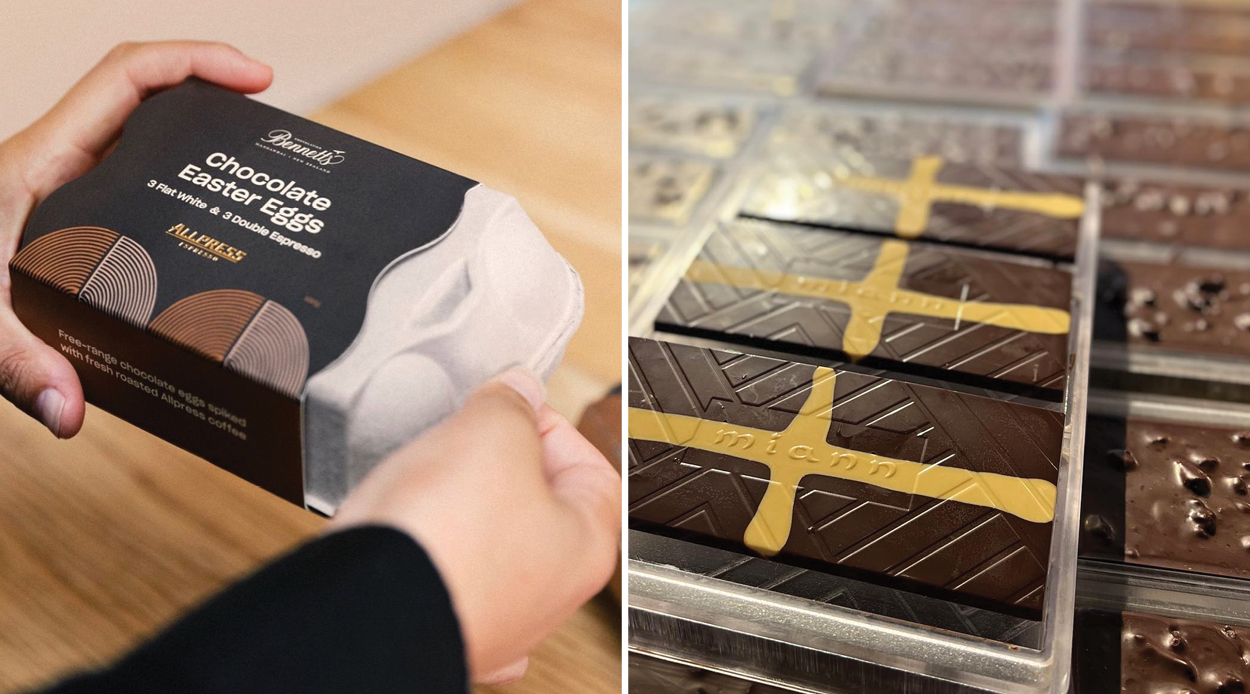 Allpress Coffee x Bennetts of Mangawhai eggs
Always the independent, Allpress has teamed up with local chocolate house Bennetts of Mangawhai for its limited-edition, coffee-spiked chocolate Easter eggs. Extremely popular, this re-release for 2022 is made with fresh, roasted Allpress and hand-poured in Mangawhai, north of Auckland. Each carton contains three Flat White eggs and three Espresso eggs flavours, packaged in a novel and fully recyclable carton. They're available to shop at Farro Fresh.
Miann's Easter range
As well as its highly anticipated hot cross buns and Easter-themed macarons, the chocolate masters at Miann have introduced a delightful range of Easter eggs, including a Caramelised White Chocolate Egg filled with chocolate-coated scorched almonds. While Miann treats are always intricate, the FI Easter Eggs are an easy way to share your Easter joy far and wide with a flat shape that is less likely to crack. There are also decadent Easter bunny and Easter egg cakes in the cabinets for your perusal.