When the longer nights and shorter days of winter finally descend, the thought of venturing out into the cold becomes just that much less appealing. Over the past year, we've all become acquainted with creating special moments at home, and the winter months are the perfect time to put this into practice once more — with a little help, of course.
'At Home with Cloudy Bay' is a curated and limited edition at-home experience, comprising kits designed to pique all five of the senses and enhance any planned time at home. Joining forces with four other, talented New Zealand makers, all the items in the 'At Home with Cloudy Bay' kits complement one another for a well-rounded offering. First and most importantly, each kit contains a bottle of Cloudy Bay's iconic Sauvignon Blanc, and a bottle of balanced and lively Cloudy Bay Pinot Noir.
Two bespoke, mini dishes will visually enrich a platter. Created by Felicity Donaldson Smith of Greytown-based ceramic brand, Wundaire, these sweet vessels are a celebration of craftsmanship and are inspired by the Richmond Ranges in Marlborough.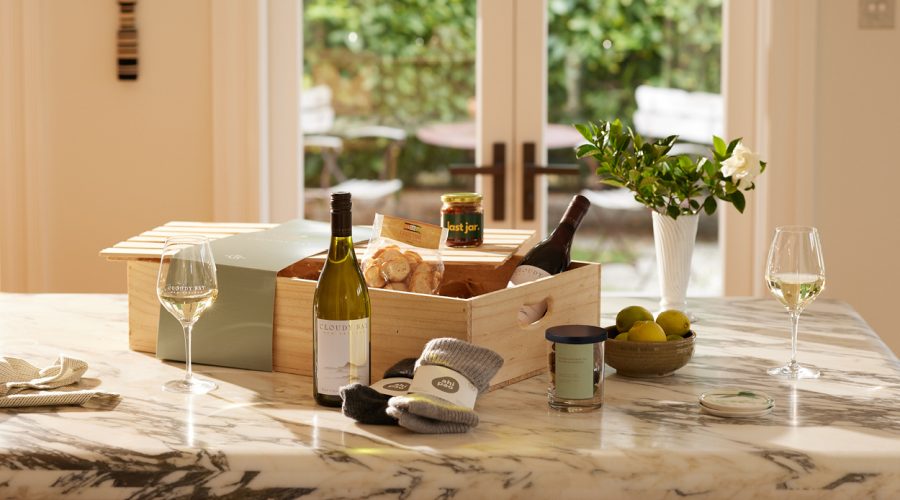 And what are dishes for but to be filled with tasty morsels? Like the At Home kit's Last Jar locally-made tomatoes and garlic in olive oil — irresistible when paired with crostini and a glass of Cloudy Bay.
Delight your ears with the sound of two Cloudy Bay wine glasses clinking "cheers" — a pair is included in every kit — and let the aromas of a custom-made dried floral arrangement by Mark Antonia Ltd. bring the winery's Marlborough brand home, to your home. Top notes of apple blossom and saffron combine deliciously with vanilla orchid, blackcurrant and blackberry, with base notes of amber, patchouli and star anise.
Taking the overall sense of luxury yet another step further, two pairs of heavenly soft Ahi Pao cashmere socks are included, made on Waiheke Island from the finest cashmere yarn.
Whether bought as a gift to yourself, or for another lucky recipient, the 'At Home with Cloudy Bay' kits are filled with beautiful pieces that showcase the best of New Zealand. These kits have now sold out.