Home to world famous wine-growing region Gimblett Gravels and the increasingly popular Bridge Pa area, Hawke's Bay's wine scene is one that operates with an anticipatory global spotlight on it. Not only was it the birthplace of New Zealand wine, but accolades in recent years have left wine connoisseurs on the edge of their seats, waiting to find out what the 'next big thing' from New Zealand's East Coast viticultural hotspot will be (spoiler alert: it's their stunning Syrah).
One name that any local and likely any New Zealander will be familiar with, is Church Road — a beloved household brand that offers accessible premium wines right up to coveted and acclaimed TOM range. It wasn't until I was recently prospected to pay a visit to their well-known Taradale winery, however, that I came to realise what a pioneering part it played in the birthing of Australasia's contemporary wine scene.
It turns out Church Road deserves quite the place in winemaking's history books. It's one of the country's oldest wineries, founded in 1897 by a European-trained wine expert named Bartholomew Steinmetz. Soon after the turn of the century, Steinmetz retired and a young worker and wine enthusiast by the name of Tom McDonald took over and ran the winery until 1936 when he eventually purchased it outright. As Tom learnt more about winemaking, he tasted and fell in love with some of the great French wines, and subsequently planted several noble grape varieties from the Bordeaux and Burgundy regions, namely Cabernet Sauvignon and Chardonnay.
During a business merger, Denis Kasza, a French-trained winemaker, joined the winemaking team, providing the technical winemaking nous which underpinned Tom's vision. It was their collaboration which helped launch McDonald to relative fame in the wine world as many came to consider him the 'father' of red wine in New Zealand. His pioneering efforts encouraged a breakthrough in the production of a more sophisticated style of wine.
When speaking to today's Church Road Chief Winemaker Chris Scott, he tells us "Tom was the man with the vision. He was a really important, influential pioneer in the new age wine world as he essentially paved the way from making cheap wines to high-quality wines."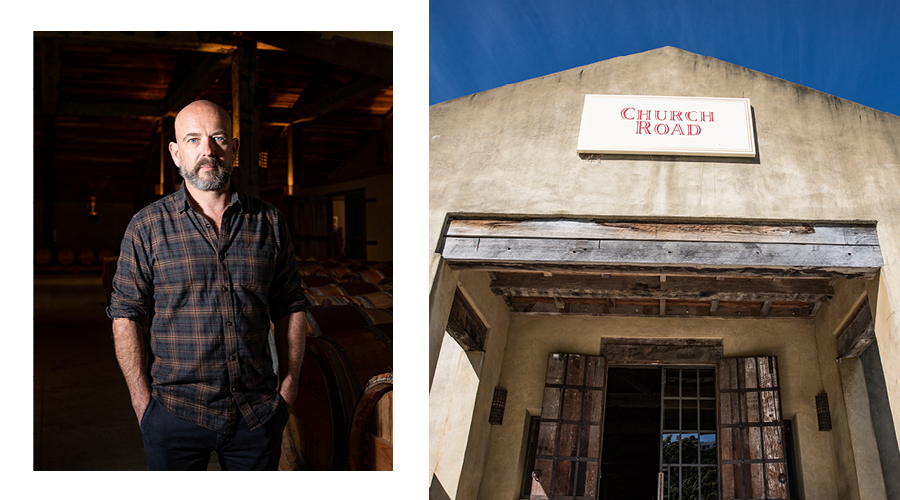 In light of Tom's game-changing role in the modern winemaking era, Church Road naturally embarked on a project that would pay homage to its widely recognised forefather. To do this, they set about creating nothing less than Hawke's Bay's most exceptional red wine, a hallowed drop that would fall under the totemic name of 'TOM'. This wine would be a culmination of the region's greatest terroir as well as the many years of evolution in the winery's legendary production. It would also serve as a testament to McDonald's lifelong dedication to the industry.
The winery subsequently instigated a consultancy relationship with highly respected Bordeaux producer Domaines Cordier and the inaugural 1995 vintage of TOM was launched in 1999, alongside the opening of the winery's Tom McDonald Cellar, to much acclaim — a powerful, full-bodied Cabernet-Merlot blend. Ten years later in 2009, they released a white wine counterpart, the TOM Chardonnay 2006, and have more recently added an exceptional Syrah to the collection. Each of these wines, much like the original Cabernet-Merlot, is only produced when an 'exceptional vintage' is declared.
When probed about who buys the revered range of TOM wines, Scott hesitates to name any single kind of consumer outright, except to say that if someone is looking to bolster an already impressive cellar, a bottle from the TOM range is a notable addition. So what does it mean to Scott who has worked at the winery since the late 90s and who has therefore seen almost every TOM vintage produced from beginning to end?
"During their career, a winemaker works, on average, for 37 vintages… that's like a chef having 37 opportunities to cook the perfect steak," Scott uses this analogy to describe the year-on-year tweaks he seeks when crafting these hand-finished bottles of wine. Fair to say, it's a job he doesn't take lightly. "Every year we're trying harder and harder to achieve perfection. It's a bit of an indulgence from a winemaker's perspective — it's making wine purely for the love of the craft and because you're trying to operate at the highest level you can. It's where you get to pull out some pretty cool viticulture and it's something that very few people have the opportunity to do in New Zealand."
To purchase any of the Church Road TOM wines, visit any good bottle shop.