Sustainably farmed, Big Glory Bay Salmon is continuing to take over the culinary scene of our city. The team at Big Glory Bay nurture their salmon from sea to plate, which results in delicious produce that the team is renowned for, Big Glory Bay salmon truly rises above the rest. Delightful in any dish, whether raw, cured, smoked or grilled. If you're yet to experience the Big Glory Bay difference, we have lined up three of our favourite salmon dishes around Auckland, that you need to try right now.

Big Glory Bay salmon, white bean, apple and parsley from Odettes Eatery
The all-day, bistro-style eatery Odettes is no stranger to Big Glory Bay salmon, with its menu always featuring the fish in some way or other. Where previously, the salmon has been complemented with freekeh, peas, green olives and cashews, we thought it couldn't get any better until we tried the latest version. This season, the succulent salmon has been placed on a bed of creamy white bean purée and has been given a touch of sweetness by the addition of apple sauce. Finished off with fresh parsley, the newest salmon dish from Odettes boasts a delicious melange of flavours and is the brunch we keep going back for.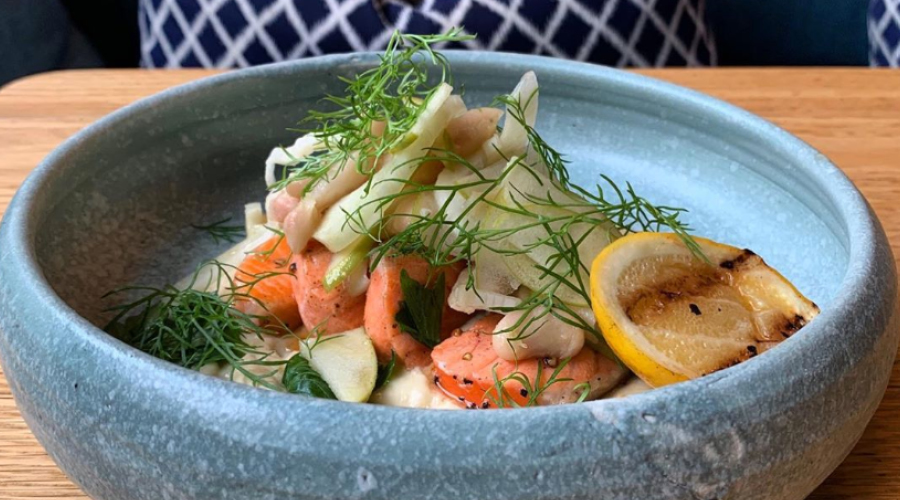 Salmon pastrami on rye from Euro Bar & Restaurant
Auckland's iconic waterfront restaurant, Euro Bar & Restaurant has recently introduced a brand new salmon dish onto its menu and it has quickly become one of our favourites. Head Chef, Adam Rickett has a fondness for humble dishes that offer an elevated twist on classics, and don't necessarily require utensils to consume. As such he has created an exquisite rendition of toast and toppings using Big Glory Bay salmon. Taking crispy slices of rye toast, Rickett has carefully and delicately placed the pastrami cured salmon on top and paired it with dollops of decadent herb cream and salmon caviar which burst in the mouth with saltiness.

Salmon rillette from Ampersand Eatery
Although rillettes are usually made from pork meat, the rich fattiness of salmon also lends itself beautifully to this French delicacy. For those unfamiliar, it's a dish with a spreadable consistency similar to pâté. Here, Ampersand's Executive Chef, Mikey Newlands has nailed the unique dish by smoking the Big Glory Bay salmon used in the rillette which enhances and deepens the flavour, before serving it with rye toast to add a delightfully crunchy texture.