In a group of friends, there's usually at least one person that is vegetarian. But whether it's due to health reasons, moral obligations or just a matter of personal preference, somebody's choice to be vegetarian should not mean that they miss out on what Auckland's dining scene has to offer. A number of the best restaurants in this city feature meat-free dishes that are so good, even the carnivores rave about them. And if you're trying to decide where to go out for dinner, someplace where as much care is put into the vegetarian dishes as it is into the meat ones, here is a list of our favourite vegetarian-friendly dishes from some of the tastiest restaurants around to hopefully set you in the right direction.

Ebisu
Japanese cuisine doesn't only feature fish. Vegetables are just as highly prioritised, which explains Ebisu's endless options when it comes to vegetarian cuisine. This is how we would recommend getting the perfect vegetarian meal at Ebisu. Firstly, get a bowl of rice to have as your base and order the miso glazed eggplant, teriyaki tofu and broccolini with yuzu hollandaise. Each dish pairs perfectly with the bowl of warm fluffy rice as the sauces soak right through. Or you could swap out the rice for the vegetarian sushi roll and switch the tofu and broccolini with the tasty vegetable tempura and sesame cabbage salad. Never trade the miso glazed eggplant for anything.

Cotto
Believe it or not, some of the best, most renowned dishes from this Italian restaurant on K'Road are in fact, vegetarian. Its spinach and goats cheese dumplings with fried sage have garnered Cotto something of a cult following and its mozzarella chips with almond aioli have been on the menu since day one. The gorgonzola kumara gnocchi and Brussels sprouts are dishes that come and go with the seasons but are always highly-anticipated when they haven't been on the menu for a while. Cotto always makes sure to have at least one vegetarian main dish on the menu, so vegetarians are sure to find something that suits.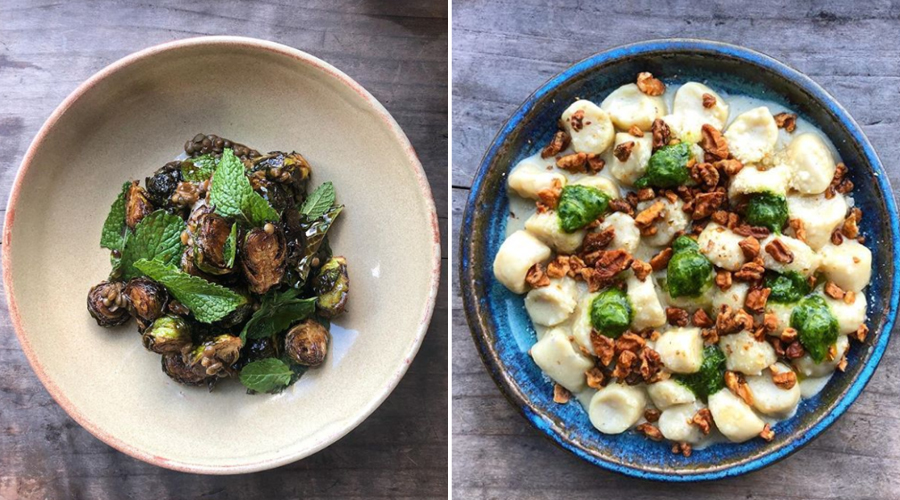 Ima Cuisine
Meat eater or not, you can never go wrong with a meal at Ima Cuisine. The mezze platter is the best way to begin your Ima experience but beware of over-filling yourself with housemade pita bread. We understand that it's moreish beyond words but you must save room for what's ahead. The sabich is not just vegetarian, but vegan. The bowl is filled with a smooth hummus which is smothered over a pile of charred eggplants. The hummus is then studded with slices of fried potatoes and topped with crunchy chickpeas and a drizzle of creamy tahini. All the side salads that come to the table are vegetarian and the fried halloumi cannot be faulted.
Cassia
Chef and restauranteur, Sid Sahrawat is renowned for his efforts in crafting both vegetarian and meat dishes at all of his prolific restaurants. However, Cassia is one that shines particularly bright as it is home to the delicious celeriac tarts (a dish Sid tells us is one of his favourites). Don't be fooled by the small size of the morsels as these one-biters are a mouthful of magic. The celeriac is cooked with ginger and garlic and is paired with spicy yoghurt, herb emulsion, paneer, tamarind and semolina crisps, lending a multifaceted experience of flavours and textures. Aside from the tarts, Cassia's menu features an array of flavourful vegetarian dishes that are just as in demand as its infamous Goan lamb chops, making it a restaurant that is universally loved.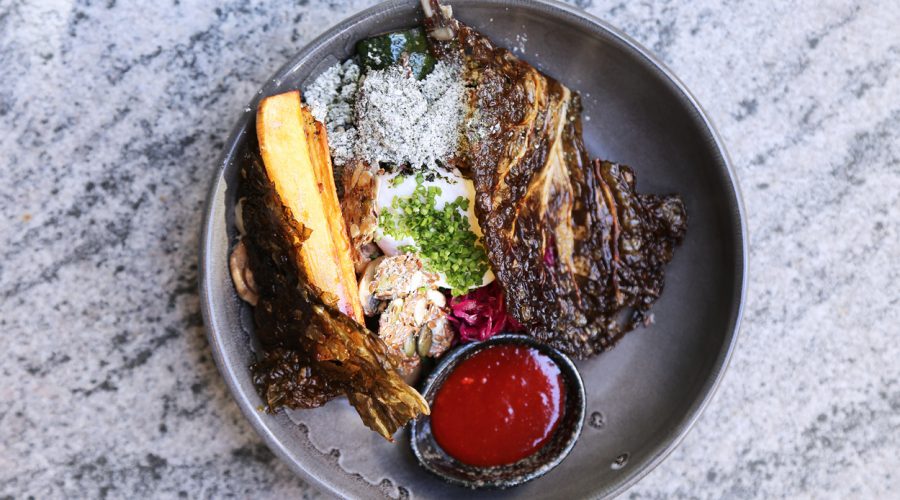 Han
Korean BBQ is not all that Parnell's Han Restaurant brings to the table. Meat is a very prominent component in Korean cuisine but vegetables have equal importance. The modern Korean restaurant is home to the tastiest tofu tacos and the best bibimbap this city has to offer. Different to any bibimbap we've ever seen, this bowl features an array of sautéed vegetables and a fried kimchi leaf, followed by seed cracker to add a heavenly crunch to the dish. To make it even better, this can be turned vegan on request which opens it up for even more people to enjoy.

Soul Bar & Bistro
Infamous for their mac and cheese with ham off the bone, Soul Bar & Bistro offers a vegetarian version of this dish as well. In fact, Soul offers a wholly vegetarian menu, filled with meatless renditions of their regular dishes. The mozzarella toast is a wise way to start any Soul feast and are loved by many. For mains, the new celeriac tortelli with chestnuts, pickled celeriac in a beurre noisette sauce is a standout. The little morsels are filled with a creamy celeriac purée and the rich, buttery sauce proves that meat is not mandatory when it comes to creating an indulgent pasta dish. Fries might be a cliche but Soul's skinny fries are unparalleled. Each and every shoestring is perfectly seasoned and crispy and anyone who tries these agrees that they are some of the best in town.

Euro
The iconic waterfront stalwart, Euro Bar and Restaurant is another dining spot that offers a menu dedicated to vegetarian dishes, with the fresh burrata a particular favourite. Although each dish is unbelievably delicious, it's Euro's vegetarian risottos that have us flocking back. The type of risotto changes depending on the season but all taste amazing. Whether it's the goat's feta with zucchini or the summer sweetcorn with crème fraîche, the decadence brought by these meatless dishes has us surprised every time.

Ampersand Eatery
This all-day eatery situated in Orakei has a raft of delicious vegetarian dishes to satisfy a wide range of tastes. But the goat's cheese tortellini is the dish that is earning Ampersand its prolific reputation. The texture of the tortellini almost reminds us of gnocchi. It's chewy yet fluffy and filled with creamy artichoke. Dates and mushrooms adorn the plate to give the dish extra juiciness and bursts of sweetness. Other vegetarian dishes include a smoky leek flatbread, deep-fried cauliflower in a cheese sauce and eggplant parmigiana, to name a few.