The word 'takeaways' conjures different associations for different people. For some, it's pizza that gets them daydreaming of dinner, for others, perhaps burgers. For those who immediately start craving a selection of dumplings or a warming, fragrant curry; fresh noodle salads or salty, spicy kimchi, these are the places you should be ordering from.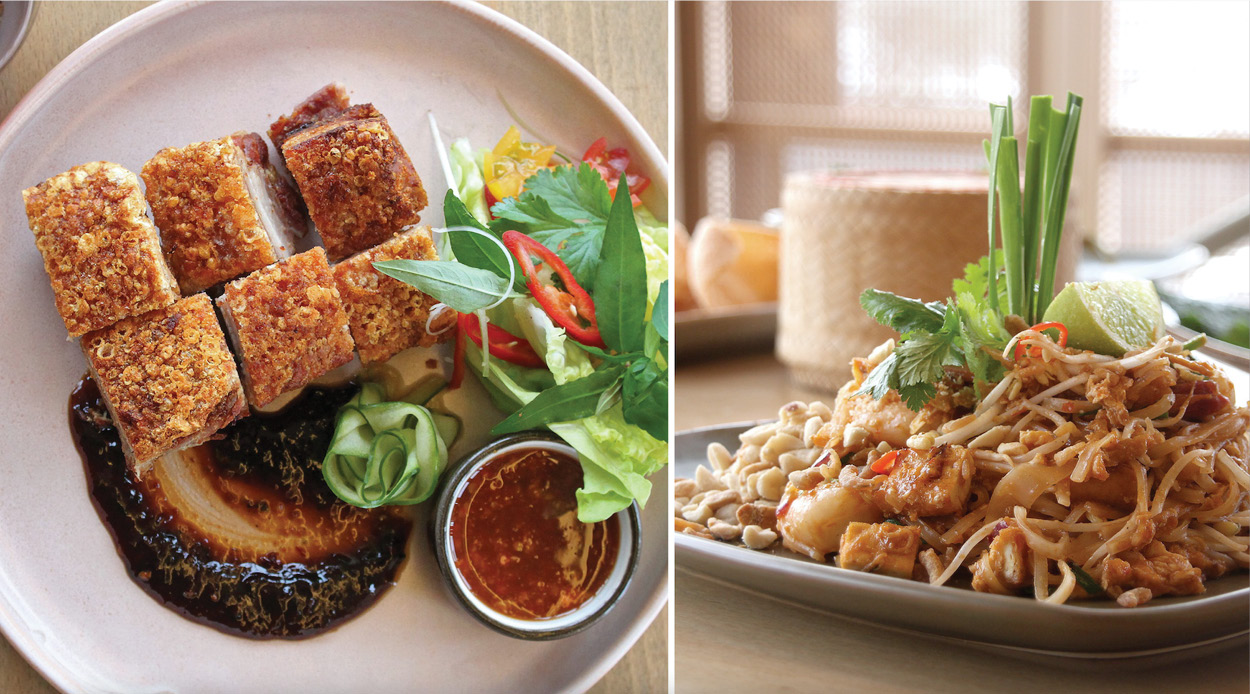 Saan
Should a craving for authentic Northern Thai cuisine hit you, look no further than Saan on Ponsonby Road. Offering its fragrant tiger prawn Pad Thai, Mussaman lamb curry, crispy pork belly, and wok-seared eggplant and tofu (to name a few), both contactless pick-up and delivery via Uber Eats are available. Saan's opening hours for this service are Wednesday to Saturday, 4.30pm to 8.30pm. Order online here.
Hello Beasty
Viaduct Harbour's Hello Beasty melds Japanese, Korean and Chinese flavours in its punchy, clean and vibrant dishes, and has a take-home menu of dinner packs for between two and four people, which include all the dishes you could desire for a scrumptious feast. Receive a delicious main like chargrilled Sichuan lamb shoulder with sides like broccolini, spring onion flatbreads and rice. Vegetarian options are available, plus individual dishes and sides like karaage chicken, sticky pork buns and chicken katsu sandos. Order online here and follow @eatupbeasty for updates.
Azabu
Those with a hankering for Azabu's supremely fresh Peruvian-Japanese fare will be pleased to hear a selection of its most popular dishes will be coming to a plate near you. Find sushi and sashimi, Nikkei steak, free range chicken karaage, crispy pork belly, prawn dumplings and more, available for pick-up from Azabu's Ponsonby and Mission Bay locations. Order online here.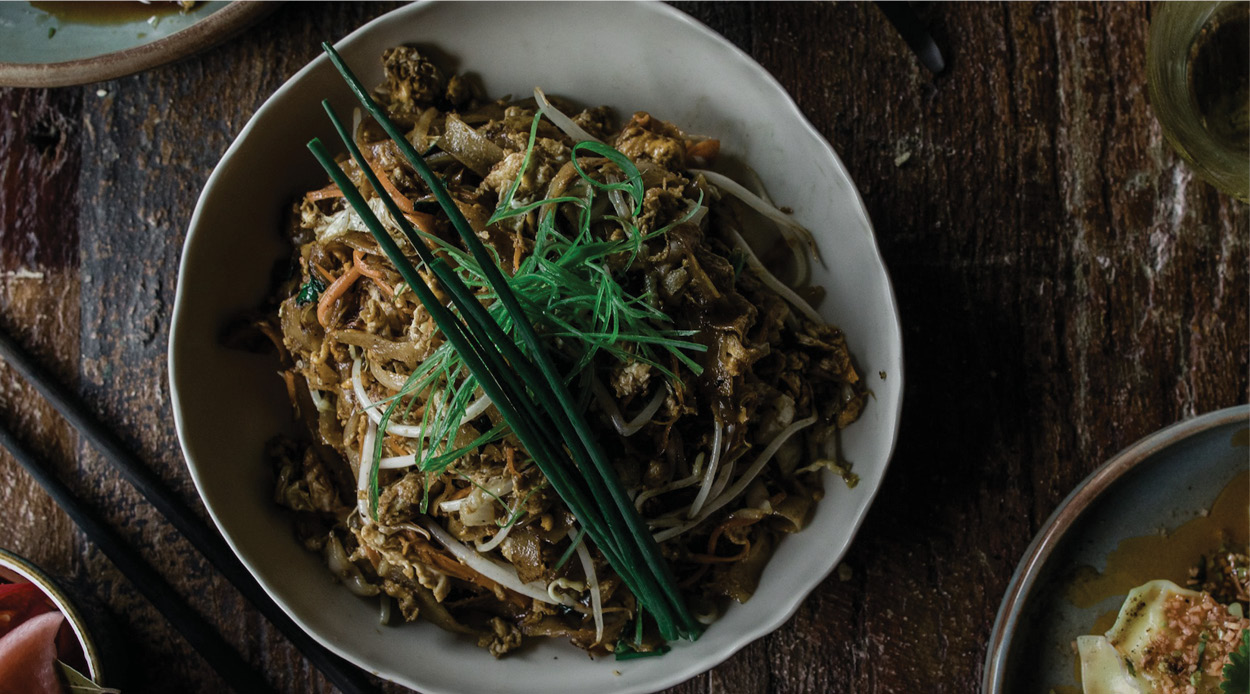 Ghost Street
Recently-opened, subterranean Chinese eatery Ghost Street is all set to bring its flavourful fare to your dining room. A curated menu is available for both pick-up and on Uber Eats for delivery, including delicious dumplings, noodle and rice-based mains, dishes like soy-braised dong po pork belly and fried organic chicken leg with sweet soy black vinegar sauce, plus vegetables and even sweets to finish like Hong Kong-style egg tarts. Available Wednesday to Saturday, 4.30pm to 8.30pm. Order online here.
Mr Hao
Known for its sharing plates and spice-centric fare, look to the level 3 offering of this modern Chinese eatery to impart a kick to your dinner. Mr Hao has come up with a set of 'comfort meals' for pre-order, a combination of dishes that are designed to feed either two-to-three or three-to-four people. Dishes on offer include Hao's spicy chicken wings, fried noodles, dumplings in spicy broth and more. Delivery is available from either of the Dominion Road or Albany locations. Order and see all delivery and payment details here.
Gochu
Attention Gochu's many fans, the Commercial Bay Korean eatery has two of its most popular dishes available for you to eat at home. Order Jason's Fried Chicken and four-packs of the signature Milk Buns, both designed to reheat and enjoy within your own abode. You can pick-up from a collection point on the ground floor of Commercial Bay or arrange for delivery to selected suburbs. We'll take ours with a Gochu x Checks t-shirt, thanks. For availability, delivery zones and ordering click here.
White & Wong's
Modern Asian eatery White and Wong's has its Viaduct and Newmarket location open for contactless pick-ups. From dumplings to warming soups, starters like Peking duck, mains like curry and BBQ'd meats, and much more, you're in for an at-home feast thanks to the restaurant's extensive menu. Or if you would prefer to stay at home, you can find them on Uber Eats. Order online here, in person or over the phone.
1947
Inner-city Indian favourite 1947 Eatery has got your curry cravings under control, with a menu full of its most popular dishes available for pick-up and delivery via Uber Eats. Try something from the tandoor or the famous bang bang butter chicken — and the street samosa chaat and garlic naan is a must. Order online here.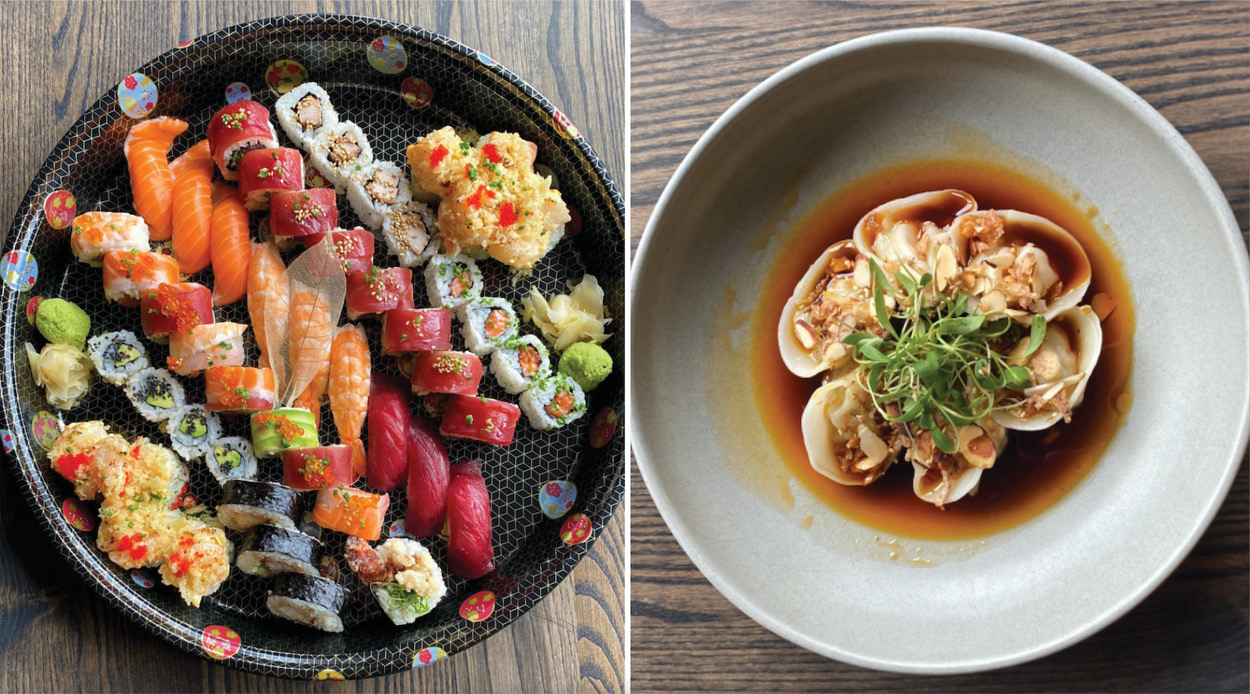 Ebisu
Britomart's elevated Japanese restaurant Ebisu is offering a curated range of its signature dishes including the Ebi Mayo roll, sashimi and sushi platters and the tuna ceviche roll for contactless pick-up online. There is also a new selection of Omakase (chefs choice) set meals, and a range of bottled cocktails, sake, Champagne and wine to add to your order. Children will be well looked after too, with the kid's sushi platter also available. Order online here.
V.T Station
Should a hankering hit you for Indian dishes that pack a punch of flavour, we suggest making Newmarket's V.T. Station your first port of call. V.T. Station melds fresh ingredients and a street-food sensibility to create its moreish fare. Already adept at serving takeaways, choose from its substantial eat-at-home menu that you can order online for pick-up or delivery via UberEats. Order online here.
Bali Nights
A culinary trip to Bali from your bubble just became possible thanks to Bali Nights' level 3 menu — order delicious street food-style dishes such as beef rendang, nasi goreng and more online and over the phone for contactless pick-up. The team are also working on deliveries, coming soon. Bali Nights' sister restaurant, Indonesian eatery It's Java!, also has online ordering available on its website, plus deliveries through Delivereasy and Ubereats. Order Bali Nights online here. And It's Java! online here.
Ginger
When it comes to takeaways, Thai is one of our favourites for fresh and flavoursome fair. Ginger in Remuera is offering contactless takeaways and deliveries on its colourful menu — from classic ka ree puff and tom yum soups to sweet chilli snapper and papaya salad. The team encourages placing orders ahead for the following day, to avoid long expected wait times as its locals rush back. Order online here, or over the phone on 09 523 2626.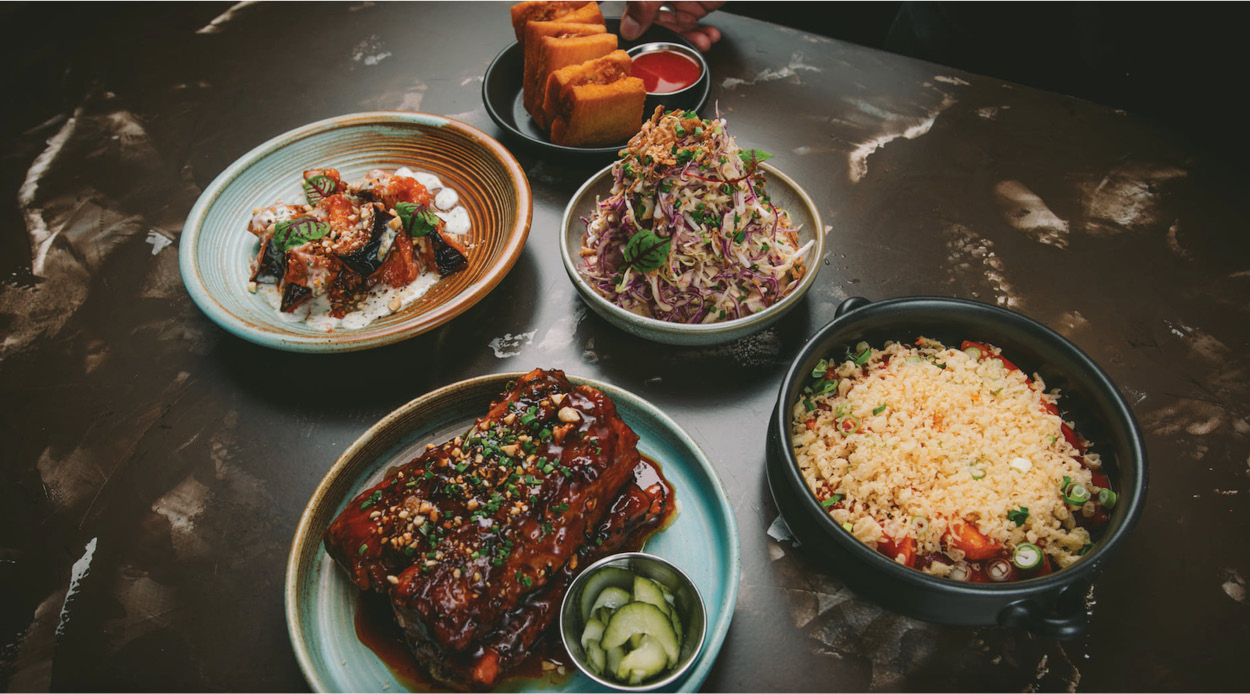 Gaja
Ponsonby Central's popular new Korean eatery has a delicious menu available for contactless pick-up. Find a takeaway-friendly selection of its moreish modern Korean fare, including kimchi and tofu or beef brisket Mandu (Korean-style dumplings); various renditions of Korean Fried Chicken; Dupbap bowls; noodles and more. The takeaway service will be running 7 days a week, 12pm — 8:30pm. Order online here or phone 09 600 3466.
Cafe Hanoi
A hankering for the freshness and flavour of Vietnamese food can be satiated thanks to Cafe Hanoi's at-home menu, available for pick-up from its Britomart premises or delivery via Uber Eats. On offer are fresh rice paper rolls, main dishes like wok-seared market fish and roast duck, curries and vegetable dishes, salads and more. Available Wednesday to Saturday, 4.30pm to 8.30pm. Order online here.
Ockhee
Open for both contactless pick-ups and delivery within a 3km radius from its base, beloved Ponsonby Road Korean spot Ockhee has us sorted with its flavourful dishes — from rice-based Dubbap and Bibimbaps, to that moreish fried chicken, noodles, sides and delicious soup kits. The level 3 offering is available Thursday to Sunday, 5pm — 9:30pm with last orders at 9pm. Order online here or call on 09-217-2020.