Everybody has a soft spot for pancakes. It may not be your breakfast of choice but it is a dish that nobody could dislike. A stack of fluffy, spongy and warm flat cakes drizzled with sweet maple syrup and melted butter — what's not to love? However, the number of cafes serving our beloved pancakes is dwindling. And while waffles and brioche French toast seem to be on the rise, we have rounded up the cafes in Auckland that continue to pay pancakes the respect they deserve.
Griddle cakes from Federal Delicatessen
Renowned for its poutine and Reuben sandwich, The Fed's brunch menu often gets overlooked, which is a damn shame when it features some of the eatery's best dishes, including griddle cakes. The soft cakes are loaded with juicy blueberries and topped with blueberry compote for extra juiciness. The game changer on these pancakes is the addition of butter infused with cinnamon and the sprinkle of strudel crunch for added texture and a nutty aroma.
Ricotta hotcakes from Mission
Previously known as Mission Bay Pavillion, this space may have undergone changes to its fit-out and menu but its signature ricotta hotcakes remain. The added ingredient of ricotta lends these pancakes moistness which is intensified with a melted maple butter that soaks into the blueberry filled morsels. Balancing out the flavours, the pancakes are adorned with slices of fresh banana and streaks of rich bacon, which add some necessary saltiness to match the sweet.
Caramelised banana pancakes from Hare and the Turtle
This Avondale gem has a no-fuss menu of classics including toasted sandwiches and traditional style, stacked pancakes which are served with caramelised bananas, freshly-whipped cream, crunchy candied walnuts and sweet Canadian maple syrup. If you want to take your stack up a notch, adding bacon for that sweet and salty combination of flavours is a wise decision.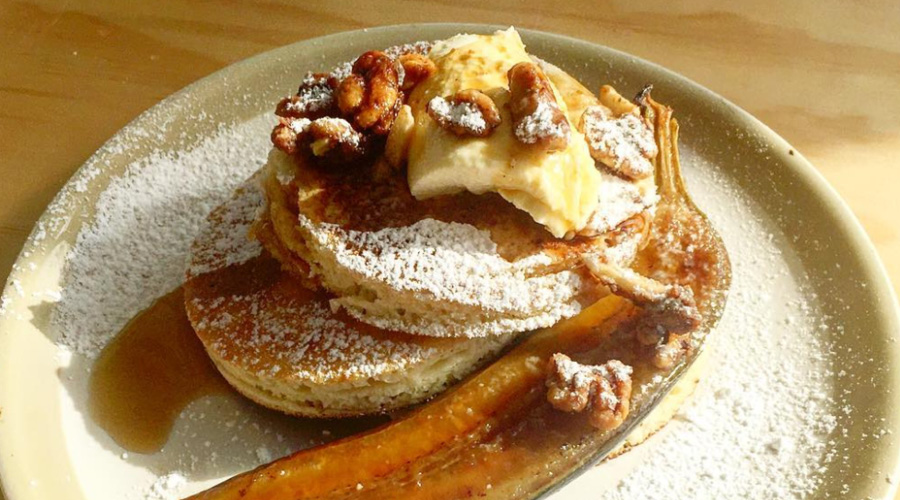 Buttermilk pancakes and hotteok from The Candy Shop
If you're seeking pure indulgence,  The Candy Shop's buttermilk pancakes are for you. The plate is lined with sweet strawberry mascarpone and dollops of Nutella foam while the cakes themselves are garnished with coffee meringue, freeze-dried berries and candyfloss. And just when you think the decadence stops there, you're given the option of adding a scoop of Duck Island ice cream and bacon. The Candy Shop also offers a Korean take on the breakfast staple with its hotteok. The batter is mixed with rice flour and slowly pan-fried for a crispy exterior while achieving a chewy texture inside. It's filled with mixed seeds, nuts, brown sugar and cinnamon and served with a generous scoop of vanilla Duck Island.
20-minute pancake from Domain & Ayr Cafe
There's a saying, "good things take time," and this Parnell cafe proves it. Staying true to their name, these pancakes require some patience but the end result makes it all worthwhile. Different from the usual stack we're familiar with, this version is served as kind of pancake and soufflé hybrid making them light and as fluffy as a cloud.
Ricotta pancake from Honey Bones
Honey Bones may not serve the traditional tower of pancakes but it makes up for the lack of stack with a whole ricotta hotcake as thick as a whole sponge cake. Drenched in berry compote and complemented with sweet, seasonal poached fruit and crunchy crushed nuts, a large tablespoon of marscapone is also scooped on top to lend the hotcake some decadent creaminess.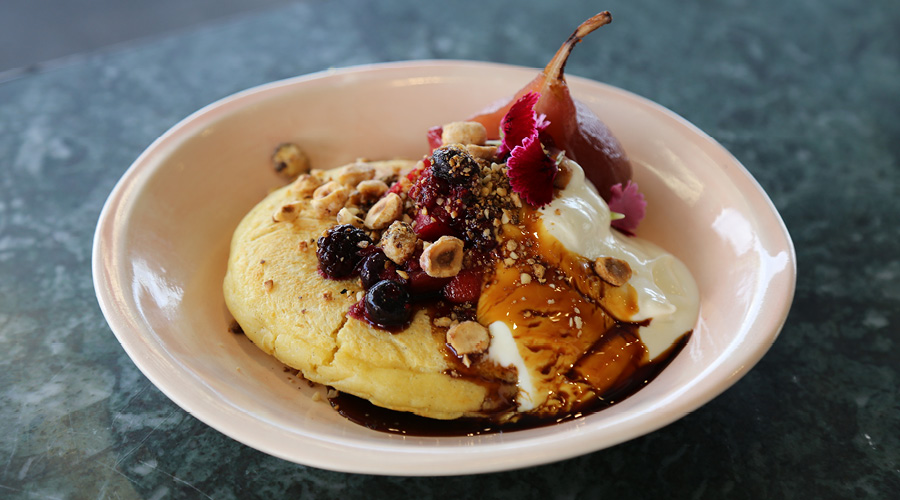 Blueberry and apple compote pancakes from Kind
Situated in the newly-opened precinct in Morningside, Kind has already built a reputation for itself as an eatery putting healthiness at the heart of its menu. You wouldn't expect a nutritious cafe that features zero carb noodles and pulled jackfruit tacos to serve some of the tastiest pancakes in town but Kind have its pancake game down-pat. Its fluffy cakes are accompanied by a homely apple and rhubarb compote, butterscotch mascarpone and a sprinkle of white chocolate crumble — sweet and soulful.
Coconut pancakes from Oak Eatery
With a batter that's largely comprised of egg whites, Oak Eatery's pancakes are like a tower of thick, plush clouds on your plate. Served with a side of cinnamon and vanilla-infused cream and slices of seasonal fruit to give the dish some natural sweetness, it's a favourite amongst Royal Oak locals. The grated coconut adds a crispy texture to the fluffy and pillowy pancakes and also lends a rich and nutty aroma which blends perfectly with the melt-in-the-mouth candyfloss.