Asking us to explain our passion for noodles is not a request you make lightly. You would have to pull up a chair and be prepared to listen to us talk for hours about the delicacy. In a nutshell, we just really love noodles. Diverse, delicious and comforting — there really is no reason to dislike the long strands of love. If a restaurant has noodles on its menu, we'll order them and as such, we have cultivated a list of favourites that have risen above the rest, leaving us wanting more. Without further ado, here are some of our favourite noodle dishes around Auckland.

Dan dan noodle with pork from Basu Lounge
This bowl of noodles is a one-of-a-kind. Prior to our first visit to Basu Lounge, we only thought of dan dan noodles as mouth-numbingly, spicy but this restaurant has proven that they're capable of so much more. Peanut sauce is added to lend a richness and creaminess that almost reminds us of a fettuccine alfredo and the hint of spice tingles the tastebuds and balances out any heaviness.

Seafood laksa from Selera
After trying almost every bowl of laksa this town has to offer, we are still yet to find one that beats the laksa from Selera. You don't even need to be a Malaysian food or noodle fanatic to appreciate the greatness of this dish — it really is that good. The soup is like a thick curry and the egg noodles soak up all of its deliciousness while maintaining their perfectly-chewy texture. The bowl is loaded with fish balls and plump prawns and it never fails to leave us feeling absolutely satiated.

Wan Dan Hor + Vermicelli from Bunga Raya
This New Lynn gem is one of our favourite Malaysian restaurants and that's because it's also home to one of out favourite noodle dishes of all time. Wan dan hor can be found at many Malaysian and Chinese restaurants, however, none of them can do it as well as Bunga Raya. There are two versions of this dish on the menu, the original or the addition of vermicelli, which is the one you should be going for. The vermicelli noodles have been fried to form crispiness to counteract with the soft rice noodles that are drenched in an egg gravy — a little tweak that makes a big difference.

Number 37 from Xi'An Food Bar
A dish that so iconic that the people behind the counter usually assume it's what you're after the moment you walk through the doors (and usually they're right) The Number 37 is something else. Served with pulled pork sitting atop the bed of noodles surrounded by a pool of spicy chilli sauce, we can guarantee these will be some of the sauciest noodles you have ever tried.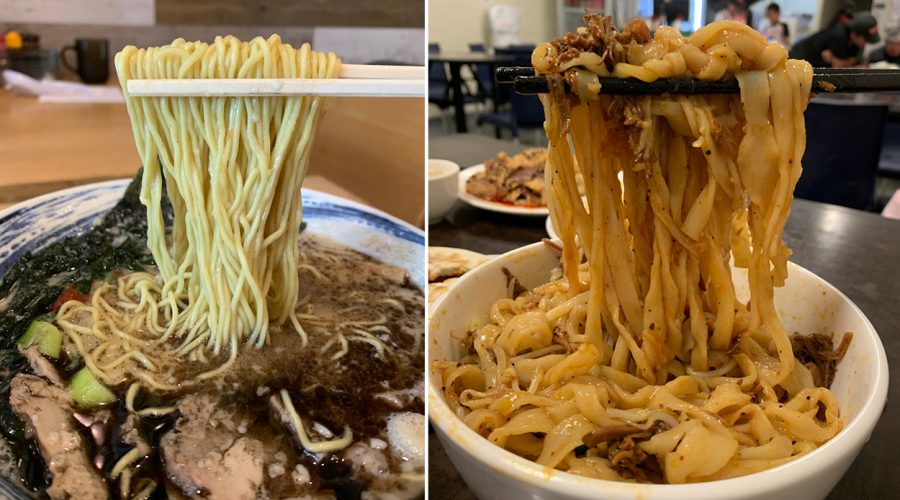 Rare beef rice noodle soup from Try It Out
Finding a solid bowl of Vietnamese phở is not the easiest task in Auckland, but Try It Out leaves us impressed every single time. Its broth has an unbelievable depth in flavour and allows the rare beef cook slowly underneath the surface while you slurp your way through the thin rice noodles — which surprisingly never go soft or mushy.

Tonkotsu shio Tanpopo chasu ramen from Tanpopo
Japanese ramen tends to be the gateway noodle for noodle addiction — at least that's what it was for us and Tanpopo is a great place to start. The tonkotsu shio chasu ramen is the signature dish at this establishment which as been treating Aucklanders to the delicacy for over a decade now. The thin noodles are drowning in a rich, salty pork broth, and adorned with tender slices of pork and the ingredient which is our favourite — black garlic oil to cut through the richness.

Kalppong from Kaya
South Korean noodles are quite an underrated delicacy and if you have yet to discover what they are, Kaya on Lorne St or in Albany is the place to go. Kalppong is a combination of two noodle dishes that are extremely popular in Korea — kalguksu and jjamppong. Kalguksu translates to knife-cut noodles as each strand of the wheat noodles has been carefully cut to achieve a consistent texture and mouthfeel. Jjamppong is renowned for its spiciness and seafood-rich flavour and Kaya has married the two for a one-of-a-kind dish.