Diverse, delicious and comforting noodles are something we really start craving as the weather cools down. From spicy noodle bowls to fulfilling noodle soups and everything in between, we have rounded up a list of the best to keep you satiated as we head into winter.

XO Noodles from Gochu
Described by some as a Korean 'spaghetti bolognese' these incredibly tasty noodles are back on Gochu's menu after a hiatus in which they were sorely missed. Returning to sighs of relief from anyone who loves this innovative Korean restaurant in Commercial Bay, the chewy noodles are served topped with flavoursome Korean pork XO, indulgent cashew cream and perfectly pickled radish.
Seafood Laksa from Selera
It's hard to beat the laksa from Selera. You don't even need to be a noodle fanatic to appreciate the greatness of this dish — it really is that good. The soup is like a thick curry, and the egg noodles soak up all of its deliciousness while maintaining their perfectly-chewy texture. Also loaded with fish balls and plump prawns (or even pillowy prawn dumplings if you wish), it never fails to leave us feeling absolutely satiated.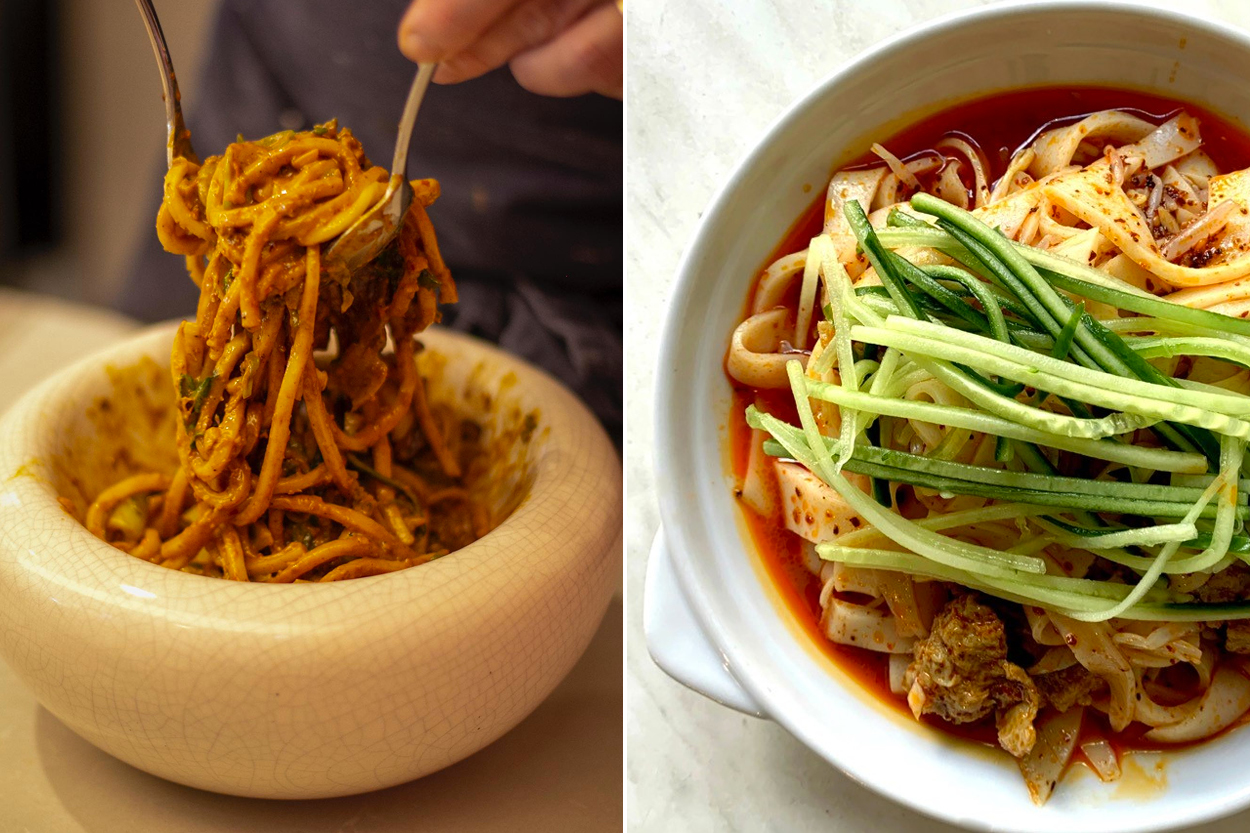 Spicy Sichuan Noodles from Hello Beasty
One of our favourite Viaduct Harbour spots to head to for a tasty bite, Hello Beasty serves up a hearty noodle dish that is flavoursome and fulfilling. Soft egg noodles are piled into a bowl and topped with delicious crispy pork mince and a mixture of chilli, black vinegar and mustard greens before being finished with sesame seeds and roasted peanuts, which offer a much-needed crunchiness to balance out the soft textures of the rest of the dish.
Number 37 from Xi'An Food Bar
A dish so iconic that the people behind the counter usually assume it's what you're after the moment you walk through the doors (and usually they're right), the Number 37 is something else. Pulled pork sits atop a bed of noodles surrounded by a pool of spicy chilli sauce in what we can promise will be some of the sauciest noodles you have ever tried.
Kalppong from Kaya
Serving up South Korean noodles, Kaya on Lorne St or in Albany is the place to go. Kalppong is a combination of two noodle dishes that are extremely popular in Korea — kalguksu and jjamppong. Kalguksu means knife-cut noodles, which sees each noodle in this dish carefully hand-cut to achieve a consistent size and texture. Jjamppong is renowned for its spiciness and seafood-rich flavour, and Kaya has married the two ideas for a one-of-a-kind dish.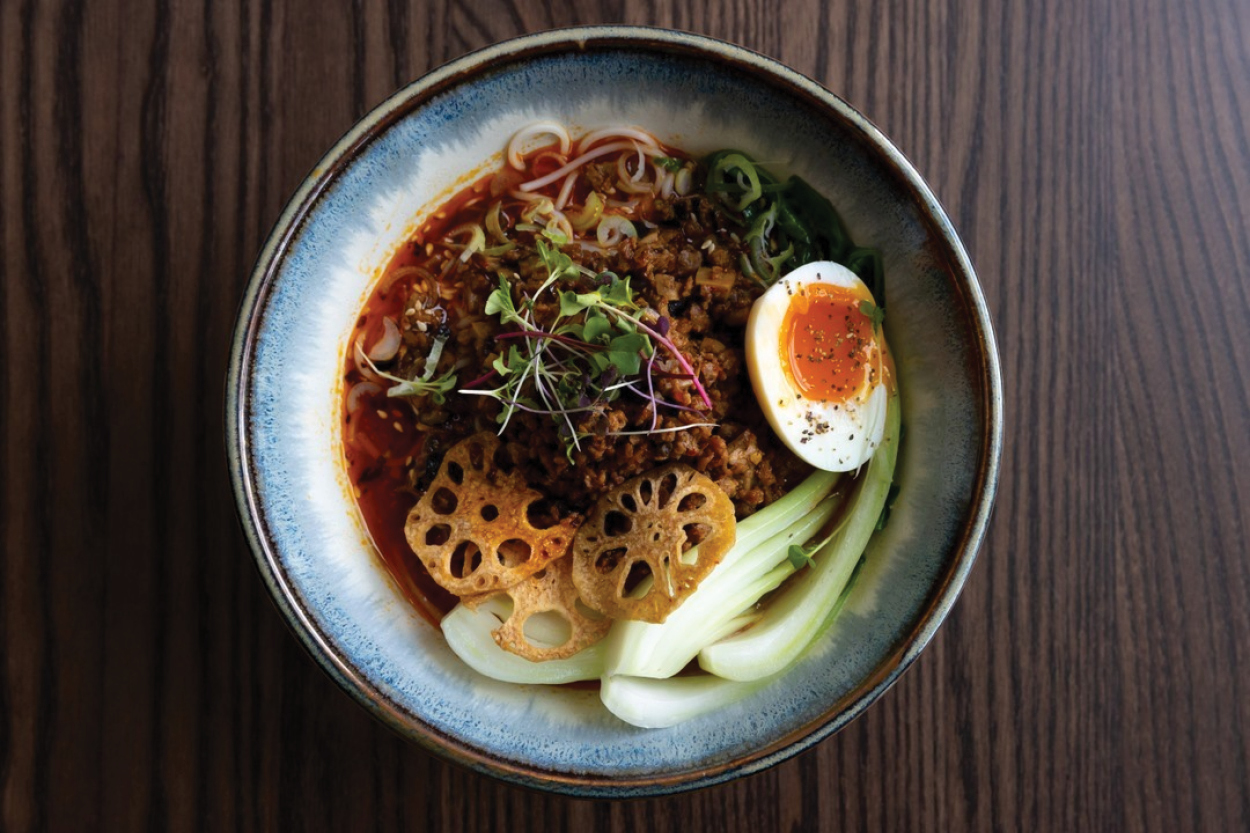 Dan Dan Noodles from East
With an innovative menu that sees traditional Asian-style dishes given a modern, plant-based twist, East is a delicious vegetarian spot that delivers on flavour every time. Served with sesame, peanut, soft egg and a hint of spice, East's Dan Dan noodles are not too heavy, not too light and perfect for refuelling on a temperamental autumnal day.
Kitsune Udon from Udon Works
This Japanese udon dish is simple yet delicious and will leave you feeling wholly nourished without feeling overly parched from a lot of salt. A slightly opaque dashi broth is supplemented with thick, satisfying udon noodles, and fried tofu finished with a light sprinkling of spring onion, seaweed, and bonito flakes.
Bibim Guksu from Ockhee
This delicious Korean eatery has cultivated a loyal following for its unique take on 'Seoul food.' Promising the perfect antidote to this increasingly chilly weather, Ockchee's Bibim Guksu noodles offer a delicious yet simple bowl of Somyeon (wheat flour) noodles in a Gochujang based spicy sauce that will warm you up from the inside out.
Wan Dan Hor + Vermicelli from Bunga Raya
Tucked away in New Lynn, this tasty Malaysian restaurant is home to one seriously delicious noodle dish. Wan Dan Hor is often found in Malaysian and Chinese restaurants, but no one does it better than Bunga Raya. There are two versions of this dish on the menu, the original or one with the addition of vermicelli, which is what we recommend. Fried vermicelli noodles offer a perfectly crispy counterbalance to the soft rice noodles, drenched in an egg gravy — a tiny tweak that makes a big difference.
Twelve-hour Organic Beef Brisket Ramen from Chop Chop
While it's hardly surprising that this Ponsonby Central noodle house serves some of the tastiest noodles in town, Chop Chop's twelve-hour organic beef brisket ramen is something else. The bowl of rye noodles is served with pieces of slow-cooked beef brisket that work to give the entire dish a rich flavour, alongside strips of bacon, shiitake mushrooms and egg before being topped with spring onion, sesame, and black garlic.
Tonkotsu Shio Tanpopo Chasu Ramen from Tanpopo
When it comes to Japanese ramen, Tanpopo is a great place to start. Its signature dish is the Tonkotsu Shio Chasu ramen, which sees thin noodles drowning in a rich, salty pork broth, topped with tender slices of pork and flavoursome black garlic oil.
Rare Beef Rice Noodle Soup from Try It Out
Finding a solid bowl of Vietnamese phở is not the easiest task in Auckland, but Try It Out leaves us impressed every single time. Its broth has an unbelievable depth in flavour and allows the rare beef to cook slowly underneath the surface while you slurp your way through the thin rice noodles — which surprisingly never go soft or mushy.