It's rich, succulent, deliciously fatty yet with a heavenly crisp — duck is, hands down, one of our favourite meats. No matter where we're dining, if duck features on the menu it's always added to the order, so we like to think we have a sound understanding about which establishments have the best game in town. These are the restaurants that are serving duck to delight.
Caramelised duck from Cassia
This modern Indian restaurant is a firm favourite, with food that is always flavoursome, hearty, and extremely satisfying. Every dish on the menu has its own highlight, but the caramelised duck occupies a special place in this gastronomic galaxy. The duck melts off the bone, swims in a pool of tangy chettinad sauce with pickled onions, and shines next to the perfect accompaniment of the house garlic naan and jasmine rice. 
Duck Breast from Sid at The French Café
From the same executive chef and owner of Cassia, Sid Sahrawat takes duck to an entirely new level at his fine-dining restaurant, Sid at The French Café. On this season's menu, the delicate piece of duck boasts the perfect fat-to-meat ratio. This richness is then enhanced by pairing it with pork belly. And for a final flourish, the medley of meats comes with a complement of sweet dates and the contrasting, semi-bitter, radicchio.
Culprit Duck from Culprit
A signature dish that has been on the menu since day one and for one reason only — it's superb. Taking the duck and blowing it with air to separate the skin from the meat, chef and owners Kyle Street and Jordan MacDonald add a pork sausage stuffing, creating a triple layer of succulent meat, heart pork and crispy skin. Served with a side of hoisin sour cream, plum sauce and lettuce, this dish is the modern take on the traditional Chinese Peking duck pancakes.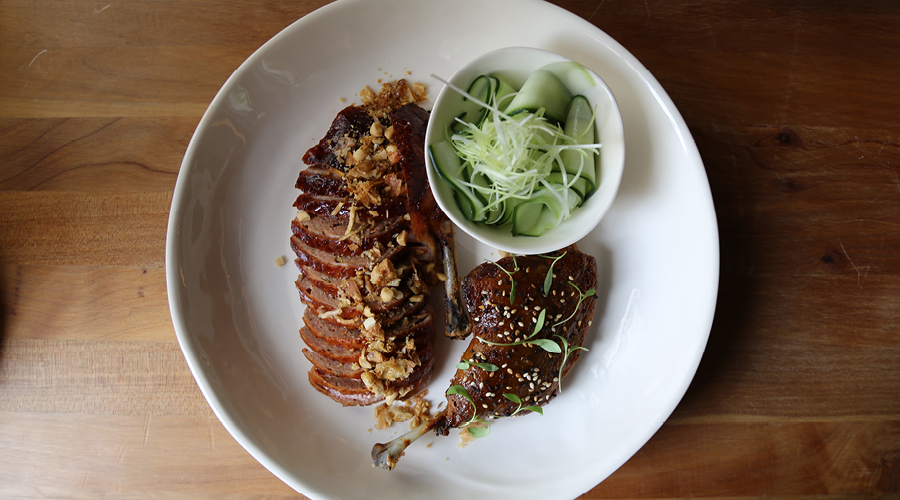 Peking Duck from Empress Garden
No mention of Peking duck would be complete without Herne Bay's favourite, Empress Garden. The Peking duck from this Chinese restaurant is noted for its authenticity and rich taste, boasting an impossibly crispy skin that melts in the mouth, along with the rich layer of fat. The pancakes are perfectly thin and served fresh, giving full range to the fragrant flavours of the duck.
Buttered Maltagliati with Duck from Baduzzi
Everybody knows about the meatballs from Baduzzi, but it's the buttered maltagliati with duck that draws us back again and again to this Italian restaurant. The duck, slow-cooked with porcini mushroom, achieves a rich and juicy ragu that slathers itself on the pasta sheets. Sprinkled with pickled black walnuts for pungent flavour, this is easily one of the best pasta dishes in Auckland. 
Peking Duck Tacos from Euro Bar & Restaurant
Although Euro is renowned for European cuisine, the Asian-inspired Peking Duck Tacos prove the versatility and skill of this restaurant. The thin taco wraps are slathered with hoisin sauce for a delectable sweetness to enhance the flavours of the braised duck. Garnished with slivers of cucumber, each mouthful is as heavenly as the next.  
Duck Confit from The Engine Room
An unbeatable European classic, the duck confit is a dish that embodies pure comfort. The Engine Room's rendition of this timeless delight is an absolute must when dining at the North Shore restaurant. The accompaniments vary according to the seasonal ingredients, but most recently they offered bursting cherries and a bed of kumara purée to enhance their mouth-melting tender duck with a beautifully balanced mix of sweet and savoury. 
Duck Confit from Ponsonby Road Bistro
Another restaurant that serves a duck confit is Ponsonby Road Bistro. As it effortlessly falls apart, this duck is served with a cranberry glaze and paired with a side of potatoes roasted in duck fat. To cut through the ricocheting richness, there's a fresh salad of radicchio and almonds. Delightful.