If you're anything like us, you have excitedly and thoroughly mapped out your menu for the next few days to include your dream takeaways and eat-at-home meals from your favourite restaurants — sorely missed and now available at alert level 3. The selection is comprehensive indeed, as hospitality venues all across town pivot to make their offering available to enjoy in the comfort of our own abodes.
If you're even more like us, the craving for a great burger has been growing steadily stronger throughout level 4. While it's possible to make them at home, there's nothing quite like a burger crafted by the experts with the perfect ratio of filling, sauce, salad, superior buns and great sides. The ultimate indulgence, here are the best burgers on offer in level 3.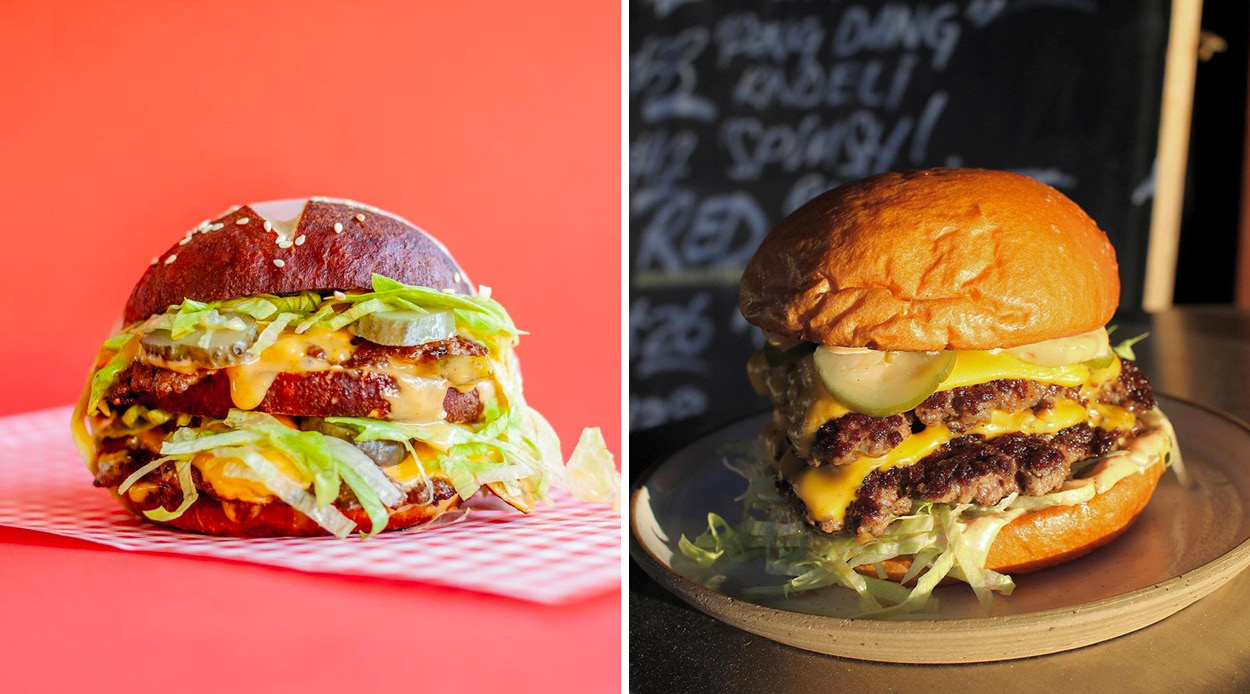 Parade Ponsonby
Specialising in house-made pretzels, including pretzel burger buns, Parade's burgers are next level — even when we're not moving to the next alert level. Choose from a delectable array including smash or double smash patties, fried chicken, falafel and more, and don't forget to supplement with 'secret sauce' fries. Place your order for contactless pick-up via DM through Parade's Instagram, call 09 666 0027 or, for delivery, use Uber Eats.
Cantine
The Bar Celeste team have brought back Cantine, slinging their delightfully gluttonous burgers. Sure to satiate the meanest burger craving, find Celeste's famous Filet O'Market Fish and the hamburger-style Smashburger in the mix, as well as suitably indulgent sides. While they are so popular that they have sold out for the weekend, keep an eye on their Instagram and get in quick when they open orders again.
Hotel Ponsonby
Having opened its pre-orders on Tuesday the 21st of September, Hotel Ponsonby has an irresistible selection on offer, including various renditions of its famous burger. A new chicken sub is in the mix as well as the vege burger, plus shoestring fries, sticky toffee pudding and more. Order online here and keep an eye on Hotel Ponsonby's socials for updates.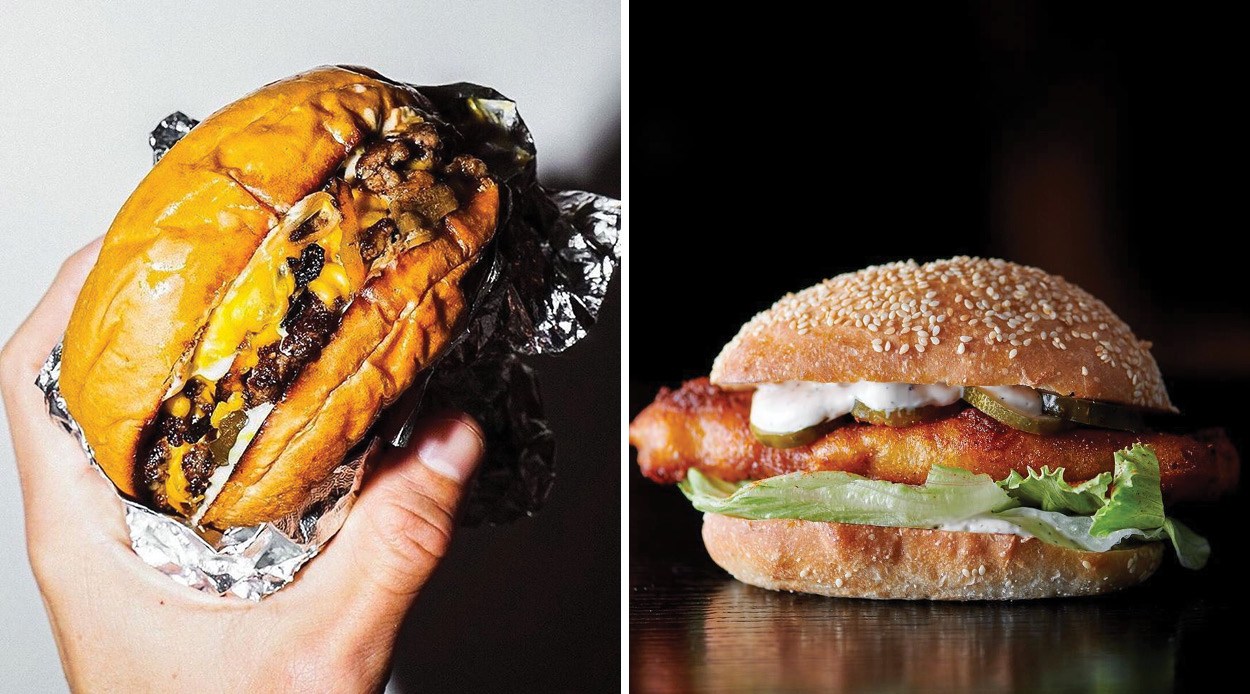 Baby G
Another cult favourite burger purveyor with hundreds of enthusiastic fans, Baby G is offering click and collect for its iconic smash patty burgers. Again, Friday's offering has been eagerly snapped up already, but keep a close eye on the Baby G Instagram and website for the next round.
Lowbrow
St Kevins Arcade's resident fast-food-but-better outpost is one of our first ports of call for the ultimate burger thanks to its 'sando' menu. Our go-to order? The hot chicken sando, or the hot spice 'fush' sando. Or maybe, the Macdaddy… scratch that, we'll have one of everything. Lowbrow is taking orders for pick-up via its website or delivery via Delivereasy and Uber Eats.
Burger Boy
Satiate any burger craving with Viaduct Harbour joint Burger Boy's selection of simple yet smashable burgers. It's open seven days from 11am until 9pm for takeaway or delivery. Find breakfast buns like the BLT or the Vege Butty (free-range eggs with hash browns, veges and mayo) and any-time favourites from beef burgers to Korean chicken and more. Available for contactless pick-up and also delivery via Uber Eats. Order online here.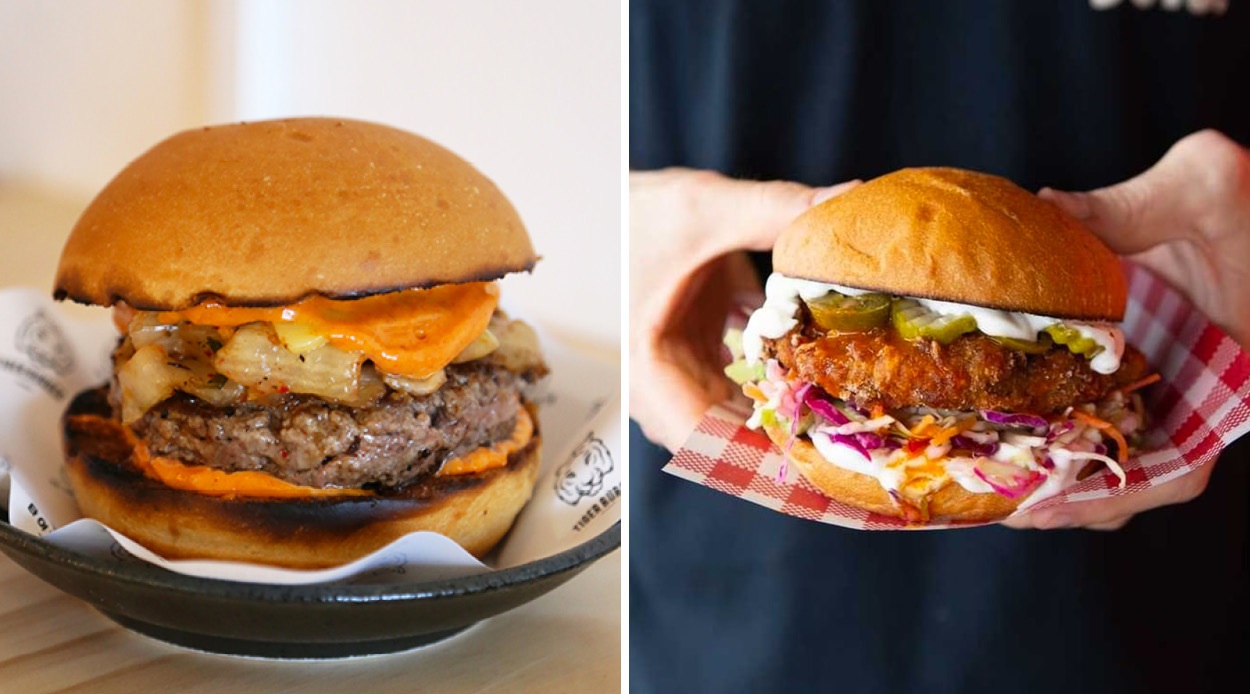 Tiger Burger
Known and loved for its Korean fusion-style burgers, Tiger Burger is back up and running so you can order the Gang-Jeong (free-range, double-fried chicken thigh with chilli glaze and gochujang mayo), the Galbi (beef, rice vinegar pickles, caramelised galbi onions) and more. Order online here.
Wise Boys
Get your plant-based burger fix from Wise Boys, open from Thursday the 23rd of September for contactless pick-up at its Grey Lynn store. Along with all the usual favourites, there are spicy Buffalo chick and cauli wings specials. Place your order via Wise Boys' website, call them on 09 360 0801 get it delivered through Delivereasy. The Wise Boys team are not accepting walk-up orders right now.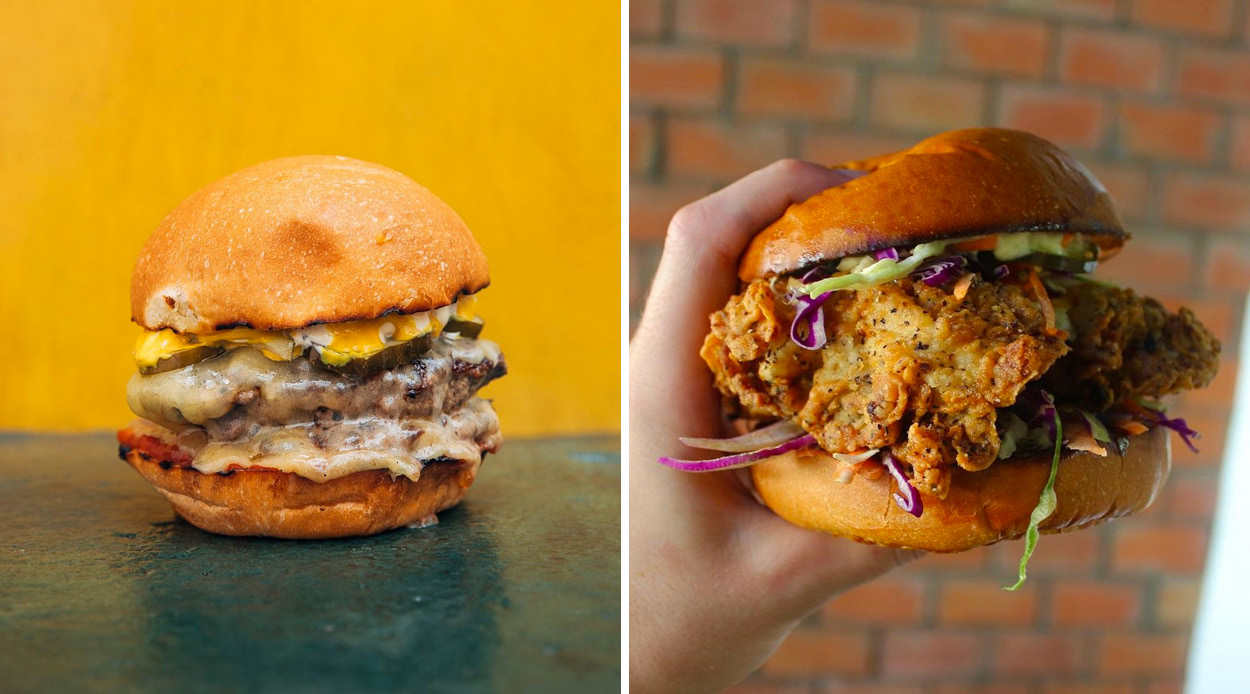 Burger Burger
Auckland's beloved burger joint Burger Burger is offering its full burger menu including specials, sides like potato skins and charred broccoli, plus milkshakes and sodas for contactless pick-up or delivery via Delivereasy from its Ponsonby and Takapuna locations. Its Commercial Bay location is closed, for now. Head to the website to order.
Burger Geek
This Eden Terrace burger store was just about to open a new location in Grey Lynn when lockdown hit, so we suggest giving it your support. Just the main Symonds Street store is open for takeaways currently — keep an eye on their social media for updates and ordering details.