Juicy, moreish and impossible to resist — nothing beats a steaming plate of dumplings. These savoury parcels are high on our dining hit list with winter fast approaching, tempting us with variations that range from cheap and cheerful to just a little bit fancy. Whether gyoza or har gao, traditional favourites or contemporary twists, these recommendations are sure to satisfy. Our only advice? Proceed with an appetite.
Azabu
Enclosed within soft and silky films of dough, the dumplings from Azabu are a luxurious treat like no other. The spicy pork gyoza come with Sichuan pepper and aji amarillo (a yellow, fruity South American pepper), while the artichoke dumplings with mushroom puree, chilli and almond make for a delightful vegetarian bite.
Eden Noodles
Eden Noodles' silky soft dumplings in addictive spicy sauce are the stuff of legends — with queues often snaking out the door as eager punters wait to sample its Sichuan-inspired dishes. Pork and chive dumplings are a popular choice, but we often can't go past the vegetarian iteration, which feels somewhat virtuous even if you skip straight to the largest serving. Dumplings are also available to buy frozen, so you can keep the good tastes rolling at home.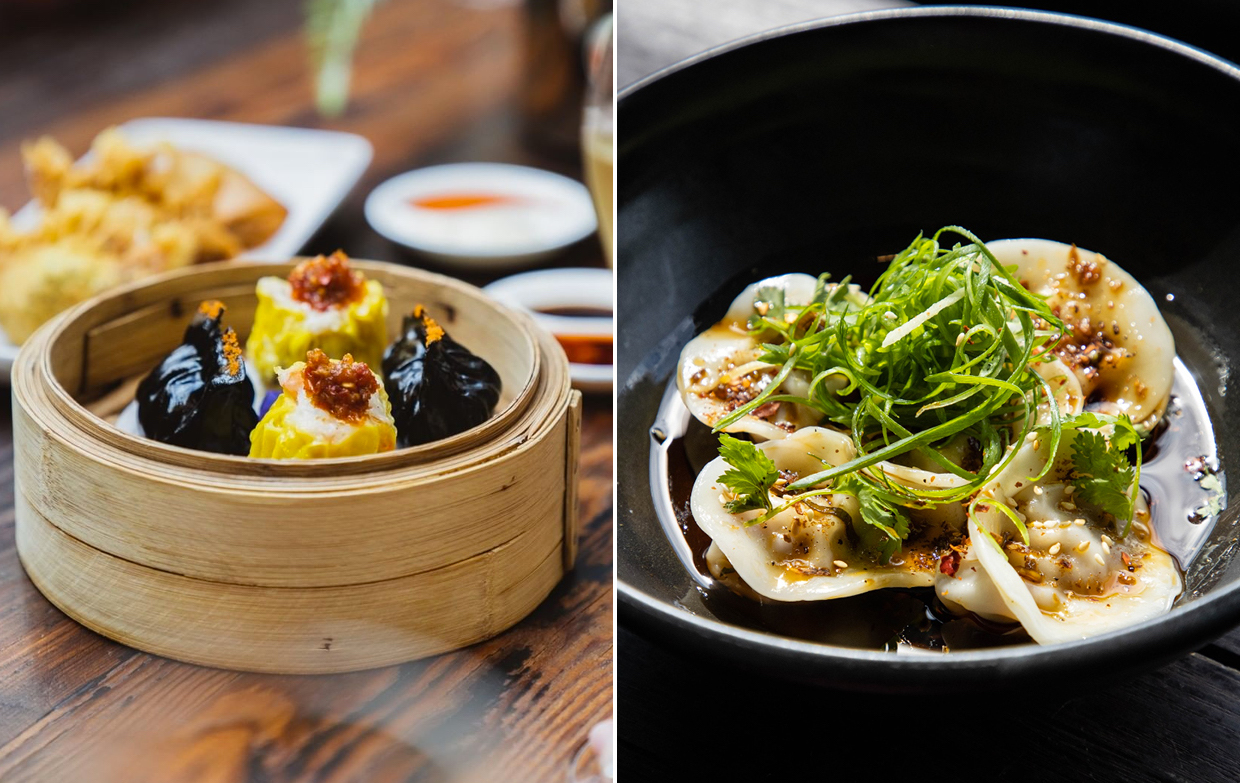 Huami
Prepare yourself for a blissful dumpling experience — Huami's refined and exceptionally crafted specimens are a revelation. With combinations like prawn and truffle, fried pork and leek or siew mai with xo, shrimp and chicken begging to be sampled, the only thing to do is order up large.
Wang Wang Spring Pancake
This place is one of Dominion Road's hidden gems (for more on those, check out our guide to eating and drinking Auckland's most delicious strip). Wang Wang Pancake specialises in pancake wraps, similar to the ones used for Peking duck, however the pork and pickled cabbage dumplings are a must-order. We highly recommend ordering the shredded potato salad on the side, which offers the perfect vinegary accompaniment to the savoury dumplings.
The Blue Breeze Inn
The dumplings from The Blue Breeze Inn are deliciousness personified — with tasty variations good enough to turn anyone into a bona fide dumpling fanatic. Experienced punters will know no trip to Blue Breeze Inn is complete without a side of black tiger prawn dumplings, while those feeling a little more experimental should tuck into the fried spicy chicken dumplings and the scallop, prawn and paua dumplings.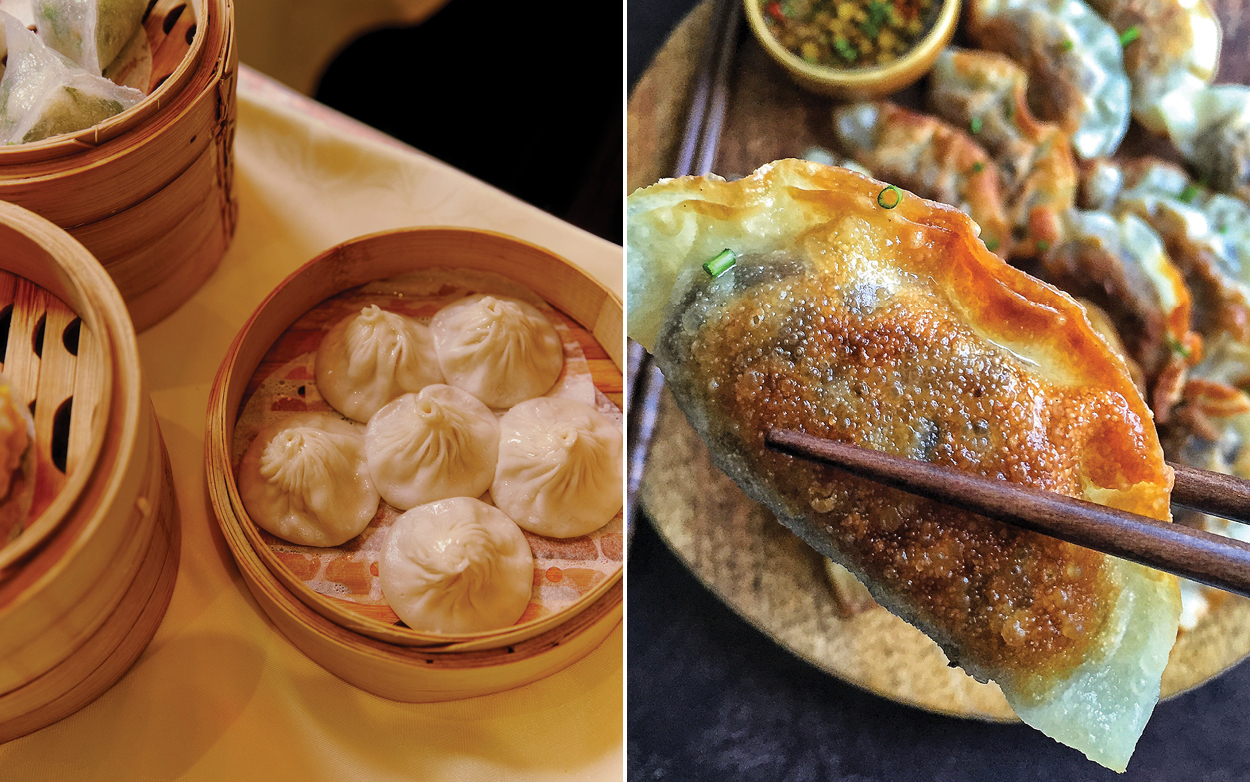 Grand Harbour Chinese & Seafood Restaurant
If you have a craving for Sunday morning dumplings, look no further than Grand Harbour Chinese & Seafood Restaurant. This place is an institution, renowned for its super fresh dim sum that are wheeled enticingly past your table during yum cha service.  We can't recommend just one dish from its extensive offering, everything is truly top notch.
The Gyoza Bar
Bringing an authentic gyoza experience to Auckland, these half-moon structured versions are soft and crunchy in equal measure thanks to being fried on the bottom and steam-cooked on the top. The thin casing makes them a touch lighter than traditional dumplings, while still encompassing the carby goodness we know and love.
Jolin Shanghai Restaurant
There are dumplings and then there are soup dumplings, otherwise referred to as xiao long bao. A delicacy that requires a high level of skill to make, these dumplings are filled with rich meat soup, usually made from pork. The little xiao long bao pockets from Jolin Shanghai are freshly made to order and boast thicker skins than traditional soup dumplings, imbuing them with a chewier texture.
Sumthin Dumplin
The perfect place for a lunchtime drop-in or late-night bite, Sumthin Dumplin's menu is a happy fusion of traditional tastes with a modern twist. On one hand, 'The OG' sees the classic combination of pork and cabbage served in an original wrap (which is a soft, fluffy casing similar to the consistency of bread); whereas the premium beef offers a dumpling incarnation of our beloved meat and cheese pie, as premium beef, onion, mozzarella and parmesan are combined in a surprising blend.
Basu Lounge
While the North Shore's Basu Lounge is known for taking dan dan noodles to new heights, dumplings are also a speciality. The freshness is evident in each and every made-to-order morsel — our perfect order is a dan dan noodles and dumplings, to share.
Mr. Zhou's Dumplings
If you're after a dumpling fix but want to dodge the usual Dominion Road crowds, go to Mr. Zhou's. Owned by Bin Zhou, the original mastermind behind Dominion Road dumpling hangout New Flavour, Mr. Zhou's dumplings are made fresh in-house daily. The menu boasts a variety of vegetable, seafood and meaty options to choose from. The pork and chive dumplings are well worth topping your order, closely followed by servings of bok choy with mashed garlic and the stir-fried shredded potato with hot chilli.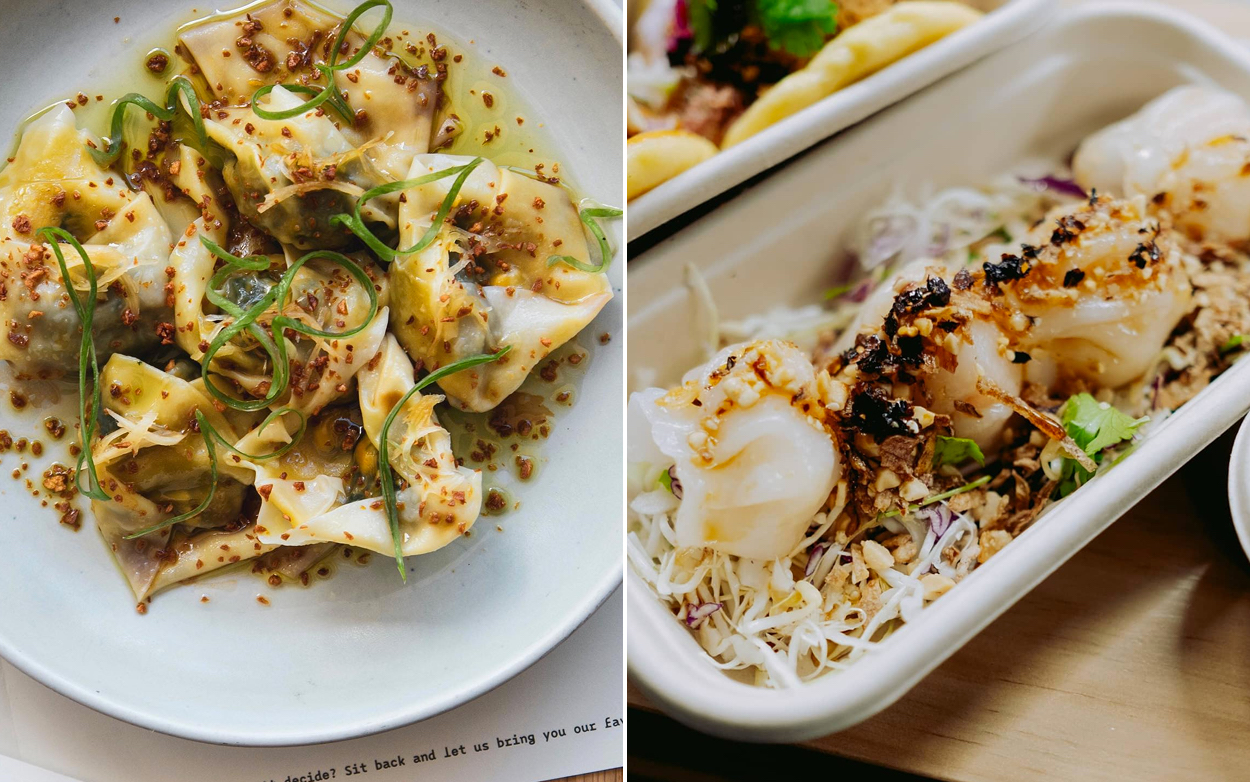 Hello Beasty
Drawing inspiration from Korean, Japanese and Chinese cuisine, Hello Beasty is where you go when you want your tastebuds to be taken on a journey. Each dish offers a complex medley of flavours that are influenced from all across Asia, with the savoy cabbage, water chestnut and tofu dumplings with crispy garlic and soy red chilli dressing no exception.
Tianze Dumpling House
It's love at first bite once you get a taste of Tianze, a very low-key spot in Sandringham. Nearly everything on the menu is worth coming for, including the mapo tofu, which is some of the best in town. Talking dumplings, we recommend the cabbage, black fungus and tofu variety, fried. Black fungus might not sound that appetising but just trust us — plus, they're vegan-friendly.
The Rolling Pin
What started as a food truck, The Rolling Pin has now grown to a dumpling empire with three brick-and-mortar locations Auckland-wide — thanks to its inventive creations. Case in point, the Tsingtao spicy pulled pork dumplings. The slow-cooked pork has been infused in Tsingtao beer to lend a more savoury flavour and is marinated in a spicy Sichuan broad bean chilli paste for an extra kick. The slaw on top adds a welcome freshness and crunch.