Not all of us are dessert people, but those who are, know the joy of finishing a meal on the perfect sweet note. Whether you're a fan of a creamy, chocolate-rich pudding; a delightfully doughy creation or something refreshing and tart, these desserts will leave you just the right amount of satiated.
Toasted brioche-infused crème caramel with roast quince and fresh cream from Culprit
When we want to be sure our dessert will be just the right amount of comforting and clever, we make a beeline for Wyndham Street eatery Culprit. This crème caramel harnesses the flavours of toasted brioche for a doubly caramelised, toasty hit. Paired with the sweet, slightly tart roasted quince and a quenelle of cream, it is the epitome of an unforgettable pud that will leave your soul and belly warm.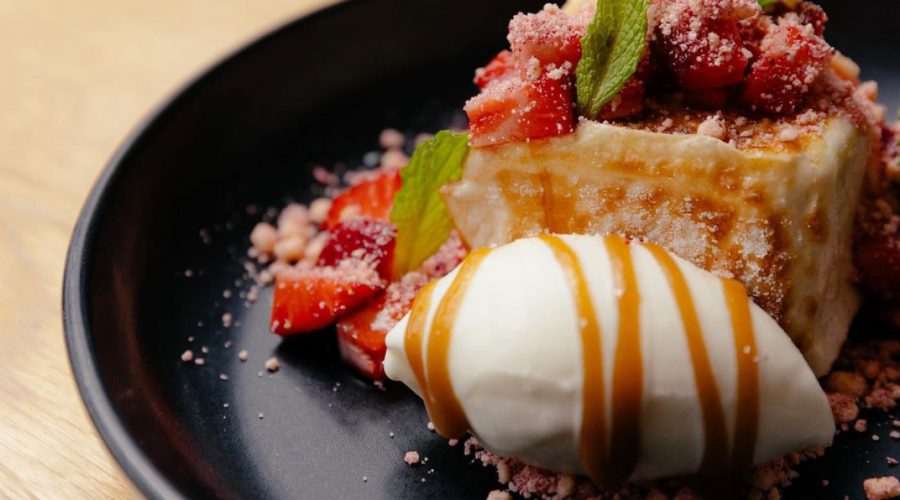 Strawberry marshmallow with jersey milk and miso ice cream, white chocolate crumble and lemon balm from Hello Beasty
This dessert from the maestros at Hello Beasty centres on the caramelised, pillowy-sweet flavours of a large, house-made marshmallow, brought down to earth with a slightly salty jersey milk and miso ice cream. White chocolate crumble adds another layer of sweetness, with juicy fresh berries and lemon balm to garnish round off for a beautifully fragrant taste.
Warm chocolate pudding with Frangelico and hazelnut ice cream from Soul Bar & Bistro
Served in your very own mini skillet, this chocolate pudding is for those who like to dive into a comforting, decadent dessert with no holds barred. While it may be rich, the texture is still very light and airy. Inside is a hazelnut and white chocolate praline, with an addictive crunch added from more hazelnuts dotted throughout. A generous dollop of hazelnut ice cream provides that delicious hot-to-cold contrast, in this dessert that you'll be savouring until the very last bite.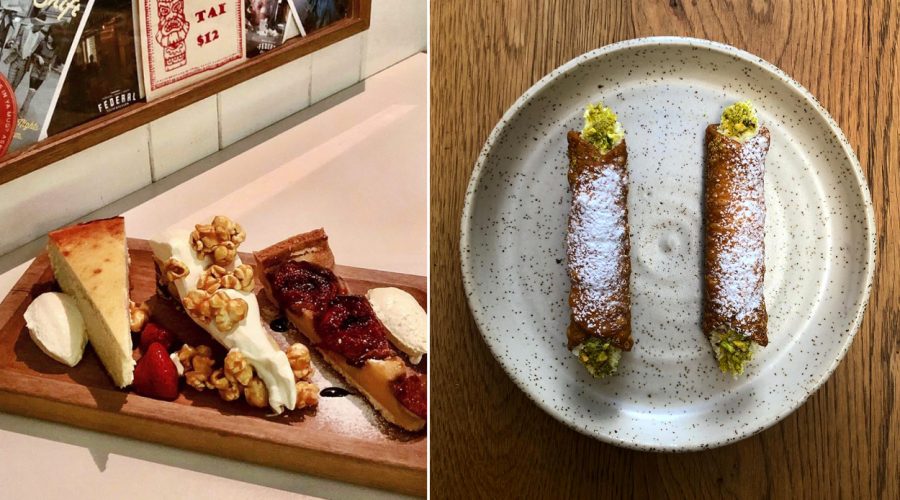 The three pie combo from Federal Delicatessen
Sometimes, only a good ol' slice (or three) of pie will do, and Fed Deli's are some of the best in town. Our preferred combination is the NY Cheesecake (an unbeatable iteration of the classic), the silky lemon meringue pie, and the pecan pie with vanilla mascarpone cream. Banish dessert envy and get your sugar hit in one fell swoop — we won't even judge you if you're not sharing with anyone.
Cannoli, sweet ricotta, vanilla and pistachio from Ada
This Italian dessert is an absolute classic, and Grey Lynn restaurant Ada has got it down to a fine art. Crispy pastry shells are dusted with icing sugar and filled with pipings of creamy and sweet, vanilla-tinged ricotta. Sprinkles of pistachios add the perfect nuttiness to this unmissable treat of a dish.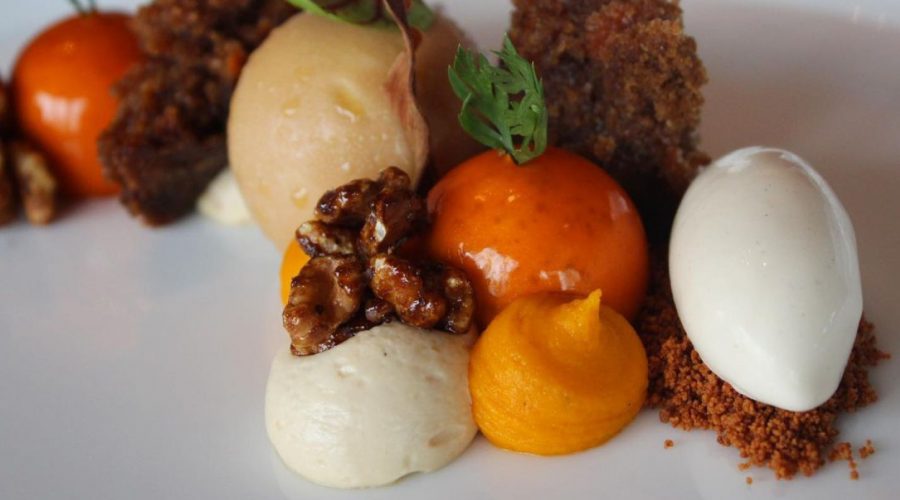 Burnt vanilla crèmeaux, roasted carrot purée and tonka bean ice cream from Onemata
This dessert centres on the flavours of a vegetable, so we're pretty sure we can say it's a health food? The geniuses in the kitchen at Onemata have created a deconstructed dish that incorporates all the flavours of carrot cake that we know and love, but elevated even further. The earthy carrot purée is spiced with cardamom, star anise and cinnamon, and delightfully offset by creamy and complex burnt vanilla mousse. Tonka bean ice cream adds freshness, and there's plenty of texture in every mouthful from added garnishes like house-made carrot crisps and Valrhona Dulcey ganache.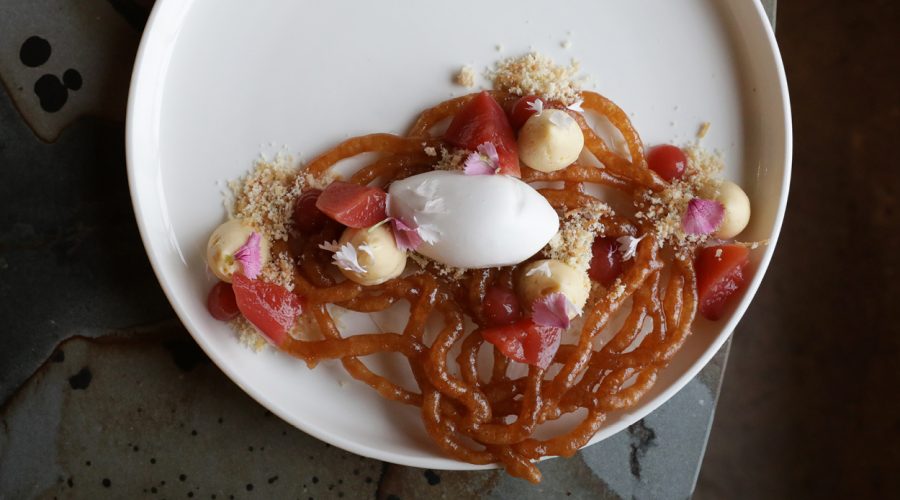 Zalabia funnel cake with cardamom, feijoa, cream diplomat and coconut from Gemmayze Street
This dessert sees funnel cake (a simple batter that's swirled into hot oil and deep-fried to create a golden, basket-like treat) soaked in a fragrant, sweet cardamom syrup and paired with seasonal flavours. The latest iteration sees it married perfectly with feijoa, cream diplomat and coconut to create a suitably autumnal treat.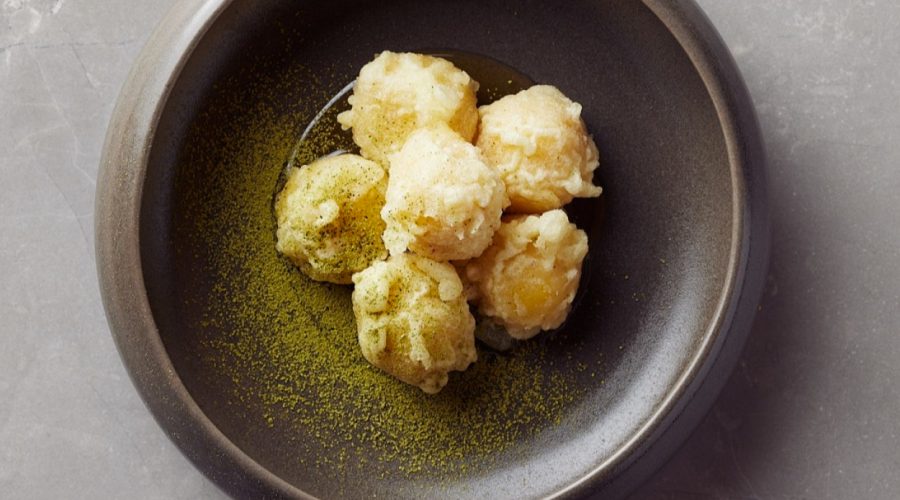 Tempura custard with ginger jam and matcha from Azabu Ponsonby
Combining a delectably crunchy outside with a soft, creamy inner, these deep-fried tempura custard balls are tasty morsels that hit the spot every time. A slightly spicy ginger jam and a dusting of earthy matcha powder makes sure this dish has depth and complexity, and is the ideal last course following a meal of Azabu's flavourful, Nikkei fare.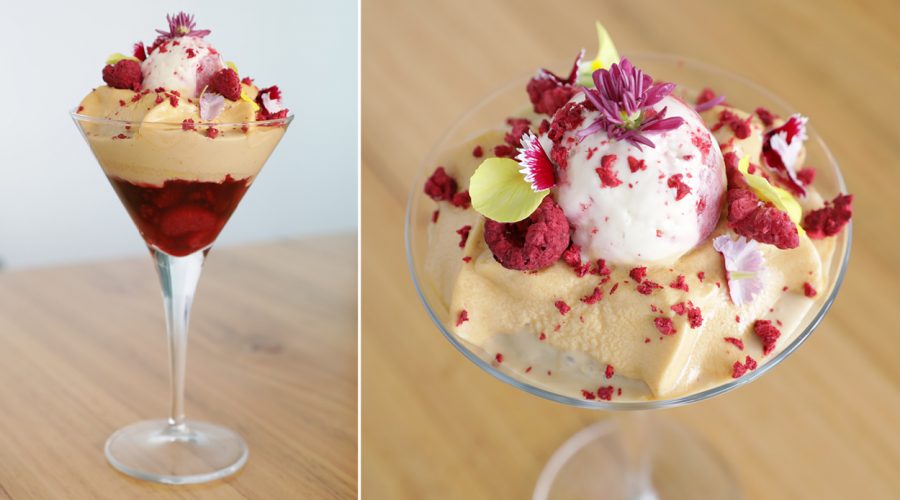 Tres leche cake, coffee anglaise, raspberry ice cream from Grangers
This pretty pudding is a bit like a trifle, served all to yourself rather than in a giant bowl. A base of sweet berry coulis is topped with a creamy coffee anglaise that incorporates the deconstructed flavours of tres leche cake. A scoop of raspberry ice cream on top rounds out the heavenly and flavourful treat.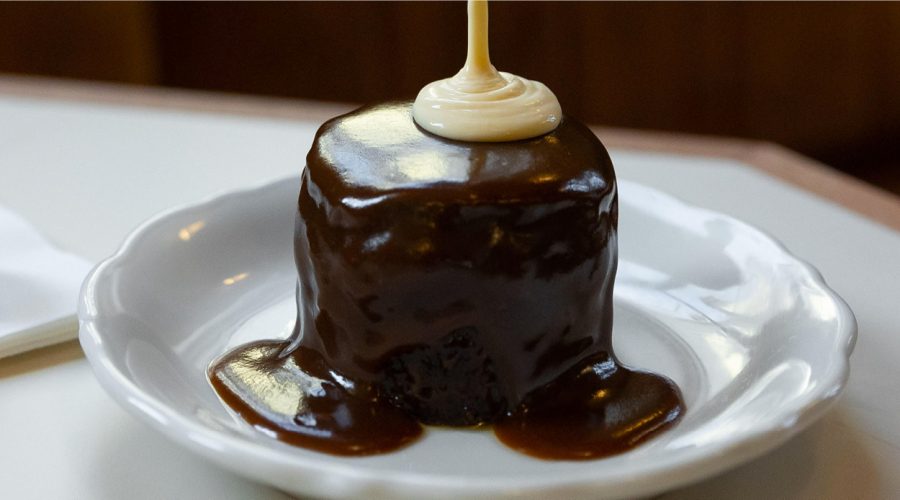 Sticky date pudding from Hotel Ponsonby
Every time we see so much as an image of this dessert, we're instantly daydreaming about the next time we can indulge. Served with custard to be poured over the top, this sweet treat comes with a hefty hit of nostalgia that will have you feeling all kinds of warm fuzzies.