After the shocking news of Euro's permanent closure in October as a result of the challenges caused by the pandemic, Auckland's on-going CBD roadworks, severe staffing shortages due to locked borders and working visa issues, the couple behind one of the city's most loved stalwart eateries share some of the memorable highlights of their 20-year ownership.
My first introduction to Euro was in late 1999. I'd returned for a short holiday in Auckland while residing full time in New York. Back then, the Auckland hospitality scene was tightly held by a few leaders in their field, many of whom — Chris Rupe at SPQR, Kelvin Gibson at Prego, Mark Wallbank, and Jeremy Turner at Cibo — are still operating today.
To say that I was greatly affected by the cosmopolitan life I was leading in New York at that time, would be an understatement. Living across the street from such famed institutions as Keith McNally's Pastis, and being an almost too regular patron at Balthazar, left me with what I can sagely look back on as delusions of grandeur. So, when presented with the proposition of Auckland's shiny new hotspot of hedonism, Euro delivered in spades a renewed enthusiasm for a city I once viewed as being well below my lofty international standards.
First opening in 1999 in the lead up to the America's Cup, Euro fast became the place to be. It attracted lawyers from Shortland Street, advertising executives from Parnell, and financial pundits behind what turned out to be some of the country's dodgiest Ponzi schemes, all wielding expense accounts and gold cards with never-ending spending limits. Deals were made here over the longest lunches imaginable. Back then, long lunching was an art form; those with the greatest stamina and cunning, generally got the deal signed, sealed and delivered on the spot.
Richard Sigley was involved in Euro from its inception, initially in his capacity as general manager of on-premise operations at Dominion Breweries, who provided the funding for the first owner, before he took full ownership in 2000.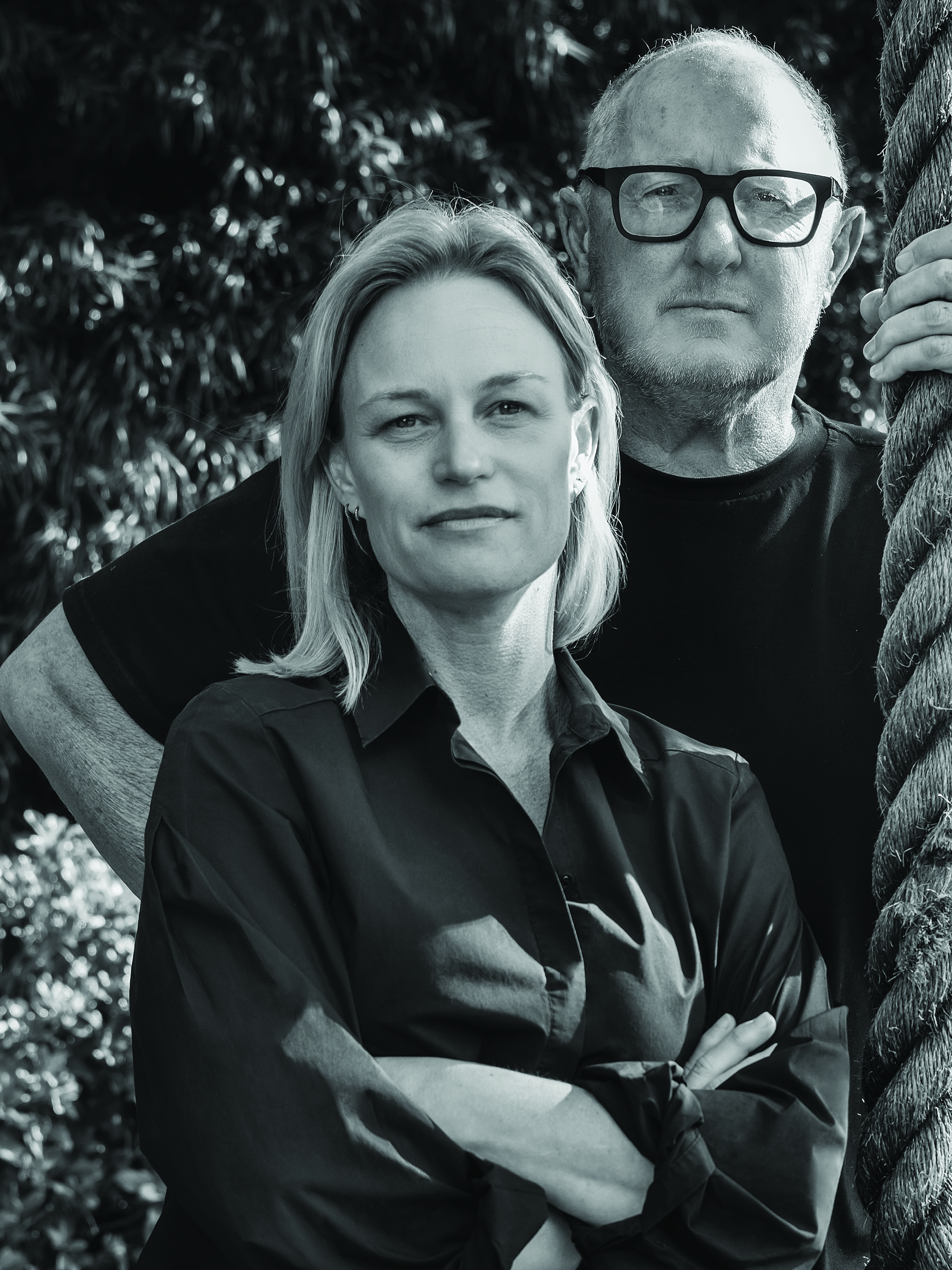 Richard and his wife Paula, have become much loved friends of mine in the years since, and it was with immense sadness that I witnessed them make the very personal and heartbreaking decision to shut the doors to their iconic eatery after more than 20 years of consistent operation.
Anyone who knows the Sigleys will immediately regale them as solid, great people; the ultimate duo, who care greatly for each other, and equally for their staff. Which is why it's important to note here, that it was the ability to keep all of their staff employed — during an utterly devastating period for the hospitality industry — that forced them to close the doors on their first child, Euro, rather than to lose valuable employees that they consider part of the family.
I caught up with my old friends recently to reminisce about the good times, and celebrate the resounding success that they had built together.
"Looking back, we really grew up at Euro," says Paula. "It initially started with the crazy party days, then we had two children (now aged 11 and 14), and have come out the other side of it with a group of 13 eateries. We lived and breathed it, we actually lived in an apartment above the restaurant for a while, along with one of our maître d's. We also had one bedroom set aside for the office lady to use too. We were on call 24/7 and we loved every minute of it."
Paula and Richard met at Euro, friends at first, as most things start. They soon caught the attention of the rest of the staff with their flirtations. Richard wryly jokes that "it was pretty easy pickings when you're a successful restaurateur, Paula really got the golden ticket." But Paula likes to suggest that she was in fact more attracted to one of her fellow waiters, who turned out to be gay. A fact that Richard knew well, after being on the receiving end of a long and lingering buttock squeeze from behind. Assuming it was his new love interest, he turned around to learn it was instead Paula's gay male 'friend'.
Their courtship lasted for several years, before culminating in a memorable wedding celebration held at Euro, which signified just how big a part of their lives the establishment was.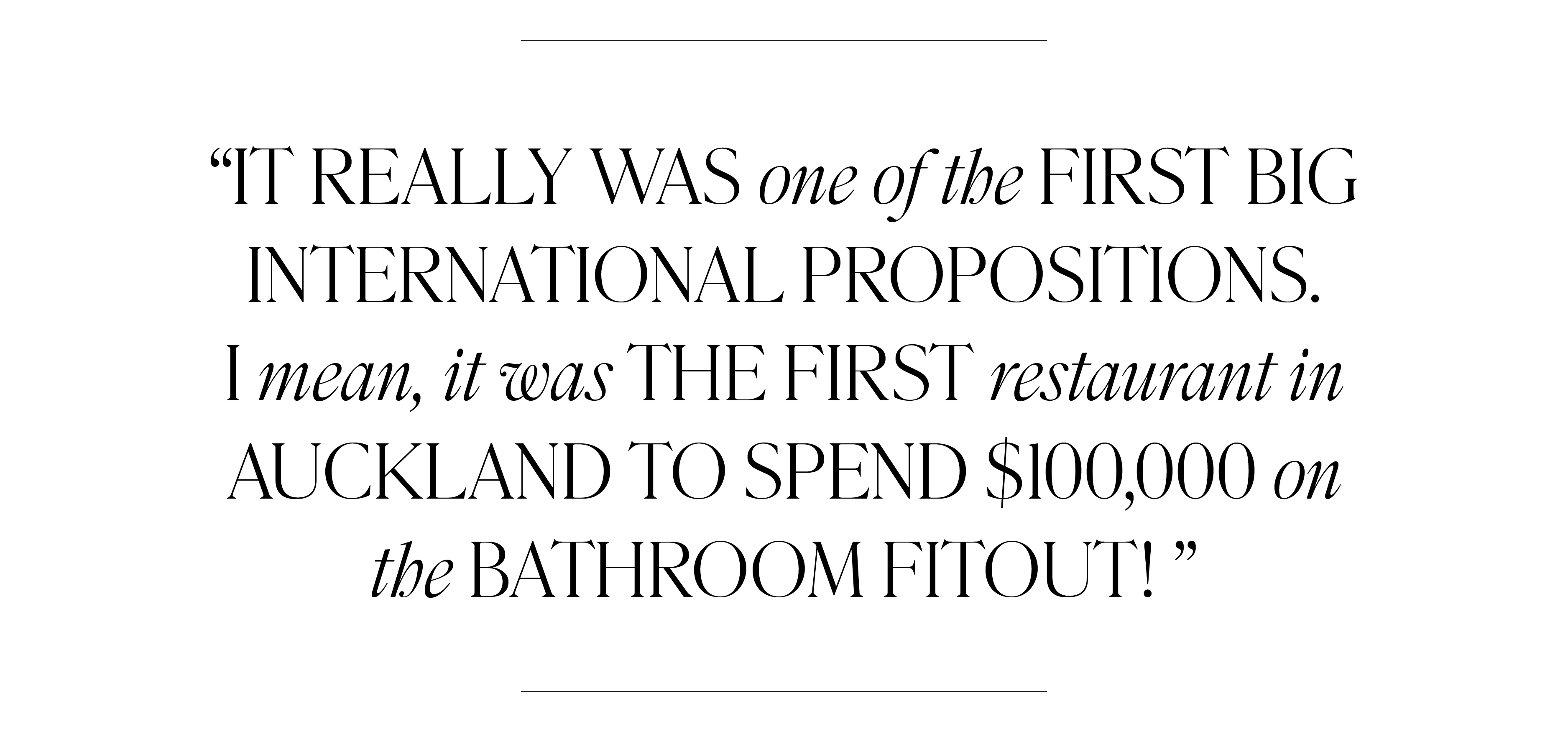 We talk about the good old days of hospitality, and how Euro led the way with a new direction that was about more than just the food. Paula describes the early days as "pure hedonism, anything goes, with no limits. It really was one of the first big international propositions. I mean, it was the first restaurant in Auckland to spend $100,000 on the bathroom fitout!" I can vouch for the fact that this became a big trend for Auckland eateries thereafter; 'but what are the bathrooms like?' was the first question anyone asked about a new opening.
"The design of Euro was truly international; a beautiful space that attracted those who wanted to be seen. There were no other precincts at the time, Parnell was our only competition, and we were, in theory, the first restaurant on the water," says Richard, "we very quickly developed our own culture, which had a sort of wild brazenness about it. For the first time there were other factors at play than just a good menu."
Aside from the glamorous environs, the Sigleys both agree that the staff were the ultimate attraction. "They created a sense of belonging for guests, people loved the recognition that the floor staff gave them. They would always remember your favourite drink and order you one as soon as you arrived. These were waiters who chose this path as a lifelong career, and it showed. They had all worked overseas and brought an international sensibility and an incredible sense of fun," says Paula, before Richard adds, "Euro definitely had the best staff in the country. People used to joke that Euro was a place where waiters came to die, because they made so much money (more than $1000 a week in tips alone) they never left us. Many of them worked for us for decades."
Paula looks back fondly on the "absolute magic" that came during a busy service. "The hum and the rhythm of it, feeling tension from the kitchen, watching the floor staff bounce and smile through it all. Knowing the customers are blithely unaware that we are getting slammed. Everything is on a knife edge — and then pulling through it — the camaraderie and high of the staff at the end of the night are some of my best memories ever."
It's not hard to imagine the balancing act required to run an eatery that seated 90 inside and another 30 out on its popular waterfront terrace. Richard stresses, "we would have easily had 500 people in that place on a busy day, people standing at the bar, outside on the terrace… that's before the council got gnarly on it. But, we had an incredibly strong trade of people that enjoyed having a very good time. It was not unusual for a table of eight to spend upwards of $5000 in one sitting, with the midweek shifts being some of the biggest, and dare I say it, sometimes with the same people coming three days in a row."
Paula says that her favourite regulars were those with great manners and who genuinely appreciated their staff, but also those who came knowing that they were there to have fun. There was no place for the stiff upper lip here. Understanding that at some point during your dining experience revelry would ensue around you, made it even more enticing. So enticing that the likes of Robbie Williams, when he was in town, was desperate to score a table for him and his entourage. Unfortunately for Williams, the restaurant was fully booked, revelry was already well underway without the requirement of his notorious (at the time) bad boy influence.
One of Richard's favourite moments came on an evening he was walking down the waterfront and spied the chef, Gordon Ramsay. Richard, having had a drink or two, boldly approached him and asked him where he'd been. Ramsay said "that place in there." (Pointing to Euro) "What did you think?" To which Ramsay quipped: "Bloody world class mate."
After the first round of lockdowns in 2020, the Sigleys alongside their celebrated Executive Chef, Gareth Stewart, set out to identify what the Euro of 2000 could be 20 years on. "We all put so much energy, grit and determination into rebuilding and identifying the new face of Euro," says Paula. "Gareth added so much value with his instinctive and true cuisine, he's undoubtedly the most talented chef we've ever worked with. The resulting Euro 2.0 was a moment we really felt proud of." Richard adds "We've always tried to lead, always been consistent in being innovative, fresh and international."
So how do they feel now about the Grand Old Dame's closure? "We've made peace with it. We were definitely very upset at the time, it certainly wasn't an easy decision," says Richard. "But once we posted the news on social media, the outpouring of support from people far and wide was very moving."
"It actually made Richard cry, reading the comments from patrons and staff," says Paula. Richard laughs recalling a recent conversation he had with a tradesperson, who asked what industry he was in, when Richard replied "hospitality", the guy was quick to reply with, "well at least you don't own Euro".
So what now for the dynamic duo? "We can't wait to be able to have one last hurrah with all of our fantastic staff to bid farewell in the manner Euro deserves," says Paula. "It's been as much a part of their lives as it has ours, so we really want to give her a proper send off."