Few pieces of furniture perfectly represent the aesthetics of designers and signal your personal preferences than the not so humble dining chair. One glance at the Cesca chairs surrounding your dining table signals an appreciation of elegant lines and Bauhaus restraint while a cluster of Knoll's Platners indicates more elaborate design influences.
Upgrading your dining chairs will transform not only your view of the table but your view of your entire home. Here are the stand out seats, in our definitive dining chair guide, that make a meal of the competition.
Eames Moulded Plywood Chairs by Charles and Ray Eames from Matisse
The Eames couple's immediately recognisable masterpiece began as a design experiment in 1946, that finished up being acclaimed by Time magazine as the Best Design of the 20th Century. The moulding contours to the human form, offering comfort along with serious design kudos.
Cesca Chair by Marcel Breuer from Studio Italia
Thanks to its Bauhaus roots, the chair is admired by interior decorators and designers of many generations but its popularity and countless reproductions can often overshadow its significance. The chair was designed by Marcel Breuer, who was inspired by the steel frame of his Adler bicycle, and sits in the collection of New York's Museum of Modern Art.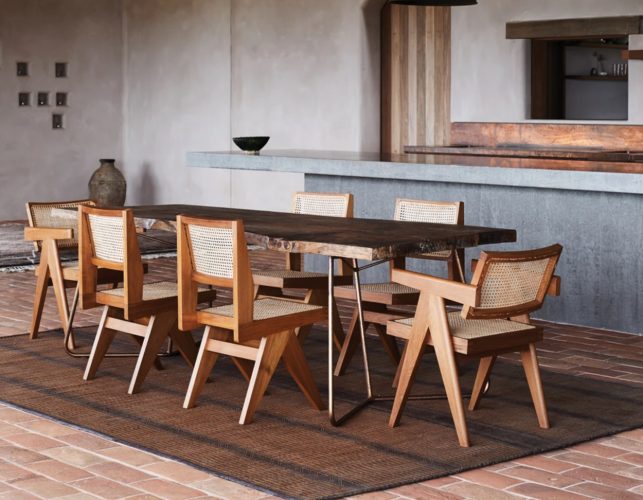 Capitol Complex Chair by Pierre Jeanneret from Matisse
The striking chair is part of the set of furnishings designed by Pierre Bergeret for the Capitol Complex in Chandigarh in India, one of architect Le Corbusier's most significant and visionary projects. Bergeret was Le Corbusier's cousin who designed the interiors while supervising the project from 1951 to 1965. The design, influenced by Burmese teak and local crafts, was reissued by Cassina in 2016 leading to a new generation of fans.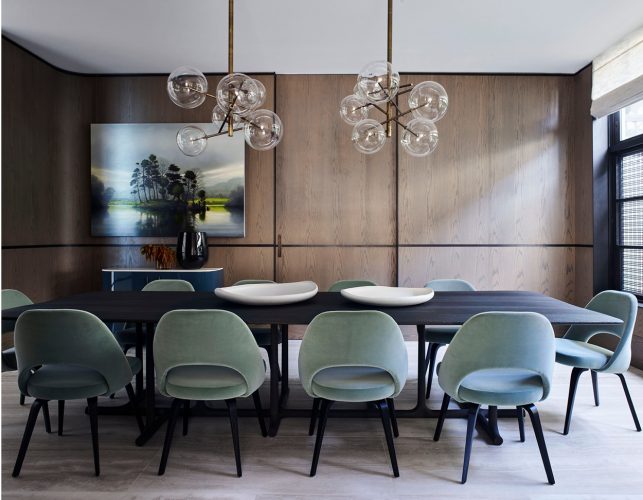 Saarinen Conference Chair by Florence Knoll from Studio Italia
The Finnish-American architect and industrial designer Eero Saarinen received the Museum of Modern Art's Federal Award for Industrial design for the Conference Chair, also known as the Executive Chair. Its languid, comfortable form revolutionised corporate seating when it was released in 1957 and its overall design integrity is equally at home at the dining table.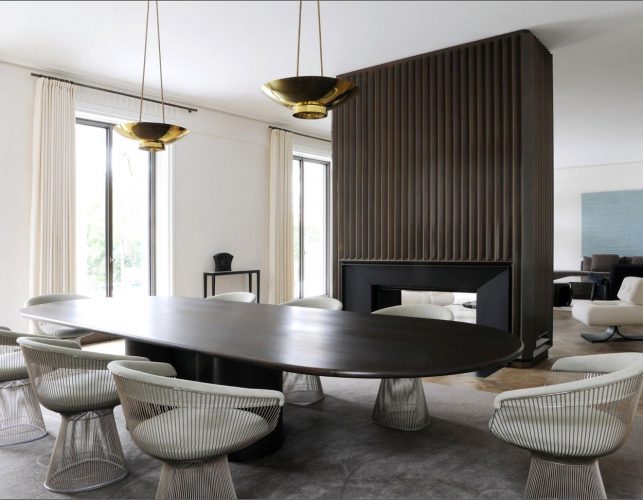 Platner Dining Chair by Warren Platner from Studio Italia
Influenced by the legendary Saarinen who he worked for, American designer William Platner struck out on his own in the sixties, gaining immediate recognition for capturing the modernist mood with his wire forms. "I felt there was room for the kind of decorative, gentle, graceful design that appeared in a period style like Louis XV," Platner said.
Tokyo Chair by Bensen from Tim Webber
Canadian designer Niels Bendtsen draws together his Finnish and Japanese influences with the Tokyo Chair. Its sinuous curve of solid wood connects to the deceptively sturdy feet with a traditional mortise and tenon construction, a method dating back 7000 years but with a startlingly contemporary result.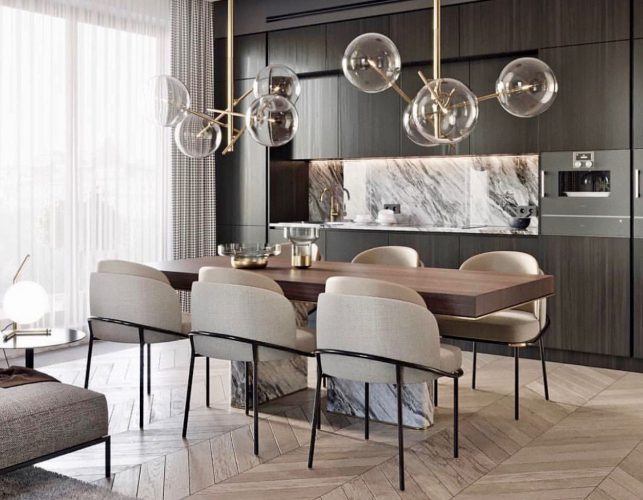 Fil Noir dining chair by Minotti from ECC
French designer Christopher Delcourt's Fil Noir collection for Minotti takes its name from a thread, referencing the fluid form of the chair's delicate structure. The armchair took out a prize at the Elle Deco International Design Awards, in 2018, judged by the editors-in-chief of the 25 different Elle Decoration publications around the world but we give top honours to the dining chair which balances the comfort required for a three-course family lunch with an elegant silhouette.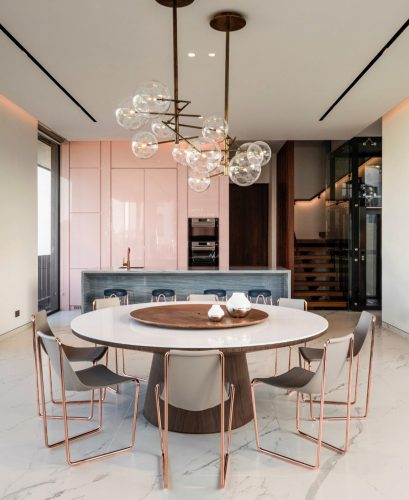 Apelle Dining Armchair by MIDJ of Italy from Sarsfield Brooke
Spanish designer Beatriz Sempere's playful Apelle chair teases the eye with its light form. The high resistance steel frame and thick hide leather seat deliver an elegant and almost futuristic finish. "Functionality and ergonomics are essential in every one of my projects," Sempere says. "Their combination allows an object to obtain public appreciation over time."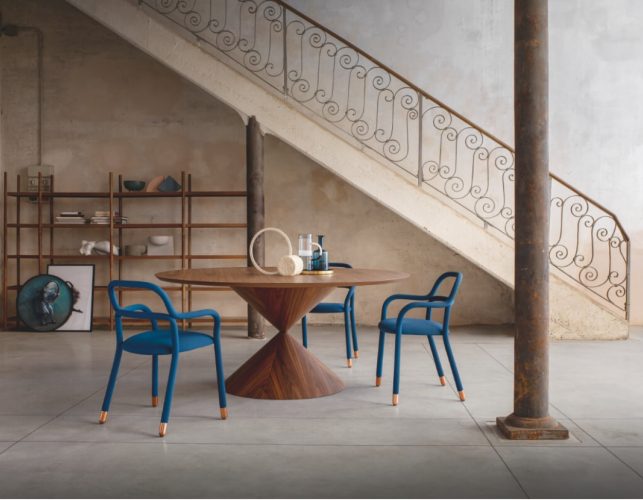 Pippi Dining Armchair by MIDJ of Italy from Sarsfield Brooke
Released in 2019, Roberto Paoli's Pippi chair picked up the Good Design Award that year. Vibrant coloured fabric over a steel frame, evident at the exposed feet, skilfully blends Italian design with international flair.