With unparalleled tourist offerings, from private heli-skiing to scenic fairways to mountainside lunches, Queenstown is a region designed to entertain and is waiting to be indulged in by its countryfolk.
Following on from our definitive guide on where to eat, we present a collection of activities, explorations and indulgences to add to your list in Queenstown, Arrowtown and its surrounding areas.
Hit The Slopes…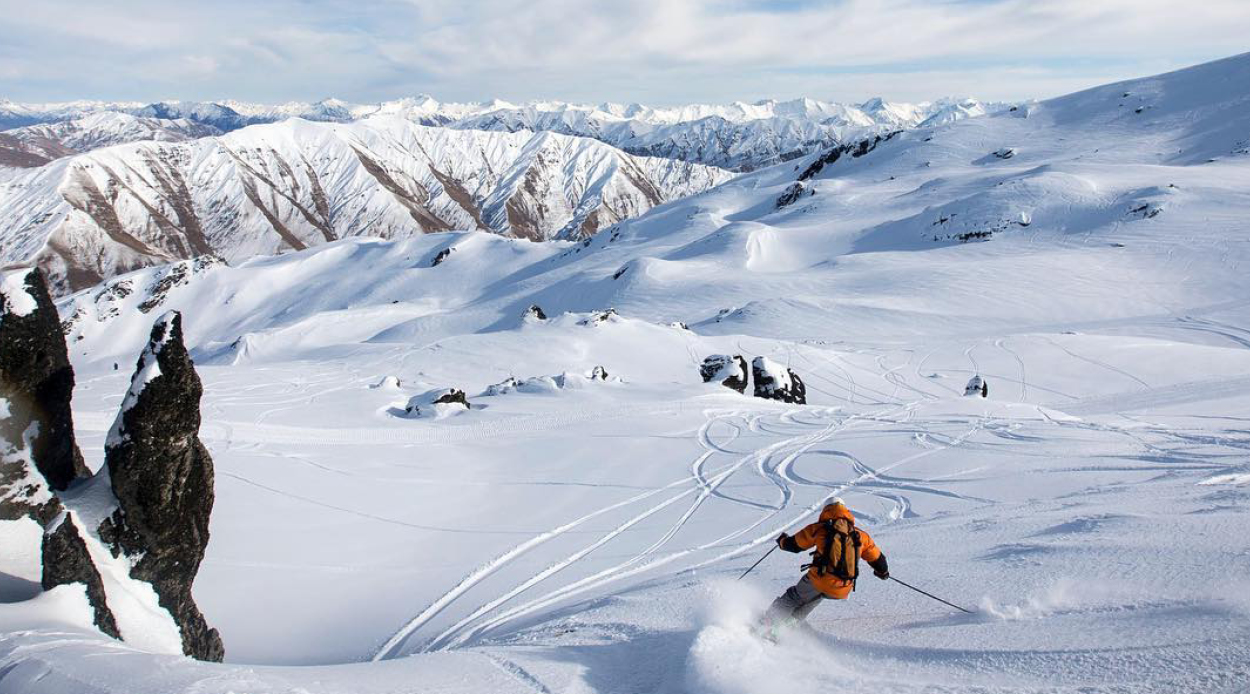 Soho Basin
A remote, invitation-only haven for snow sports and cat skiing, Soho Basin offers pristine, backcountry powder and clean, clear runs. To make a day at Soho really special, you can call on the kitchen at Amisfield, whose chefs will ascend to the exclusive ski field to whip up a multi-course lunch over an open fire, and serve it at the picturesque, European-style chalet right on the mountain.
Southern Lakes Heliski
Offering a range of daily and private charter heliski experiences, Southern Lakes Heliski offers access to over 800 runs across 17 different mountain ranges. It offers more terrain and more vertical than any other operator in the area and can cater to skiers from intermediate to expert level. Ensuring a day spent with them is planned down to the last detail, Southern Lakes Heliski will pick its guests up, organise them into groups based on skill level, and send each off with its own experienced guide, to enjoy some of the most pristine runs they will have likely ever experienced. Lunch will be served surrounded by the arresting alpine scenery before a few afternoon runs finish the day off.
Play A Few Rounds At…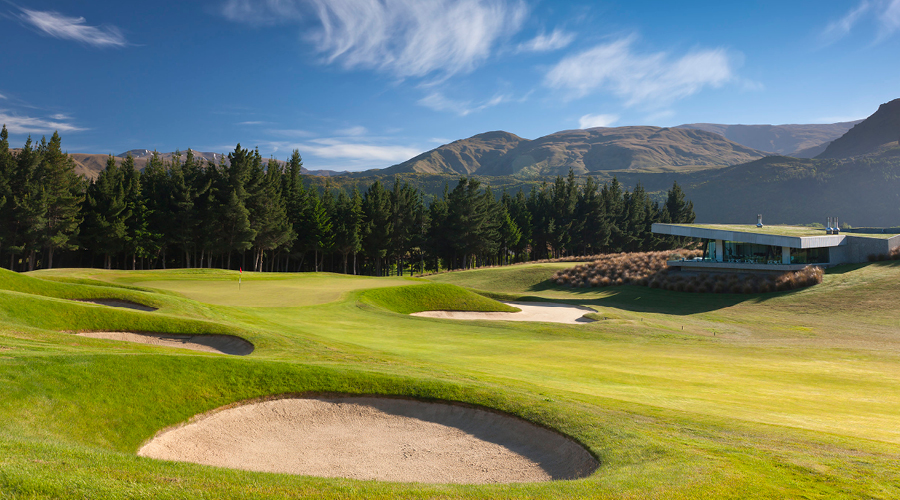 Jack's Point
A major project that is seeing a new suburb materialise on the periphery of Queenstown, Jack's Point is 10 minutes from the airport and 25 minutes from Arrowtown. It boasts nature trails, a central hub and its own 18-hole, par 72 golf course — set against the jaw-dropping backdrop of the Remarkables and recognised as one of the most spectacular in the world. Visitors don't have to be members to book in for a few rounds, and it promises to delight avid golfers and amateurs alike.
The Hills
Harking back to the golf club days of old, where gates were locked and invitations limited, The Hills offers a small number of non-member tee times each month, open to those willing to put forward the lofty green fee. From its wild backdrop to the way its course is home to an exquisite scattering of contemporary sculptures, The Hills is worth visiting for the Andrew Patterson-designed clubhouse alone.
Millbrook Resort
Millbrook's award-winning, 27-hole golf course has seen it universally touted as one of the most impressive in New Zealand. Set against a dramatic backdrop, the course already offers an unforgettable experience. But it's about to get a whole lot better. Having purchased 67 hectares of land adjacent to the existing resort, Millbrook has been adding another nine holes to its offering, which will give the resort two, fully-operational 18-hole courses that can be played simultaneously. The extension is set to be grown-in and playable by the end of 2021.
Take The Family To…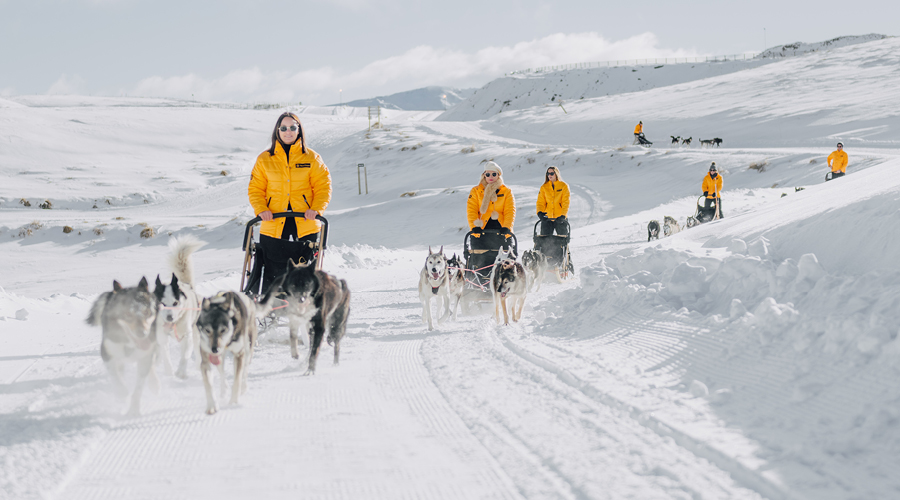 Dorothy Browns
This delightful boutique cinema and licensed bar is the ideal place to take the kids after a long day of activities. Fitted with rows of comfortable armchairs (offering plenty of room for lounging) and presenting a roster of acclaimed contemporary and arthouse films, the cinema is even available to be booked out privately — a great option for families or friends looking for something a little different to do.
Husky Sledding
Immerse yourself in winter wilderness with Underdog's husky sledding at Snow Farm, where you can traverse cross-country trails, pulled by a team of trained husky dogs. Suitable for children as young as 18 months, this is the perfect activity for the whole family.
iFly
Guaranteed to be thrilling for the whole family, iFly offers an indoor, simulated skydiving experience. After being given a suit and a helmet, you'll be directed into a wind tunnel where you'll be suspended in mid-air, mimicking the feeling of the real thing. Open to children as young
as five.
Remarkables Sweet Shop
An icon of Arrowtown, the Remarkables Sweet Shop is a veritable heaven for kids and adults alike. And while its colourful shelves are packed with all sorts of treats, the line-up of the shop's signature fudge in its front cabinet is the reason we keep returning again and again (and again).
Explore The Area With…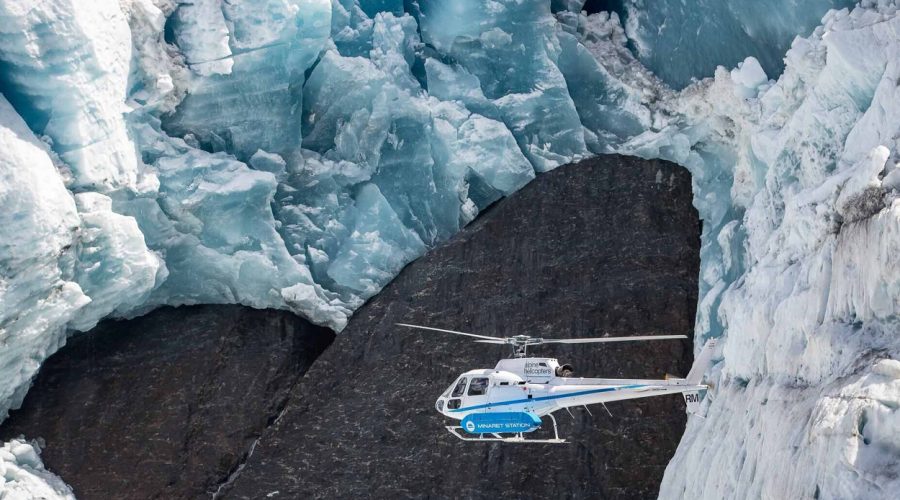 Alpine Helicopters
Offering a raft of intrepid day-trips including heliskiing and guided hikes, as well as scenic flights over some of Central Otago's most exquisite landscapes — including the Milford Sound, Fiordland, Dusky Sound and the Mt. Aspiring glaciers — Alpine Helicopters are the experts to turn to if you want to get out of Queenstown and immerse yourself in the surrounding areas.
Dart River Wilderness Jet
Embark on a half-day adventure through Mt. Aspiring National Park with the Wilderness Jet. An exhilarating ride that will see you take in breathtaking scenery along glacial rivers, you'll also learn about the Māori legends attached to the landscape, and be given the opportunity, when the boat moors up, to explore the ancient beech tree forests on foot.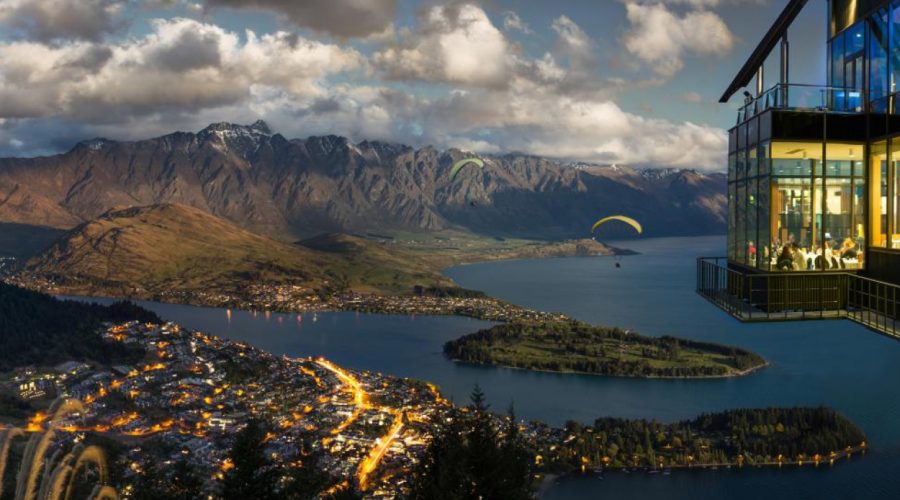 Skyline Gondola
Appreciate Queenstown's sweeping scenery from the 450-metre-high vantage point of the Skyline Gondola — the steepest cable car in the Southern Hemisphere. Once you reach the top, enjoy a drink while taking in the spectacular, panoramic views.
Book A Trip To…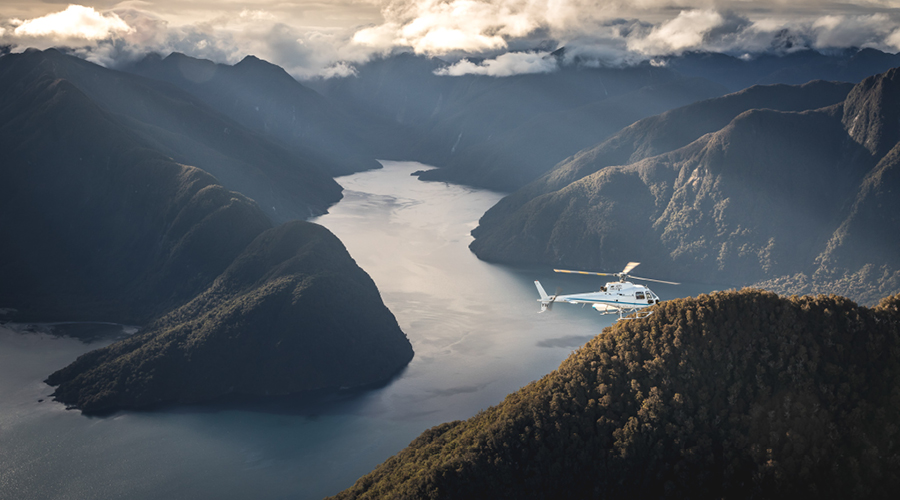 Minaret Station
Set on a 50,000-acre high-country farm and only accessible by helicopter, Minaret Station is the secluded site of the Alpine Lodge from The Alpine Group, a place where guests are treated to off-the-grid luxury within the accommodation's four, two-person chalets.
Dusky Sound
Operated through Minaret Station, the Dusky Sound experience will start with a helicopter pick up from Queenstown or Wanaka. Guided by an experienced professional, guests will embark on a scenic flight to the astounding Dusky Sound (in the Milford Sound), landing on The Alpine Group's purpose-built, floating helipad and transferring to their boat for a day of fishing, wildlife and exploring the beauty of the World Heritage Area. Because of limited accessibility, very few people visit Dusky Sound each year, making it a particularly pristine part of the region. Guests will enjoy a gourmet lunch on the boat before being flown home.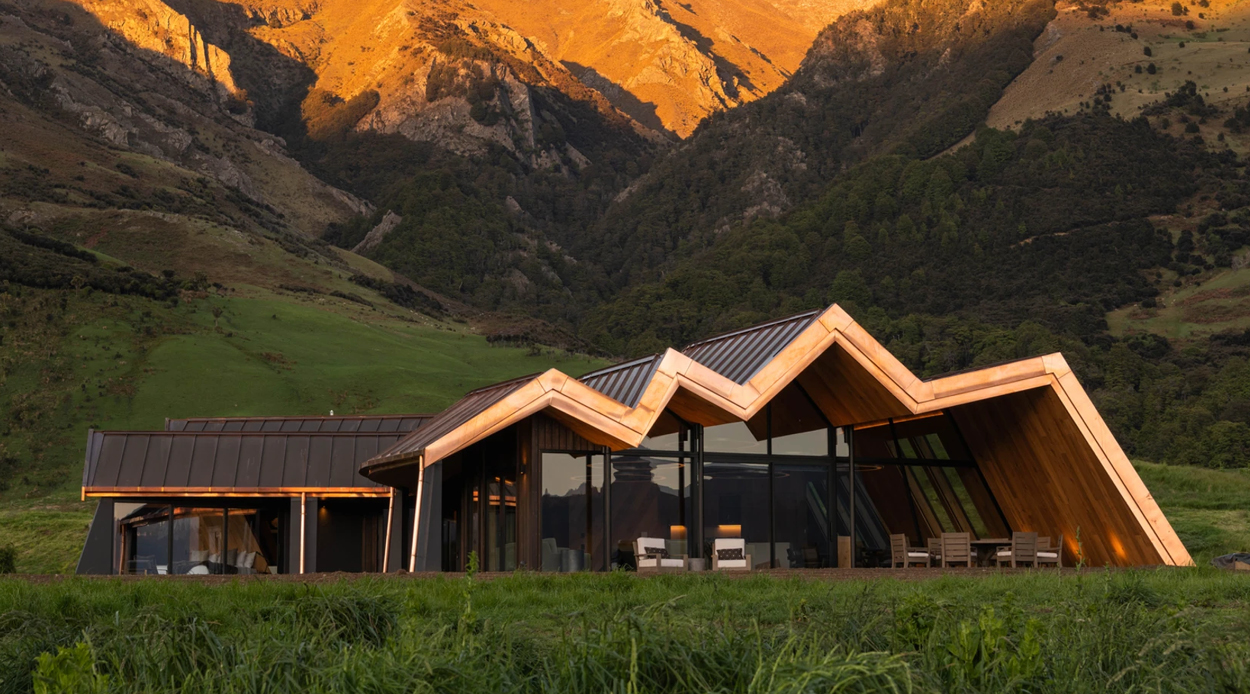 The Lindis or Mt Isthmus
The Lindis Group is redefining luxury accommodation in New Zealand. From its exceptional service to its world-class properties, which include The Lindis in South Canterbury's Ahuriri Valley and Mt Isthmus in Lake Hāwea, The Lindis Group has made a swift and considerable impact in New Zealand's tourism space, much of which can be attributed to its South Island presence. Operating from a place of honouring the land, capitalising on natural wonders and keeping its footprint to a minimum, the group's properties are designed to blend seamlessly into their surroundings. Similarly, its hospitality promises to connect guests to the sense of calm quietude that can be garnered from a return to nature — think locally-sourced, seasonal food and wines, breathtaking alfresco activities like hikes, fishing and horseback riding and rooms that open out onto impossibly beautiful landscapes. This extends to the highly-personalised service offered to every guest, which prides itself on curated experiences that can be tailored to suit individual needs. While The Lindis is a luxurious, boutique accommodation at which guests can book rooms and enjoy a raft of amenities and exceptional dining, Mt. Isthmus is a sole-use villa nestled on a narrow strip of land between Lake Wanaka and Lake Hāwea, offering a more exclusive and personalised experience. Ultimately, the idea of luxury remains at the heart of everything The Lindis Group does, which has seen it become hugely popular with local and international tourists alike and well worth a few days out of Queenstown.
Relax At…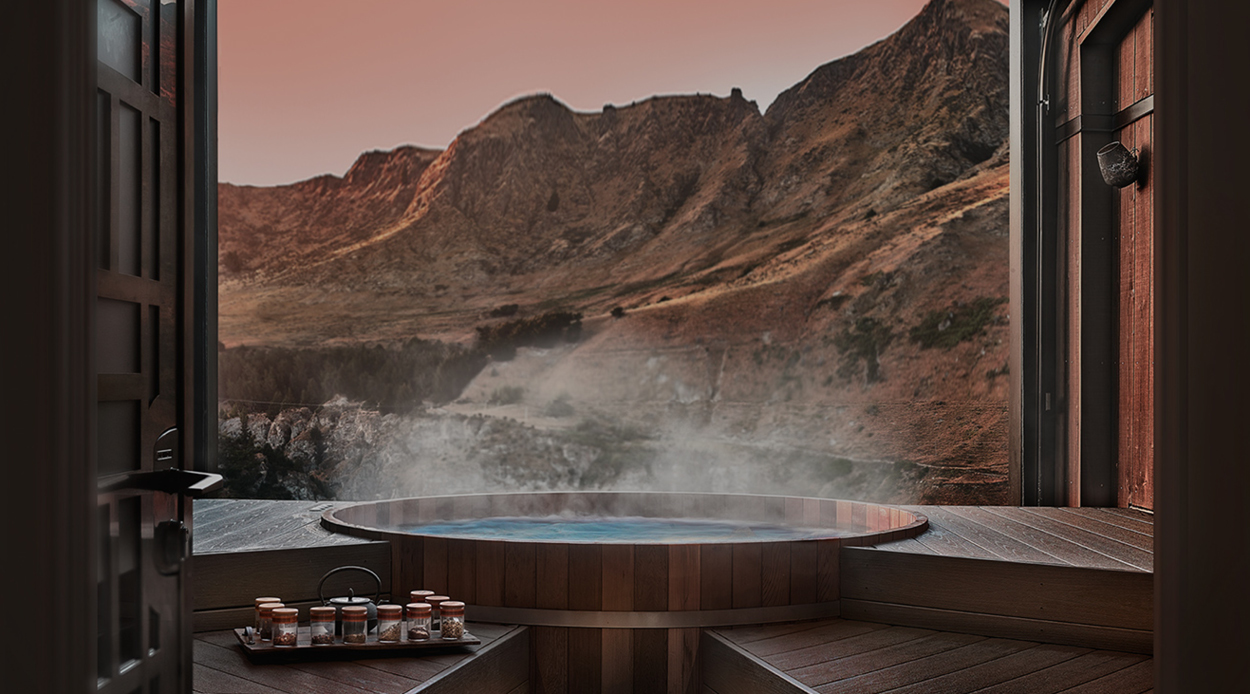 The Spa at Millbrook Resort
Take some time for yourself at Millbrook Resort's indulgent spa. Awarded five years running as New Zealand's Top Spa Resort by the World Travel Awards, Millbrook's serene, replenishing space is the ultimate place to relax after a day on the slopes or looking after the family. There is also a complimentary shuttle service from Central Queenstown or Arrowtown.
Onsen Hot Pools
While you've likely seen a raft of social media photos of people, framed by astonishing vistas, soaking in these pools, it's not until you've experienced them for yourself that you'll understand why they've become so popular. An hour's soak in one of the purpose-made, mineral baths will deliver a raft of health benefits and the ultimate, blissful relaxation.
Retail Therapy…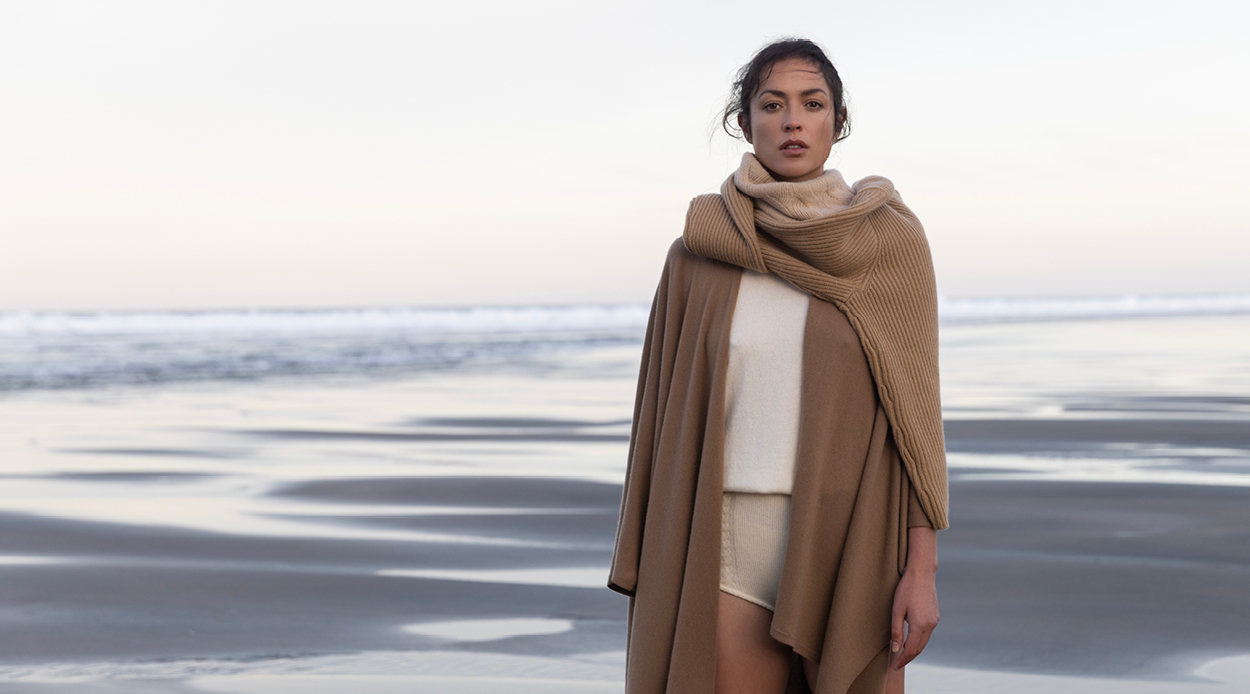 While you're in the area, why not peruse one of Queenstown region's destination boutiques?
For an achingly-cool edit of European labels like Iro, Ganni and Anine Bing, visit Seletti Concept Store in Arrowtown and Queenstown.
Next level luxury-lovers would do well to ensure Louis Vuitton's Queenstown boutique is on the itinerary, as well as Partridge Jewellers for a sparkling souvenir — go on, you deserve it.
You're going to wish you had more room in your suitcase for the breathtaking functional art and design pieces on display at Bonham Art + Design gallery space in Arrowtown — offering a selection of fine and functional art from celebrated practitioners as well as a curated line-up of collectable furniture which is destined as future heirlooms. Elsewhere, Elle & Riley's covetable cashmere will draw you into the brand's beautiful Queenstown store, and see you not leave until you have a whole new series of cashmere to grace your winter wardrobe.