With the calibre of new books being released, there's no better time to lose yourself in the pages of a great tome. These are our top picks of the deliciously compulsive page-turners that will have you absorbed for the duration of any beach trip or pool-lounging session.
Just Like You by Nick Hornby
A tale about how love works in mysterious ways, Nick Hornby's new novel takes a hilarious look at the very human act of falling head-over-heels in love with the person you would least expect.
Memorial by Bryan Washington
One of the most widely-talked about novels of the season, this story is one of family in all its forms. Proving himself an intimate storyteller, Bryan Washington pens real, vulnerable characters and a feel-good narrative that will leave you questioning the nature of love.
Big Summer by Jennifer Weiner
A society wedding, ex-best-friends and the kinds of cleverly and compassionately-rendered relationships that you might expect from the award-winning author of Mrs. Everything, this novel is a fun, witty and moving read.
The Regrets by Amy Bonnaffons
In this acclaimed debut, a love story of paranormal proportions between Rachel (a living woman) and Thomas, the man she keeps seeing at her bus stop, takes an unexpected turn when it is revealed that he is, in fact, dead. Playful, earnest and imaginative, this is not the romantic story of old.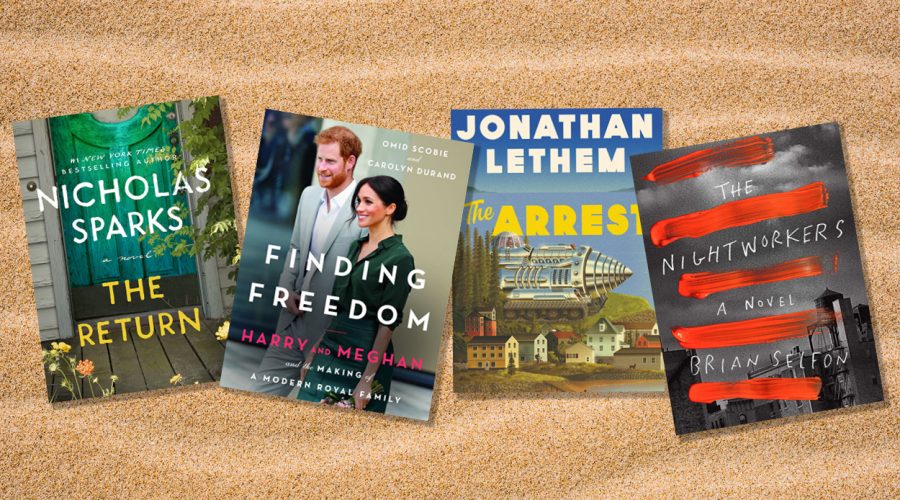 The Return by Nicholas Sparks
From the author behind such classics as The Notebook and Nights in Rodanthe, Nicholas Sparks is back just in time for the season of summer love. The story follows an American navy doctor who was injured in Afghanistan, and who, after returning home, finds himself embroiled in the secret lives of two women that will ultimately change his life.
Finding Freedom: Harry and Meghan by Omid Scobie & Carolyn Durand
However you feel about the young royals, it is almost impossible to escape their controversies. So, if you need a laugh this summer, why not embrace their 'story' in all its ghost-written, gossipy goodness. This sensationalist biography is perfect for the beach (if for no other reason than to help you drift into an afternoon nap).
The Arrest by Jonathan Lethem
From the award-winning author of Motherless Brooklyn comes a novel with an intriguing premise: it takes place after a global event, 'The Arrest,' has caused all electronics and appliances to stop working. In this world, we meet Sandy, a once-successful screenwriter whose quiet existence is upended by a man from his past riding in on a nuclear-powered supercar.
The Nightworkers by Brian Selfon
This perfectly-plotted, surprisingly funny thriller follows Shecky Keenan, head of a small-time family crime syndicate in Brooklyn, who strives to live a relatively quiet life before a large sum of money goes missing.