Over the past few weeks, brands have been exploring wholly new ways in which to present the men's, resort/cruise, couture and spring collections, given the previous method of large-scale runway shows in front of a packed audience were no long possible.
From 12-hour livestreams to socially-distanced runway presentations in the middle of a field; short films, a boat cruise and multiple beautifully-thought out lookbooks, designers found inventive ways to convey their clothing and the message around each collection.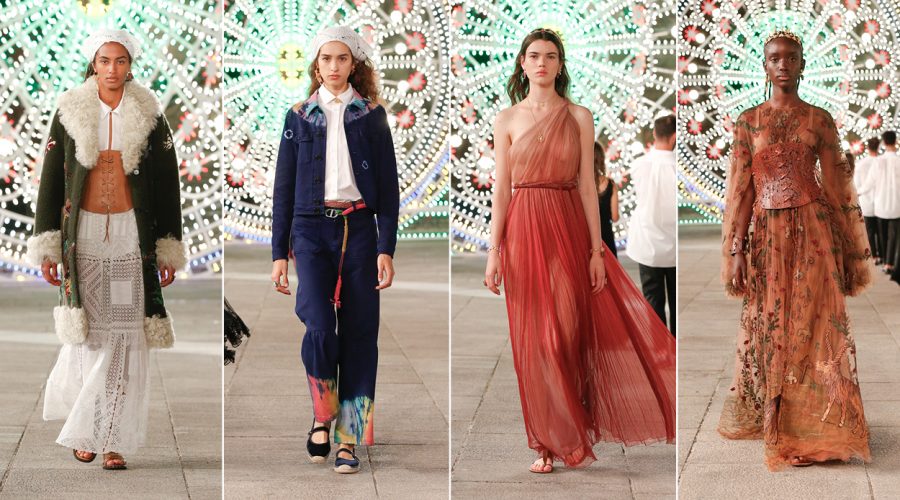 Christian Dior Cruise 2021
Christian Dior creative director Maria Grazia Chiuri wanted to celebrate arts, crafts and culture with her 2021 cruise collection, and the result is textural, colourful and embellished. One of the few fashion houses to show as a physical runway show — albeit with a mostly digital audience — Chiuri presented a striking spectacle in Piazza del Duomo in Lecce, a small town in Puglia.
Bridging the gap between practical and elaborate, or as Vogue's Nicole Phelps described it "humble and haute", the 90-look collection was made in collaboration with local craftspeople from the region. The models wore flat shoes with intricately embroidered dresses, skirts and suits, handmade leather corsets and kerchiefs in their hair, while a local orchestra and dance company performed around them.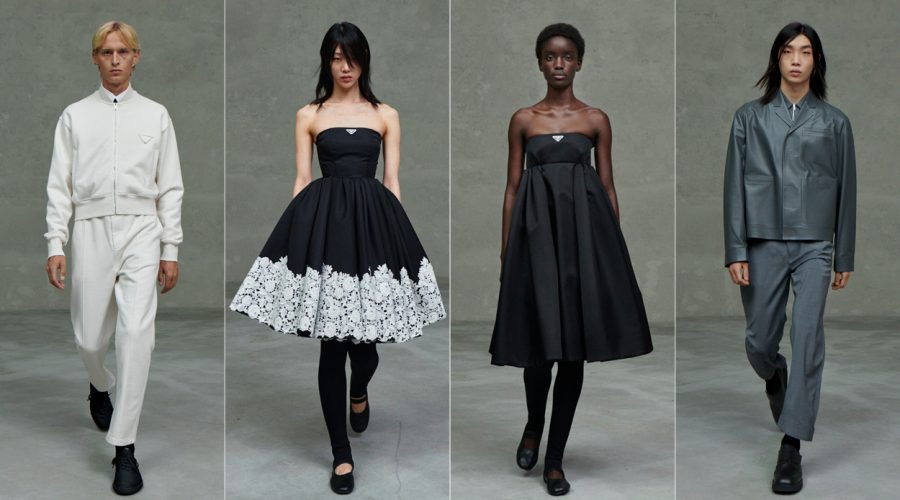 Prada Spring/Summer 2021
For her final collection as the solo creative director of her fashion house, before Raf Simons joins her in September, Miuccia Prada staged a livestream showcasing a short film titled 'The Show That Never Happened.'
Featuring five films by five global creatives, the release was interpreted in different ways for the audience who watched via screen.
Going back to the essence of the brand with a soothingly simple collection, the connecting thread for Prada spring/summer 21 is an emphasis on clean lines, fabricated in tones of black, white, grey and blush.
"Attention is drawn back to clothes – simple clothes, with a use and a value, a longevity and a place within people's lives," wrote the fashion house in the collection release. "As times become increasingly complex, clothes become straightforward, unostentatious, machines for living and tools for action and activity."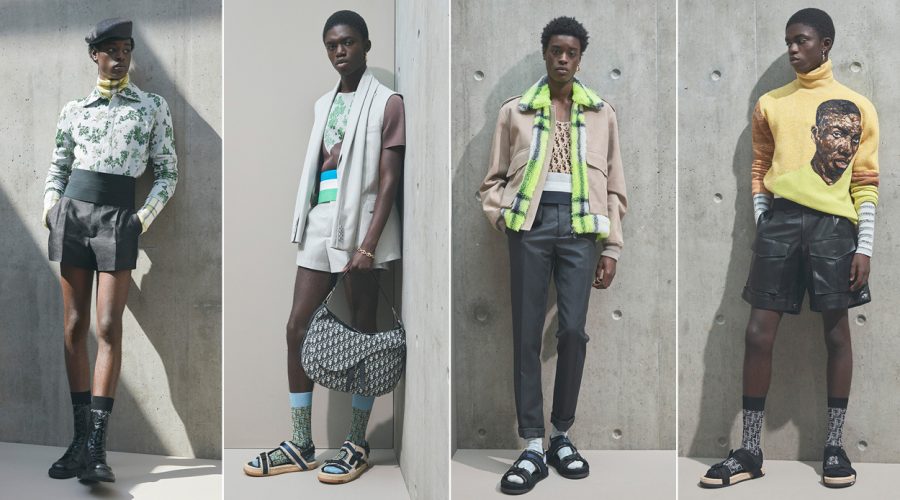 Dior Men Spring 2021
Rather than stage a runway show for his Spring 2021 Dior Men release, Kim Jones released a livestream and a beautiful lookbook to showcase his collection, a collaboration between himself and 36-year-old Ghanaian artist Amoako Boafo. Boafo, whose stunning large-scale portraits of Black subjects are rendered in bold, partially finger painted strokes, has been experiencing a meteoric rise in the contemporary art world, and Jones described the collaboration as "a portrait of an artist who I greatly admire."
The livestream allowed viewers to watch and hear Boafo in his studio in Ghana as he painted and described his practice, surrounded by his friends who were hanging out wearing pieces from the collection. Artful and impeccably styled, the spring 2021 release utilised eye-catching bespoke prints along with textured leather, knits and tailored separates.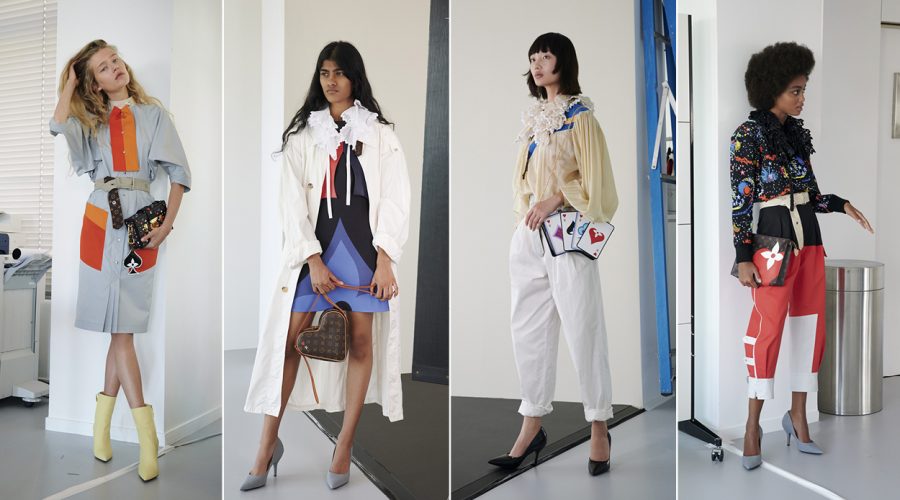 Louis Vuitton Cruise 2021
Nicolas Ghesquière latest cruise collection was inspired by a stationary journey — an exploration of the self. Manifesting as a look back at Ghesquiere's previous collections for the Louis Vuitton, the designer revisited some of his favourite shapes and pieces, reimagined for this new collection.
A playing card motif has also appeared, with hearts, diamonds, clubs and spades joining the iconic LV monogram on very covetable accessories, and enlarged as a print on mini and maxi dresses. This collection is appropriately titled Game On and was shot on location at Louis Vuitton's Paris headquarters, placing the wearable looks in an everyday and familiar context.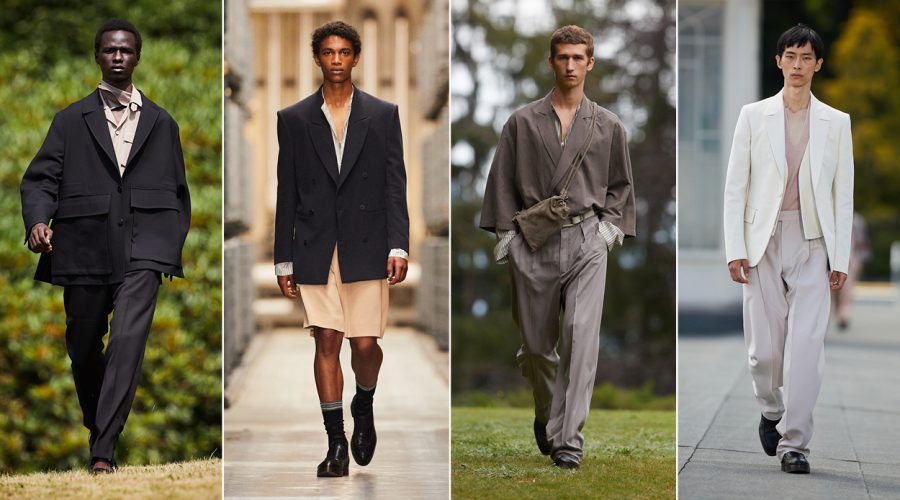 Ermenegildo Zegna Summer 2021
On the 110th anniversary of Ermenegildo Zegna, the fashion house returned to the birthplace of the brand in Oasi Zegna, Italy, for its summer 2021 fashion show. Alessandro Sartori created a collection using fabrics that were 35 percent recycled, with an aim to build that to 50 percent in the near future.
Rendered in a predominantly earthy colour palette with injections of forest greens, mustard and dusty blues, oversized wool shirt/jacket hybrids, billowing shirts and softly tailored separates made for effortlessly-worn ensembles.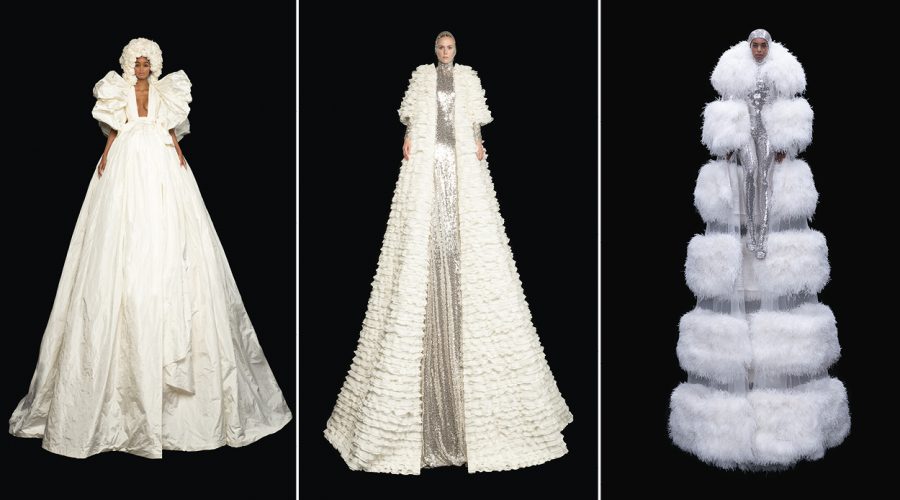 Valentino Fall 2020 Couture
Titled 'The Performance: of Grace and Light, a dialogue between Pierpaolo Piccioli and Nick Knight', Valentino's creative director showcased a 16-look collection that he described as an "extreme response" to lockdown. Many watched via laptop, and Pierpaolo's creations were extreme in their proportion, worn by models standing on ladders and swinging on trapezes displayed in a dreamlike setting.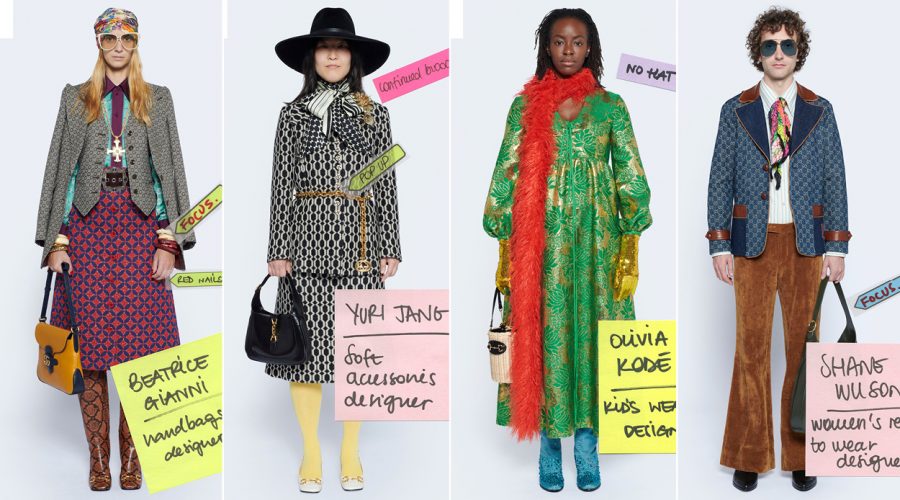 Gucci Resort 2021
Gucci showed its resort 2021 collection via a 12-hour livestream, offering viewers a rare behind-the-scenes look into all that goes into a large scale photoshoot. Named 'Epilogue', the showcase was the final act of Michele's three-part project, which he dubs his 'fairy tale', that began in February this year with a fashion show, followed by an advertising campaign in May. This time, the clothes were modelled by those who created them — Gucci's design team.
The collection itself embodied the signature eclectic sensibility of Gucci's creative director, channelling the bohemian aesthetic that has made the brand so successful during Michele's tenure. Clashing prints, 60s and 70s-style shapes and statement accessories were all imbued with the unique personality of each member of the design team, finished with suitably tailored makeup looks designed by Gucci Beauty head artist Thomas De Kluyver.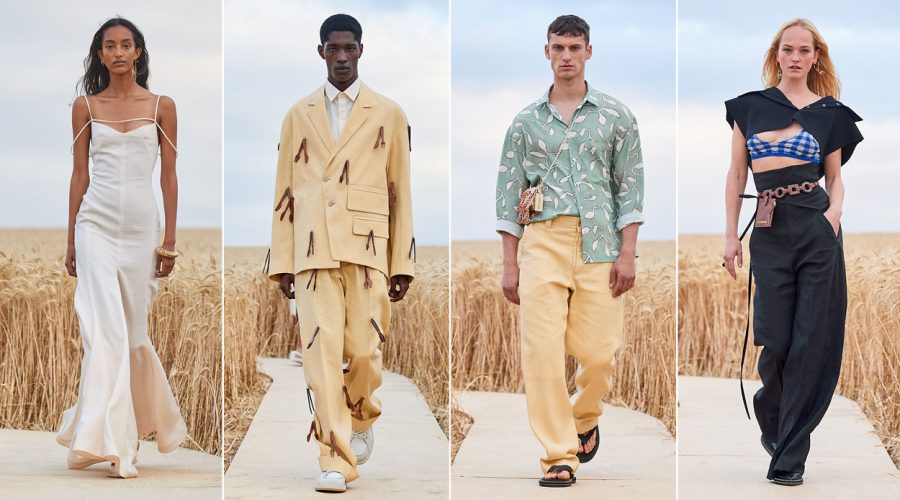 Jacquemus Menswear and Ready-to-Wear Spring 2021
Shrugging off the mostly digital presence this season, Simon Porte Jacquemus somehow organised for 100 guests to be flown to the middle of a field of wheat in France for his spring 2021 menswear show. The result was a spectacle that went almost as viral as his lavender field runway last year. Guests sat socially-distanced by six feet of golden wheat stalks, while models walked a 600 ft long runway in both the menswear and ready-to-wear collections, which Porte Jacquemus combined for this presentation, crafted with the brand's signature nonchalant sensibility.