At this stage in the year when many of us are celebrating the resilience and beauty of our special homeland at the bottom of the world, it makes sense that this would inspire our summer sartorial choices. Local luxury fashion label Dadelszen has honed in on this sensibility for its summer 20-21 collection, The Oceans Between Us, honouring the beauty of our own backyard and rediscovering familiar shores, appreciating them in a new way.
With the ocean such an emblematic representation of our southern hemisphere summer, Dadelszen creative directors Edward and Constance von Dadelszen were drawn to the maritime settings of iconic seaside films like La Piscine, Basic Instinct and The Talented Mr. Ripley, recontextualised with their own uniquely local spin.
The resulting collection is pragmatic yet refined, drawing on the enjoyable nonchalance of warm weather dressing both during the day and after dark with seasonal updates sitting alongside enduring favourites.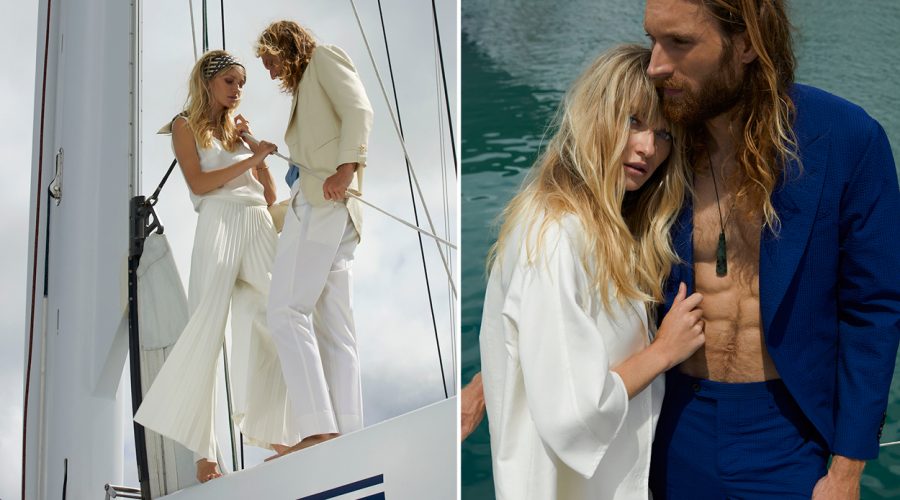 Men's Harry suiting is reimagined for summer, rendered in a charming cerulean blue seersucker, while for women the Valletta and Elvira jackets have been re-cut in a light yet luxurious blend of fine cashmere, linen and silk.
With an active wearer in mind, outerwear has been given an injection of further practicality in details like reversibility and breathability, while knitwear exudes effortless elegance and a nautical vibe. The shawl lapel cardigans and ribbed crew necks are must-have additions to any stylish gent's wardrobe, while knitted mid-length skirts and fine weave jumpers are the perfect feminine cover-up to wear both on the boat or after a dip.
As with all Dadelszen's collections, the brand's signature impeccable cuts and silhouettes reign supreme, as does an emphasis on beautifully-crafted fine natural fabrics. Each piece is designed in New Zealand and made by European artisans, a tangible harmony of the influences Edward and Constance hold dear.