With so many things in the world beyond our control, focus on what we can change, such as stress levels and our skin. Pampering at home lets you deal with unwanted anxiety while tackling fine lines, pigmentation and enlarged pores. Treat yourself with these star performers from our beauty cabinet.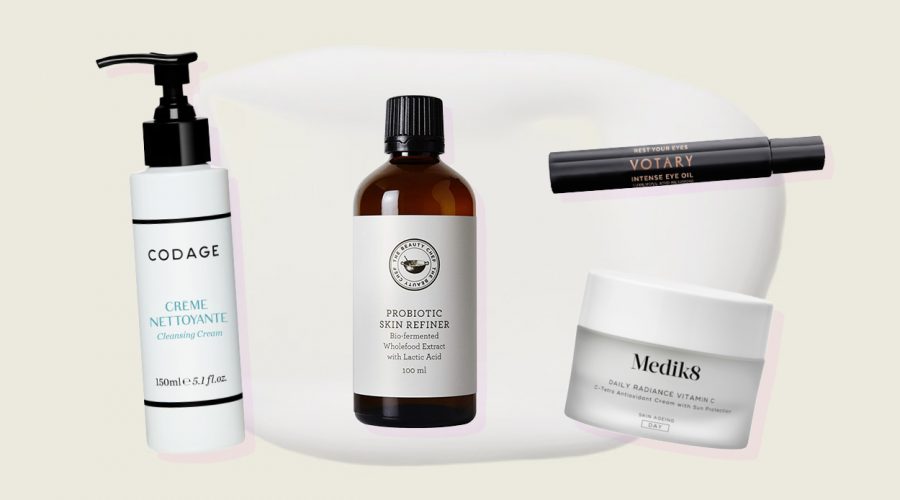 The Cleanser — Codage Cream Cleanser
Reaping the benefits of a cream cleanser takes time but this treat from international spa leaders The Spring Spa is worth every second. Packed with Moringa extract and organic shea butter, the cream becomes a cleansing foam when brought into contact with water, gently sweeping away impurities. With 90 per cent natural ingredients it's sulfate free and perfect for sensitive skin. With more time at home you might not be wearing as much make up as usual but cleansing has never been more important.
The Multi-tasker — The Beauty Chef Probiotic Skin Refiner
Head to New Zealand's best holistic beauty destination The Facialist for this probiotic all-rounder that is is a gentle AHA exfoliator, intense moisturiser and effective pore-refiner. Beauty entrepreneur Carla Oates discovered the liquid while experimenting with fermentation. "I used it on my skin as I knew it would be rich in goodness from the fermentation of all the beautiful, nutrient dense whole foods plus I knew it would have to contain lactic acid from the lacto-fermentation process," Oates says. The formula, which is rich in super hydrating lactic acid, boosts collagen production, leaving you ready for video chat close-ups, without any filters.
The Eyes — Votary Intense Eye Oil
Not all at home treatments require an egg timer and patience for results with the intense eye oil from British make up artist Arabella Preston delivering immediate gratification. The ingredients read like the world's most complicated salad with seed oil, avocado, almond and leaf extract but the application of the eye roller around the sockets is simple, with tuberose and vitamin A-packed retinoid targeting fine lines. Feel free to dine out on the full Votary selection at Spring Spa's store.
The Moisturiser — Medik8 Daily Radiance Vitamin C Moisturiser
One of the most reassuring parts of a spa treatment is the clinical surroundings, with white-coated staff and machines that would look at home in a science fiction film. The straight-forward packaging of Medik8 does the job, and delivers with the smallest amount applying easily, penetrating deeply and leaving a refreshed finish. Yes, it's packed with Vitamin C, and tetrahexyldecyl ascorbate but you will feel equal parts efficient and indulgent when you use it.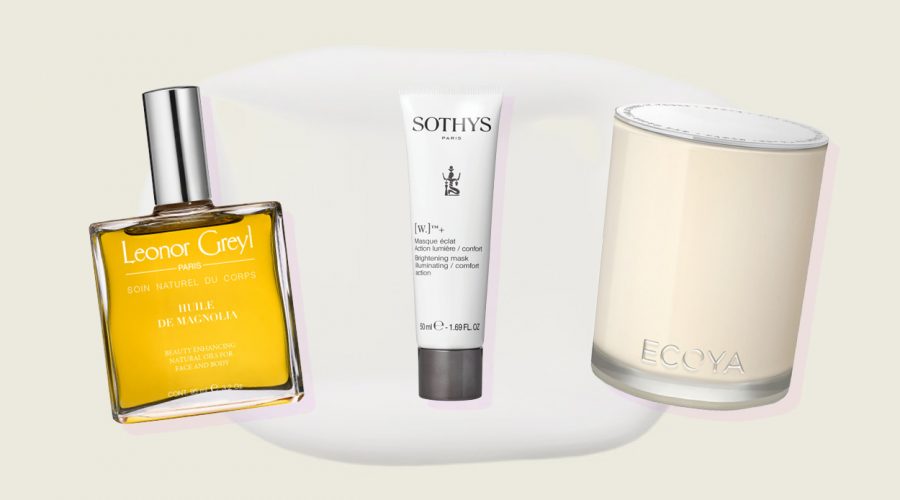 The Oil — Leonor Greyl Huile De Magnolia Face and Body Beauty Enhancing Oil
Your body needs as much attention as your face and the luxurious Huile De Magnolia Face and Body Beauty Enhancing Oil from Inès lets you go beyond your neck, due south, for some serious moisturising. The magnolia scent will follow you throughout the day and when the lights go down, feel free to use it as a massage oil for some serious relaxation.
The Mask — Sothys [W.}+ Brightening Mask
Along with the perfect scented candle and whale music playlist, it takes a mask to transform your home into a spa, cucumber slices are optional. French skincare brand Sothys manage to combine a relaxing treatment with a moisturising concoction that targets pigmentation and sallow skin with their [W.}+ Brightening Mask. Vitamin C and niacin do the hard work while you let the clay gently tighten for 10 – 15 minutes before rinsing and preparing to clock your radiance upgrade.
The Candle — Ecoya Blue Cypress & Amber
Lighting a candle signals that it's time to pay attention to yourself and your skin care. Charge the air with pampering aromas with this Ecoya candle that brings the outdoors inside. Aromas of Australian cypress, tropical fruits and heady amber attack anxiety in a delightful way. And breathe.