Our country's leading brand in sustainability, Ecostore, released its first toothpaste last year which became a favourite among New Zealanders. As such, Ecostore decided to expand its offering so that every member of the family could use its eco-friendly range, recently releasing its Ecostore Kids Toothpaste and Toothbrush. Following in the footsteps of the Complete Care collection, Ecostore Kids Toothpaste boasts all-natural ingredients that have been selected with the support of the EWG (Environmental Working Group) Cosmetic Database and while its child-size toothbrush is made from 99% renewable, plant-based materials and is free from BPA, PVC and phthalates.

Not only has Ecostore managed to formulate a product that is especially gentle for children, but it has also managed to come up with a natural way to give the gel-based toothpaste a strawberry flavour — without using any artificial colours, flavours, fluoride, parabens, SLS, triclosan or any added sugar. All of the ingredients are listed in detail on the packaging. In fact, the low-foaming, minimally abrasive formula is so free from nasties, that it's been deemed suitable for kids as young as six months.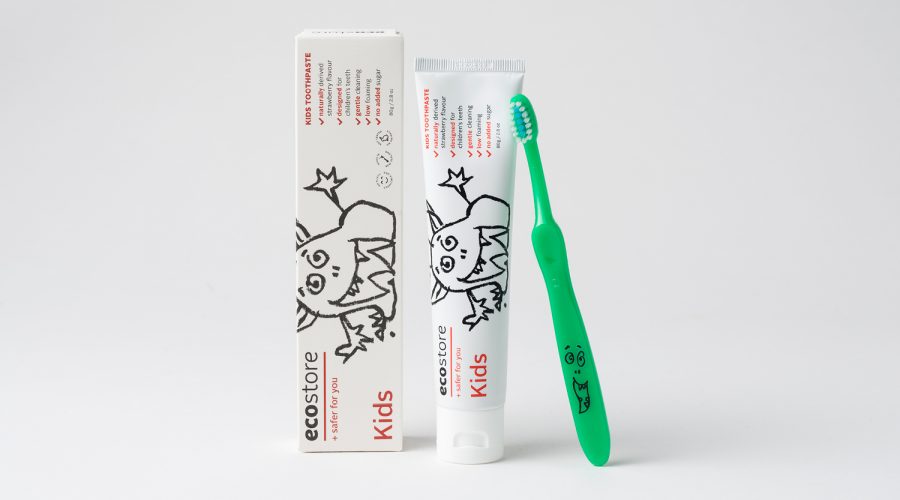 Even the design of the range has been carefully thought out by the team at Ecostore in order to make it more user-friendly for kids. The toothpaste comes in a stand-up tube with a flip-top lid which minimises mess and mitigates the hassle of a twist-top cap. The handle of the toothbrush has been taken down a few sizes to fit perfectly in a little hand and features a new monster design in two eye-catching colours — purple and green. The head has also been reduced in size with extra soft, end-rounded bristles to offer a pain-free experience for young gums.

The new Ecostore Kids Toothpaste and Extra Soft Toothbrush are available in selected stores, nationwide. As it's an Ecostore product, of course, the packaging is made from 90% recycled cardboard and the toothbrush and toothpaste tube are both recyclable via Ecostore's oral-care recycling programme whereby the products are collected through Freepost and collection bins in key retailers and the plastic from the toothbrush handles reused — contributing to the sustainable, circular economy.