When it comes to the world of health, there are so many fads coming and going that it can be hard to pinpoint the ones that are really making a difference. Activated almonds, for example, aren't an entirely new concept — but it's only now that we're beginning to truly understand the benefits.
Put simply, activated almonds are just regular almonds that have been soaked in water for 24 hours, before being dried out again at low heat. Not a wholly groundbreaking treatment, but the simple soaking process actually delivers a deluge of benefits. Don't have the time to soak your own? Some of the best soaked, sprouted and dried activated almonds we've found are available locally from Chantal Organics.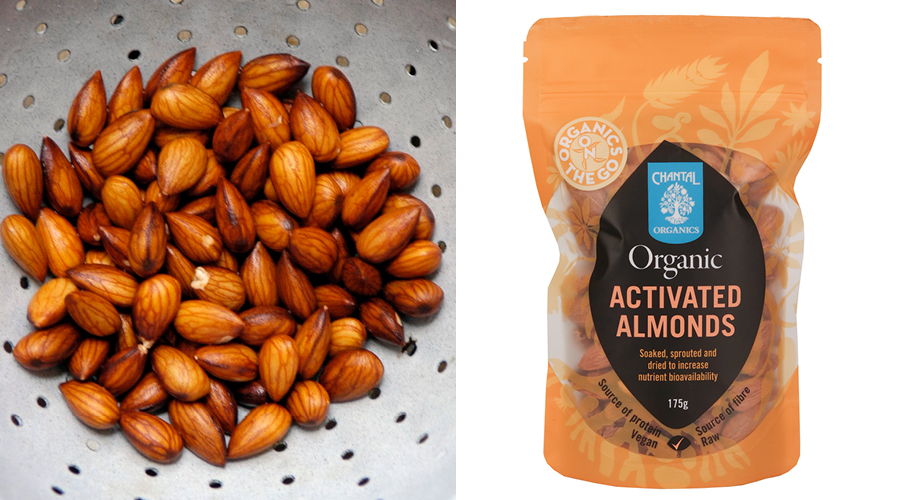 1.They offer a higher nutritional value
Raw almonds naturally contain particular chemicals — natural enzyme inhibitors — that support the germination process, preventing them from sprouting in dry, unsuitable conditions. Unfortunately, these natural enzyme inhibitors also prevent the almonds from fully releasing their nutrients. Soaking or 'activating' spurs on the nuts' sprouting process, during which enzymes are able to break down these enzyme inhibitors. Once the inhibitors are broken down, all the nutrients are then properly released, delivering a boost of vitamins and minerals when consumed.
2. They prevent digestive distress
The particular inhibitors that prevent the release of the nutrients also make the nuts hard to digest, which can, in turn, lead to issues like stomach cramps or bloating. Once these inhibitors are broken down via the soaking process, the nuts are far easier to break down and consume.
3. They taste better
Toxic tannins naturally found in the skins of almonds can often leave a very bitter, unsavoury flavour alongside a chalky feeling in the mouth. Once activated, the nuts lose this flavour and texture and are left light, crunchy and naturally sweet.
Activated almonds are a delicious and nutritious snacking option, but they also make a fantastic addition to stir-fries, are divine when sprinkled on salads and add an extra dose of nutrition to healthy breakfast smoothies. If you're in need of a little inspiration, Chantal Organics' tasty recipes offer it in spades: we're personally quite taken with its roast chicken with quinoa, cranberry and almond salad, found below.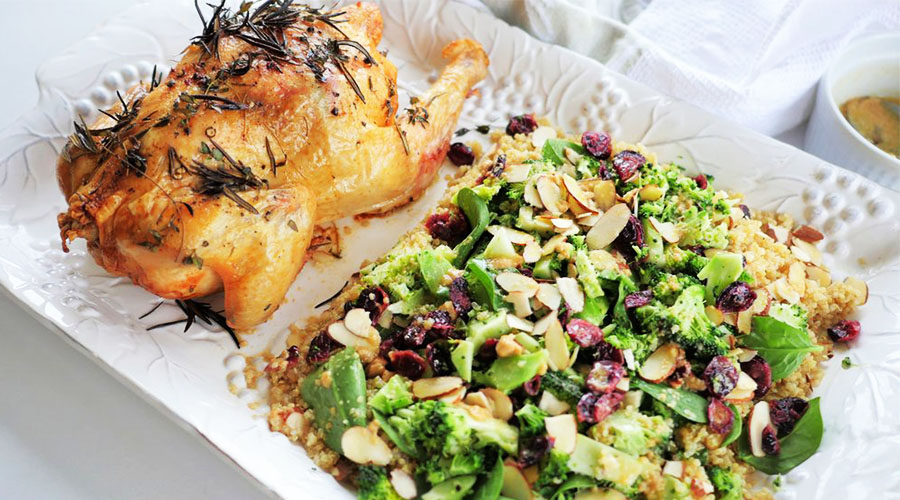 ​Ingredients:
For the chicken
1 organic chicken
4 garlic cloves
1 lemon
½ bunch thyme
½ bunch rosemary
olive oil
salt and pepper
For the salad
1 cup Chantal uncooked quinoa
1 head of broccoli
2 cups spinach
1 cup activated almonds
1 cup cranberries
1 tablespoon Chantal coconut oil
Salad dressing
1 tablespoon Chantal hulled Tahini
1 tablespoon red wine vinegar
lemon juice
2 tablespoons Chantal olive oil
1 teaspoon Chantal honey
salt and pepper (to taste)
​For the chicken
Preheat oven to 200 degrees Celsius. Carefully prick the lemon all over, using a sharp knife. Put the garlic cloves, herbs and lemon into the chicken's cavity and place the chicken into a roasting tray. Drizzle with olive oil, salt pepper and add some additional chopped herbs on top.
Place the tray in the oven for 1 hour 20 minutes, basting the chicken halfway through. When the chicken is cooked, take the tray out of the oven and transfer the chicken to a board. Carve your chicken and place onto a serving platter.
For the salad
Cook the quinoa according to the packet instructions, then drain. Melt coconut oil in a medium sized fry pan and add broccoli. Cook for 5 minutes until bright green and tender. To make the dressing, add all ingredients into a small bowl and mix together until combined. Roughly chop the spinach and crush the almonds before adding them into a large bowl with the quinoa, broccoli, and cranberries. Pour the dressing over the salad and toss the ingredients together. Put salad onto a large serving platter.