I first encountered Paul Baragwanath on the eve of Anzac Day, on a crisp, autumn evening outside the St David's Memorial Church in Grafton. It was the night of his anticipated Art of Remembrance event and as I arrived — admittedly, a few minutes late — the bundled up crowd had already taken their seats, the excitable hubbub simmering into a hushed, eager silence. Baragwanath, making his way to the makeshift stage, dished out welcoming smiles and chirpy greetings to generations old and young, friends old and new, and complete strangers too, like me. He emanated a sincere warmth more expected from an old chum than a host, something I would soon understand to be one of his most prominent traits. While an art consultant by day, Baragwanath was here on this evening under the guise of project director to deliver the latest instalment of his Art of Remembrance project, now in its fifth year.
As I quietly observed the evening's tributes to those lost during WWI, often tuning into snippets of conversations that circled me, I noticed how men and women across a spectrum of ages, races, backgrounds and religions were interacting and coming together to discuss one single commonality. It was that evening, two days before my interview with Baragwanath was to take place, that I realised the enormity of the Art of Remembrance project: not only does it invite us to remember those fallen during the great wars, but in doing so it continues to bring people together in ways that they might never have been brought together before.
It was back in 2015 that Baragwanath's Art of Remembrance project first came to light, via a soul-stirring exhibition that captured imaginations throughout New Zealand and beyond. For three months from Anzac day that year, more than 7,000 pure brass, glistening artworks blanketed the Church of St David's. Each an individually produced Max Gimblett quatrefoil the size of a soldier's hand, designed to honour those who served in the First World War. After the three month display, the brass quatrefoils were sold and the profits were used to save St David's Memorial Church during a time when it was at risk of demolition. With a grand total of one million dollars raised — the largest sum of money raised through an art fundraising project in the history of the country by a very, very long margin — the Art of Remembrance project cemented itself firmly in the history books and the hearts of many.
It was an incredible triumph, but one that may not have occurred at all if it wasn't for an unexpected visit to the church over a year earlier. "I was driving past St David's when something told me to turn around," Baragwanath tells me, explaining how his job as an art consultant and his nature to be so easily "affected by space, arts and architecture" led to him being immeasurably moved by the place. So much so, in fact, that when he entered and realised, from talking to the minister, that the great building of national significance was soon to be demolished, he was heartbroken. "I was shocked," he discloses, relaying the moment where, upon hearing the news, tears projected from his eyes with such velocity that they hit the polished lenses of his trademark thick-rimmed glasses.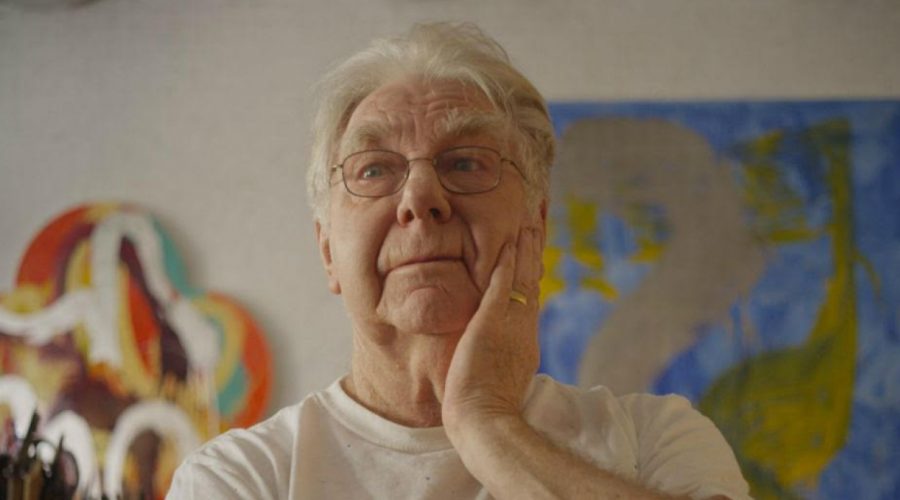 It was this emotional moment that lit a flame of passion within Baragwanath that has been burning brightly ever since. After setting up the Friends of St David's Trust shortly after and only managing to raise $200 in a year, with no heritage protection and millions needed for restoration, demolition seemed inevitable. But the new year brought a gift for Paul: a ceramic poppy from the Blood Swept Tears and Seas of Red exhibition at the Tower of London. With this gift in hand, and artist Max Gimblett's offer to 'help in any way I can', Baragwanath saw it clearly: St David's would be adorned in a cape of golden, Gimblett quatrefoils, each the size of a soldiers' hand outstretched. In the centenary of WWI, it would be New Zealand's artwork of remembrance and it would put St David's back on the map. Facing demolition in the eye, Baragwanath had just a matter of weeks to develop the artworks, fix them onto a historic building, create a story and online platform to share the project and then sell the artworks to raise the funds. These weeks contained "some of the busiest days" of Baragwanath's life, and perhaps the most challenging, too. In fact, if it wasn't for the sizeable swarm of volunteers who felt compelled to help him on his journey, it was a vision that may never have come to fruition at all.
"That's the biggest part of this story," he says, explaining how, the entire way, "people had stepped up bravely and selflessly" to enable the project to continue. He goes on to tell of how, after bringing the quatrefoils down from the church, volunteers spent months tirelessly soaking and scrubbing them so that they would be ready to be sold. One woman, described by Baragwanath as simply "incredible" worked 12-15 hour days until her hands were sore and bleeding. He remarks how his mum, trying to help wherever possible, cooked around 2,000 lunches and dinners for the hungry and exhausted volunteers. He names the businesses and companies that offered their services free of charge, almost too many to count. While it's clear to me that it was Baragwanath's unwavering determination, unprecedented compassion and joyous personality that inspired so many people to offer a helping hand, as far as Baragwanath himself is concerned, it was down to nothing more than a love of art.
"The project caught people's imagination," he says, telling me about his Art of Remembrance journey with a steady, storyteller's knack. It's when the topic of art comes up, however, that a fever of enthusiasm ensues. He tears away from the conversation and begins passionate prose on the topic, giving us a glimpse into his wildly creative mind while doing so. "Art can transform how we feel and how we see the world," he explains. "It can lift our consciousness, generate empathy and understanding. It can bring us into the present moment, to remind us we are alive and life is beautiful."
If it weren't for these energetic tangents it would be easy to forget that Baragwanath, first and foremost, is an art consultant. Widely respected in his industry for over 20 years, The Art of Remembrance is merely a side project, one he had to take a year off — unpaid — to pursue. Since then he has devoted about a third of each of the subsequent years to its continuity. Last year, for example, Baragwanath created The Art of Remembrance: Southern Star Te Tonga Whetu o te Rangi. On the eve of Anzac day 2018, a three-part film was projected onto the beautiful brick facade of St David's Church. For four days the film and soundscape ran, incorporating historical footage and digital animation, including 100,000 stars which represented the individuals who left New Zealand to take part in the war. This year, the night sky on Anzac Eve was filled with The Sound of Peace, a soundscape artwork that commemorated the lives taken by World War One in a different way, and one that also responded to the losses suffered during the devastating Christchurch massacre. The sublime piece of art, choreographed by artist Jeff Smith, featured voices of all ages, backgrounds, and nationalities, each delivering their own personal message of peace.
Recently, around five years after Baragwanath drove down Khyber Pass and learned of St David's pending destruction, the Church was listed as a Category A Historic Heritage Place. Thanks to Paul's hard work and perseverance, the memorial church is now wholly protected, recognised for its exceptional overall heritage significance to the Auckland region and beyond. An incredible feat, undoubtedly, and something that Paul himself describes as "nigh on a miracle."
As I sat there on that crisp autumn evening, I remember thinking about how much the entire event had moved me. It was more than I would have expected. As someone who is quite removed from war in the grand scheme of things, I couldn't help but wonder how Baragwanath's work would have affected those more deeply connected to experiences of war. I didn't have to wonder for long. As I was in the midst of wrapping up my interview with Baragwanath, two days after the Anzac Eve event, he received an email from a member of the New Zealand Defence Force — Major Nick Jones. The email congratulated Baragwanath on such a wonderful event, before going on to explain how much it meant to both him and his mother, who had attended. It was a poignant reminder that Baragwanath's project — despite starting over three years ago — is something that still continues to uplift the souls of many today and will do so, no doubt, for evermore.
To learn more about Paul Baragwanath's Art of Remembrance project and heart-warming story, pick up a copy of the winter issue of Denizen magazine, out now. Or click here, to subscribe.
Image credit: Alistair Guthrie