Only a month ago, Jack Tar was operating as normal on the stretch of eateries and bars that make up the Wynyard Quarter waterfront. But after closing suddenly, it took only three weeks for its prime spot to be transformed into Wynyard Pavilion, a brand new bar and eatery, with a presence that has seen it quickly establish itself as a local favourite.

Part owned and operated by Damien and Helen McDowell (former owners of Pocket Bar in Grey Lynn) who wanted to create a space where patrons felt welcome to stay as long as they liked, Wynyard Pavilion feels light, airy and refreshing for the area. Its space was transformed with the help of family, friends, employees and interior design firm, Ctrl Space, to become, in our opinion anyway, the ultimate summertime spot.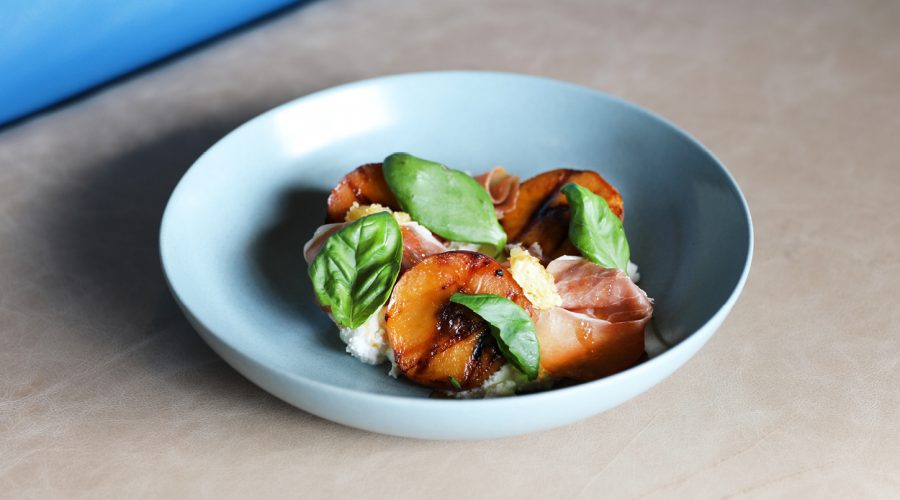 The same kind of idea continues on the menu, where modern share plates sit alongside burgers and fries. The tuna tacos were a definite standout for us, the soft tortilla wraps filled with incredibly fresh seared tuna, a light yet zesty salsa and hearty black beans. It's a dish we're predicting will become immensely popular this season. On the more unique side of things, the grilled stone fruit dish boasted a heavenly combination of sweet and savoury, and saw juicy, caramelised fruit, wrapped in salty prosciutto.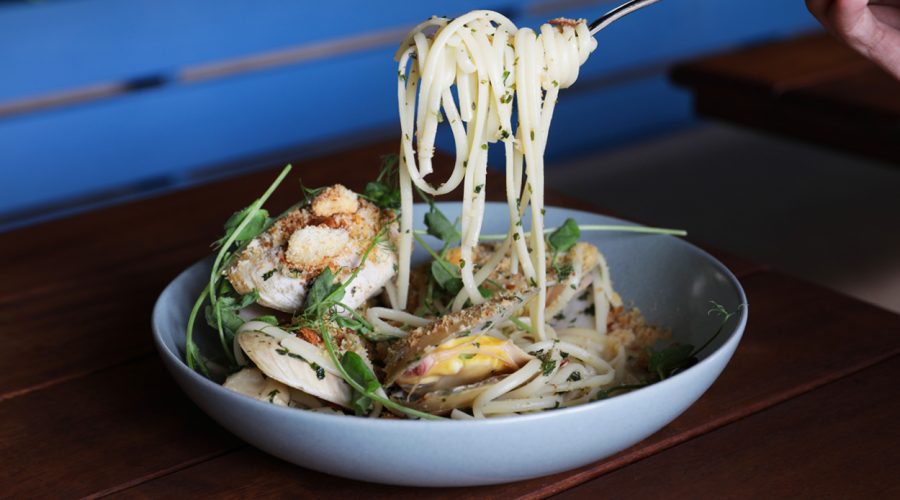 Being situated right by the water, Wynyard Pavilion's clam linguine only seemed appropriate, and boasted a flavour that did justice to its surrounds. With a lemony sauce that complemented the freshness of the seafood and elevated the juiciness of the clams, the linguine pasta and pangrattato bread crumble slowly soaked up all the zingy and garlicky flavours.
On the lighter side, the grilled halloumi and zucchini salad was a delightful dish and stayed true to the natural flavours of the produce. It included asparagus, quinoa, mint and hazelnuts which were simply paired with a clean-tasting lemon dressing which contrasted with the salty and indulgent slices of halloumi piled on top.

And whether you're after something decadent or more nutritious, the polenta fries at Wynyard Pavilion are an absolute must-order. Unbelievably crispy — to the point where we wondered how many times they had actually been deep fried — the delicious morsels were served with a side of creamy truffle mayo and would be perfect with a pint of beer or glass of wine.
Be sure to save enough room for dessert as the apple and blackberry cheesecake is a showstopper. The base was buttery beyond belief and tasted like a shortbread cookie. The cheesecake filling was rich and sweet while boasting a texture that was thick, but that melted in the mouth as soon as it hit the palate.

The McDowell's are looking to turn Wynyard Pavilion into something that's more than just an all-day eatery. Aside from being open for breakfast, lunch and dinner, there will also be several events held throughout the month to bring the waterfront community together. With Wynyard Wednesdays seeing live music sessions, $1 oyster happy hour on Fridays, dog-friendly Sundays and a Saturday produce market, the Wynyard Pavillion is well on its way to becoming the new go-to spot.

Opening hours:
Monday — Sunday: 8am until late


Wynyard Pavillion
North Wharf
Wynyard Quarter
Jellicoe St
Auckland