Bring the Peruvian-Japanese flavours that chef Yukio Ozeki has mastered at Ponsonby palate-pleaser Azubu into your own home with these Waygu Beef Skewers with Chimichurri Sauce. Don't forget to soak your skewers in water before you heat up the grill. Serve with sauce or on mashed potato with tomato salsa for a restaurant-quality finish.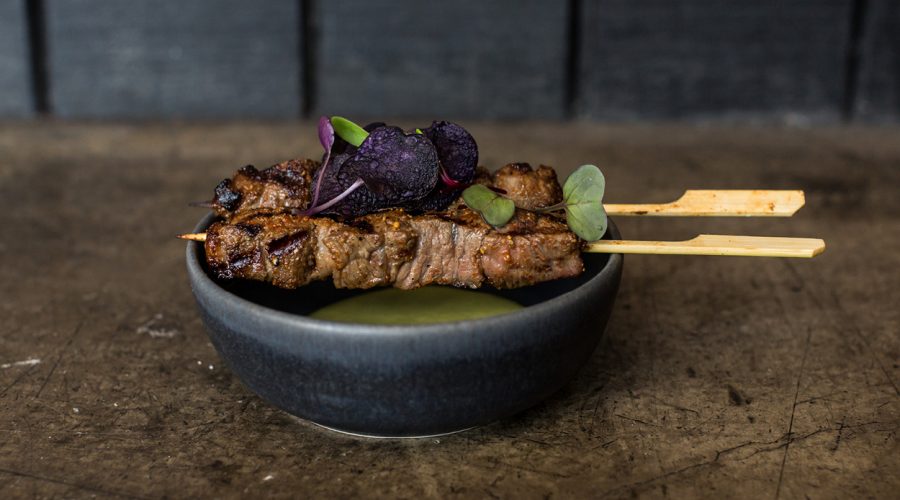 Wagyu Beef Skewers with Chimichurri Sauce from Azabu
Serves 4–5
Ingredients
Wagyu Beef Skewers
1kg Wagyu hanger beef, cut into bite-sized cubes (You can use a different steak here)
Seasoned salt
20g Chipotle sauce
5g ground Cumin
5g ground Coriander
5g ground Oregano
1 pinch Garlic
1 pinch Ginger
0.5 pinch Chilli
Chimichurri Sauce
1 Shallot, chopped
1 Jalapeno, chopped
½ cup Coriander, chopped
⅓ cup Parsley, chopped
2tbsp Oregano, chopped
1tsp Rosemary
½ cup Red wine vinegar
¾ cup Extra virgin olive
1tsp Kosher salt
Method
1. Place beef cubes in a bowl and season with seasoned salt.
2. In another bowl, combine chipotle sauce, ground cumin, ground coriander, ground oregano, garlic, ginger and chilies. Mix well.
3. Place beef into a plastic freezer bag and pour the marinade over the beef. Leave to marinate in the refrigerator for at least 1 hour to overnight.
4. Soak wooden skewers in water so they don't burn on the grill.
5. Begin assembling the skewers in any arrangement you prefer. Allow 3–4 pieces of beef per skewer.
6. Heat bbq to medium-high heat (180℃)
7. Salt the beef before placing on the bbq grill
8. Place the skewers on the grill and leave in place to cook for approximately 5 – 6 minutes per side, or until you see grill marks develop.
9. Remove from the grill when the skewers are cooked through.
Chimichurri Sauce
1. Combine shallot, jalapeno, parsley, oregano, rosemary in a bowl.
2. Stir in vinegar, olive oil and season with salt.