Translating to 'barn' in French, The Grange, located in the recently-opened Smales Farm hospitality precinct, The Goodside, offers an eatery with a sophisticated yet casual ambience.
Staying true to its name, The Grange comprises a collection of spaces including an elegant main dining room, an all-weather terrace, private dining room and functioning greenhouse as well as a large sunny courtyard leading out from the bar. It has been designed in a way where all of the individual spaces connect together to form an idyllic sanctuary, just like a genuine, authentic grange.
The main dining area seats around 40 people, the terrace another 40, while 32 can dine in the courtyard. The sophisticated private dining room will host 18-20 people, and the greenhouse is also open to private dining for more intimate parties of up to 10 people.
Any eatery of this scale requires a hands-on approach by experienced operators, which is most certainly the case with The Grange. Co-owned and managed by Holly Wilson and Nik Stakes who have cultivated a rich understanding of the dining scene with collective experience managing notable local restaurants including Baduzzi, Rata and Madam Woo as well as Melbourne's infamous Italian eateries Tipo 00 and Osteria Ilaria, and Australia's iconic Asian fusion restaurant, Chin Chin.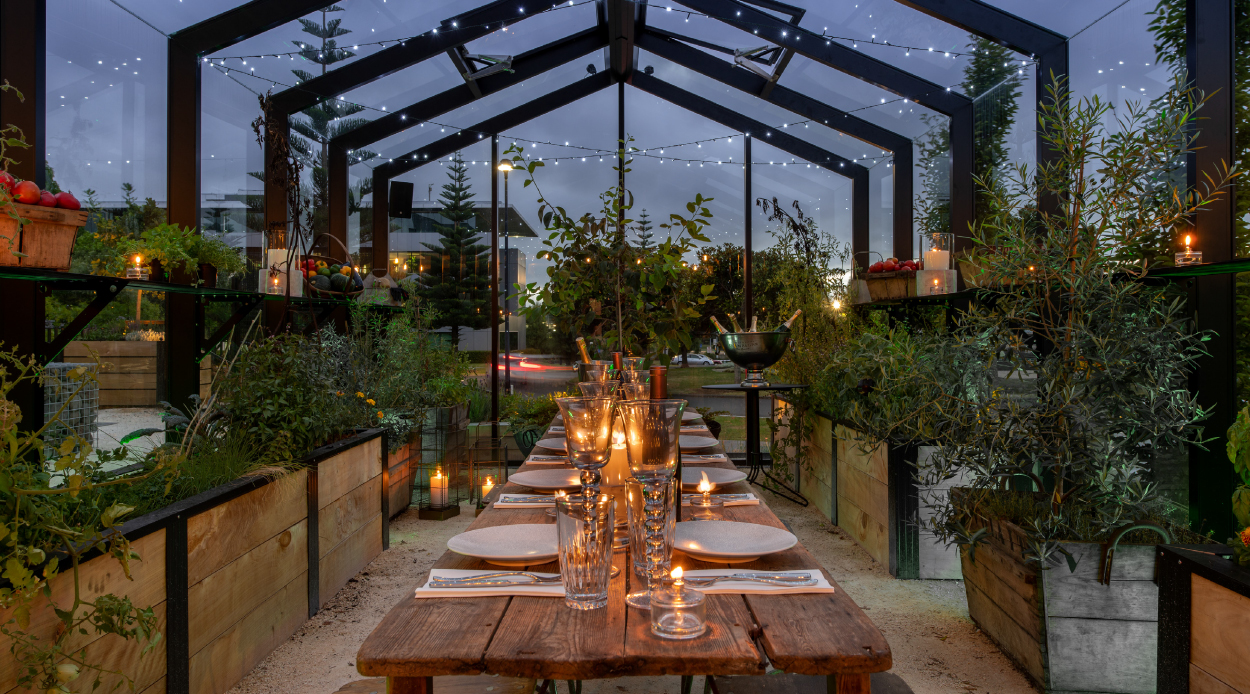 The interior of The Grange boasts a harmony of modern design and natural elements as vines of greenery are intertwined into the chic shades of black and marble surfaces. The rich oak interior is complemented with plush velvet seating and is warmly lit with simplistic pendant lighting. Designed by co-owner of The Grange, architect Mark Wilson of MDS Design has managed to create a restaurant that is charming and sumptuous while remaining inherently relaxed and welcoming.
The Grange has an extensive drinks menu consisting of boutique wines from around New Zealand and all over the world, as well as a selection of the finest spirits and cocktails. Stakes, having managed numerous restaurants and bars in the past, has developed and diversified his wine palate over the years and is showcasing his discerning taste via his curation of The Grange's extensive list of beverages.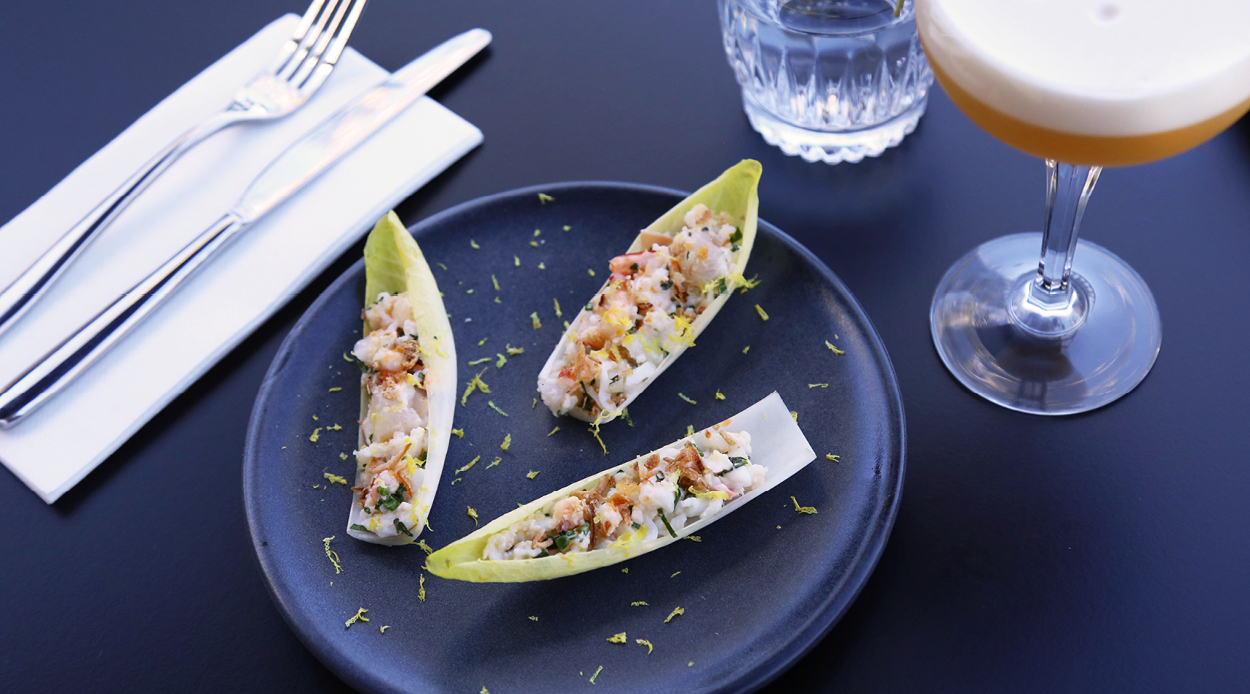 The kitchen is operated by Head Chef, Regnar Christensen who previously helmed the kitchen at Wellington's acclaimed restaurant, Ortega Fish Shack. Christensen uses The Grange as his creative outlet utilising seasonable herbs from the on-site greenhouse and local produce to create dishes such as heirloom tomatoes with burrata and basil, citrus poached crayfish and crab with witloof.
Other menu highlights include the charcuterie board with duck liver pate, pappardelle with beef cheek ragu, basil and radicchio and the 12-hour braised lamb shoulder for two.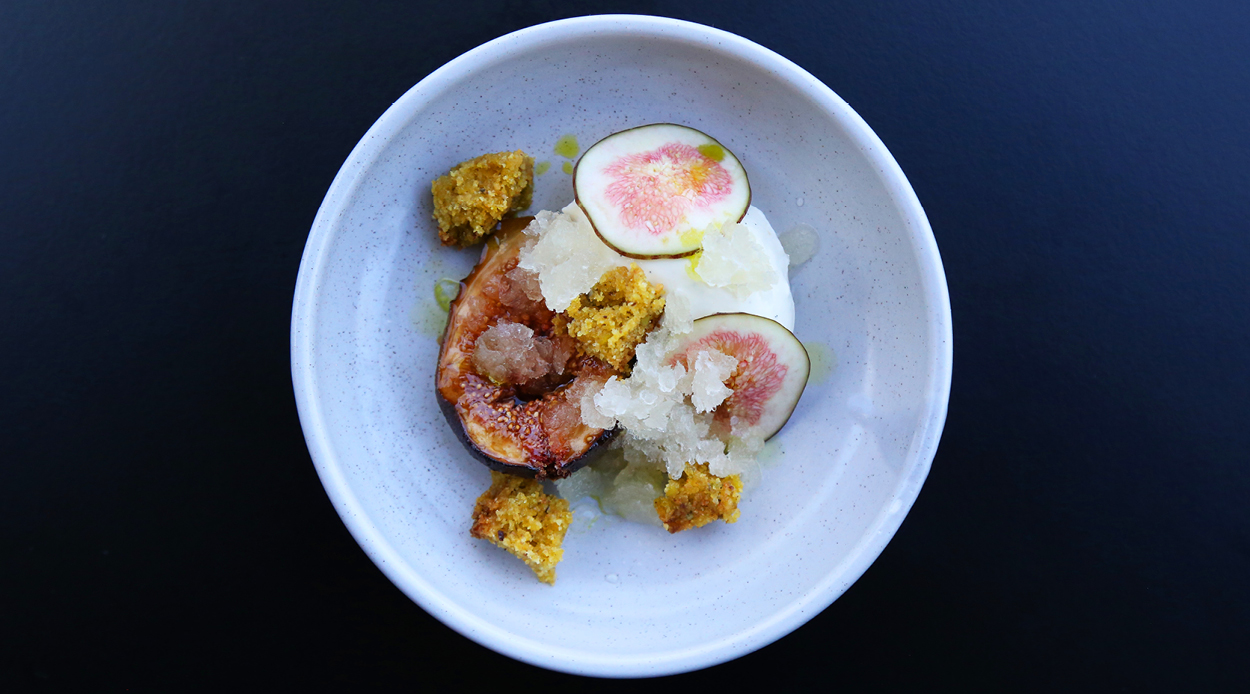 Making sure to keep anyone with a sweet tooth satiated too, The Grange offers a delectable array of desserts, featuring classics such as tiramisu, hazelnut parfait and housemade ice cream and sorbet — all of which are elevated by a line-up of wines specifically designed to match. As figs are in season, Christensen has taken advantage of this product to create a seasonal treat (one of our favourites). The figs are roasted in coconut sugar and accompanied by creamy buffalo curd and crushed pistachio cake with a Moscato granita before being finished with a drizzle of housemade fig leaf oil.
Calling The Grange a restaurant would be an understatement. It's a cultural space for the local community, striving to fulfil all of our gastronomic needs. The all-day menu is not even a fraction of what this place is capable of, where a refined breakfast can segue into a productive working lunch, and a Friday afternoon BBQ session or elevated yet nostalgic Sunday roast present the perfect ways to unwind after a busy week. Whether it's a quick drop-in meal or a drawn-out, romantic dinner on the terrace at sunset, the new heart of the North Shore will always be ready to give you a superb experience.
Opening hours:
Monday – Friday: 8am until late
Saturday & Sunday: 9:30am until late
The Grange
Cnr The Boulevard and Smales Farm Ave Takapuna
09 972 9060