Traditional Mexican tacos are universally tasty — made so by virtue of the fact that each one can be made to suit individual tastes. In this recipe (one of our favourites), fish is used as a light base for the taco filling, while a focus on fresh ingredients render the morsels healthy enough to justify a second margarita (or third).
Fish Tacos with Slaw, Mango Salsa and Avocado & Lime Dressing Recipe
Makes enough for six tacos.
Ingredients:

Fish
½ cup coconut milk
Juice of one lime
1 tsp of red chilli powder
½ teaspoon of sea salt
Approx. 350 grams of fresh snapper
Slaw
¼ cup of mayo
Juice of 1 lime
A handful of freshly chopped coriander, plus a little extra to garnish
Half a purple cabbage, shredded
Salt & pepper to taste
Mango salsa
1 large mango, peeled and cut into 1cm pieces
½ cup coriander, chopped
½ small red onion, finely chopped
1 packet of grape tomatoes, halved
1 fresh chilli, deseeded and finely chopped
Lime juice and salt to taste
Avocado & lime dressing (optional)
1 avocado
1 clove garlic
½ lime, squeezed
¼ tsp of sea salt
3 Tbsp olive oil
¼ cup greek yoghurt
¼ cup water
Essential:
1 pack of Tio Pablo Authentic corn tortillas, or similar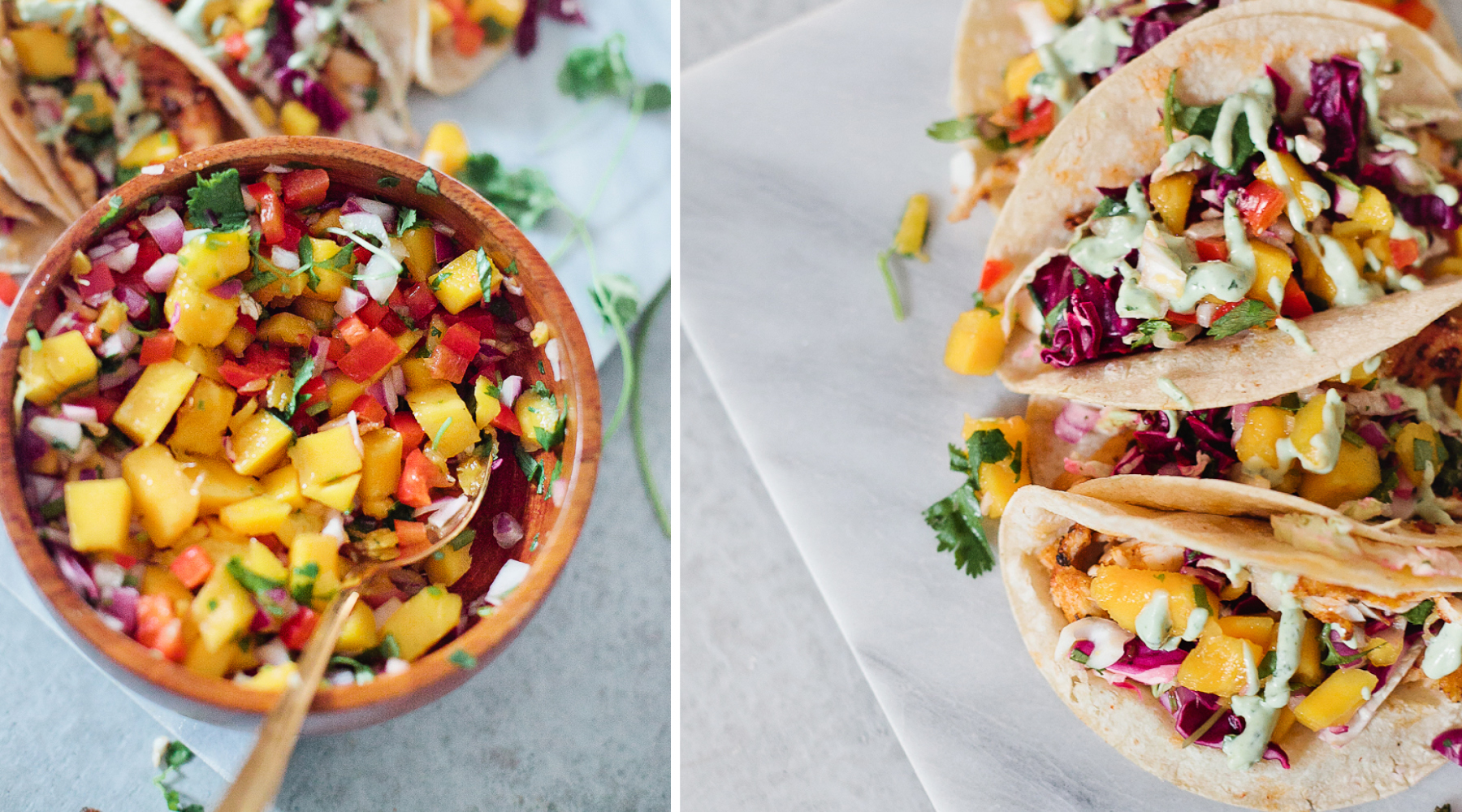 Method:
1. Whisk the coconut milk, lime juice, chilli powder, and salt together.
2. Add the snapper until evenly coated before placing in the fridge to marinate for 20 minutes.
3. Meanwhile, prepare the slaw by mixing the mayo, lime juice and coriander. Then throw in the shredded cabbage and season with salt and pepper to taste.
4. To make the avocado and lime dressing, blitz in a food processor until smooth. You can store this in an air-tight mason jar in the fridge for up to 5 days.
5. For the mango salsa, mix all the chopped ingredients together in a bowl. Wait until the last moment to squeeze the lime on, so it doesn't 'cook' the coriander.
6. Heat olive oil in a non-stick pan over medium-high heat. Remove the snapper from the marinade and pan fry until opaque, approximately 3 to 5 minutes per side. Let rest for 5 minutes before flaking with a fork.
7. If you are making the avocado and lime dressing, whizz all the aforementioned ingredients together in a blender.
8. To assemble the tacos, serve the snapper over lightly grilled tortillas with the slaw and avocado dressing. Add a generous squeeze of lime juice and garnish with the mango salsa, plus a little extra coriander.
Image credit: Tabitha Blue