'Tis the season for some of our favourite treats of the entire year. We're talking, of course, about hot cross buns; those delectably spicy, fruit-filled, bread-centric delights that ferry a generous spreading of butter most deliciously into our mouths.
Not all hot cross buns are created equal, but luckily the competition is stiff in Auckland with many bakeries and restaurants turning out topnotch buns annually.
New to the hot cross bun landscape are these from The Pantry at Park Hyatt Auckland, and we can vouch that they are scrumptious indeed. Created by Callum Liddicoat (Executive Chef, Pastry), there are two options on offer — one to appeal to those who prefer something more mild and savoury, and one that is more sweet and decadent.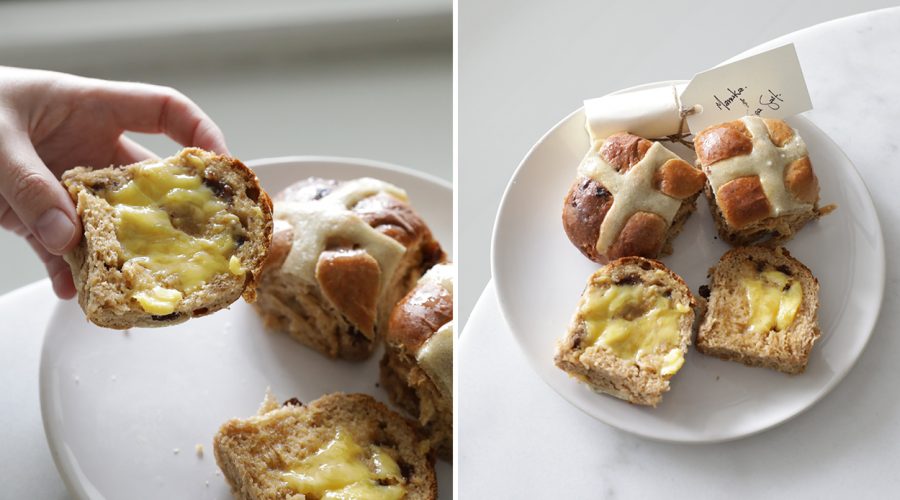 "Across my 21-year career as a pastry chef, I've tried and baked many different hot cross buns around the world at Easter," says Liddicoat. "Using the very best ideas from these recipes and tastings, I've curated my own signature hot cross buns."
His recipe combines the best aspects of a brioche and a milk bun to result in a bread that is marvellously light and not too dense. The traditional flavour contains raisins and all spice of course, however they have a lower fruit ratio than some others we've seen which makes them perfect for those who love the taste of hot cross buns but aren't huge fans of dried fruit. They do also feature added lemon zest and citrus peel, plus Liddicoat adds freshly ground tonka beans which imparts a marzipan kick. The final delicious touch is The Pantry's house-made butter, whipped with mānuka honey and sea salt.
After meeting the founder of Mahurangi-based chocolatier Foundry Chocolate, Liddicoat knew he wanted to work with the company and Easter provided the perfect opportunity. The Pantry's chocolate hot cross buns are just the right amount of rich thanks to The Foundry's Vanuatu signature chocolate, plus orange zest and tonka beans. They are flecked with crystallised ginger and Liddicoat says this bun is best served toasted with Lewis Road Creamery's Artisan Sea Salt Butter — we happen to agree.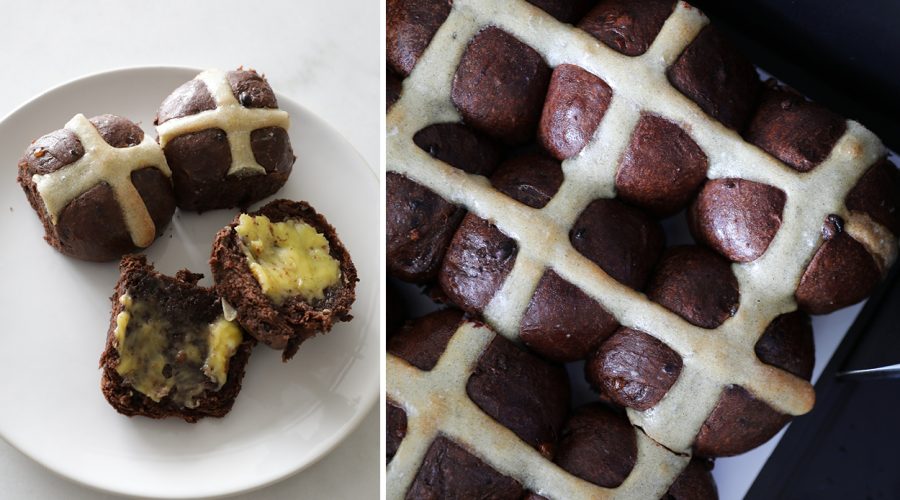 Baked fresh daily, these buns are available to purchase individually at The Pantry, or can be bought by the half-dozen in person or online at The Pantry's online cake shop. While Easter might still be a couple of weeks away, we're of the mind that it just gives us more time to toast and eat as many of these delicious buns as we can get our hands on.