From the woman who brought us Charlie & George in Stonefields and Flour Mill in Epsom, Rebecca McRobie is now taking on Mt Wellington with what she refers to as Flour Mill's bigger sister, Lola. After McRobie handed over the reins to Charlie & George, she was introduced to this wide space with plentiful parking on Ellerslie-Panmure on the Mt Wellington Highway. Renowned for installing hidden gems into untouched and quiet suburbs, McRobie fell for the location's low-key charm. The night McRobie decided to open a new cafe, she dreamt of a woman who embodied true beauty, kindness and warmth — qualities that McRobie strives to achieve through all her eateries. Her name was Lola.

The moment you walk into the 100-seater cafe, you feel as though you've been taken into a different era. Lola is designed by the same people behind Flour Mill, Control Space and Design Dairy, so it boasts a similar retro aesthetic as its little sister. Neon lights and signs illuminate the walls, come together with the youthful colour palette of pastel pink, yellow and green to create a Wes Anderson-esque ambience. The comforting and warm vibe paired with a menu of nostalgic and universally-loved dishes ensures Lola hits a soft spot in diners before the food even arrives at the table.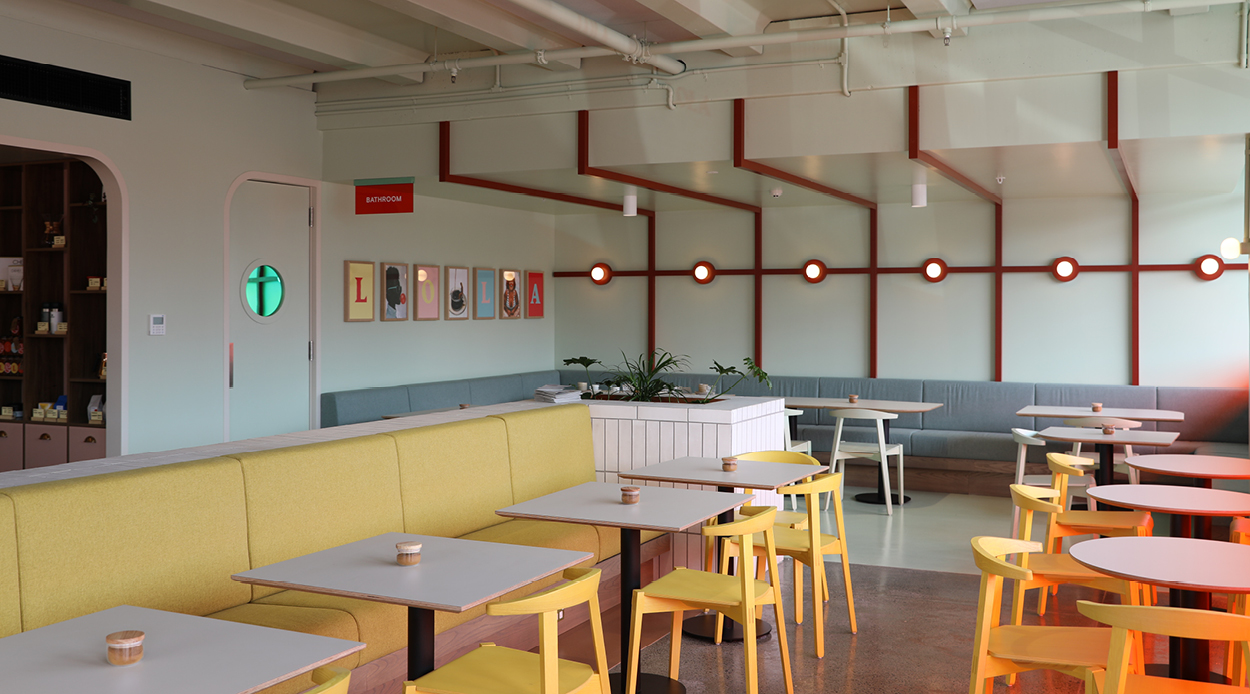 From the classics — eggs on toast, creamy mushrooms — to the creative takes on breakfast staples — like the banoffee pancakes — Lola doesn't overcomplicate its menu. McRobie tells me that she wanted humble, simple yet undeniably delicious dishes to feature alongside a cabinet filled with the treats of our childhood, ones that have been forgotten in today's cafe scene. These include marshmallow slices, melting moments and our favourite, the most buttery Rice Krispie treats topped with rainbow sprinkles.

When checking out the new spot, myself and Denizen's photographer decided to order two savoury dishes to share before halving a sweet dish for dessert — an ordering strategy that allows us to taste more of a variety of flavours and live our best gluttonous lives. The corn fritter balls came first and it set the bar extremely high, to say the least. The morsels tasted like falafel with a generous amount of corn inside which burst with a subtle sweetness. The sriracha labneh was what made this one so memorable, as the creaminess and spiciness mixed together to create a unique and tart flavour which contrasted against the creamy texture.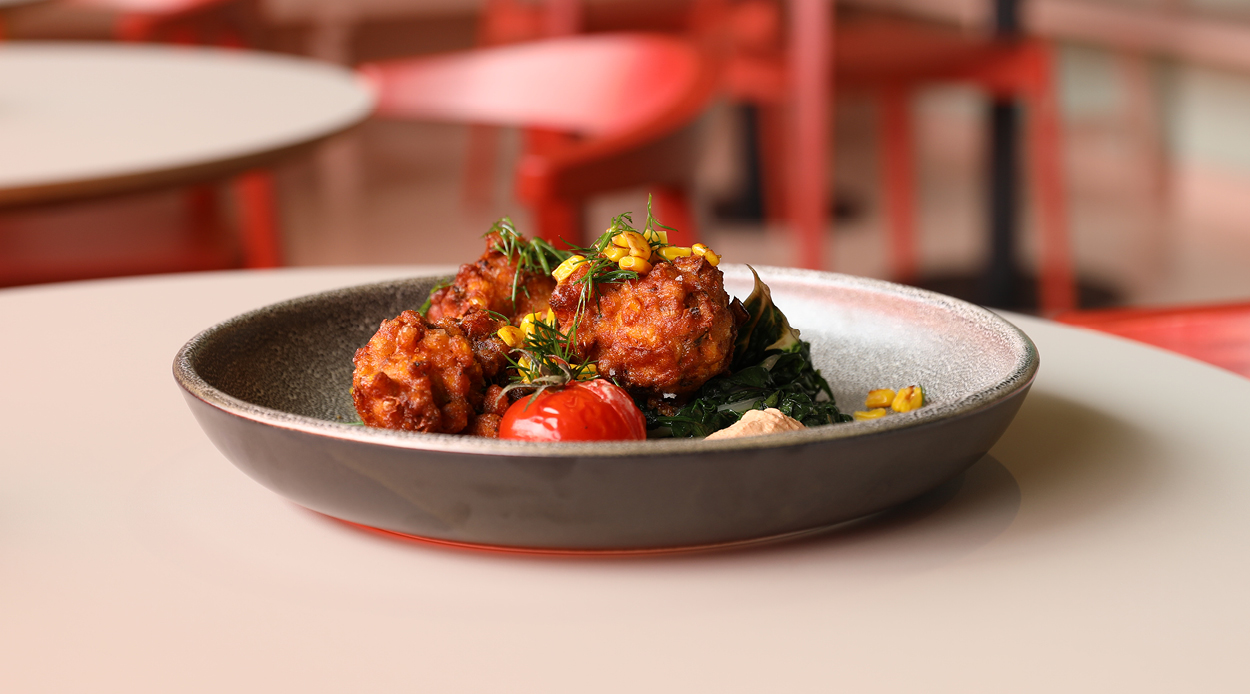 The chilli cheese dog was everything we expected it to be and more. The warm, toasted, fluffy bun was stuffed to the brim with a juicy and cheesy frankfurter sausage. To make it even better, the frank was wrapped with a succulent slice of bacon which gave the sausage more saltiness, seasoning the tangy chilli beans that sat on top. The chilli beans lent a heartiness to the dish and also had a subtle sweetness from the caramelised onions that were hidden in between the sausage and the bun. Topped with grated cheese, punchy pickle slices and served alongside criss-cross fries and house-made green aioli, this one is most certainly a must-order dish.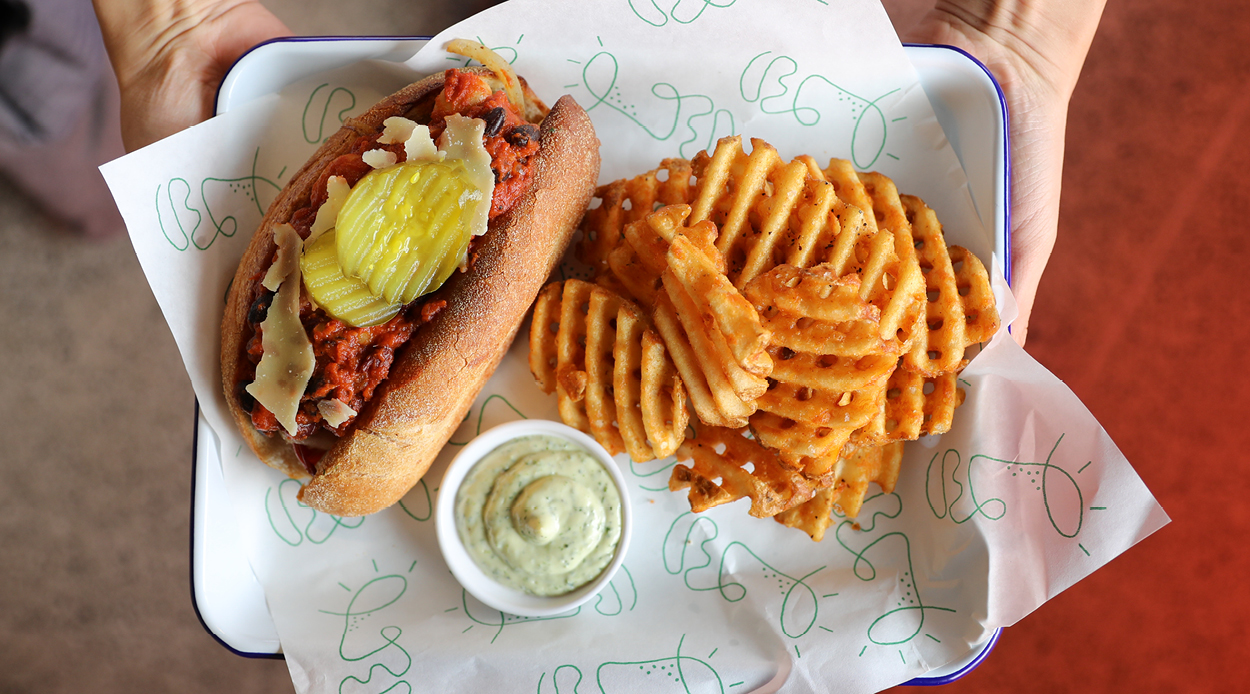 To end the experience on a sweet note, we ordered the afghan skillet cookie and it might have been one of the best decisions we have made in a while. The warm, cocoa-rich cookie had a heavenly chew, subtle saltiness to enhance the sweetness and, although it was a vegan dish, we could've sworn that we tasted a copious amount of butter. Cornflakes — which added a crunch and an extra element of cereal notes — were topped with a scoop of Duck Island coconut ice cream, that melted over the entire chewy chocolate cookie, chocolate mousse-like ganache and freeze-dried raspberries. The skilled is served with a house-made coconut whip and definitely comes in handy to cut the richness as the intense cocoa has the ability to overwhelm the palate.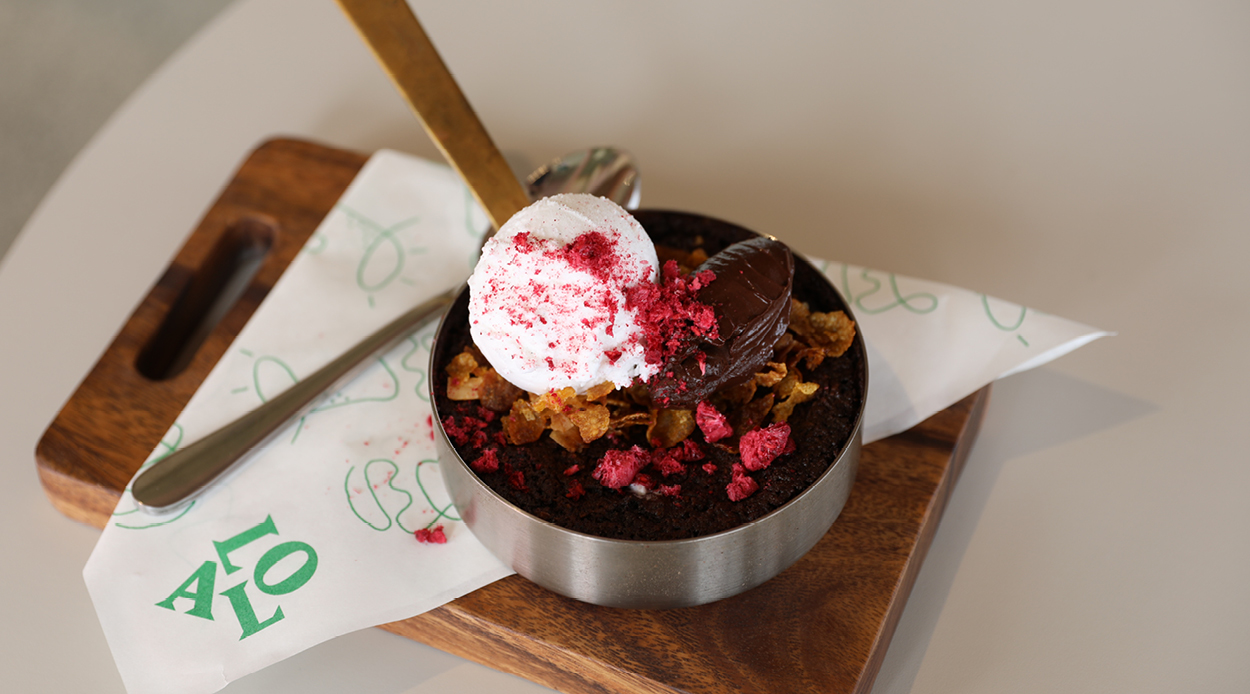 Lola opened its doors to the public only yesterday and it has already become the talk of the town. Freshly brewed Kokako coffee, a cabinet that's fully stocked with fresh salads, sandwiches and sweet treats, a menu that is filled with classics and bangers and a well-designed fit- out — all alongside welcoming staff that provide attentive service, Lola ticks all the boxes of a great cafe and we're excited for what's ahead for McRobie's latest venture.
Opening hours:
7 days, 7am until 4pm

Lola
517 Ellerslie Panmure Highway,
Mt Wellington