Now that we can mix and mingle once more, we're after a refreshing pour at home. As luck would have it, Glenmorangie has released a new single malt Scotch whisky, right on time for summer socialising. Crafted in collaboration with top bartenders, the X by Glenmorangie spirit is sweeter and richer to taste — making it perfect for all tall, effortless sips.
Even if you haven't tried single malt whisky before, this remixed version pairs wonderfully with all manner of mixers so you can open a new world of possibility with each gulp. To inspire new serves, Glenmorangie has released a series of refreshingly simple and complementary recipes — each require two to four ingredients, and are served over crushed ice in the style of a swizzle with no need for specialist equipment.
The curious combinations include takes on familiar classics, including a Glenmorangie X Tonic and a Glenmorangie X Cola, as well as experimental drinks for many and varied occasions. The Glenmorangie X Brunch is a bright, citrusy pairing, with agave syrup and grapefruit and orange juice, for long, leisurely weekends with family and friends. Meanwhile, the Glenmorangie X Date Night is a floral, fragrant serve, with lemon juice, elderflower cordial and a hint of sparkling soda, for a special evening.
While many of Glenmorangie's whiskies taste exceptional when mixed, this is its first whisky to be specifically made for this intended purpose. Glenmorangie's Highland whisky creators, known as the Distillers of Tain, are endlessly imaginative — honing and honouring their craft for more than 175 years.
Inspired by the flavour possibilities the whisky can bring when mixed, X by Glenmorangie is a spectacle of flavours — from pear, vanilla and honeysuckle to orange sherbet and chocolate fudge. Expertly crafted from a combination of whisky aged in bourbon casks, and some finished in new char oak casks, its strong profile is a secret weapon for your at-home bar set-up.
Whether you're planning a relaxed BBQ or an all-singing karaoke night, this is the whisky to add to the mix.
Why not try: Glenmorangie X Cocktail Night with Friends Recipe
Chock-full of dark-fruit sweetness, this drink is best mixed with laughter and good company.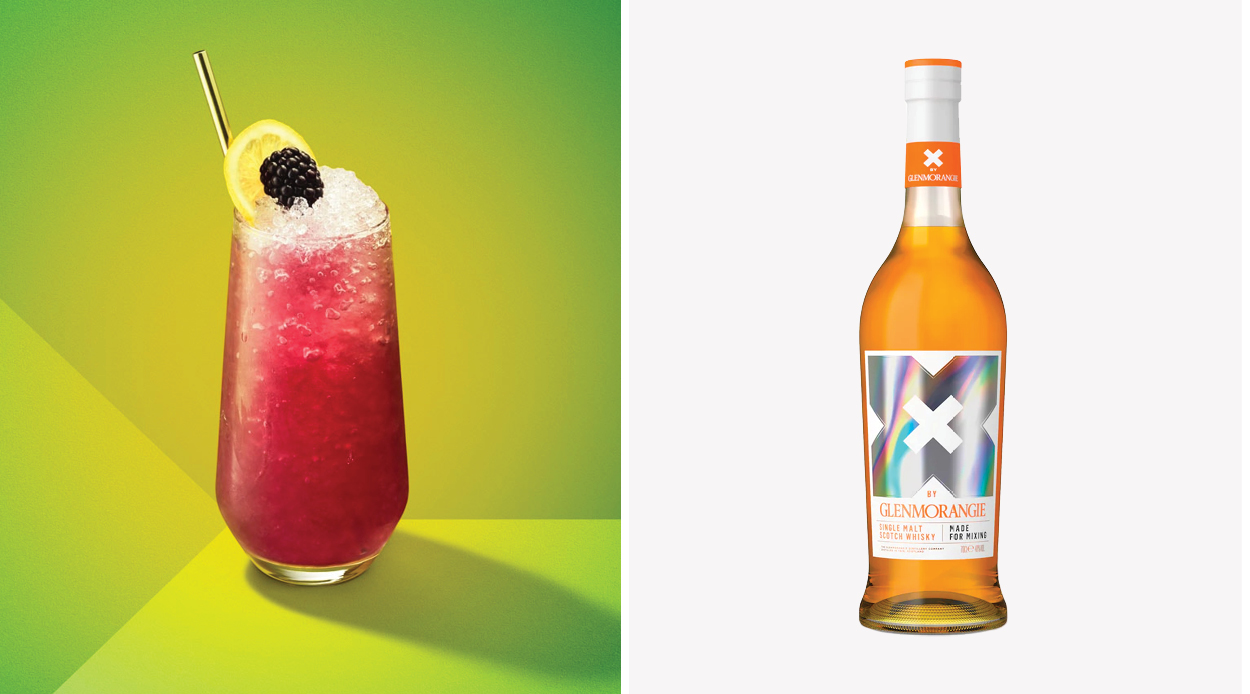 Ingredients
Crushed ice
50ml X by Glenmorangie
25ml lemon juice
10ml agave syrup
12.5ml blackcurrant cordial
Garnish
Lemon wheels
Blackberry
Method
1. Fill highball glass with crushed ice. Add X by Glenmorangie, lemon juice and agave syrup.
2. Stir, then top with blackcurrant cordial and garnishes.