Taking over the space that was previously Mea Culpa, a team of mixologists and bartenders looking to redefine classic cocktails as we know them, have established a unique bar, destined to be the next neighbourhood hotspot. Clipper, as its unmissable neon signage announces, is the brainchild of a team that comprises two award-winning bartenders, Barney Toy and James Millar, Bacardí's Global Advocacy Director, Jacob Briars and the hospitality expert, Richard Wood. Together, they have created a cute, kitschy locale with an eye-catching interior, and an impressive drinks menu.

From its pale pink interior to its compact capacity (able to accommodate up to 22 people), Clipper's ambience is warm, cosy and inviting which is exactly what you'd hope for from a local bar. Its concept was inspired by the golden era of travel, when flying abroad was a luxurious form of leisure, and it's an idea that's most clear on its drinks menu. Sectioned into three categories — long-haul, short-haul and layover, the list varies from the lighter elixirs, designed to ensure longevity for an extended journey, to the stronger hits for the moments you might be in need of something quick and powerful and also includes a number of familiar classics — all with a unique twist.

The Pan Am Cocktail, a revered creation of bartender Barney Toy, was awarded second place at the Bacardí Legacy Global Cocktail Competition, and is one of the most delicious drinks on Clipper's menu. Seeking to evoke the luxurious lifestyles of those who would be seated in first-class on Pan-American Airlines in the 1920s and 1930s, Toy has combined all the elements that embody the elegance of that era. The cocktail comprises Bacardí Carta Blanca, Aperol, Orgeat almond syrup, lemon juice, egg white and Angostura Bitters, giving it a distinct flavour that moves from sweet to bitter and back again.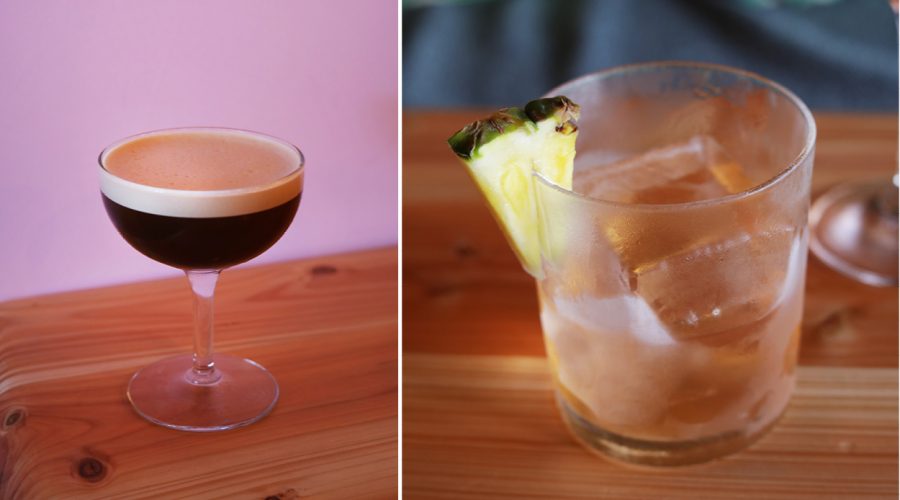 Those looking for something lighter to keep them going the entire night, the Autumn Spritz from the Long-Haul menu can do no wrong. The simple mixture of Hennessey VS Cognac, apple vermouth and soda makes for a refreshing drink that could brighten any day. Finished with a garnishing of grapefruit, the semi-sweet and sour cocktail is one of those beverages that you could sip on forever.

The pina colada old fashioned marks a different approach to the typically tropical cocktail we all know and love. Removing the rich and heavy coconut cream from the original formula, the drink showcases the pineapple and coconut flavours through a housemade cordial which is enriched with Bacardí Reserva Ocho, Carta Blanca Rum and Tiki Bitters. And while that was undeniably delicious, it was the flat white martini that stole the show for us. Staying true to Kiwi coffee culture and its obsession with the flat white, Toy and Millar discovered a way to split the milk and coffee so all that was left was the whey, which is turned in to a creamy syrup and mixed with Belvedere Vodka, coffee liquor and espresso.

In terms of food, Clipper's menu goes beyond the regular pub grub of beige finger food. Ratatouille, sticky smoked pork hock, chicken and leek terrine are just a few of many dishes on offer. The sophisticated menu also has some classic guilty pleasures, including a mac and two-cheese dish which is served with crispy shallots, parmigiano reggiano, truffle oil and crostini. Clipper also has a Mile High Session Lager on tap and a small selection of quality beers, wine, prosecco and champagne in its fridge, ensuring that anyone from the neighbourhood can find something to their taste, and walk out of Clipper feeling content and satisfied.
Opening hours:
Tuesday — Thursday, 5pm until late
Friday — Sunday, 2pm until late
Monday, closed
Clipper
3/175 Ponsonby Road
Ponsonby
Auckland