Comparable to both ceviche and carpaccio, 'crudo' is technically a dish of raw fish or seafood, likely dressed with oil, citrus juice, and seasonings. And it seems there's at least one iteration on every good menu in Auckland. In light of our summer appetites, lusting for light dishes as opposed to hearty, soul-warming ones, we saw fit to glorify our favourites by way of the following list.
Hotel Ponsonby's Cured Trevally
Hotel Ponsonby's cured trevally is served with mango, chilli and crème fraîche offering a variety of flavours from spicy and smoky to sweet and creamy. This dish is a staple on the gastropub's new summer menu for obvious reasons — it's light, refreshing, and jam-packed full of flavour.
Omni's Raw Snapper
Fresh and deceptively simple, Omni uses long-line caught snapper cured between sheets of kombu. The fish is then sliced to order and served on a creamy, slightly tangy white soy cream, spritzed with lemon juice and finished with a fragrant kaffir lime oil.
Andiamo's Kingfish
Raw kingfish combines with juicy central Otago stonefruits and sliced tomatoes for a beautiful fresh crudo, harmoniously finished with a herby shiso dressing. It's a flavour mashup that's so good and unexpected, you just have to try it for yourself.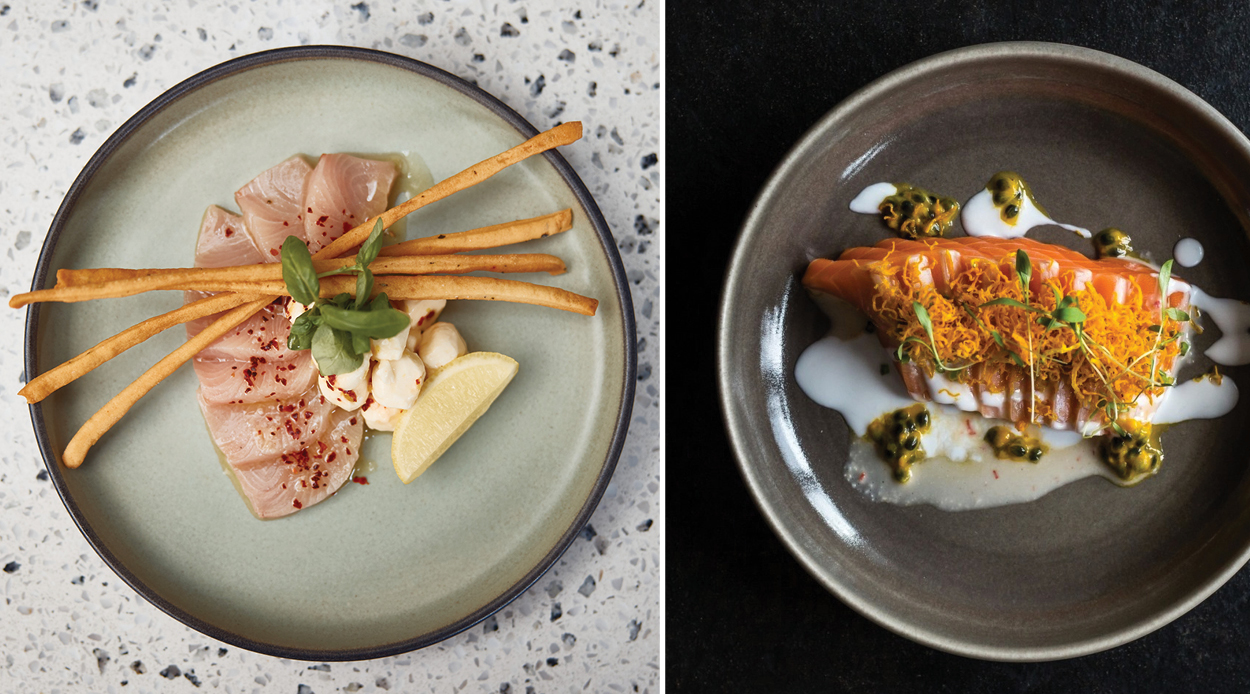 Bar Non Solo's Kingfish Crudo
Carefully carved raw kingfish is marinated with lemon and smoked chilli flakes. Served with baby mozzarella and rosemary grissini, it's a fresh vibrant dish that's hard to beat.
Azabu's Big Glory Bay King Salmon Tiradito
Tiradito is a typical Japanese x Peruvian dish of raw fish, cut like sashimi and most commonly served with a spicy sauce — and this one's been on Azabu's menu ever since it opened. Served with passionfruit, coconut cream, leche de tigre (a citrus-based marinade) and crispy spaghetti squash, it's a tart, tangy and wholesome creation.
Bar Celeste
Changing up the flavour combinations seasonally, crudo is a staple on the menu for Bar Celeste. Currently, the K'Road eatery is running a market fish crudo with fig, vibrant citrus and fresh mint. Previous renditions include market fish with avocado, chilli and chive (which if you're lucky, might be back on the menu before summer ends).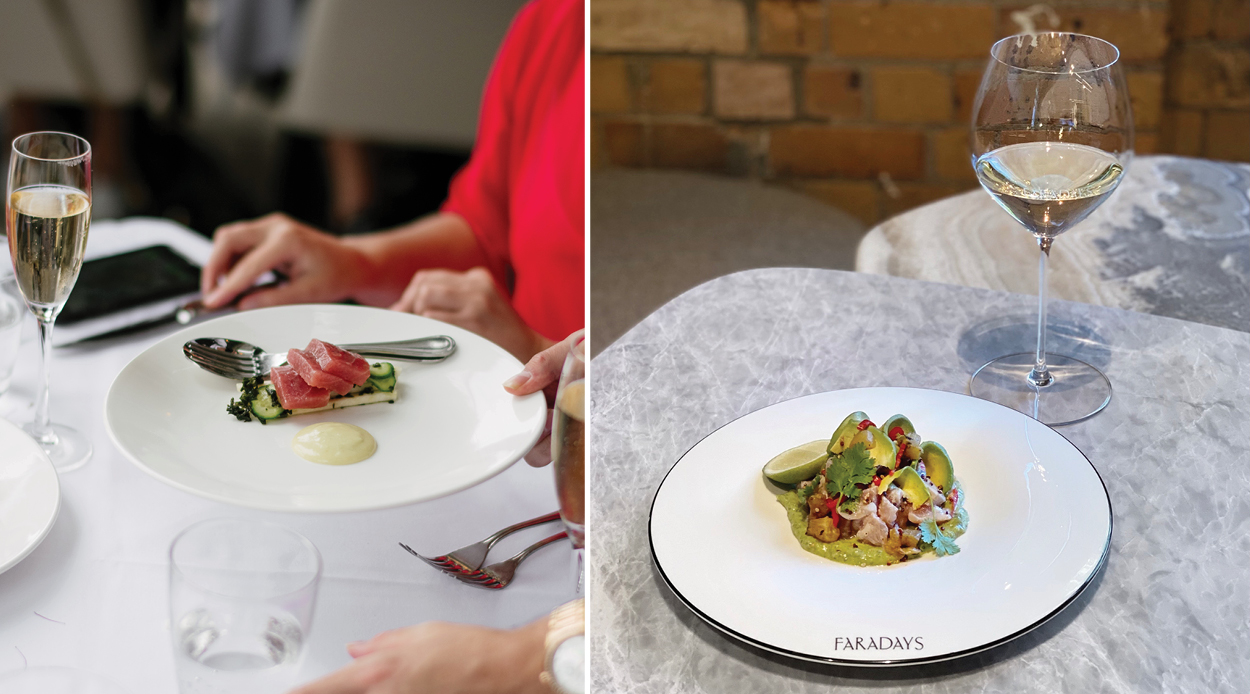 Market Fish Crudo from Faraday's Bar
From Parnell newcomer Faraday's Bar, this dish uses fresh market fish served with wood-roasted pineapple on a bed of avocado crema. Finished with fermented chilli, coriander, pickled red onion, and a crispy quinoa crumb, the crudo pairs perfectly with a crisp glass of the Domaine de Montille Clos de Chateaux 2018.
Soul Bar & Bistro's Tuna Crudo
Taking tuna and rendering it into something truly spectacular, Soul adds a bright soy and ginger dressing, kohlrabi and sweet wasabi into the mix. Not only is this dish visually stunning, but it's quite something on the palate too.
Amano's Kingfish Crudo
We'll never tire of Amano's popular kingfish crudo. Accoutrements are changed seasonally to make the most of what's on offer. The much-loved dish currently comes paired with cucumber, fig and mint.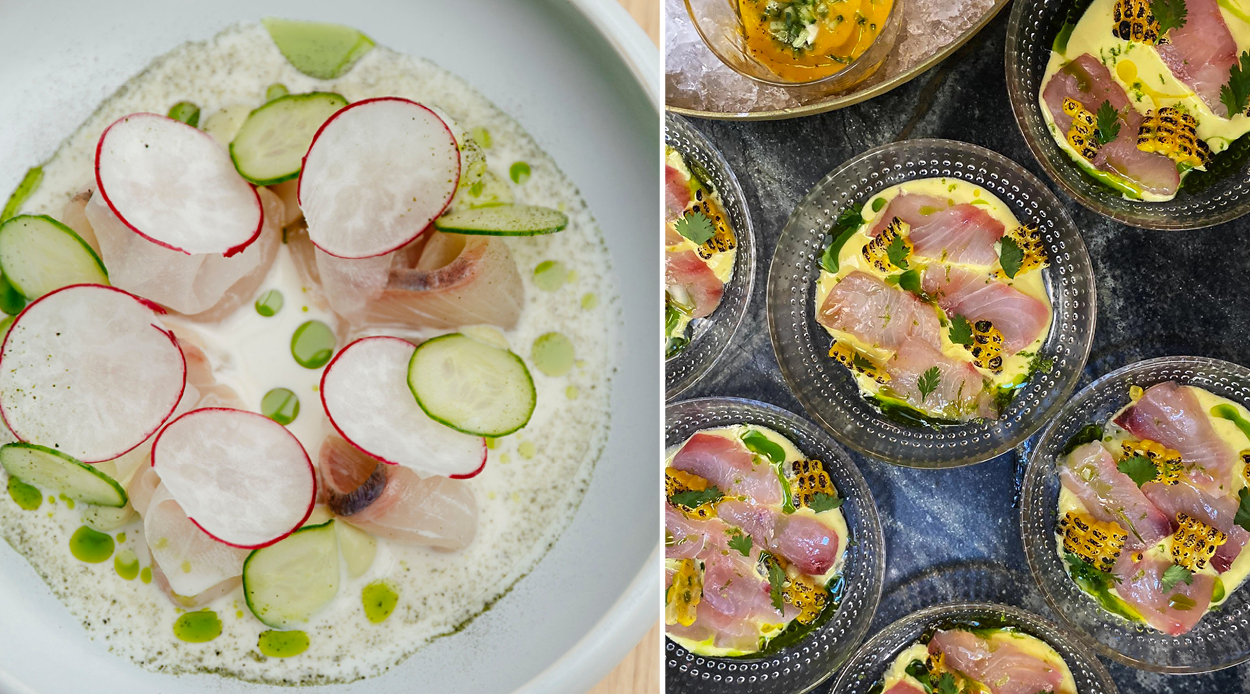 Hello Beasty's Ruakaka Kingfish
This well-loved dish on Hello Beasty's menu is far more beauty than beast. It comprises exquisitely fresh pieces of kingfish crudo paired with balanced flavours of whipped avocado, radish, pickled daikon, buttermilk and sudachi dressing (sudachi is a small, lime-like Japanese fruit), and wakame.
Culprit's Line Caught Sashimi
Some things are best left to the experts, like sharp knives and slicing fish. Luckily the pros are on the job at inner-city favourite Culprit with their instantly refreshing combination of line-caught sashimi with lacto-fermented sweetcorn, habanero and lime.  
Alma's Tuna Crudo
Britomart eatery Alma centres on the delicious flavours and warm, relaxed energy of the southern Spanish region. Their mouth-watering crudo is dependent on what tuna species is available that day and paired with an ember charred green bean salad, anchovy and tuna conserva dressing, bay leaf oil and finished with fire-roasted seaweed powder.