As the creative duo behind My Exhibition, a brand that recontextualises curated design pieces, many of which are sourced from markets and boutiques abroad, Sara Bruce and Sophie Anderson are not only seasoned travellers but each have unique perspectives on the cities they frequent. Paris is one such place, where Bruce and Anderson often visit to source, and to spend a day or two at some of their favourite restaurants, cafés, galleries, museums and under-the-radar spots. Here, the pair deliver some insight into how they might spend an early June day in the City of Light, from unmissable experiences to living like the locals do, to cultural wonders, and a few luxurious stops along the way.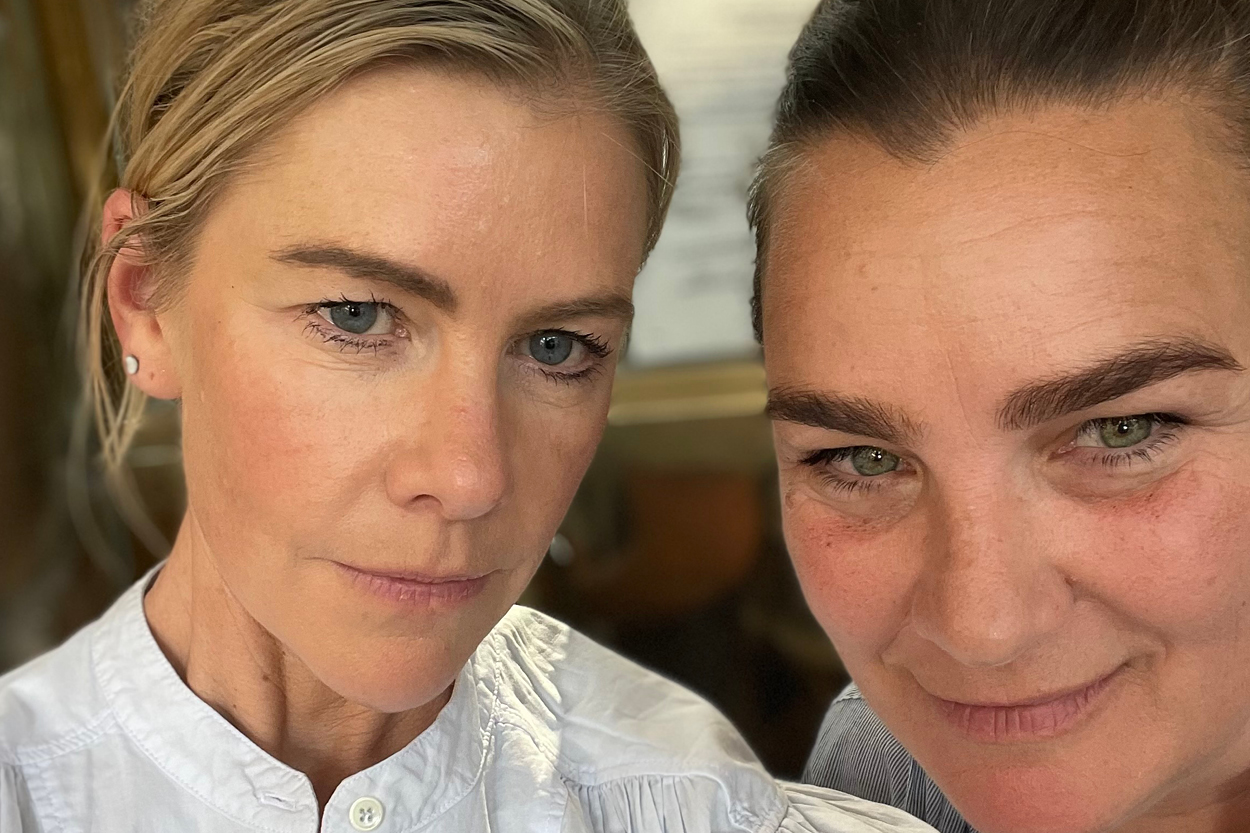 "We've come to Paris for inspiration, some flea market fossicking and as big a dose as possible of inimitable Parisian style. It's early June, sunny, hot and Paris is lush, as elegant as ever and buzzing. Follow us as we amble around the City of Light, Rive Gauche or Rive Droite, we've got you covered."
Sara Bruce
MORNING
I wake up in the Hôtel des Académies et des Arts. Small and not 'comfortable' enough to entice a certain kind of mature American traveller, my room features an easel and hand-sketched line drawings on the ceiling; not a kettle in sight.
The hotel is set down a side street in Montparnasse, opposite the longstanding Académie de la Grande Chaumière (a sculpture school).
I embark on a pre-breakfast stroll through the nearby Jardin du Luxembourg, which I have found to be a necessary jetlag antidote. Early morning is a delightful time to see the wild-planted gardens, fountains and palace. There's no one around and it's glorious.
Afterwards, croissants and bad coffee (I'm in France, after all) are best taken back at the hotel.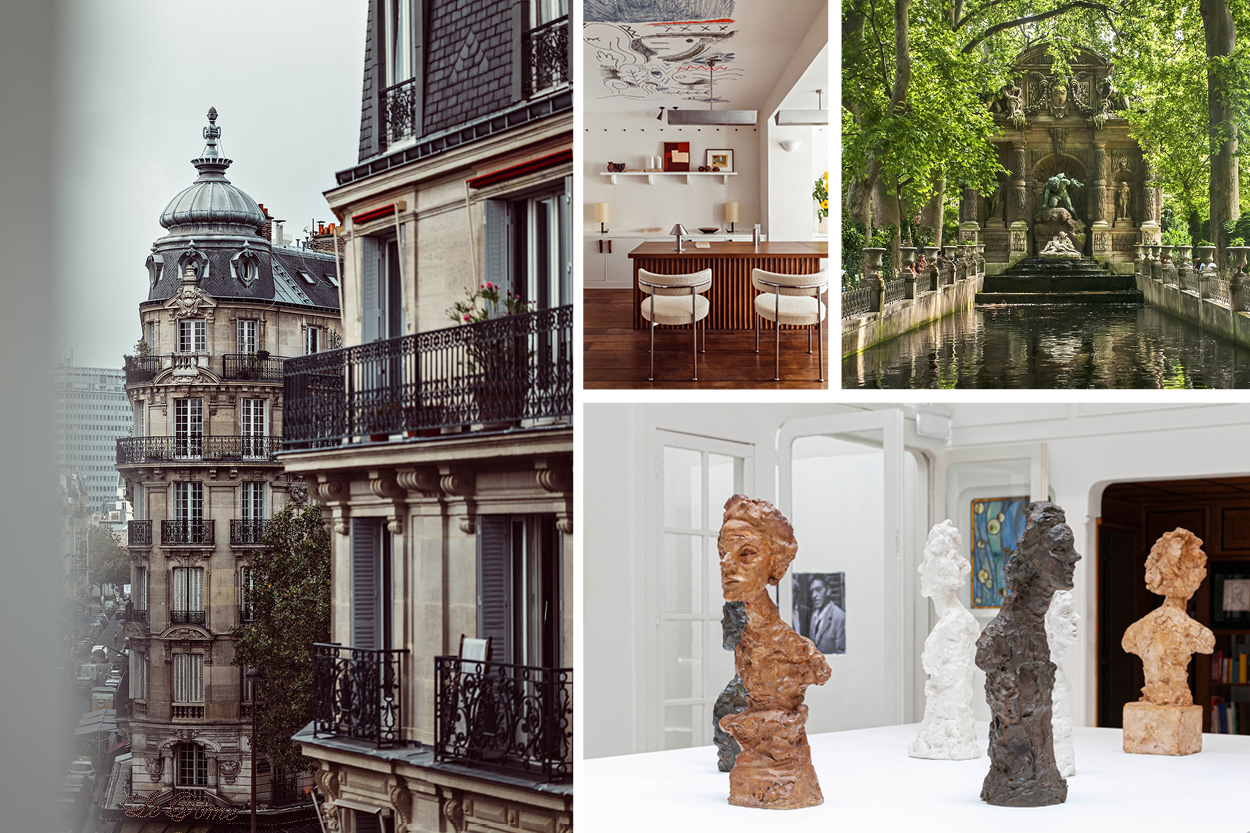 Only a short walk south is where I get my first hit of culture, at the Fondation Cartier Pour L'Arte Contemporain. Currently in between installations, it isn't open, so I make do with peeking through the gate. My architecturally-savvy friend (Sophie) admires the steel, glass and now mature greenery both inside and out of the Jean Nouvel-designed structure.
Just down the road and without a queue or barely a sign, is the Fondation Giacometti. The small but perfectly formed 'maison musée' includes a reconstruction of the sculptor's original studio. The Giacometti figures reside in a high-ceilinged rear gallery. This is not for those bang-for-buck museum-goers who want to tick off as many masterpieces as humanly possible (for that, head to the Musée d'Orsay). But it is a spectacular experience. Mingling with these plastered, wiry creatures in the flesh with no one else around is truly a thrill.
AFTERNOON
I complete the morning's sculpture expedition at the Musée Bourdelle. This is my new favourite house museum in the whole of Paris. Despite not being familiar with Bourdelle at all, I'm calling him the new Rodin. The place is filled with incredible busts and large-scale works. There's a cafe upstairs with a portico terrace overlooking the walled greenery. I eat a delicious simple salad on the loggia. Perfection.
Even the most avid art lover needs respite and time for reflection and that means a little browsing at the Left Bank's iconic department store Le Bon Marché. Elegant French women glide around, dogs in tow.
Across the road, Le Grande Épicerie is the ticket to picnicking paradise. I agonise over the butter selection, and choose a smoked, salted version packaged as carefully as a precious gift. A few cheeses, maybe a pâté, some berries and exotic vegetables later and I'm well-provisioned for dinner later.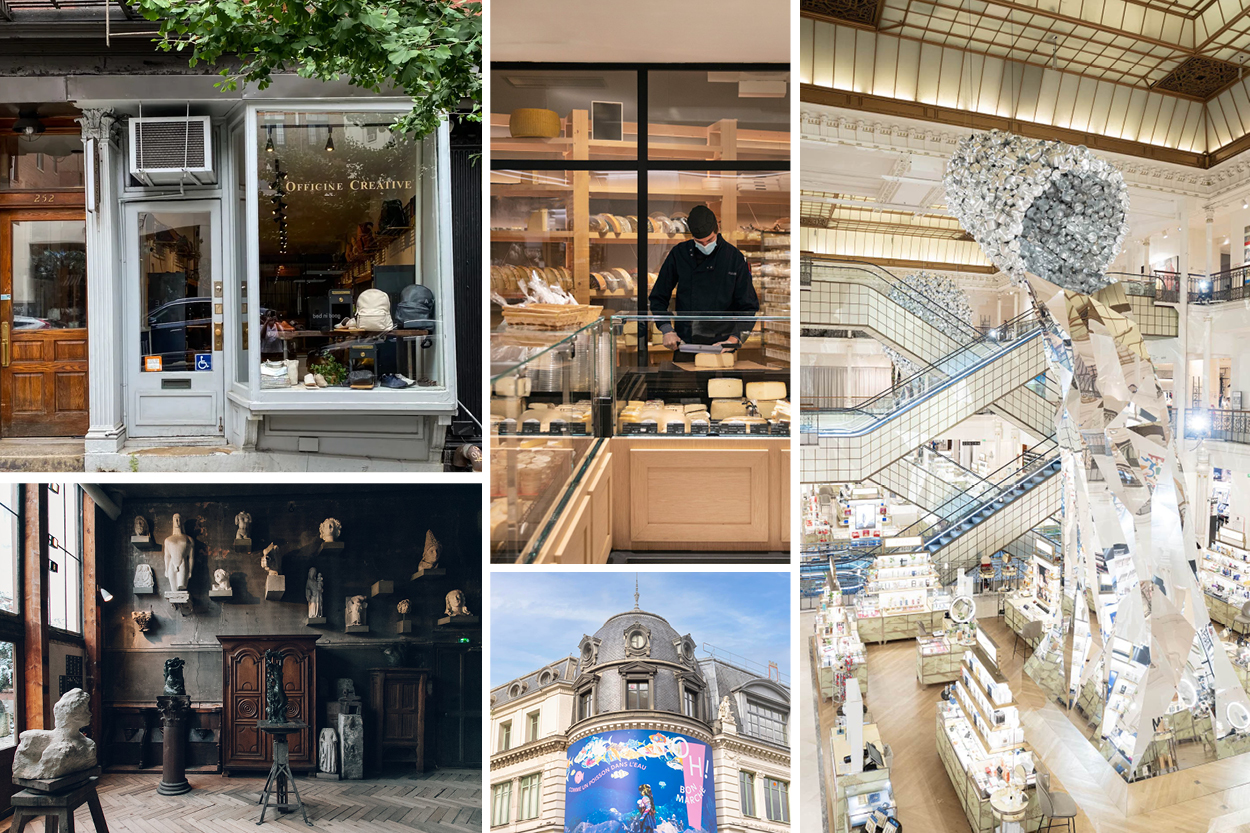 On the way to my next stop, I take a little detour to the Officine Creative at 20 Rue des Canettes in Saint-Germain-des-Prés. It's a small shop showcasing mono-brand Italian handmade shoes and bags. The leather is as soft as that Bon Marché butter and it's all logo-free. Nearby is the Dries Van Noten Paris flagship, a must-visit.
My final sculpture hit of the day is another Montparnasse atelier musée, this one showcasing works by Ossip Zadkine. It also boasts a verdant garden, in which a solo cellist is performing. This musical serendipity accompanies my wanders around Zadkine's cubist busts and drawings. I feel distinctly cultured and far, far away from the tourist masses.
EARLY EVENING
It's harder than it sounds to find the perfect spot for an aperitif. The big names trading on the Montparnasse of old like Le Dôme, La Rotonde, La Coupole and Le Sélect all feel a bit too Tripadvisor for what I'm looking for. Instead, I head to the luxe bar at the only palace hotel on the Left Bank; Hotel Lutetia, a smartly-renovated establishment with a high marble quota and excellent Camparis.
LE SOIR
If you've got the right ingredients, there is something fun about collating a delicious picnic for early dinner, and the breakfast room at the Hôtel des Académie offers the perfect setting for just that. Champagne from Nicolas nearby, baguette from the boulangerie and a series of delicious what-nots from Le Bon Marché, this is my dream. (Apologies serious foodies and lovers of 12-course degustations.)
Finally, I head down to the Rue de Seine for a post-dinner ice cream at Grom Gelato, to make the most of the late Parisian light.
Sophie Anderson
MORNING
I wake up in a garrett room in the eaves at the Hôtel Pulitzer on the Rue de Faubourg, Montematre. Sliding open the bathroom door reveals a generous sized bathroom which does much to up the luxury factor of the tiny room.
Immediately, I make for the Marais. First up, un café at Le Petite Place at 2 Place de Thorigny. This delightfully modernised Parisian style café with perfectly-hued, mix-and-match crockery always delivers. (Despite not being on Sara's carefully-researched and cross-checked list, the coffee here is excellent.)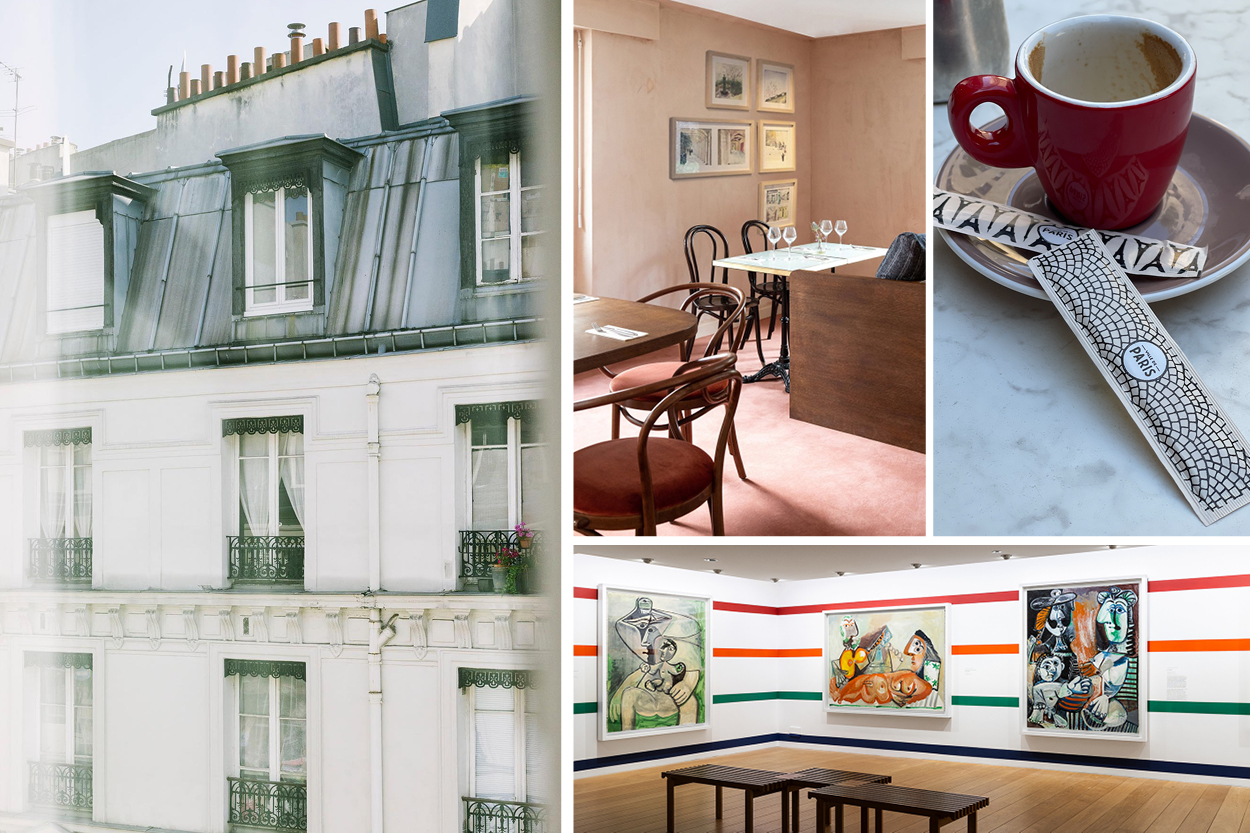 Just around the corner is my next stop, the Picasso Museum, where I immerse myself in the current exhibition marking 50 years since the artist's death. Brought to life under Sir Paul Smith's artistic direction 'Picasso Celebration: The Collection in a New Light' at Musée Picasso is sublime. Colour as emotion, reflection, inspiration… All enveloped by the sumptuous and exquisitely-restored Hôtel Salé in which the museum is housed. Top tip — be ready to go at 9:30am to get ahead of the crowds.
AFTERNOON
Onwards to the up-market 16th. I catch the Metro across town to La Rotonde de la Muette, which has been expertly re-imagined and updated in classic Parisian café style by New York designers Roman and Williams. There, I sit on the terrace surrounded by gorgeous French families with children in polos, folded socks and combed hair. Standard fare in a chi chi location.
Nearby and not to be missed (even if it's just an Uber drive-by) is the Frank Gehry-designed Fondation Louis Vuitton. The current Basquiat x Warhol exhibition is an added bonus.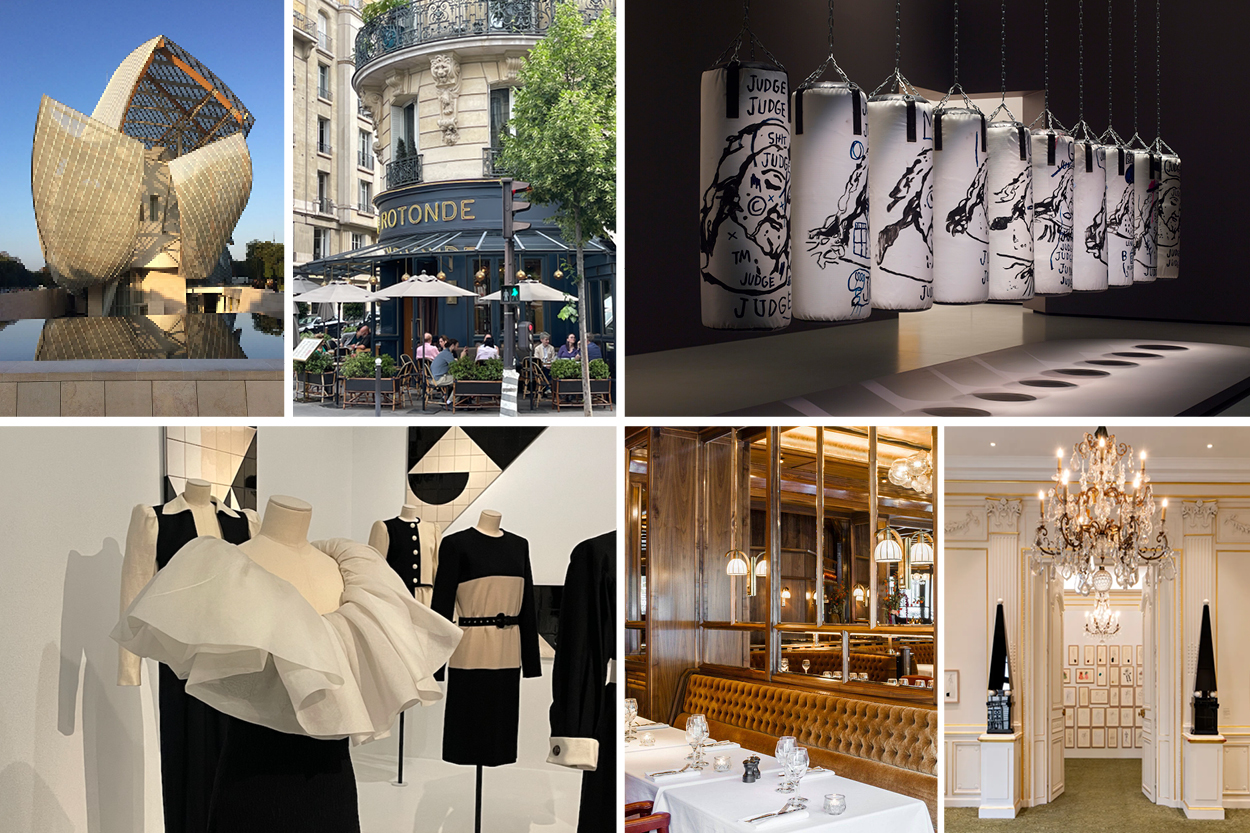 Then, I jump back on the metro to the divine Musée YSL. On entry I am funnelled into the original reception area. The whole room, including carpet, walls, ceiling and chandelier, is exactly as it was when the maestro himself presided over the brand. Faintly musty, this room is dedicated to a history of YSL. Currently on display is 'YSL — shapes and forms, Decors & Works by Claudia Wieser', which I discover is a wonderfully-evocative exhibition. For me, however, the pièce de résistance is YSL's 'studio', lying in the heart of the atelier. This was where Saint Laurent designed and then evaluated garments on models. Full of favourite objets, fabric swathes and swatches, coloured pencils, sketch pads and curios, the mood is completed by a pair of Yves Saint Laurent's glasses casually discarded on his desk. It truly feels as though the couturier has just left.
EARLY EVENING
As the late-afternoon light turns to dusk I head straight to the bar Les Ambassadeurs at Hôtel De Crillon and order Champagne. Joined by Sara, we're early drinkers in Paris so we sit ourselves in the Jardin D'Hivers. Purple is the hue here, where the orchids match the marble and the giant amethyst pieces. Perfect service and people-watching.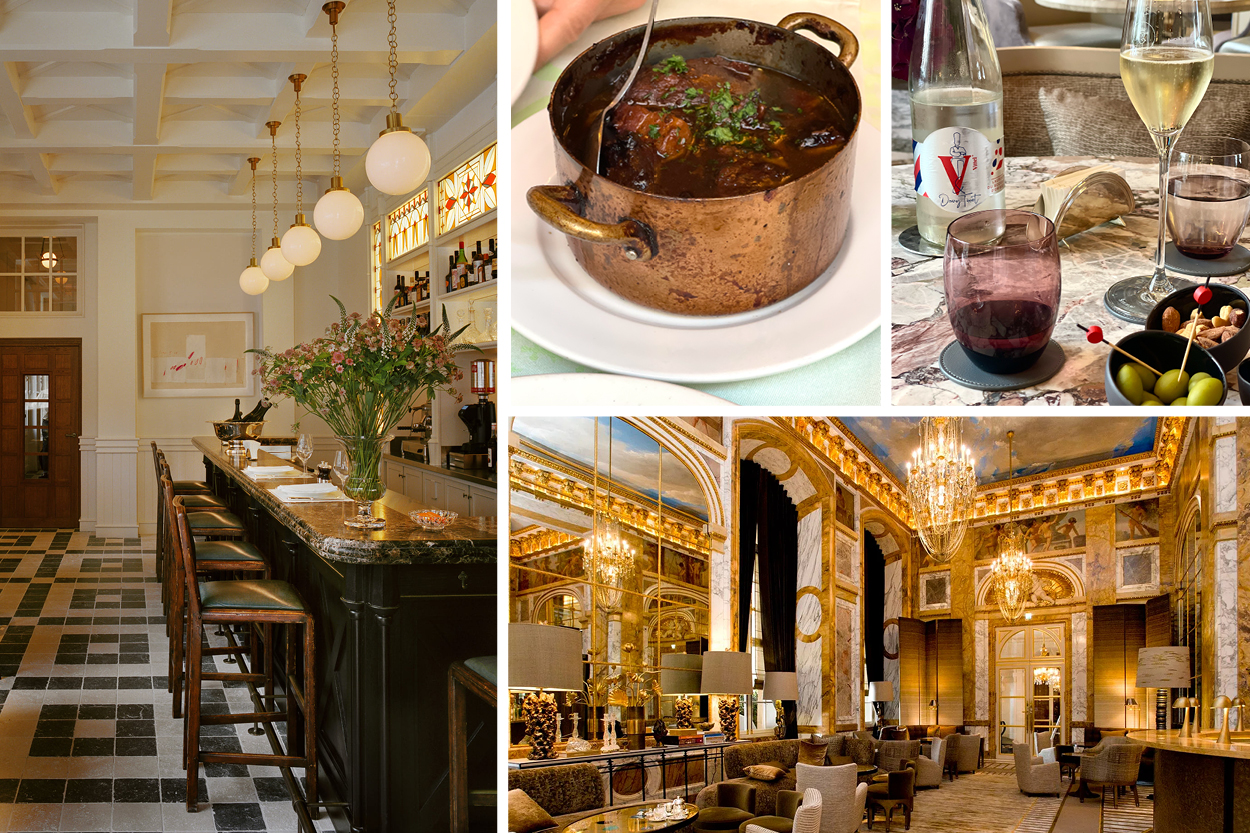 LE SOIR
Afterwards, we're booked at Aux Crus de Bourgogne for early dinner. An old-school, vintage-chic institution (since 1932) with a waiter in a white suit and a refined beef bourguignon. Located just around the corner from the main tourist drag, this iconic spot still feels charming. The snails are on the salty side but the Champagne is perfectly chilled.
Finally, we toss up between two of our favourite options for a nearby, after-dinner drink. Either at the bar at Château Voltaire (from Zadig & Voltaire's founders), or at the Roof at Madame Rêve, where views and foliage abound. We land on the latter and end our day on a distinctly high note.
For more Paris inspiration consult our full Paris travel guide.