As the saying goes, "don't leave home until you've seen the country". So, why not set your sights on a weekend getaway to the winterless north? From awe-inspiring accommodation to luxuriate in, to the best places to eat and activities to keep the whole family occupied, consider this your essential Bay of Islands itinerary.
How long does it take to get there?
-Driving — 3 ½ hours from Auckland to Russell via the Opua car ferry.
-Domestic Flight — 40 minutes from Auckland to Kerikeri followed by a 40-minute drive from Kerikeri airport to Russell.
-Helicopter — 1 hour from Auckland to Russell or 10 minutes from Kerikeri airport to Russell.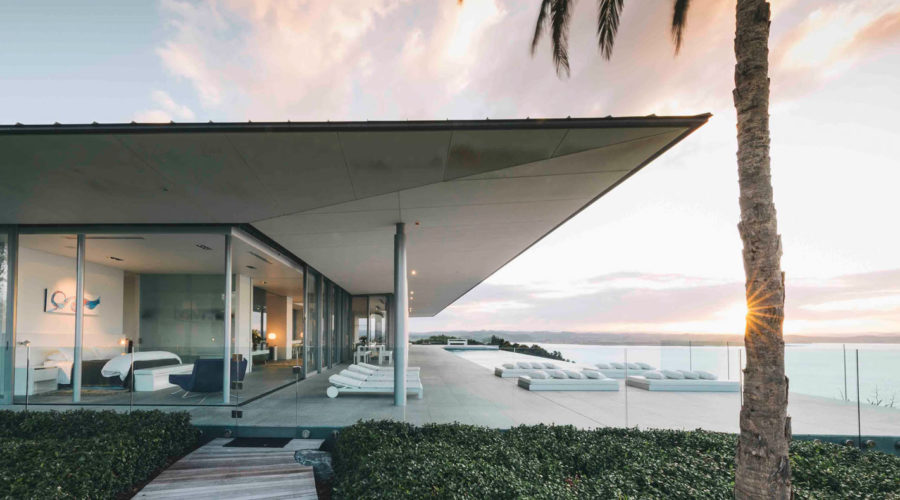 Where to Stay:
Enjoy the stay of a lifetime at Eagles Nest
When you can lay claim to having hosted the likes of Bill Clinton, Mick Jagger, Harrison Ford, Demi Moore and Ashton Kutcher, you know you're obviously doing something right. Northland's Eagles Nest has long been considered by many as the crowning glory in the bejewelled Bay of Islands. Set among 75-acres of native bush with two private beaches, there is more on offer than just the breath-taking, Instagram famous 'Rahimoana', positioned on the property's most impressive vantage point.
The resort boasts a grand total of five luxurious villas, each with its own one-of-a-kind experience. One of Eagles Nest's most notable qualities — aside from the awe-inspiring vistas from each and every villa — is the uniquely 'Kiwi' level of professionalism that is both friendly and efficient, no doubt a side effect of dealing with the calibre of clientele who demand nothing but the best.
The fact that renting any one of the villas affords guest amenities including a private chef, butler, personal shopper, chauffeur, personal trainer or beauty/massage therapist, arranged on a whim, leaves the sort of impression you don't typically expect from a weekend away in the far north. So, while we can't travel further afield, isn't it time you rallied the troops for a well-deserved escape in our own backyard?
Where to Eat:
The Gables
Located on the beach front in Russell, The Gables holds the esteemed title of being New Zealand's oldest operating restaurant, built from pit-sawn Kauri in 1847 on whalebone foundations. Whether seated inside this historic building or on table on the foreshore, here you'll enjoy a menu of delicious food that celebrates the region's bountiful seafood.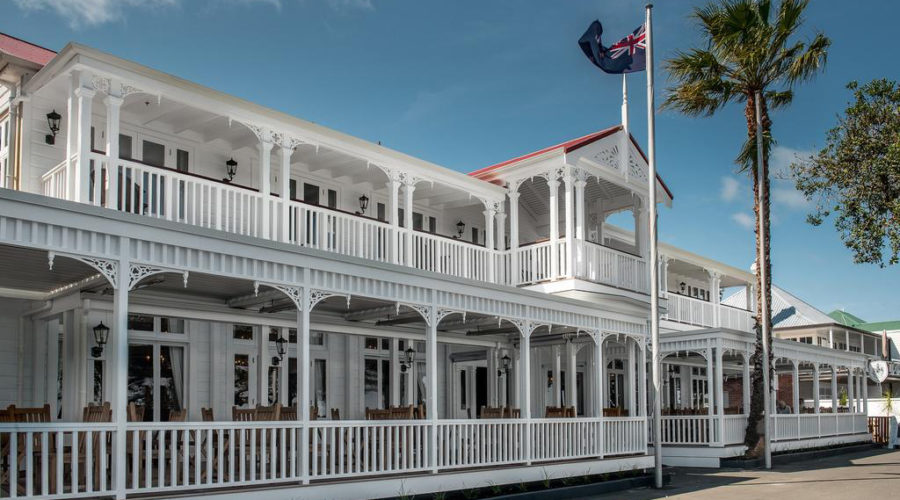 The Duke
New Zealand's oldest legitimate pub, The Duke of Marlborough is something of a legend in Russell. Located directly on the waterfront, The Duke has been peddling great hospitality since 1827. With a something-for-everyone menu that includes burgers, delicious fish and chips, local tua tuas, cockles, Waikare Inlet oysters to name but a few, lunch or dinner here never disappoints. What's more the many familiar faces from the Auckland hospo scene who have escaped city life for Russell, make The Duke feel like a home away from home.
Charlotte's Kitchen
Sister eatery to The Duke, Charlotte's sits on the wharf at Paihia. Take a short, charming ferry ride from Russell, on the Happy Ferry and enjoy a range of dishes from pork boa buns, prawn and pork siu mai, slow roasted pork knuckle and wood-fired pizzas that rival anything you'll find in Auckland.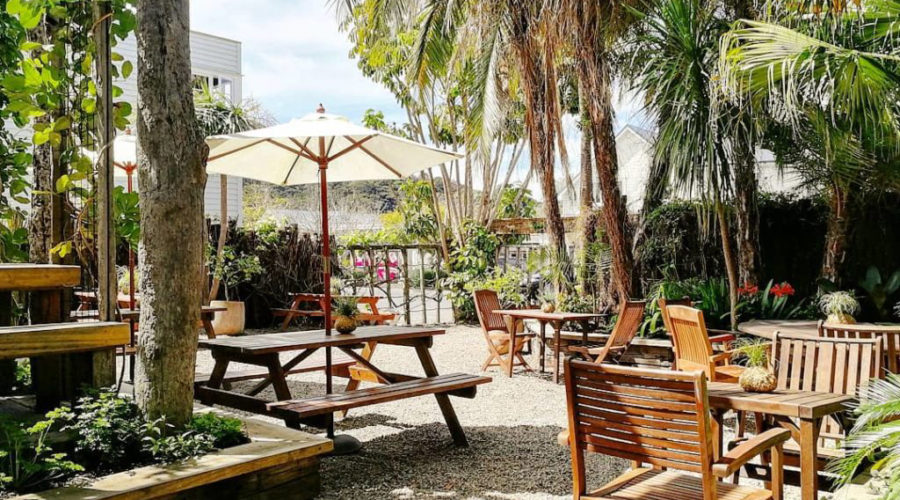 Hone's Garden
Located in the heart of Russell and ensconced within a flourishing leafy green courtyard, Hone's Garden always provides a warm welcome. Open from lunch through until dinner, the wood-fired pizzas here are as authentic as you can get. Settle in with a pizza, calzone or fish tacos with local craft beer on tap and a selection of excellent wines from the northland region.
Sage at Paroa Bay Winery
If you're after something more elevated (literally), we suggest heading to Sage, situated high on the hill overlooking the Bay of Islands. Offering outstanding food with a five-star view, Sage's mouthwatering menu comprises plenty of fresh, expertly-cooked seafood (crayfish risotto, anyone?), and the likes of organic sirloin or beef eye fillet; pan-roasted Cambridge duck breast; venison loin and more. We highly recommend the paua pie, served with true free-range pork belly, creamed watercress, puff pastry, harakeke flax seeds, pickled puha, and semi-dried heirloom tomato ketchup.
Don't mind a chardonnay?
Sought-after for its buttery composition, Northland is home to some of the best chardonnays in the country. Our picks are the Omata Estate Marsden Estate or The Landing chardonanny. You'll likely find them taking pride of place on most menus, however you can also pay a visit to Omata or Marsden estate for wine tastings and purchases to bring home.
Other things to see and do while you're in the area:
Spot some Dolphins
While the area has many commercial operators offering Dolphin tours, avoid the crowds and charter Carino, the only sailing vessel in the area to carry the necessary permits to view and research dolphins, this is your chance to learn and be inspired by our local wildlife and crew. Aside from dolphins, expect to spot penguins, gannets and a variety of seabirds. It's a day of fun and adventure with the inquisitive local sea life. www.sailingdolphins.co.nz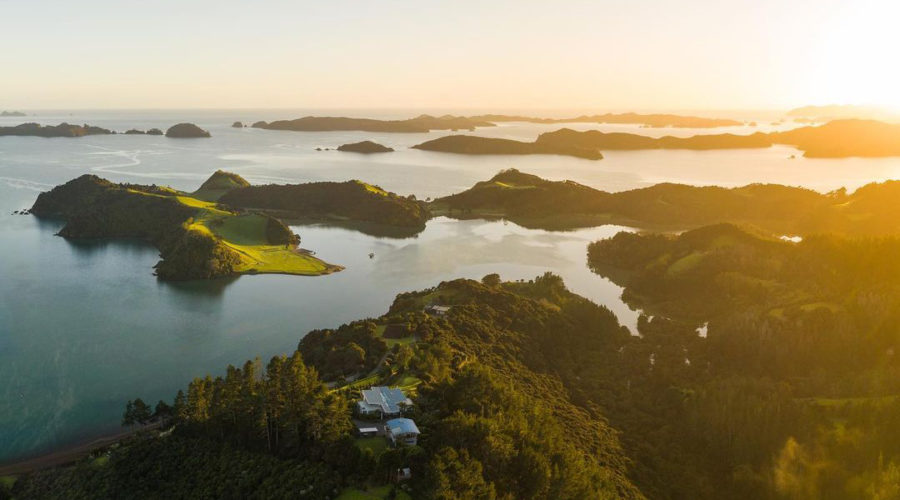 Walking and hiking
According to Eagles Nest's Samantha Duff, hiking tracks and walking trails are one of the most requested activities by all guests. Surrounded by native flora and fauna, there are literally hundreds of hikes available in the region for all capabilities. Samantha suggests getting dropped off by boat onto one of the uninhabited islands for a day of exploring on foot.
Beautiful beaches
With numerous beaches in the area, our picks are either Long Beach (also known as Oneroa), or Tapeka Point, both offer great swimming for children and adults, with large grass areas to sit, if the idea of sand is off-putting.
Forage your own Pipis and Tua Tua
Pipis and Tua Tua are readily available (particularly in winter) at low tide on Long Beach. Foraging for them is a great activity for both young and old. Make sure you flush them with saltwater in a bucket overnight to rid them of sand, before preparing a simple vongole for lunch the next day.