The landscape and quality of luxury lodges in New Zealand is almost entirely unrivalled. Boasting an impressive selection of retreats that capitalise on our country's natural beauty while offering a number of unique cultural and culinary experiences, New Zealand is constantly proving why it's so revered as an international destination.
While, in Auckland, we can't yet travel to any of these spectacular, world-class properties, there's no reason why we can't optimistically dream (or, even better, book ahead) for when we can once more. After all, we'll take any opportunity to make the most of our own exquisite backyard.
Eagles Nest, Bay of Islands
From its vantage point on a private ridgeline overlooking the Bay of Islands, Eagles Nest offers a whole new level of luxury. The property comprises five world- class villas, boasting their own heated infinity and spa pools, the use of a private chef (if so desired) and extensive wine cellars. Sacred Space and First Light Temple are nestled into the property's magnificent landscape, taking full advantage of the beauty of nature to enhance their sense
of seclusion.
Eagles Nest is unique for the way it both stands apart from and melds into its natural environment. Rather than being ostentatious, this luxury accommodation exudes subtle elegance, and offers unprecedented peace and quiet. For that reason, it's long been a popular spot for visiting rock stars, celebrities and global tech company founders, looking for a true escape into nature (without having to compromise on a few 'essential' amenities).
The jewel in the Eagles Nest crown, Rahimoana, takes in 300-degree views. This iconic, one-of-a-kind masterpiece also features a 25-metre infinity pool overlooking its own private beach, a helipad, acres of pristine native bush and floor-to-ceiling windows that offer panoramic views across sprawling, island-dotted waters. Sunsets viewed from here promises to be unlike anything you've experienced before.
The location offers guests the chance to explore the property's private beaches, or discover the surrounding areas including the historic town of Russell and the culturally significant Waitangi.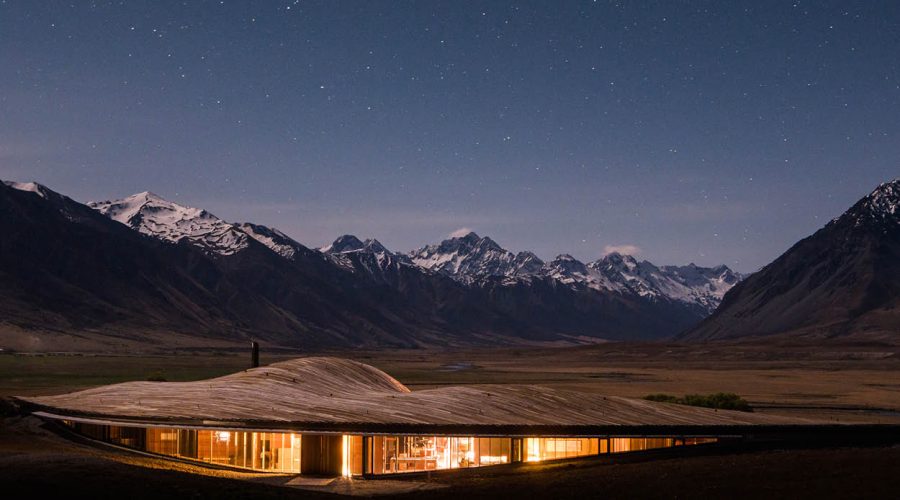 The Lindis, Ahuriri Valley
Nestled in the gently rolling landscape of Ahuriri Valley, The Lindis is an architectural masterpiece. Carefully designed by Wellington's Architecture Workshop so that it virtually disappears into its surrounds, this luxurious, Central Otago escape is set on the Ben Avon Station — a 2428-hectare piece of breathtakingly beautiful land surrounded by conservation parks.
Floor-to-ceiling windows bring the magnificent outdoors into the lodge's interiors, where the distinction between nature and design is further blurred. In the main building, three master suites offer cocoons of comfort with deep bathtubs positioned to allow guests to soak in the views. While, in the grounds, sit three pods by architect Noel Martin that offer guests ultimate privacy, and unparalleled immersion in nature.
With impressive facilities that include a sweeping dining room, an almost complete massage room and state-of-the-art gym, The Lindis expertly tempers material luxury with natural beauty. And if all of that wasn't enticing enough, the lodge is currently offering a number of appealing packages to attract local tourism, as more and more New Zealanders start realising the boundless potential for discovery in their own backyards.
Keep an eye out for The Lindis Group's upcoming project — a luxurious villa set on an expansive station on the shores of Lake Hawea — set to be open this December.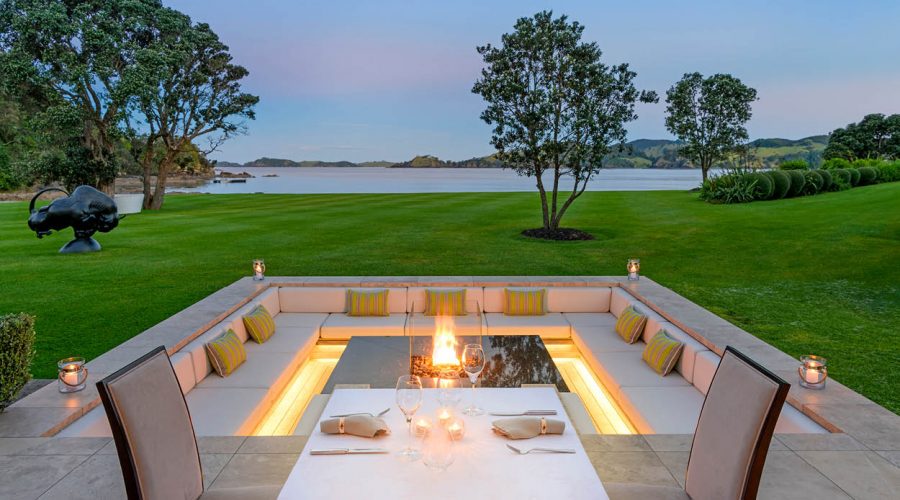 Helena Bay, North Island
If you feel like a taste of next level luxury, steer your helicopter towards Helena Bay. This exquisite property is set on three kilometres of private coastline and offers guests the opportunity to explore their sprawling surrounds, sporting various coves and picnic spots. The beauty of the site is matched only by the opulence of the main house, an impressively designed mansion staffed with a team of 60 ready to spring into action.
Tempting guests out of their rooms (private villas with sweeping vistas across Helena Bay) is a library, a gym, a sauna, a heated swimming pool and two dining rooms, one formal, one informal. This full suite of facilities is further cemented by the work of Italian head chef Michele Martino — who honed his craft at Michelin- starred Ristorante Don Alfonso 1890 — ensuring guests are taken on a journey of gastronomic delight.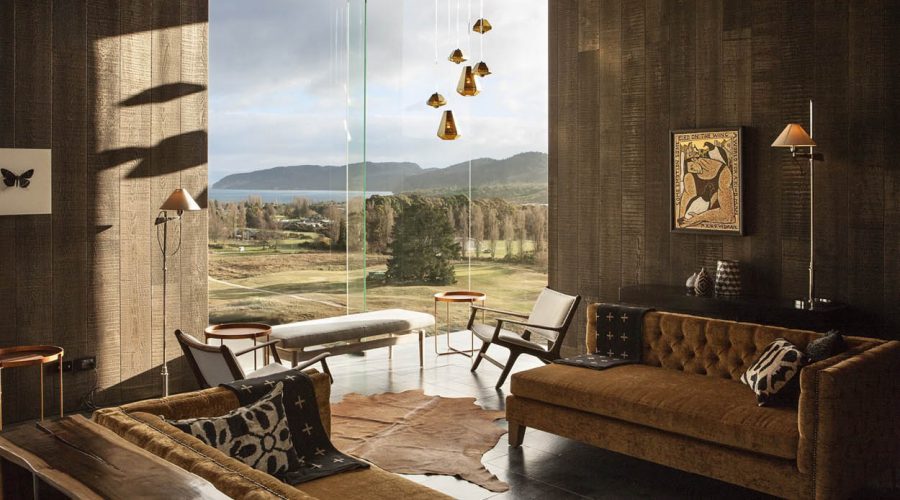 Kinloch Manor & Villas, Taupō
Designed by multi-award-winning Patterson Architects and furnished by acclaimed interior designer Virginia Fisher, Kinloch Manor & Villas, on the shores of Lake Taupō, combines cutting-edge design with uber- lodge comforts.
The design brief was to update a Scottish castle, with a prerequisite Jack Nicklaus signature golf course standard. Comprising ten luxury villas, each with its own marble bathroom and magnificent fireplace, the overall effect is one of antipodean aristocracy — only enhanced by the dramatic views afforded to guests. In the main building, the dining room offers
exquisite 'estate-to-plate' menus while the Solar Spa provides weary bones a place to indulge in relaxing facials and body treatments.
If hitting little white balls into tiny holes fails to entice, Kinloch Manor can facilitate a number of adventurous activities to get pulses racing, or direct guests to nature trails where they can discover the wonders of the surrounding landscape. And when its time to relax, guests can simply retreat to their villa's bathtub and soak in the vista.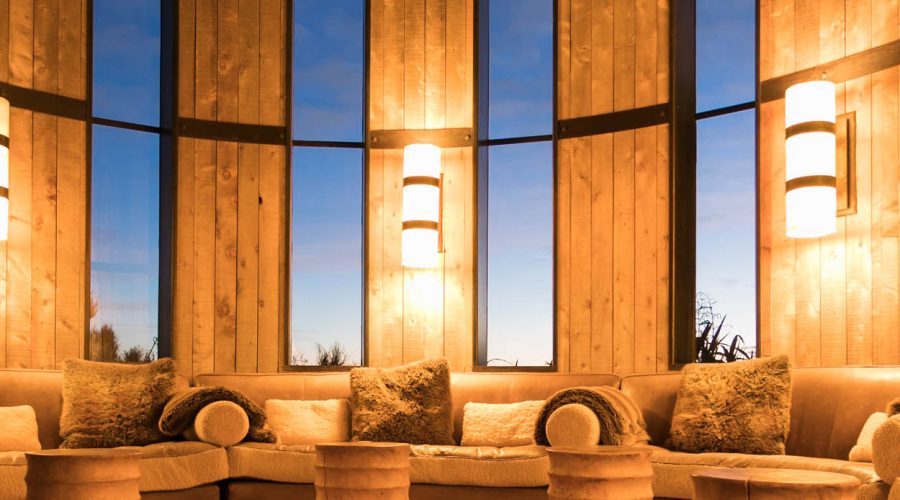 Cape Kidnappers, Hawke's Bay
Don't let The Farm's simple name fool you. The only thing you will be reaping during your stay at Cape Kidnappers is the benefits of its chic surroundings and rustic flair. Set on a sprawling 6000-acre sheep and cattle farm, this luxe escape offers 180-degree views of the ocean. Although, you might find it difficult to take your eyes off the internationally-recognised, par 71, Tom Doak-designed golf course that runs adjacent to the property.
The main lodge features two dining rooms, a library and smaller sitting rooms perfect for hosting much-needed moments of peace and quiet. Away from the main lodge, 24 cosy cottages with private balconies are nestled into the landscape, each perfectly positioned to capitalise on the property's spectacular view. And when the sun goes down, dinner is an elegant affair (that means jackets, gentlemen) with a five-course tasting menu and a series of delectable wines to match.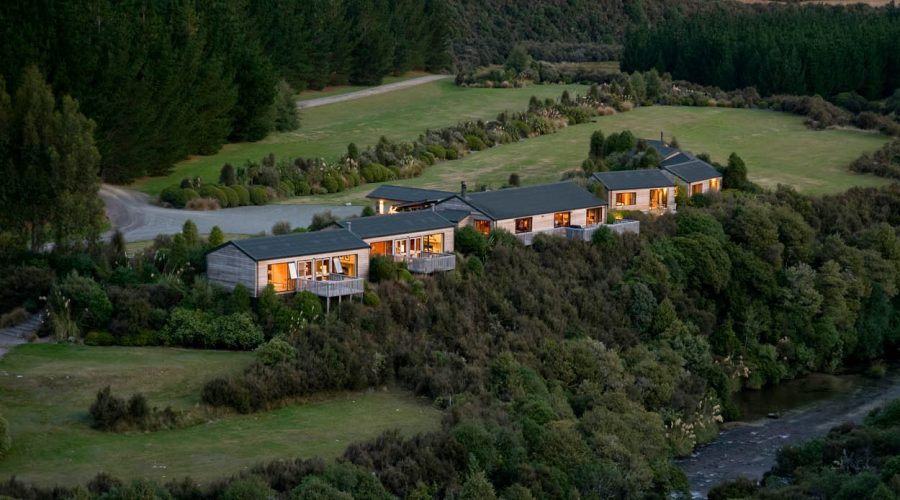 Poronui Lodge, Taharua Valley
Effortlessly combining tradition and comfort, Poronui Lodge sits in the Taharua Valley on an extraordinary 16,000 acres of farmland and virgin beech forest. This luxury sporting retreat was designed to give access to some of the most extraordinary wilderness experiences in the country — whether that be fly fishing along a pristine stretch of river, horse riding through an untouched landscape or hiking into nature and glamping under the stars. After your exertions, make the most of the expert hospitality on offer with a deliciously-fresh and hearty meal at The Lodge or a dining experience of finer proportions at The Cellar where around 10,000 bottles of wine line the walls, almost daring you to make a dent in the collection.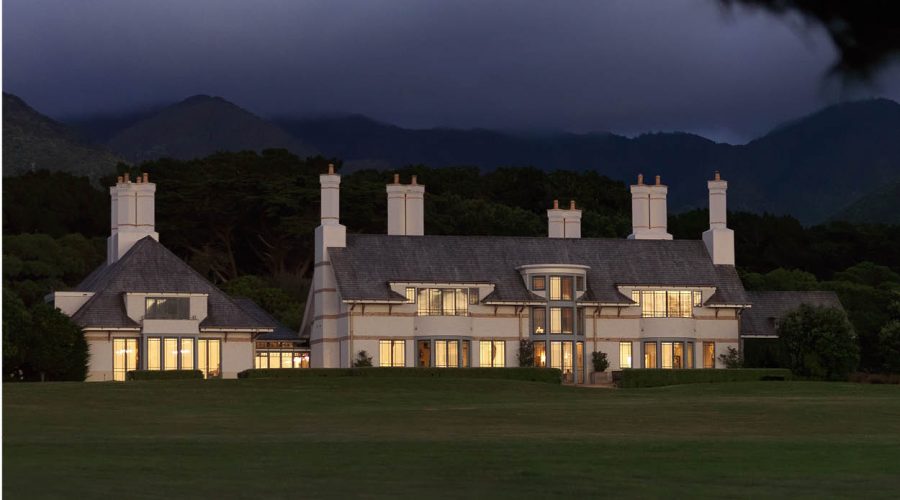 Wharekauhau, Wairarapa
When the Duke and Duchess of Cambridge were travelling New Zealand, Wharekauhau in the Wairarapa was one of the places they chose to stay, likely feeling at home among the Edwardian grandeur of the main house and its sweeping grounds. Only 90 minutes drive from Wellington, this spectacular lodge has seen its fair share of notable names over the years (Jack Black, Orlando Bloom and Miranda Kerr included), and it's easy to see the appeal. Perched high above the breakers of Palliser Bay, Relais & Chateaux-listed Wharekauhau Country Estate offers a beautiful base from which to explore the wider Martinborough region — its award-winning wineries, native forests and landmarks like the Cape Palliser Lighthouse.
The Estate itself is made up of 13 cottage suites, filled with walk-in wardrobes, cloud-soft beds and gas fires to warm you from the refreshing breezes that sweep in from the Bay. On-site amenities include a tennis court, a gym complex, a heated swimming pool, croquet fields, petanque lawns, a games room and a library. Elsewhere on the Estate, activities like quad biking, clay bird shooting and archery are available for guests who want to engage in something a little more robust. For a more gentle, immersive experience, they can also embark on a guided farm tour — Wharekauhau is still, after all, a working sheep station.
When all is said and done for the day, an evening can be spent in the Lodge's lounge and dining room, where a philosophy of simplicity drives the menu and sustainable, farm-to-table produce is showcased. Guests are even able to sip on Lighthouse Gin, cultivated using spring water drawn from the land on which Wharekauhau stands.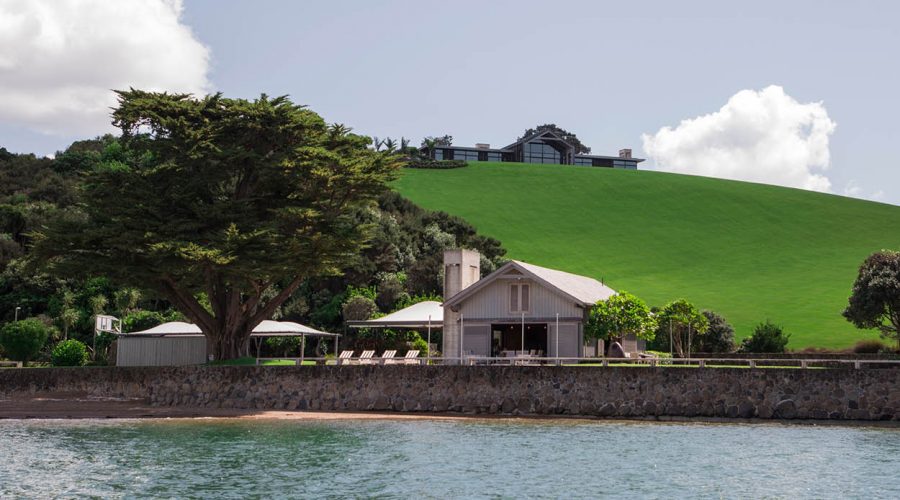 The Landing, Bay of Islands
Set on 1000-acres on the tip of the Purerua Peninsula, The Landing offers the ultimate luxury getaway. Described by Barack Obama as "magical" in its guest book, the property comprises six private beaches, an award-winning vineyard, lush wetlands and four boutique houses — each with its own character and charm. From the Cooper Residence — a modern, five-bedroom ode to the traditional New Zealand farmhouse, perfect for those looking to host and available with an on-site private chef — to The Boathouse — a striking, contemporary structure located close to the water's edge, with room to entertain around 20 guests — the idea behind The Landing is to make its visitors feel instantly at home.
Once that's happened, guests are able to choose from a number of activities designed to see them make the most of the land. Guided evening walks, for example, will see visitors invited to spot one of New Zealand's native birds. Sightseeing cruises around the bay will ensure guests don't miss out on the all-encompassing beauty of the area. While gyms, tennis and basketball courts, and off-the-jetty fishing are just a few minutes from each of The Landing's homes.
One experience to not pass up is a visit to The Landing's newly-opened boutique winery, located onsite. A particularly good thing to do in winter (when sunbathing and water sports are not as appealing), the winery focuses on innovation and sustainability, producing 4,000 cases per year, and a tour of its grounds will see guests weave through the established vines before enjoying a tasting experience of The Landing's critically-acclaimed wines.
With special accommodation on offer over the winter months, including an enticing three-nights-for-two weekender and a Residences By Room option (where guests can book one of the houses only by the number of rooms they need), a mid-year vacation in Northland has never been a more appealing prospect.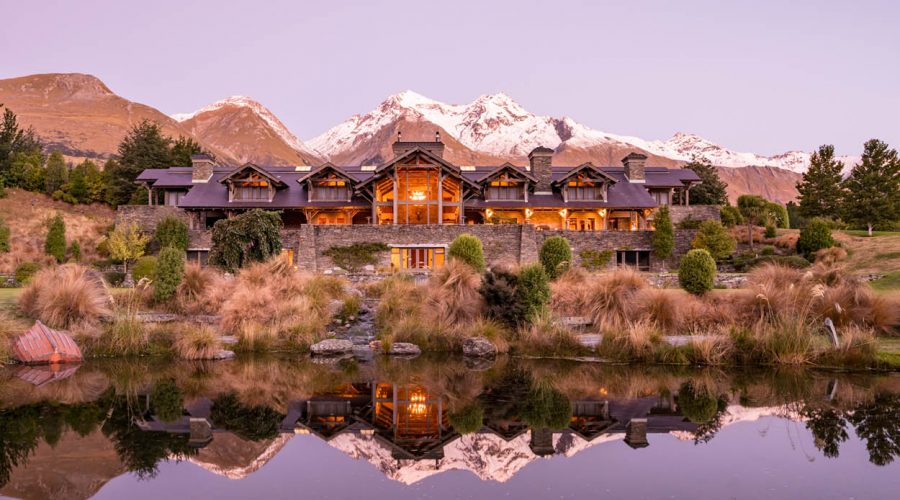 Blanket Bay, Glenorchy
For 20 years, lovers of luxury have been making the 45-minute drive from Queenstown to restore their spirits at the hands of Blanket Bay's renowned hospitality. The fine balance this legendary lodge has achieved between professional service and welcoming comfort has earned the destination countless accolades, and has seen it repeatedly placed in the Top 10 of International Traveller magazine's top international hideaways. Really, it's easy to see why.
Located at the northern end of Lake Wakatipu and surrounded by unforgettable views of the Southern Alps, Blanket Bay offers a tempting array of accommodation options including Lodge Suites, Lodge Rooms, Chalet Suites and the luxurious fully-serviced Villa.
In-house facilities, enticing guests to indulge, include an intimate den, a games room, a spa, a gym, a jacuzzi, steam rooms and a therapy suite. But if they can drag themselves away from the comforts of inside, an impressive number of activities await those wanting to venture further afield. From guided fly-fishing and helicopter sightseeing to jet boating, high-country horse riding and local heli-skiing, the sheer scope of options will ensure guests of any proclivity are able to find something they love at Blanket Bay.
Aside from all of its amenities and adventures, Blanket Bay's exquisite cuisine is one thing not to be passed up. At its restaurant, guests can indulge in a delicious, five-course degustation menu that changes seasonally and showcases the very best local produce, accompanied, of course, by some of the finest wines from around the region and beyond.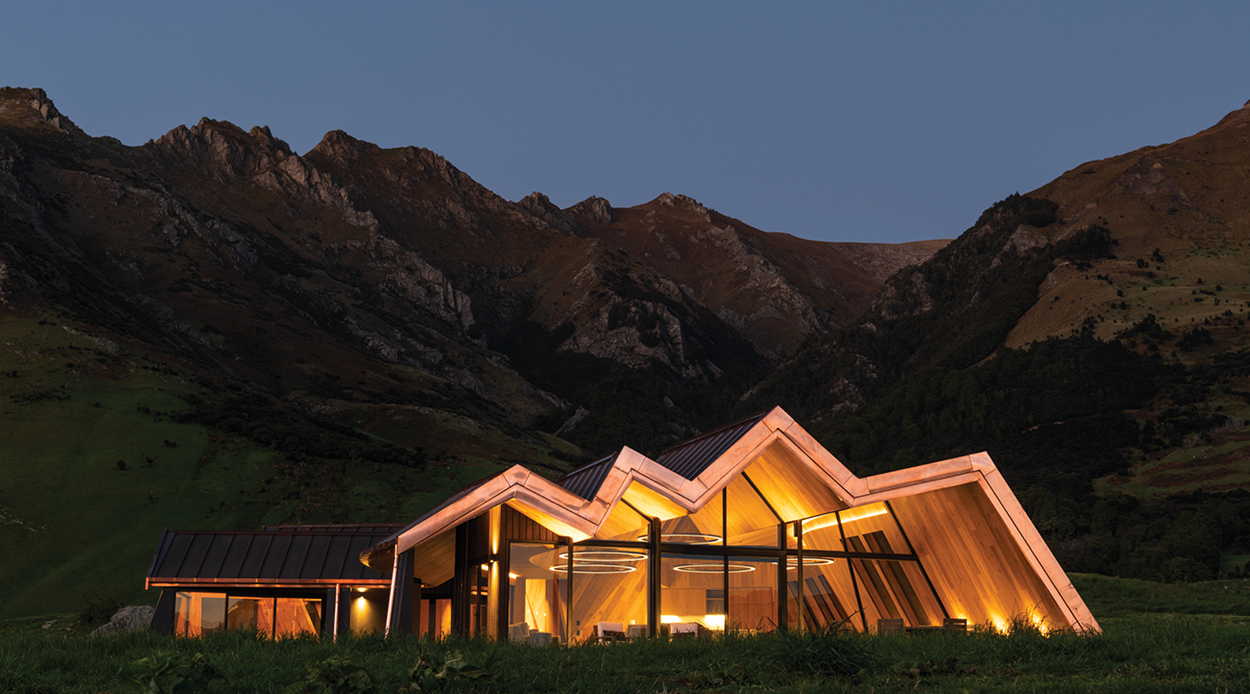 Mt Isthmus, Wānaka
Situated between two of the world's most astounding mountain lakes — Lake Wānaka and Lake Hāwea — Mt Isthmus is a spectacular meeting place for friends and family. On a high-country station, the newest premium addition to The Lindis Group's stable may feel isolated but it's equipped with life's modern luxuries, including a state-of-the-art kitchen (which comes with a personal chef service) and several entertaining areas. Immerse yourself in untouched nature, with all the comforts of home — the four bedrooms with incredible views feature super king-size beds and private ensuites. Relax, or enjoy the leisure pursuits of the wider Wānaka region, including hiking, mountain biking, jet boating and fly-fishing.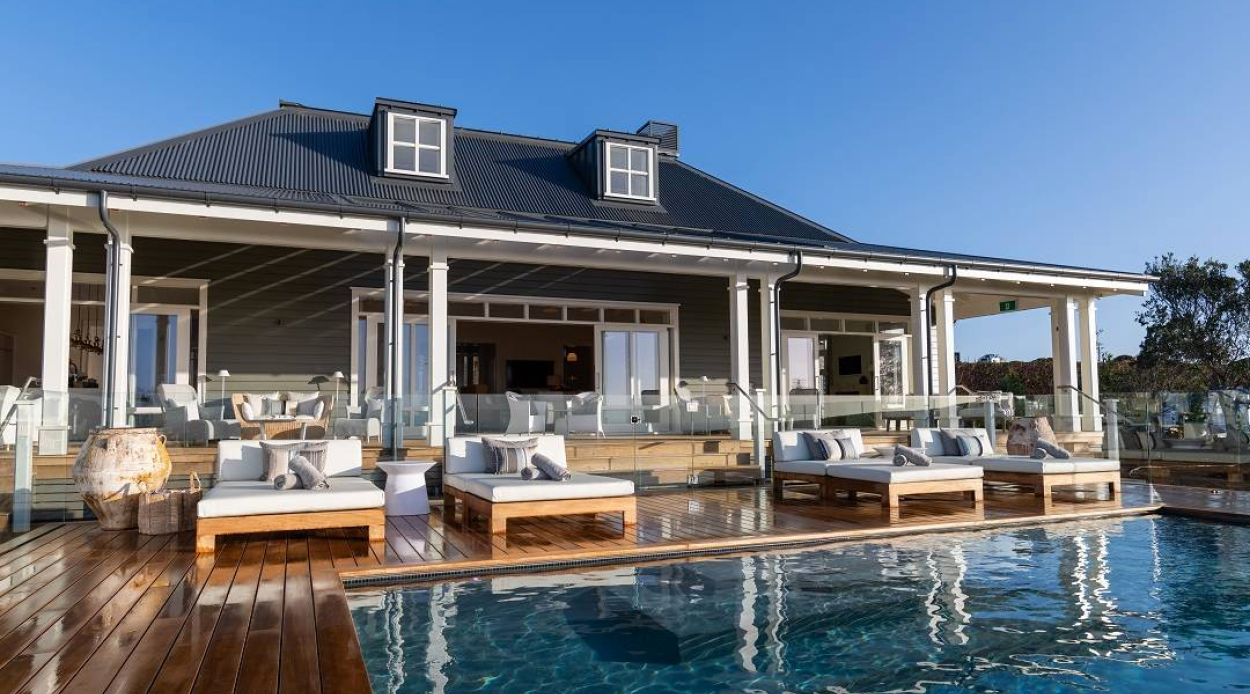 Kauri Cliffs, Bay of Islands
Having opened to international acclaim in 2001, Kauri Cliffs has long set the standard for the jet-set landing on our shores, and for New Zealanders who want to feel like they're really getting away from it all. With stunning interiors by friend of the Denizen Virginia Fisher, the Lodge and accommodation quarters will immediately make you feel at elegant ease. In particular, we recommend the Owner's Cottage and Residences for a breathtaking home away from home. With an exceptional Golf Course and private waterfall track and beaches on location, there's no shortage of both manicured and natural wonders to admire. After a day of exploring, book in for a treatment at the tropical spa or prepare yourself for a personal picnic at the beach, with all of Kauri Cliff's little luxuries brought to you by the sea.