"Previously, most apartments were designed more or less as white boxes, and rather than being driven by design, were dictated by factors like location or number of rooms", Sebastian Hamilton of architecture and design studio Monk Mackenzie tells me. "But now, the clientele are becoming more sophisticated and not only have an appreciation for the design of these boutique builds, but expect design to really be at the forefront."
Speaking with Hamilton, alongside his colleague Hamish Monk, it is clear the significant way Auckland's lifestyle is changing. Thanks to the City's Unitary Plan, the character and makeup of the inner-city and urban fringe suburbs are on a trajectory towards higher-density housing and apartment living, as The City of Sails evolves to meet the more cosmopolitan demands of its residents. But apartment living doesn't have to signal the end of interesting architecture or luxurious design. In fact, as entities like Monk Mackenzie are proving, the reality is quite the opposite.
Recently, Monk Mackenzie completed the design for a new development at 44 St George's Bay Road, Parnell and in doing so, forced us to re-examine our assumptions of what apartment living is. Simply called St George's Bay Road, this new, boutique apartment building is comprised of only three, carefully-designed units in total (each on its own floor) and combines proximity to Auckland City with space, privacy and a true sense of luxury that will endure.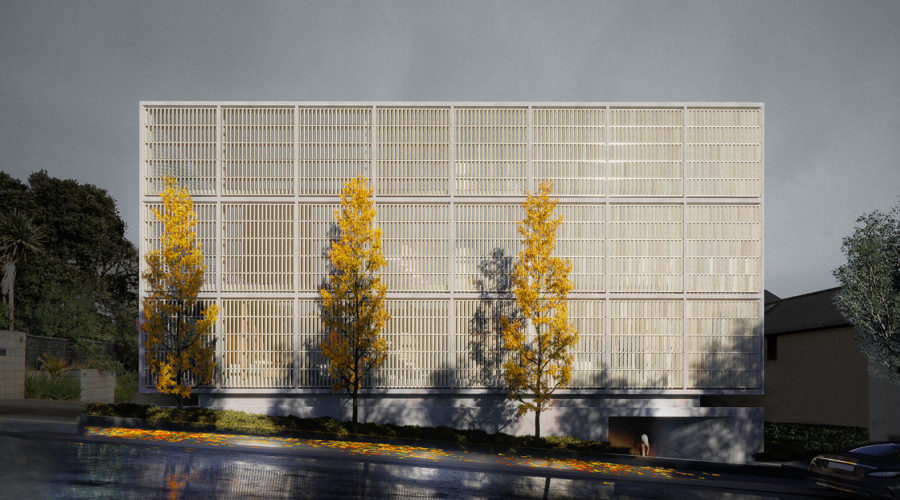 "St George's Bay Road is an apartment building, so it should look like an apartment building and be urban in character," explains Monk, "but we wanted to design it with a sense of permanence, solidity and rich materiality. Lower St George's Bay Road has all these beautiful old concrete and brick buildings that are pretty unapologetic in their scale so we wanted our design to relate to its existing context, while bearing in mind that this would also change over time."
Indeed, Monk Mackenzie's focus on materiality feels central to the success of this project. Not wanting to make the development feel too commercial, the architects opted for materials like brick and stone over aluminium and steel, to lend a more handmade, unique sensibility. Creating a clever contrast between the ideas of roughness and fineness, they played with the resulting tension to design something that was simultaneously robust and refined — where the stoic, solid ground level (rendered entirely in textural concrete) exists as a kind of plinth for the more finely-finished floors above.
The use of post-tension concrete — a clever reinforcing technique — allowed the architects to reduce the amount of concrete needed and cantilever out the edges of the building with minimal support, emphasising the idea of the top part being light and almost effortless. As Monk explains, "there is an often-used architectural language around expressing all of a structure so that it feels quite overt and honest… but sometimes, it's nice to make things look easy when they're not."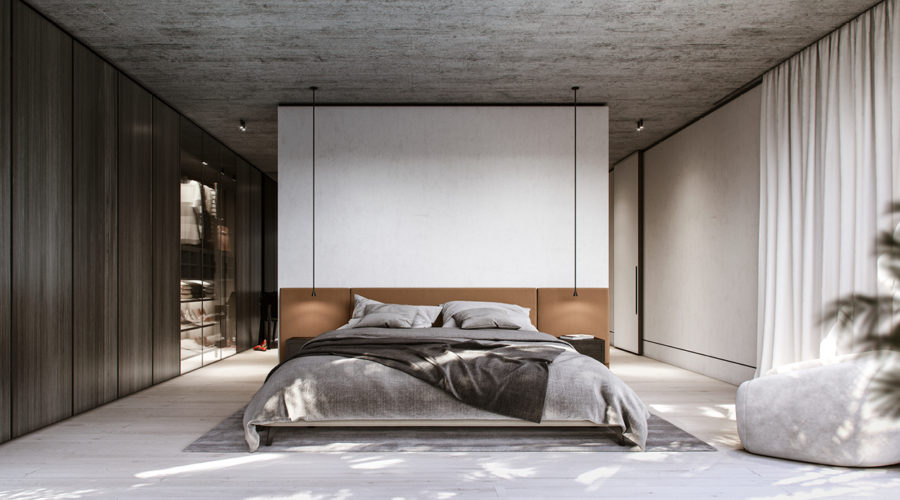 From the street, the development will stand proud, its façade a contemporary lattice screen structure that will afford residents complete privacy while still allowing ample light into each apartment and facilitating a view out onto the street. During the daytime, the screen façade will make a bold, architectural statement while at night, it will take on a softer appearance, radiating warmly with the glow of the apartments behind.
Inside, the focus on quality continues, where carefully-selected joinery and exposed, natural materials work to lend a weightiness to the generous living spaces. "We wanted to give the interiors a sense of gravitas and depth," says Monk, "so there's quite a reduced palette and where we used raw finishes like the concrete for the ceilings, we countered them with the softness and richness of timber floors."
Calling on Amelia Holmes to help with the interiors, Monk Mackenzie conceived spaces that feel pared back, calm and uber-luxurious. White-washed maple hardwood floors provide the perfect canvas for standout central areas, like the kitchens, with their generously-proportioned, natural stone benchtops, granite sinks and exquisite, locally-manufactured bronze cabinetry.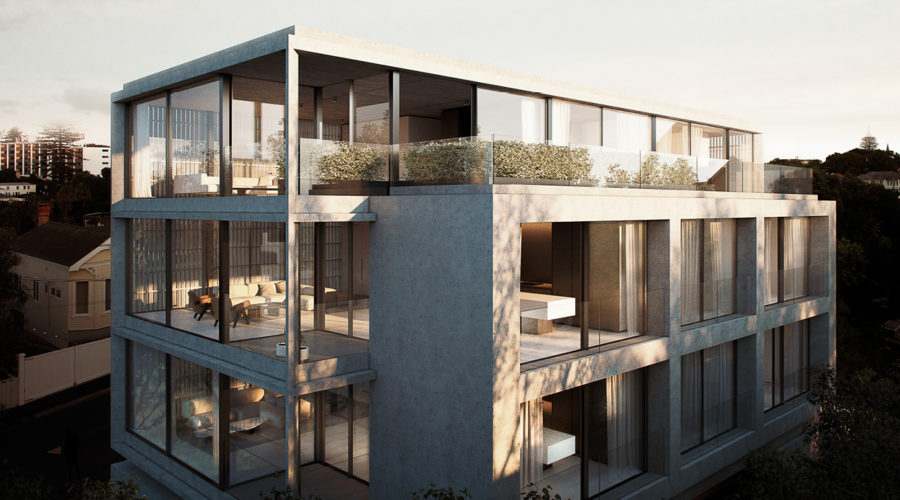 The bathrooms follow in a similar vein, with sleek, black travertine vanities, custom built-in sinks and concealed drawer and mirror storage. Even in the bedrooms, full-height Matisse wardrobes with timber and glass doors and custom internal fitouts (fashioned according to the residents' needs) reflect the designers' desire to offer luxury that is thoughtful and that never comes at the cost of practicality.
From the vast floor space occupied by each apartment, to the direct elevator access from the building's lobby, to the expansive, floor-to-ceiling windows, affording each residence a sweeping view from the Waitematā Harbour to the city, the St George's Bay Road apartments are clever, considered and destined to set a new standard for sophisticated, urban living in this city. Now under construction, we're predicting high demand from those seeking a situation that is convenient and easy to manage, but that doesn't scrimp on the finer details — a rare and desirable combination.