Christmas' imminent arrival, despite being a time of fun and frivolity, can spark a sense of dread for most. Put simply, that's because the art of Christmas gifting is one that becomes more difficult with each passing year. There's always that one person whose taste is so refined that gifting becomes a minefield, and it's impossible to avoid that lofty relative who seemingly has everything they could ever want or need. There's a good chance you will wind up having to buy a gift for someone you barely even know, a new acquaintance perhaps, or the office's intern, following an unlucky Secret Santa draw. If this sounds like you, then fear not — because no matter what your gifting woes, Simon James Design's vast and varied collection of coveted wares make buying for the difficult, easy. To make the process even easier for you, we've cherry-picked a selection of presents perfectly suited to the hard-to-buy-for. You can thank us later.
We suggest opting for the left-field route wherever possible, unexpectedness is key. Take these sculptural Streamer Candle Holders, for example, which see glistening brass candleholders balanced off-centre upon a cylindrical base of brown marble. While, for those with an especially evident taste for luxury, may we suggest Jessica McCormack's small stud, diamond earrings, from the designer's latest Moonshine collection. Set with a half-moon-shaped diamond and handcrafted in 18k yellow gold and blackened white gold, they make for a gift that really goes the extra mile.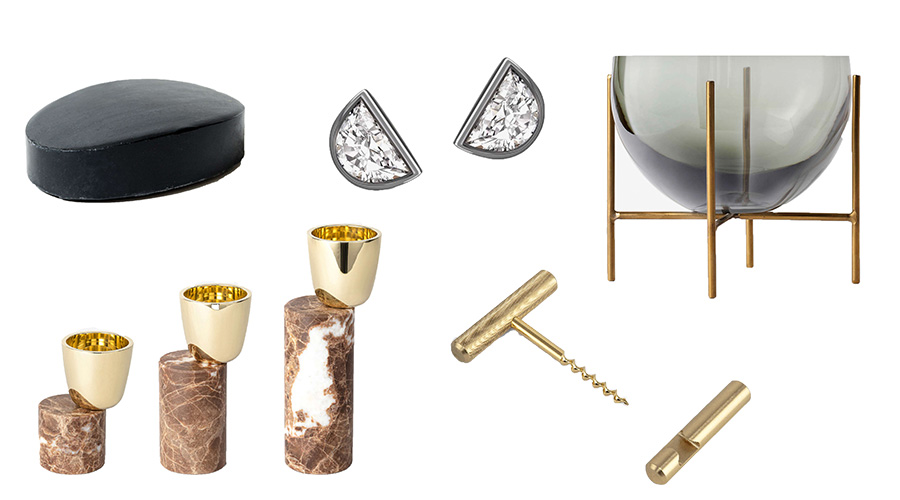 If you're looking for a universally-pleasing gift, appropriate as a stocking-filler for close friends or an intriguing present for vague acquaintances, the Binchotan Charcoal facial soap, by Morihata, should do the trick. Crafted from pure Binchotan Charcoal, not only is it an offering that will get put to good use — charcoal is renowned for its moisturising and detoxifying benefits — it also makes for a far more elevated option than your standard sprays and smellies. While, for those who consider themselves an aesthete of sorts, this sleek Echasse Bowl will certainly make a bold impression. At once sophisticated and playful, it sees a delicate glass form set atop slender, golden legs.
When in doubt, opt for a gift that boasts aesthetic appeal while remaining inherently functional. A kitchen item, especially the case if the receiver is hosting plenty of seasonal events this year, is a guaranteed crowd-pleaser. Take this gilded set of handmade wine and bottle openers, designed this year by Studio Skultuna and handcrafted from IP-plated steel. Be sure to gift them alongside a fine bottle of wine to truly bag those Christmas brownie points.
Still struggling? Click here to browse more crowd-pleasing presents from the Simon James-curated Christmas Gift Guide.