Claire Sullivan-Kraus experiences the new incarnation of Rolls-Royce's Cullinan Black Badge, and learns that extreme luxury can also be found on the dark side.
It's hard to believe that two and a half years have passed since my family and I had the pleasure of experiencing life in the extremely luxurious lane, behind the wheel of Rolls-Royce's first foray into the SUV realm with its aptly titled Cullinan — named after the world's largest gem-quality rough diamond (a whopping 3106 carats). The experience of being ensconced within such opulent environs has remained firmly embedded in my children's psyche, to the point that when we see Cullinans in the school drop off zone (and we do see a few), they declare with outright rage, "when are we getting our car back Mummy?"
Back then, I rather short-sightedly suggested to my young and impressionable offspring the old adage; 'you get what you work for, not what you're given.' Fast forward to what has been almost two of the most harrowing years of my business career, in the eyes of the young, Mummy has been working harder than ever, but the fruits however, have not been juicy.
So it was with immense glee that my offspring's faces contorted into the proverbial Cheshire Cat when I arrived at our home in the 2021 Rolls-Royce Cullinan Black Badge. If turning heads is high on your agenda — and to be fair when you're spending close to three-quarters of a million dollars on a vehicle, you definitely deserve a few nods of acknowledgement of your success — then this striking new incarnation of Rolls-Royce's Cullinan is definitely for you.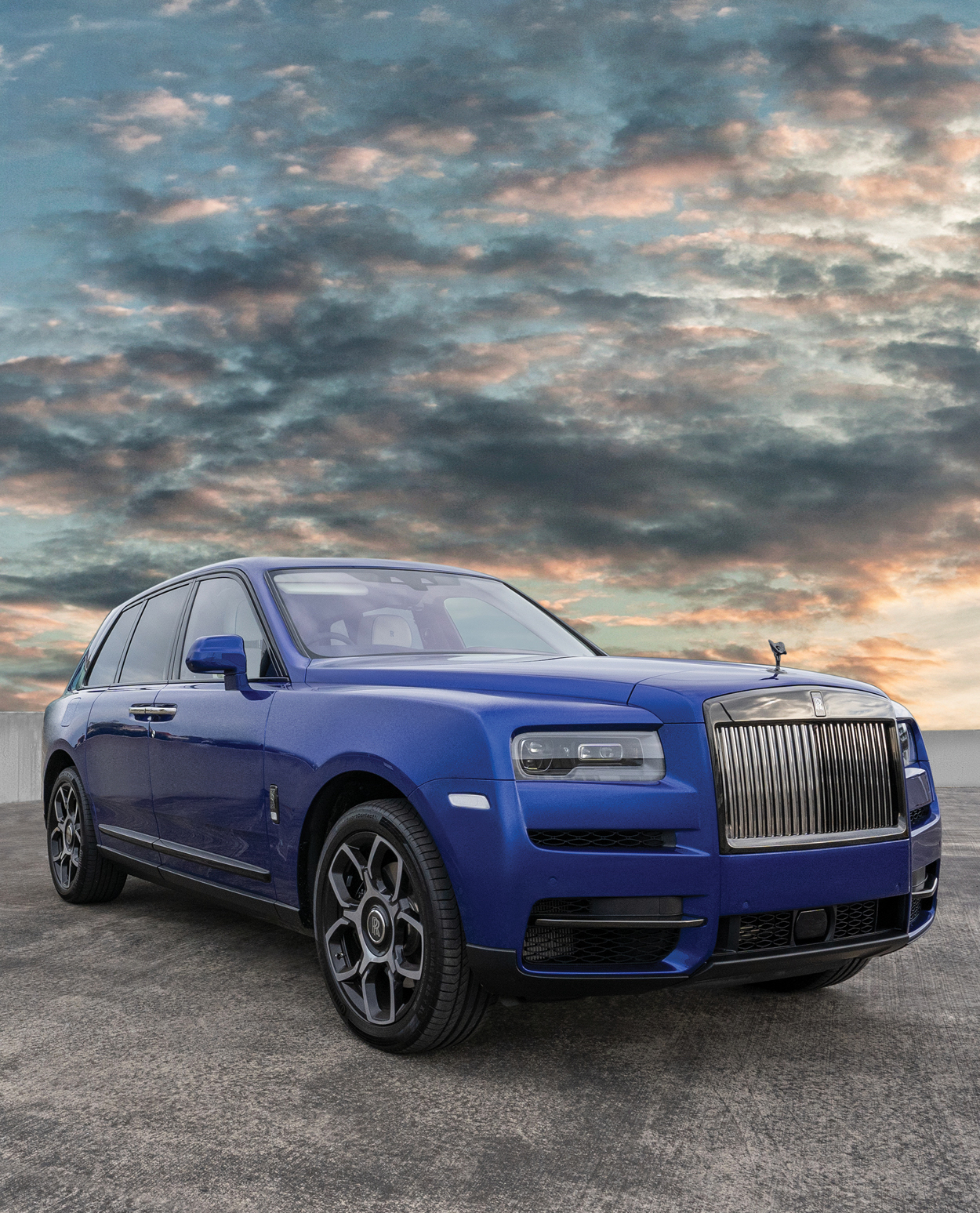 Presented in a bright, metallic 'Salamanca Blue' with polished black badge 22 inch alloy wheels and — a first for the marque — a dark chromo Spirit of Ecstasy, you get the feeling that this new model has been designed around those with a penchant for exclusivity. While earlier models may have attracted buyers of Goldies or McCahons, this is a car for those whose art collection comes in the form of a digital wallet full of NFTs. It's a suitably slick step-up for those who've achieved immense success and deservedly live their lives in the fast lane.
From the front, the new Cullinan does not shy away from the brand's highly identifiable DNA. The large grille and LED headlights make no mistake of its genealogy, while the side profile and trademark carriage doors ensure the entrance to the ample and extremely opulent back seat is carried out with grace and ease. What's more, once you're enveloped in supple, soft leather, the convenient door button closure requires no exertion or unsightly hanging from the car to reach the door to close it.
Rolls-Royce is the best in the business at conjuring up an atmosphere of exclusivity, and the interior of the Black Badge Cullinan is a testament to this. Not only does it coddle passengers in luxury, the elegant and utterly beautiful 'Starlight Headliner' is the gold leaf frosting on this moist, fluffy cake.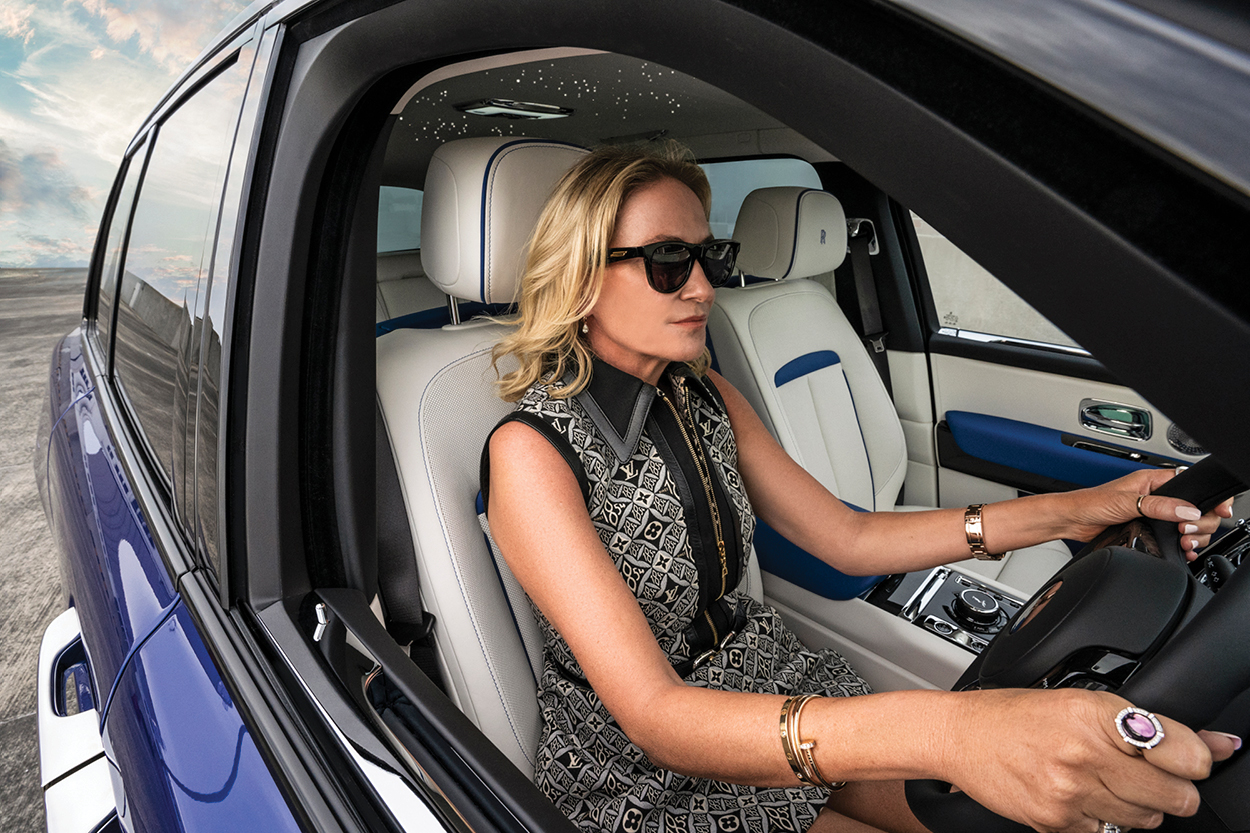 The Black Badge model is the first in the Cullinan family that offers this technology. When fully illuminated, the roof recreates a beautiful night sky thanks to 1344 fibre optic lights. The effect is pure magic, only elevated further by the presence of… wait for it… a random shooting star effect that, like all shooting stars, is a rare sighting that was enough to have me pull the car over to find out what all the squealing was coming from my overly excited passengers. It really is a magical experience like no other, and should be reason alone to invest in this marvellous new vehicle. What's more, I've since learned, that should one wish to, Rolls-Royce will tailor the lighting to match the night sky on a certain date. Magic.
Behind the wheel, the 2021 Rolls-Royce Cullinan Black Badge does an excellent job of pushing the SUV into a higher plane of performance without sacrificing the elegance, style and flair that has come to define the modern Rolls-Royce experience, especially when the newly tweaked V12 is allowed to sing at full song. The new exhaust system provides the sort of guttural growls one wants when taking the car from 0 to 100kms in less than 5 seconds. The wolf in vicuña clothing — as it rightly should — produces the sort of pops and crackles from the exhaust that demarcate the bold difference. This car may exude luxurious restraint, but when required will exert a level of 'don't f*** with me' enthusiasm and presence.
The verdict on the new 2021 Rolls-Royce Cullinan? This SUV is a hand-crafted rarity that is as much an automotive artwork as it is sublime, blissful transportation. And while that infamous magic carpet ride still exists (or as I have referred to it previously, the feeling of driving a marshmallow), so too does a down low sport mode that belies the muted restraint of its exterior. It's hard not to be charmed by something that takes luxury so extremely seriously.