What was once an early-1900s bungalow, the Melbourne-based Malvern II House, has been given a new lease on life as a fully adaptable family home. Architect Zoë Geyer's thoughtful addition of a new wing at the rear of the property allowed for the incorporation of a sleek and beautiful open-plan kitchen, living and dining room.
The home owner, Sarah Reid, is an interior designer whose design studio SR&O took care of the interiors, with an emphasis on making the home both beautiful and functional. The key, central hub for socialising and entertaining, the kitchen brief was for it to be attractive and welcoming, while remaining visually-uncluttered. An impressive marble island creates a sense of separation and the sizeable dining table is set into its own nook, within reachable distance of the built-in bar.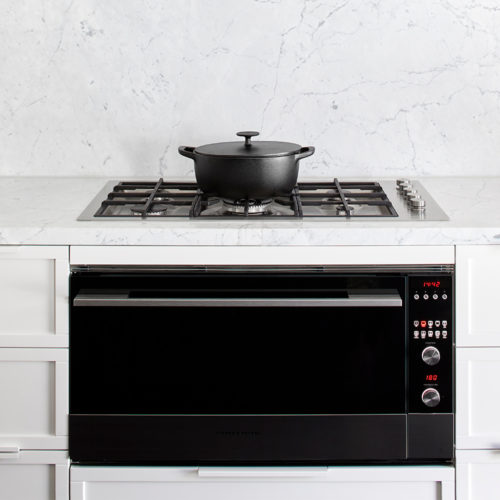 Fisher & Paykel appliances were chosen throughout for their ability to offer a high level of performance while providing the perfect fit and finish within the cabinetry. An integrated rangehood floats inconspicuously above the built-in oven which, while aesthetically minimal, functions perfectly for day-to-day cooking with its 900mm width.
Customisable appliances like the Fisher & Paykel Column refrigerator and freezer exemplify both aesthetics and functionality, providing design freedom with the ability to integrate the fronts so they're concealed seamlessly, and the interior of both fridge and freezer have variable temperature zones to create the perfect (customisable) climate for food.
Opposite the dining table, another hidden appliance reinforces the flexibility enjoyed by this house's residents. The CoolDrawer™ set within the bar's joinery, allows dark marble, timber and top-lit shelves of glassware to take centre stage visually, while offering five different food modes, including fridge, freezer, pantry, chill and wine. Supportive and functional, this thoughtfully designed family home certainly proves day-to-day practicality need not sacrifice aesthetics.
Styling: Bea & Co
Architecture: Zoë Geyer
Interior Design: SR&O