Here in New Zealand, a connection to the elements is an essential part of the everyday for many, intrinsically tied to our national psyche. Even in our biggest city, we're used to space, expansiveness and the peace that arrives with taking a moment to breathe in our clean, clear air. We are envied globally for our best-of-both-worlds lifestyle — and this is about to be taken to a whole new level with the imminent arrival of luxury high-rise apartment development Seascape.
Set to be the tallest residential building in the country when it is completed, the soaring presence of this Peddlethorp-designed, Shundi Group-developed project stakes its place on Customs Street East, mere strides from the bright lights of Britomart and all the inner-city has to offer. Owing to its unparalleled height, not only will Seascape's residents be in the midst of the action, they'll also be able to enjoy that much-desired sense of space thanks to breathtaking views across the Waitematā Harbour and to the Hauraki Gulf beyond.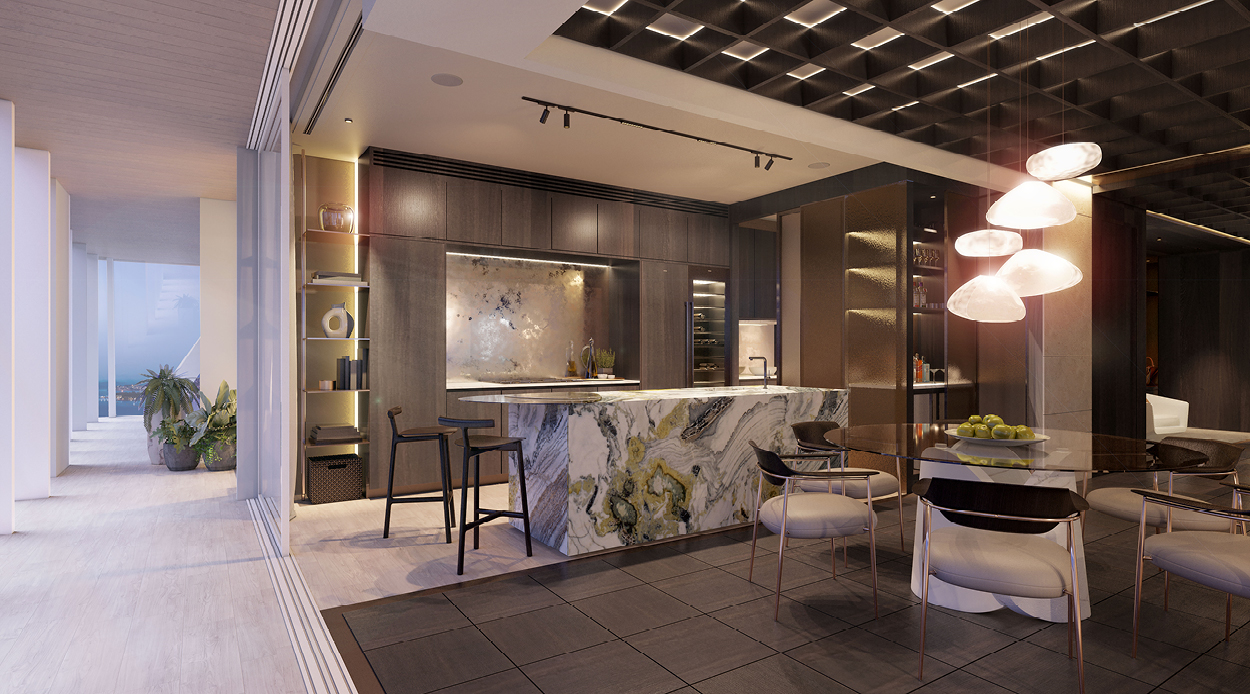 This sense of luxurious amplitude is to be at its peak within Seascape's penthouses, the composition of which will not only be finished to an exquisite standard, but will be entirely unique inside — each one able to be customised to the specifications of the purchaser's tastes and requirements.
There are five penthouses in total, which will take up a whole floor each — plus the master penthouse, which will sprawl sumptuously across the top two floors. UV-treated, ultra-clear, floor-to-ceiling glass is to offer a breathtaking outlook from over 130-metres in the air, supported by the innovative lattice mega-brace.
Inspired by New Zealand's dialogue between land and sea, one that Seascape takes its name from and will bear witness to from on high, this particular penthouse pictured (on level 47) has had each element customised by Y6 Interiors to form a meticulously considered narrative. It is a completely one-off design, emotively textured and harmoniously realised.
On stepping into this penthouse's entryway, richly dark-hued timber panelling will create a cocooning space to give an immediate feeling of comfort — and beckon the eyes towards the light shining from the dining area's sweeping windows.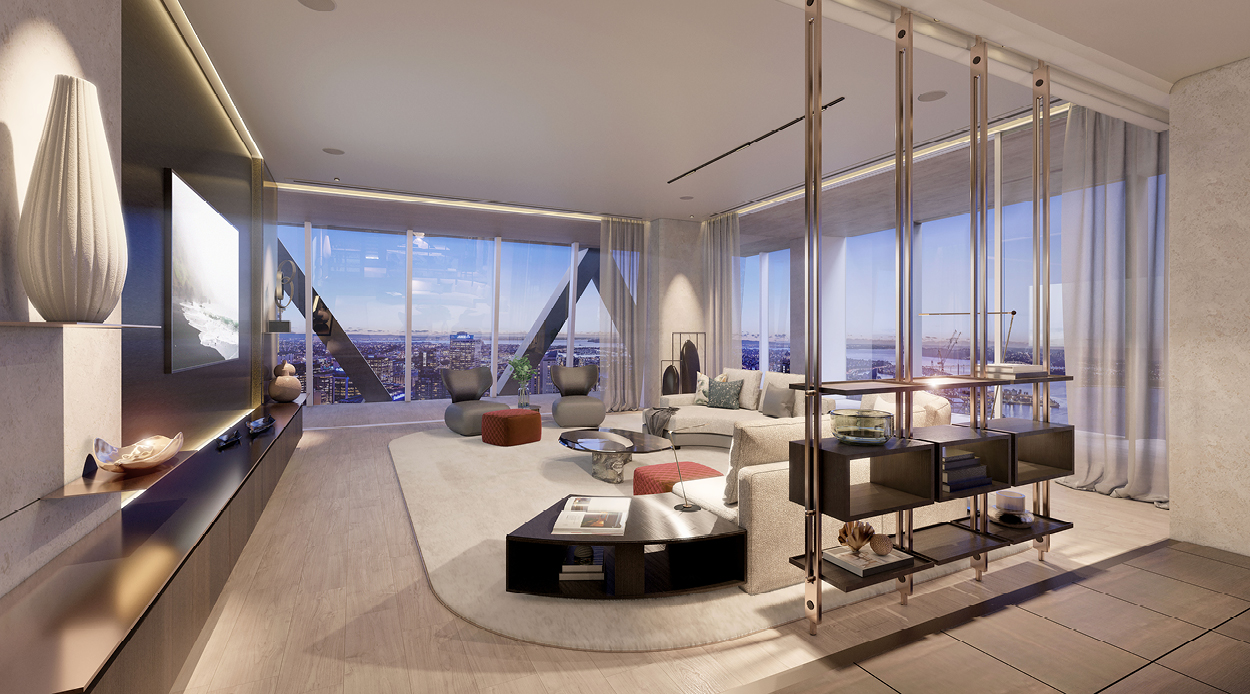 Open plan dining, kitchen and living areas will embrace almost 270-degree views of Auckland Harbour and Rangitoto and, in contrast to the intimate entrance, a lightness will be infused throughout, which mirrors the coastal environs. Features like a showstopping marble kitchen island will create textured liveability, while layers of materiality are designed in collaboration with local makers like Monmouth Glass Studio and Wilson & Dorset. Y6 Interiors has sourced elegant yet inviting furnishings exclusively for this project, from the likes of Simon James, Minotti and Amura.
While all four bedrooms will have ensuites, the master bathroom is to be a veritable haven of underfloor-heated, spa-like serenity — glimmering green marble, volcanic stone and organic lines will juxtapose Seascape's linear structure. The rainwater shower is to be especially unforgettable, purposefully placed on the building's perimeter so residents will almost feel as though they are showering outdoors (minus any prying eyes, thanks to the building's height).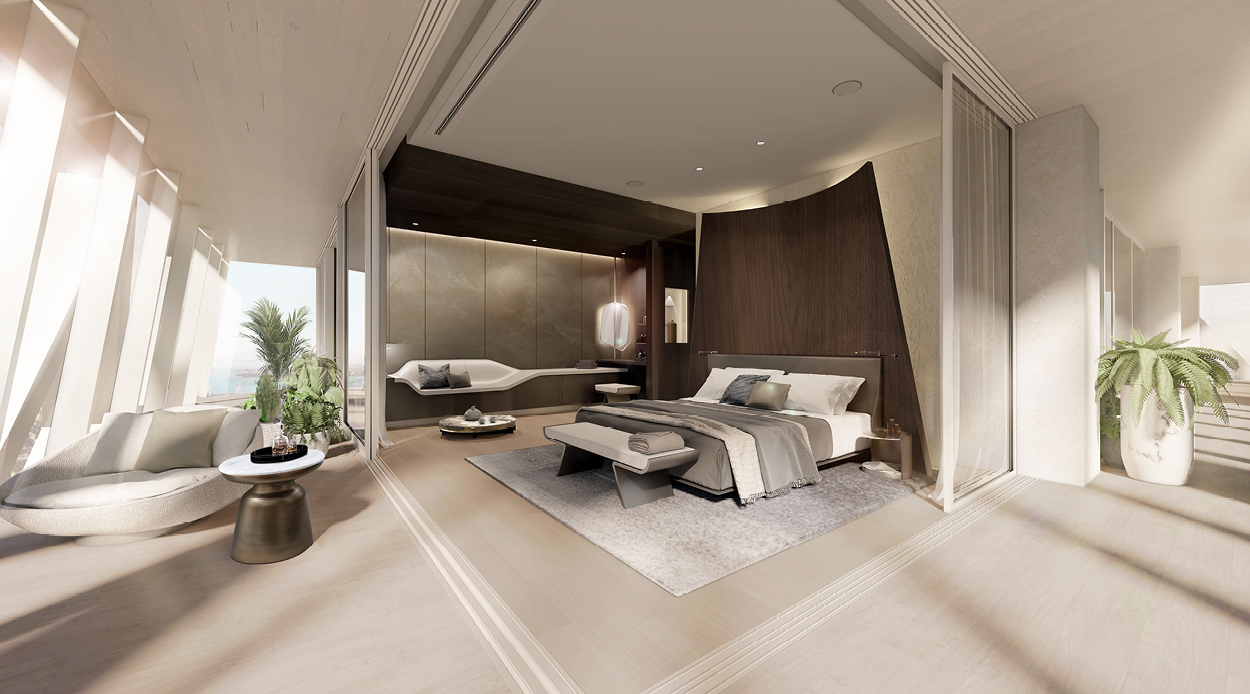 Wrapping around the penthouses will be extensive, 270-degree enclosable balconies, the real pièce de résistance of this lofty structure. Imagine hosting dinner parties, overlooking the glimmering lights of Auckland city at dusk, or simply taking in the horizon whenever you wish.
It's not just within the penthouses that a feeling of personalised luxury will permeate — from the moment residents step through Seascape's ground-floor doors, the highly polished standard will be evident. A stunning, grand lobby will feature an abundance of smooth marble tiling and glistening accents. Residents-only amenities are to include a pool and fitness facilities, and an expansive podium terrace complete with in-built seating and verdant planting, which is sure to be a hub for rubbing shoulders (should you wish) with your equally tastemaking neighbours.
They're not making any more land, or so the age-old sentiment goes, but Seascape doesn't have any issues with space as it stakes its place in the sky.
www.seascapeauckland.co.nz
www.y6.co.nz