A dishwasher is an essential item in any efficient kitchen, saving time, energy and water. The most popular dishwasher in New Zealand is the DishDrawerTM Dishwasher from the design team at homegrown heroes Fisher & Paykel. The machine has been a saviour for 25 years but to get the most out of it you need to stop making these widespread mistakes.
Mistake One: Rinsing Your Plates First
When confronted with the remnants of last night's leftovers on your crockery, it's tempting to give them a quick rinse in the sink before letting the dishwasher do its job. Before you know it you've practically cleaned the plate and most likely wasted a few litres of precious water along the way.
You need to stop rinsing your dishes in the sink now. Scrape away any large items into the appropriate rubbish bin and let your machine do the rest. Modern machines are able to determine the required cleaning cycle while many detergents actually require dirt for the required enzymes to attach and do their job.
The Fisher & Paykel DishDrawerTM uses SmartDriveTM motor technology, similar to that used in washing machines, to make sure that your Riedel stemware sparkles and is fine-tuned to a low decibel rating, allowing you to get to sleep while it cleans up after your big night. It also saves more water than washing in the sink. Each DishDrawerTM uses only 7 litres of water per cycle, while sink handwashing uses an average of 15 litres.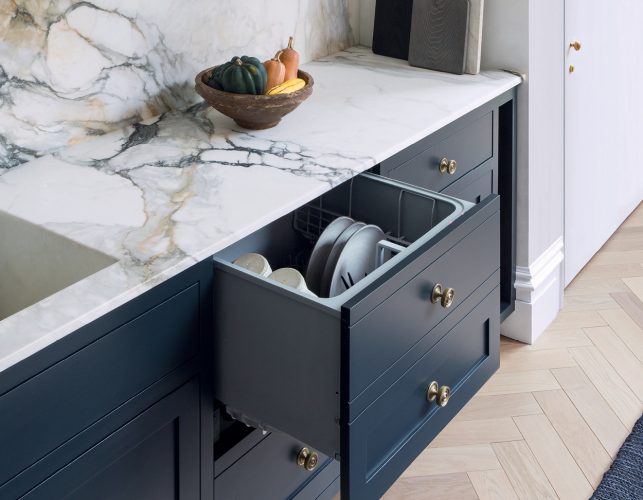 Mistake Two: Letting Your Cutlery Spoon
In the eagerness to be organised many of us place spoons with spoons, forks with forks and knives with knives but if you let cutlery cluster you may end up with cutlery that hasn't cleaned properly. It's important to make sure that pieces are evenly spaced in the cutlery basket so that the spray will reach dirty areas.
Mistake Three: Ignoring The Spray Arms
The Spray Arms inside your dishwasher are the machine's most important feature, saving you from a lifetime spent hunched over the sink with a tea towel on your shoulder. Ignore this mechanism at your own peril and make sure that the arms have clear access to dirty dishes. This means stacking larger items where it won't obstruct the spray arm or the flow of water.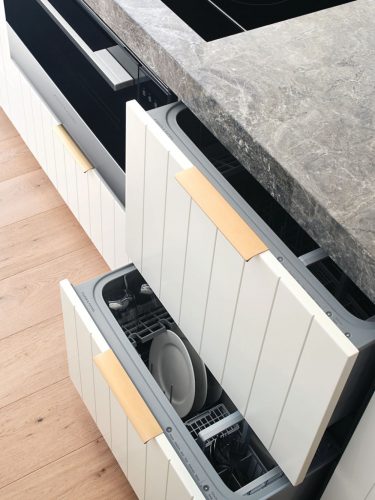 Mistake Four: Unloading the Top Tray First
We all know that we should carefully place mugs and cups in the top tray. Sometimes during a wash cycle these will overturn and can gather dirty water, which when unloading can splash on the plates and pots below.
You can avoid this problem altogether with a DishDrawerTM. One drawer can take care of all the pots you used attempting to make lasagne, while the other drawer delicately cleans the red wine glasses that made it seem like the best Italian dish this side of Puglia. Independent operating systems mean that you can perform these different wash functions at the same time.