Design industry insiders will know the trials and tribulations of working within a heritage-listed home. In these addresses, creativity is limited, with every decision required to adhere to a certain code. And while many designers will see this as a nuisance, for those with the right vision, restrictions can offer an abundance of opportunity; a brief where creative problem solving is required. Luckily then, it was Edoardo Mapelli Mozzi and his revered London design studio and property development company Banda, who were tasked with giving this historic townhouse on the cusp of Notting Hill a much-needed facelift. Choosing to see the numerous restrictions as a welcome challenge and creating, as a result, a home that offers contemporary living with old world charm, Mapelli Mozzi proved why his impeccable design prowess has become so widely sought after.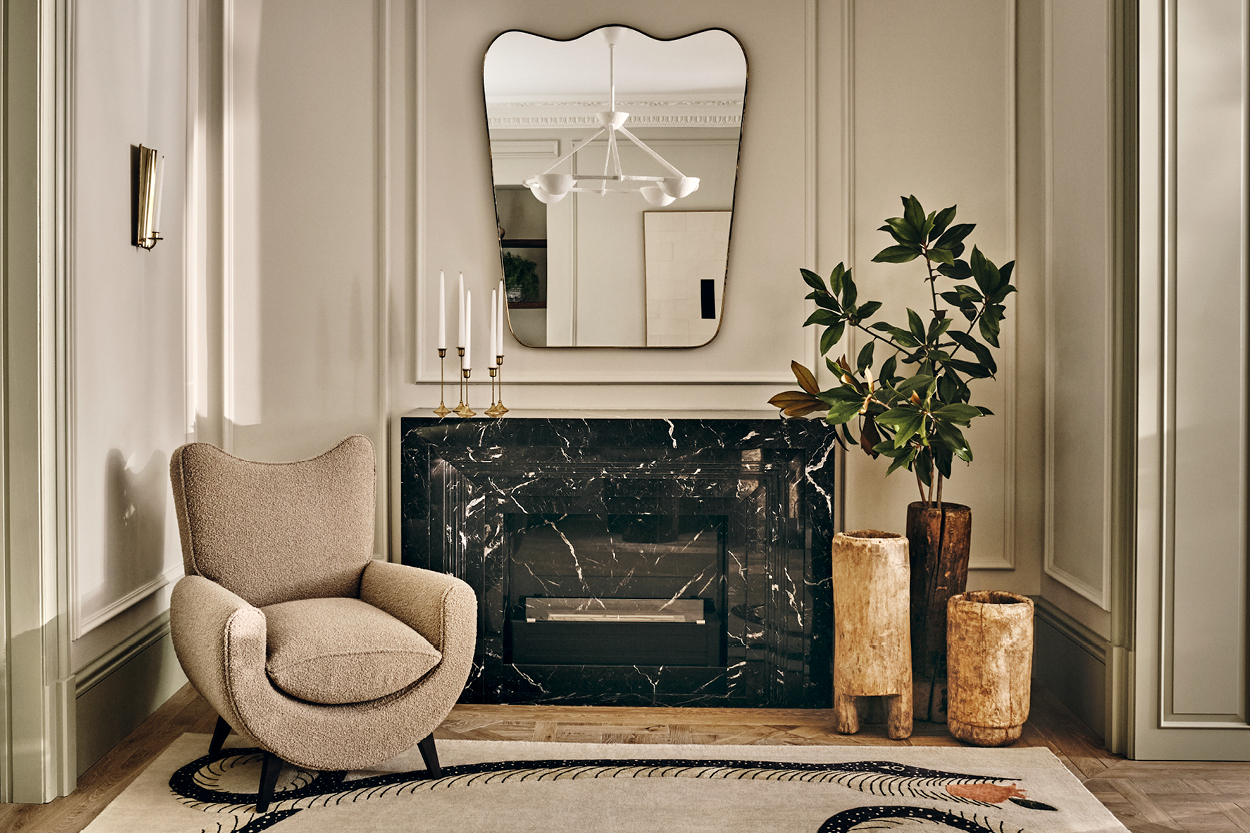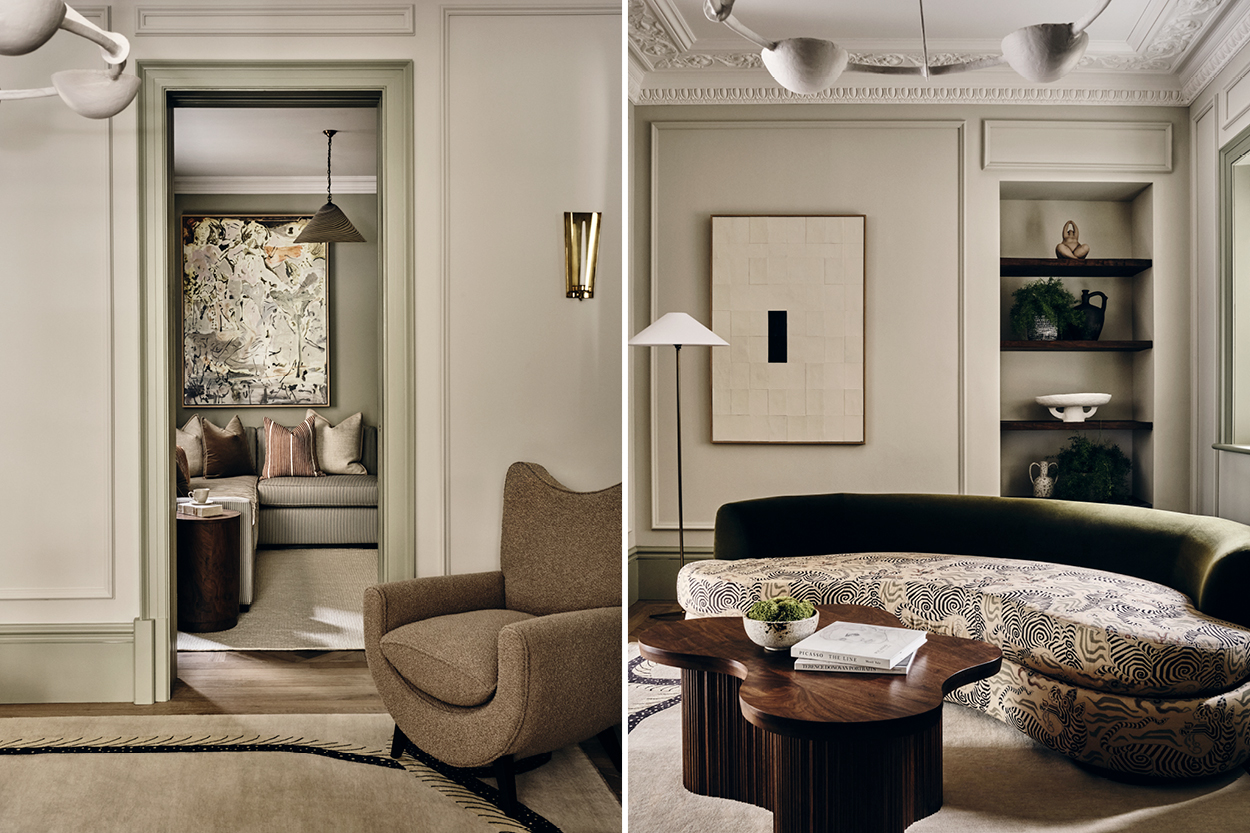 Designed during London's lockdown for a family who wanted a home in which they could comfortably spend extended periods of time (if necessary) the renovation brief called for comfort as much as it did luxury and finesse. It is for this reason that the bedrooms became retreats, home offices became integrated and a dedicated space for entertainment was added as an essential amenity. But at the core of this reimagining was a desire for calm tactility and spaces that offered some much-needed privacy, where a family could happily coexist in a space that felt as sophisticated as it did practical.
Notting Hill Townhouse has all the makings of a Victorian classic, and still retains the unassuming stucco exterior that would lead you to believe the house had remained otherwise untouched. Located in Leinster Square, the circa-1850 Grade II-listed facade has been meticulously restored to its former glory, and at first glance, a similar treatment has been applied to the interiors. Even the original cornices were fastidiously restored (something that Mapelli Mozzi says he was particularly proud of). In fact, the beauty of this home is in the way that the refurbishment blends so seamlessly with the historic bones, so that it's only after a double-take that the extent of its re-design becomes so wonderfully obvious.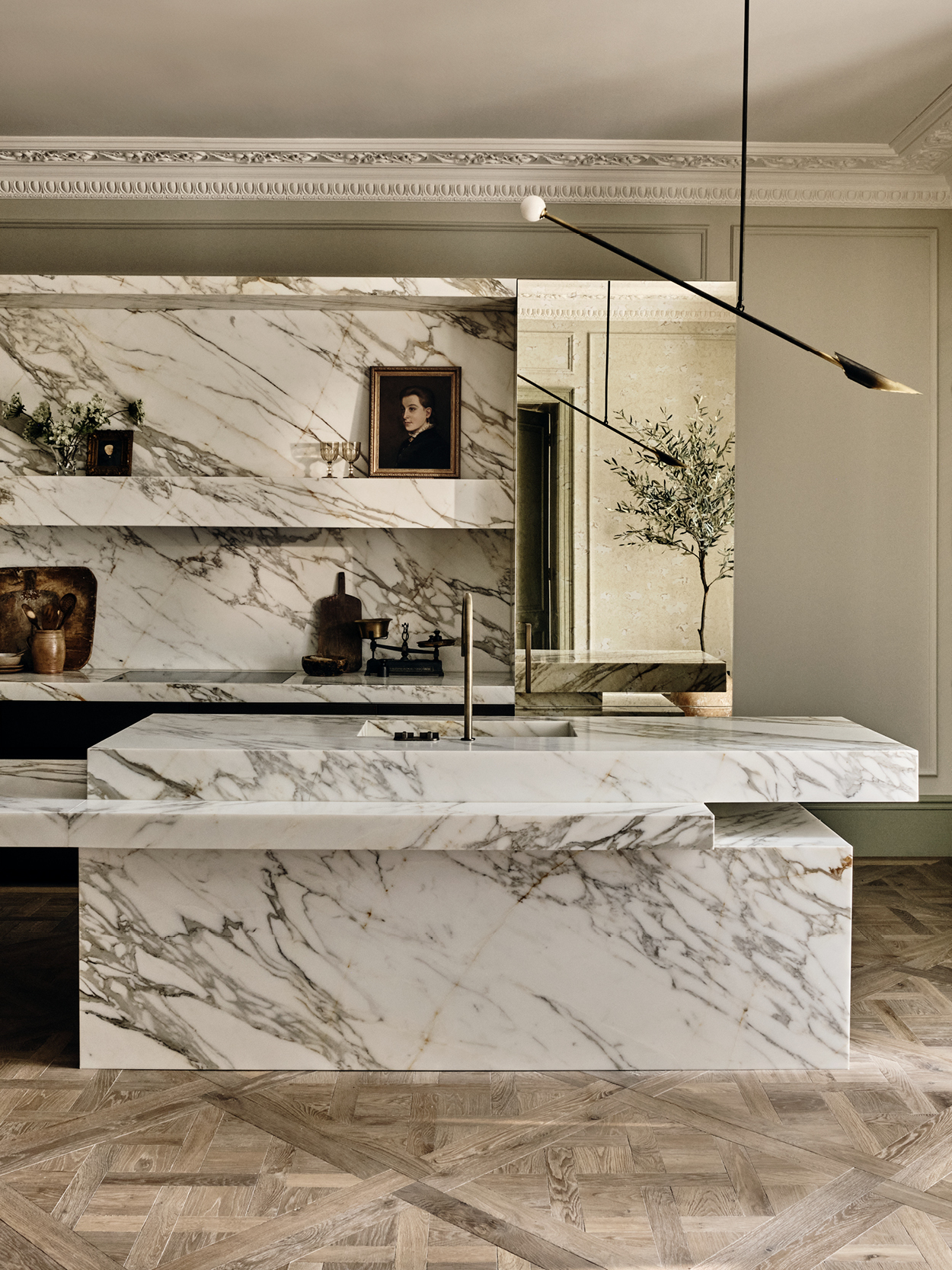 Consider the kitchen, for instance, where grand slabs of marble form the cantilevered central island and shelving behind it, and intricate floorboards give the allure of a Parisian apartment. These details feel like they belong, but are ultra-modern in their presence — best exemplified by the gilded cabinetry that adds an of-the-moment appeal to the space, and speaks to the eclectic design language that has been used throughout the townhouse.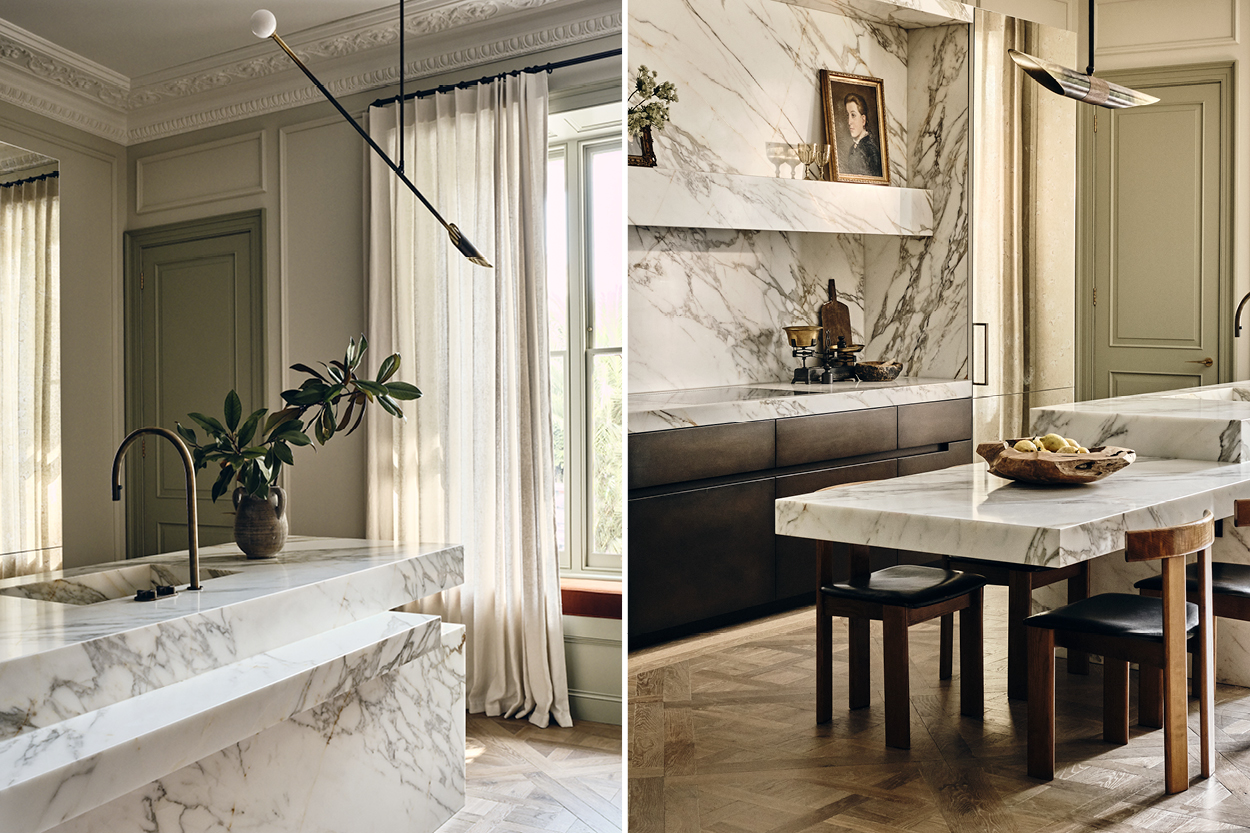 This idea is perhaps most clearly seen in the home's colour palette, which is bold and unexpected without being out-of-place or grating. Walls finished in swathes of burnt crimson or steely blue meet those covered in delightfully whimsical wallpaper (in the nursery) or even amaretto-toned suede (in the home cinema). While in the dining space and micro-library (complete with a study-nook), vertical wooden dowelling and LED strip lights add a decidedly modern look, so that any necessary tech doesn't appear out of place. Perhaps the reason this eclecticism works so well is due to the palette of creamy neutrals (light timber floorboards, white marble and warm walnut) that provides the home a chic foundation.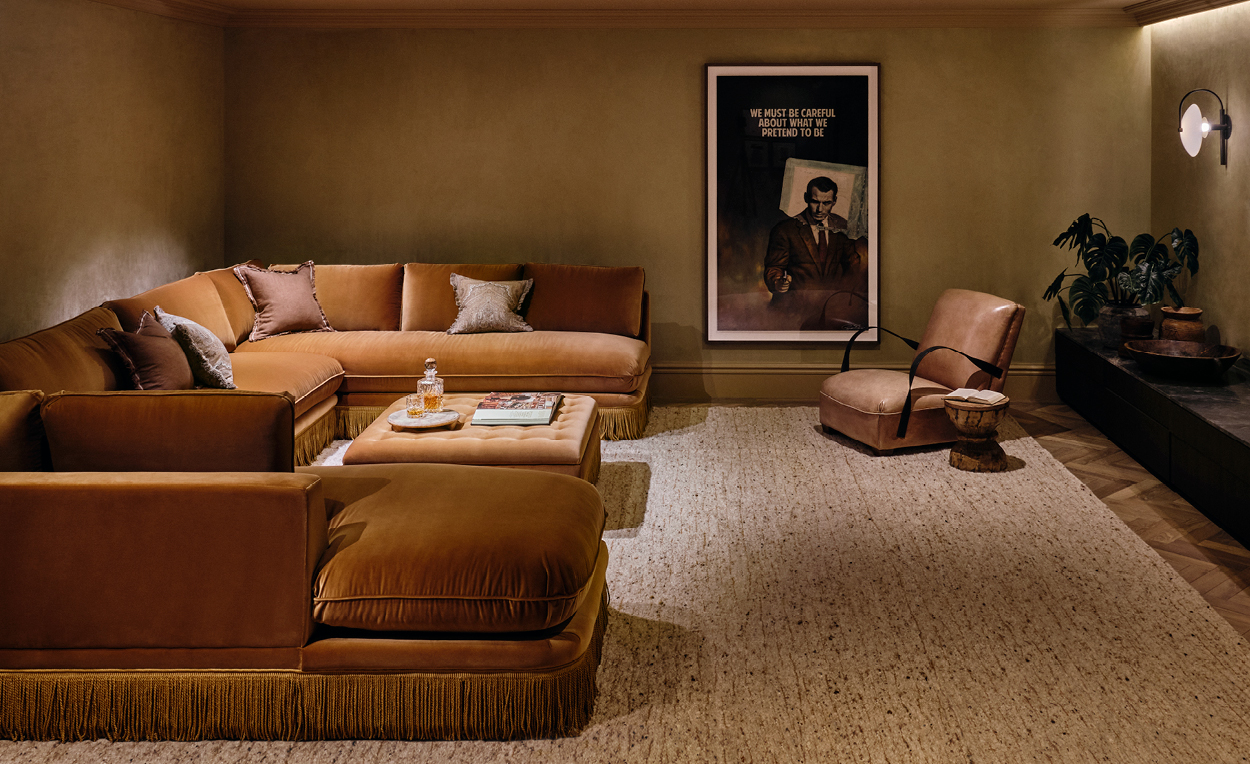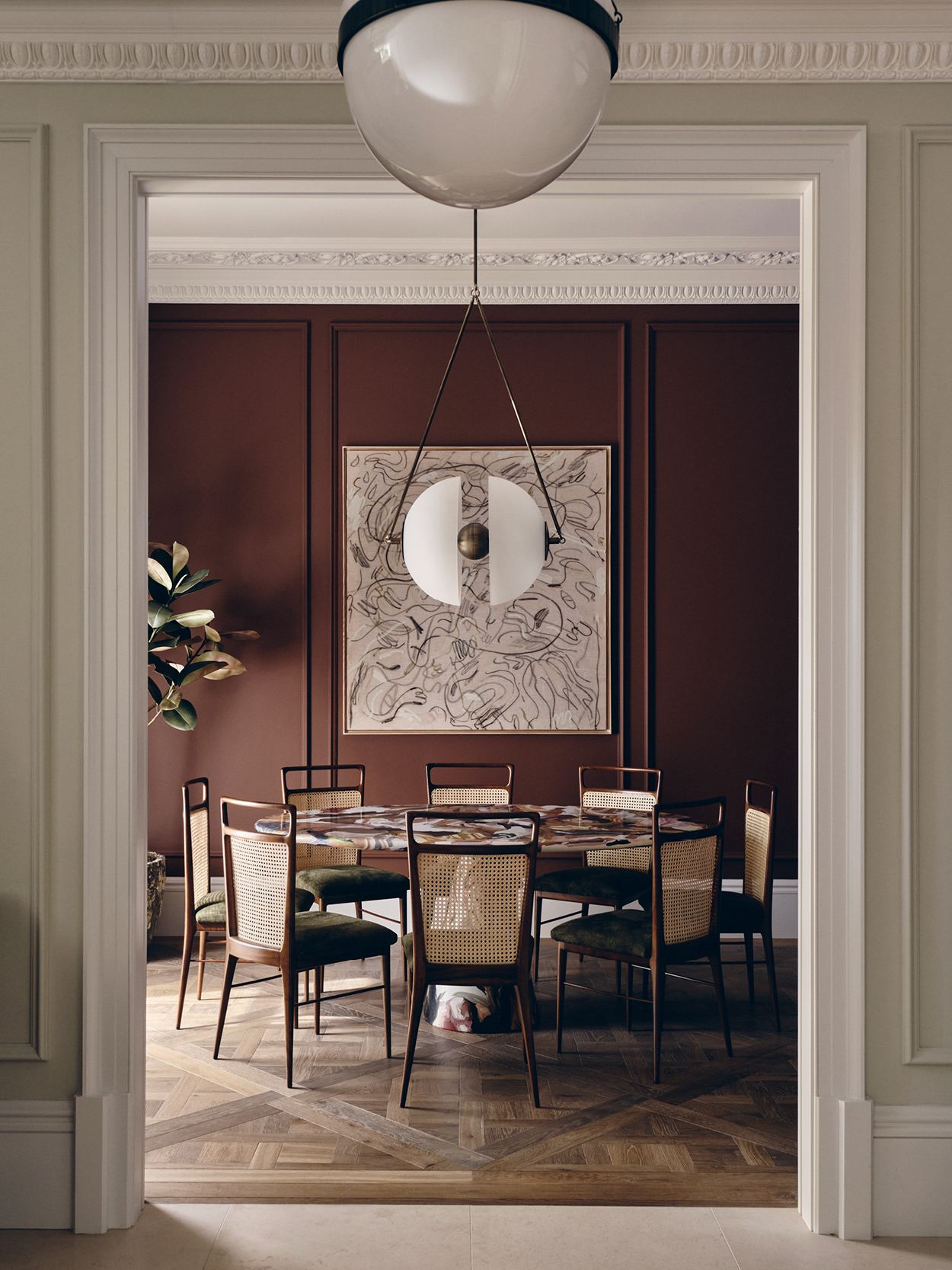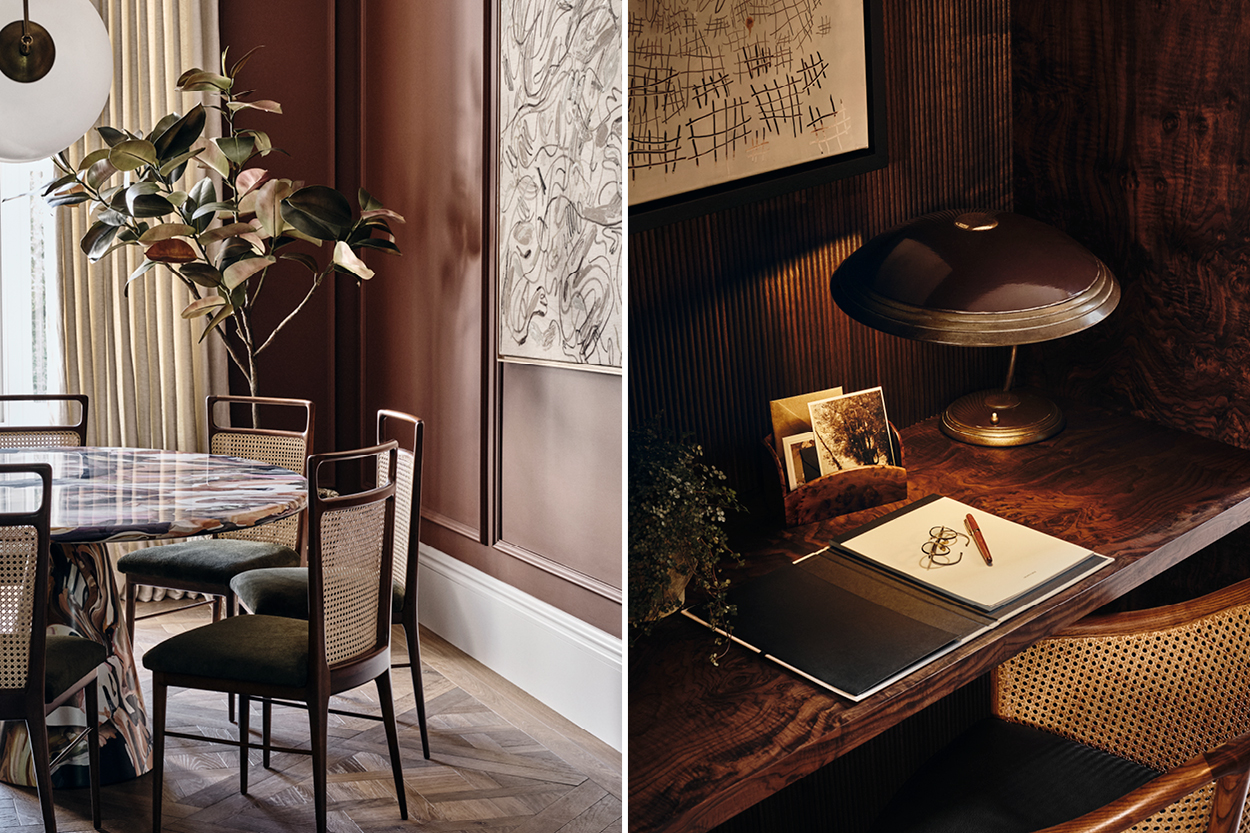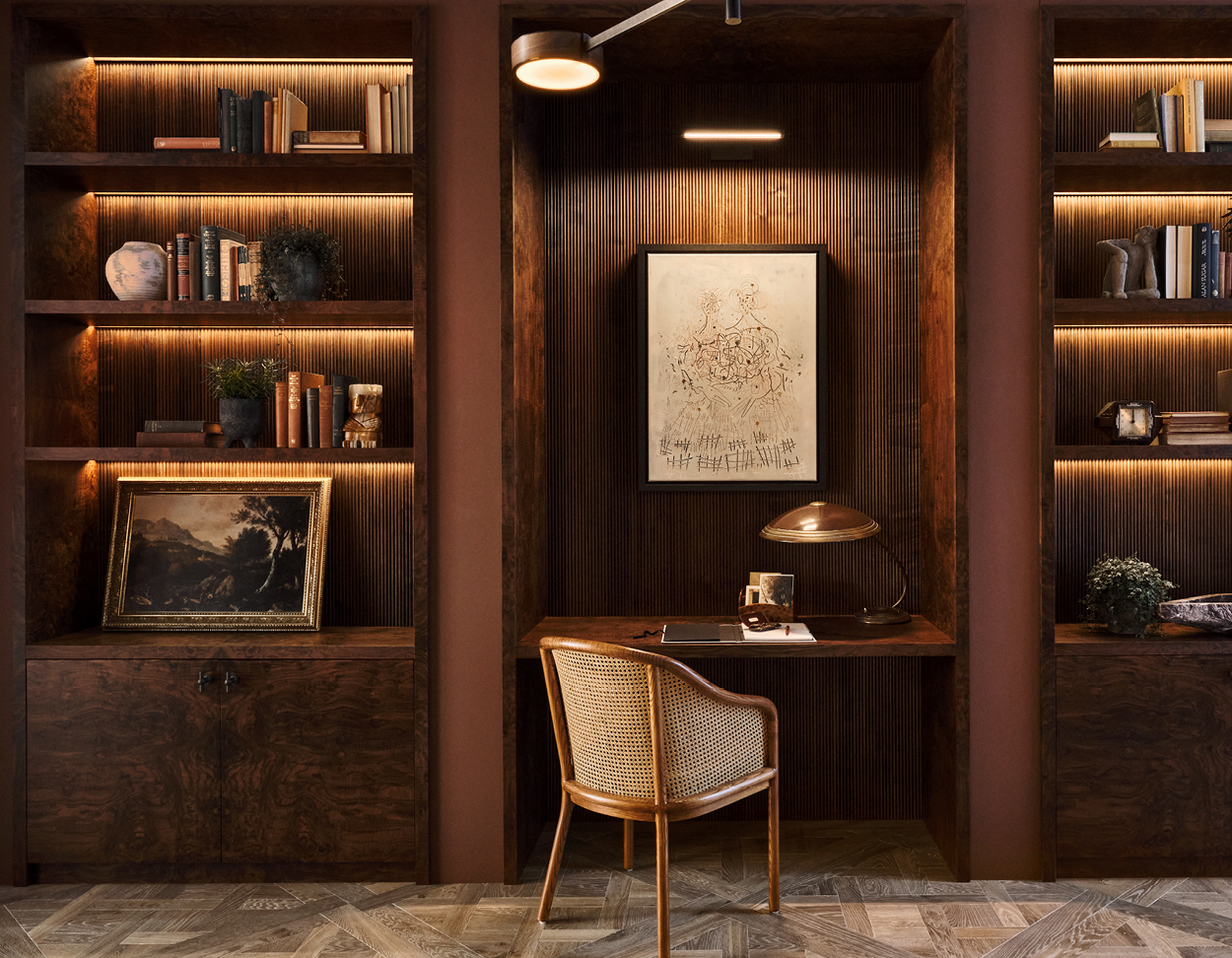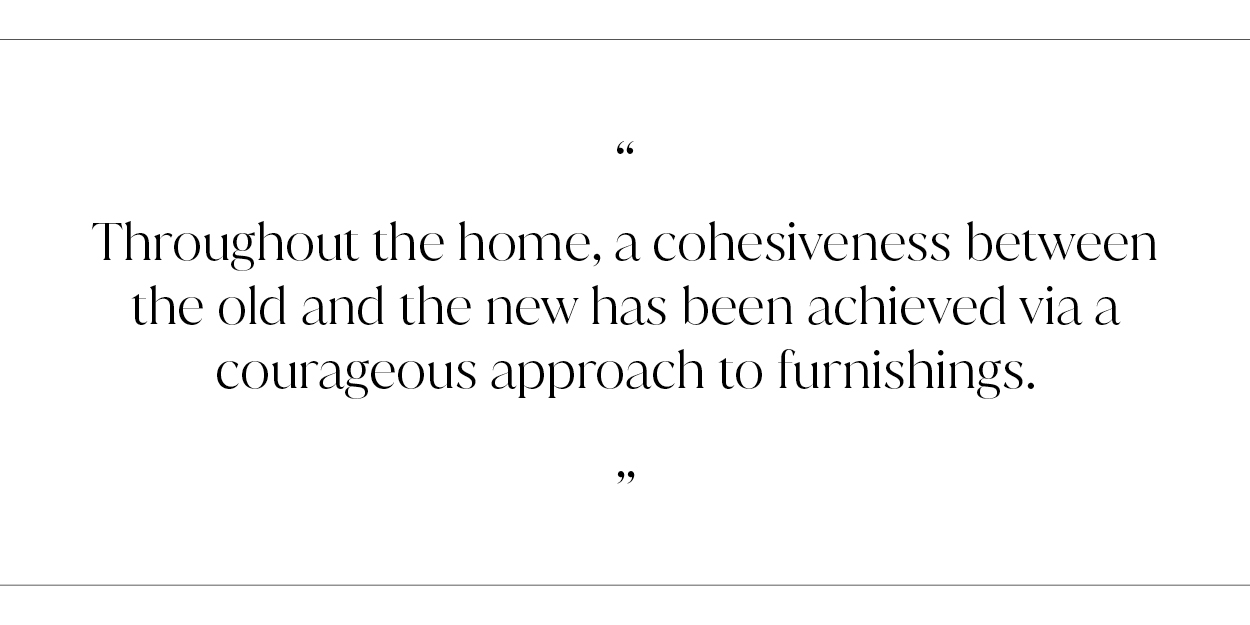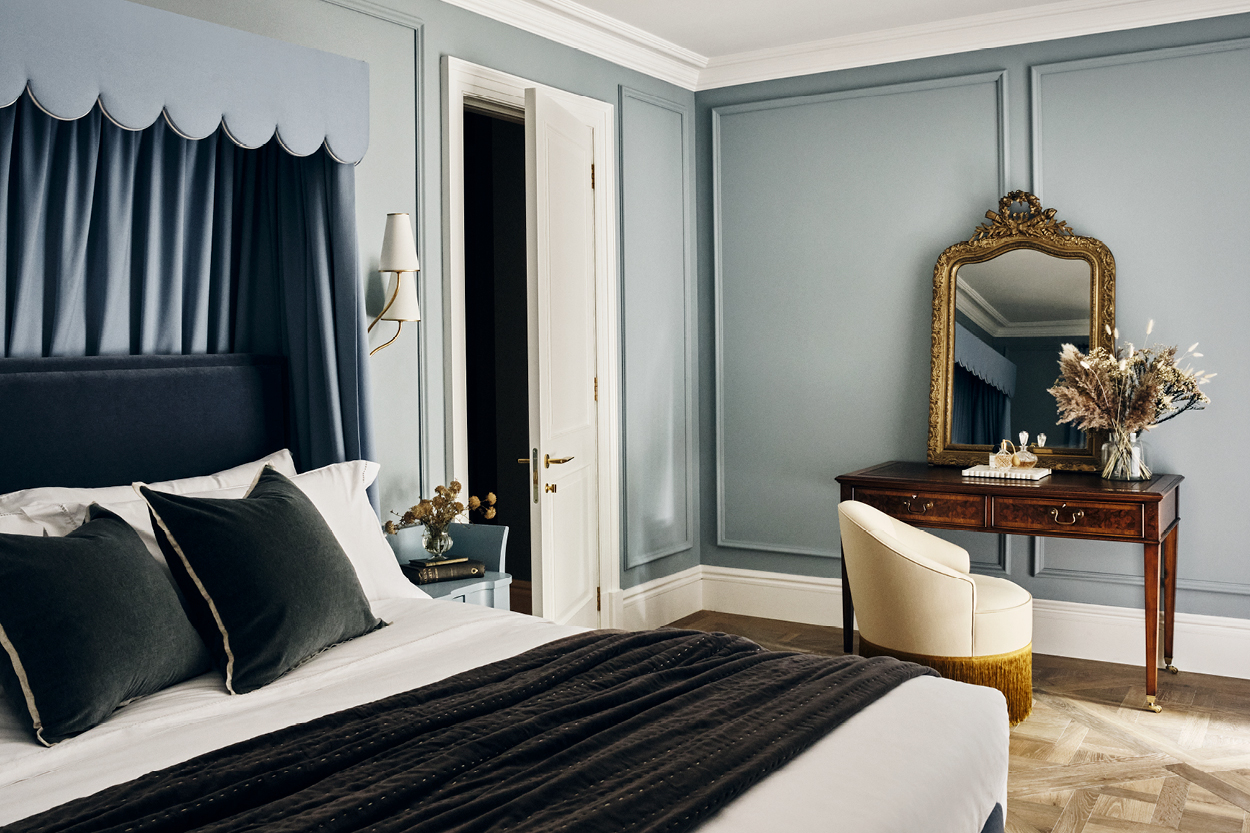 The master suite offers a taste of the London blues, where a dynamic layer of royal colouring is decidedly soothing, offering a sanctuary to which one could quite happily retreat. Bespoke furniture forms the main pieces in this room, with an upholstered wave headboard and bed base sitting cohesively alongside various antique furnishings (like an Italian nightstand) that speak more directly to the home's 19th Century origins.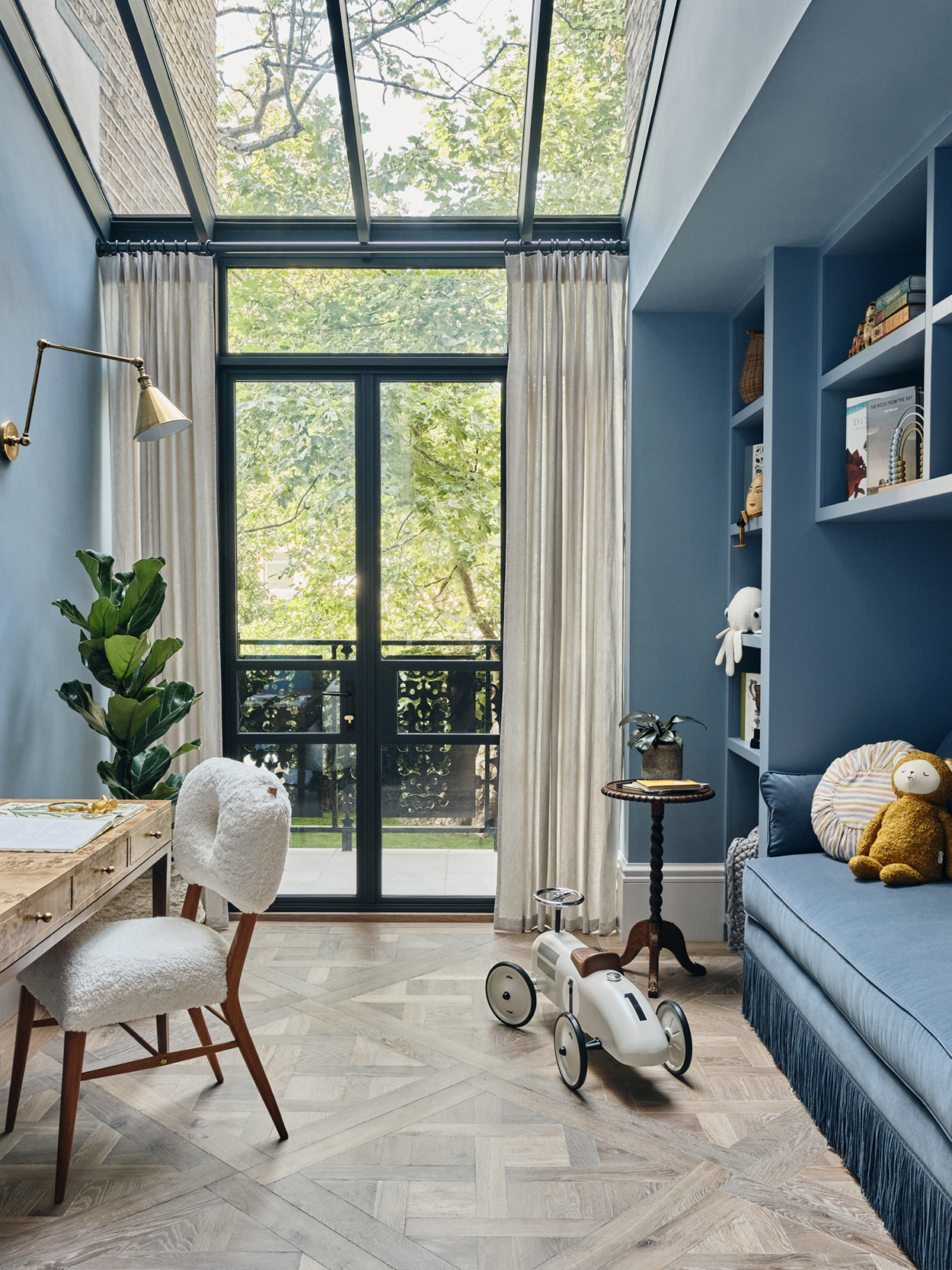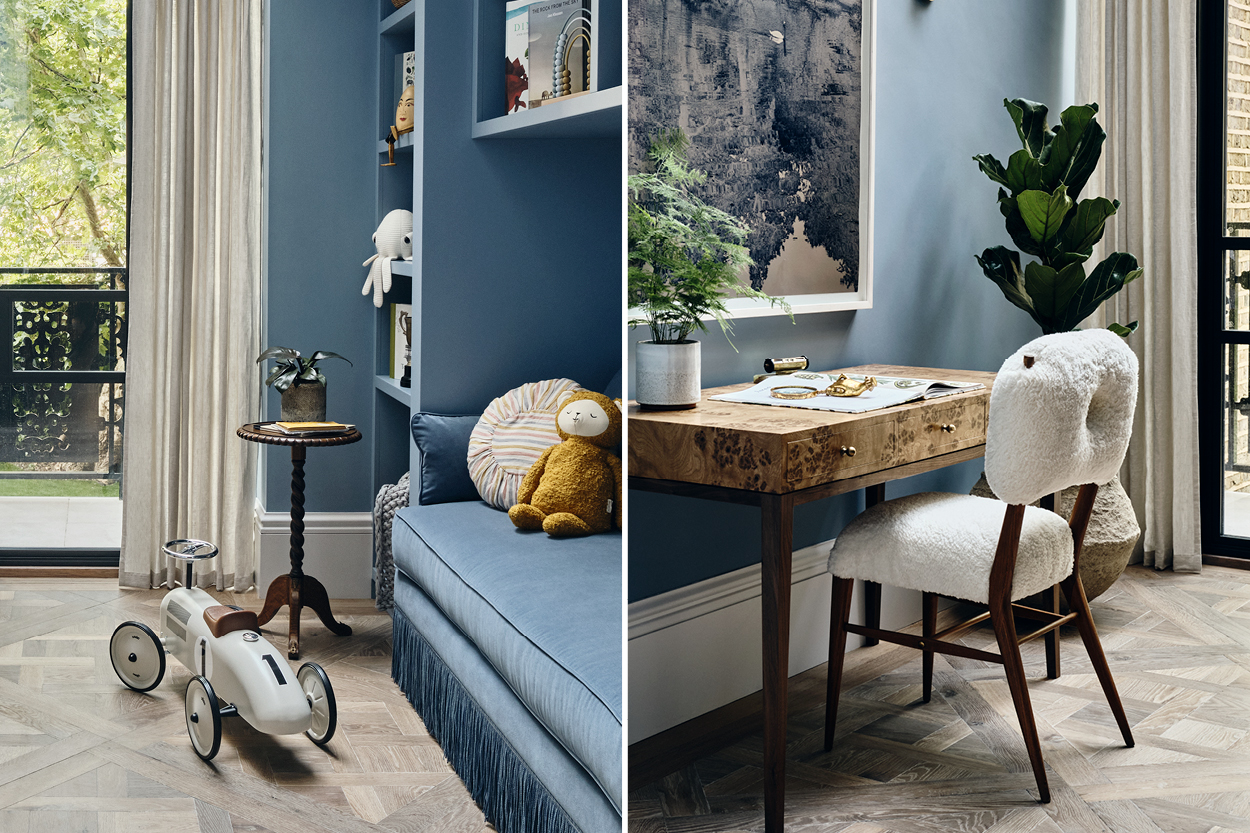 In the nursery, the design becomes more playful, with a fun Safari wallpaper to inspire dreams of adventure in young minds. Here, a glass atrium offers views out to the leafy London suburb, while a dedicated reading nook and cosy den provide the perfect place for the kids to spend alone time, lost in their imaginations.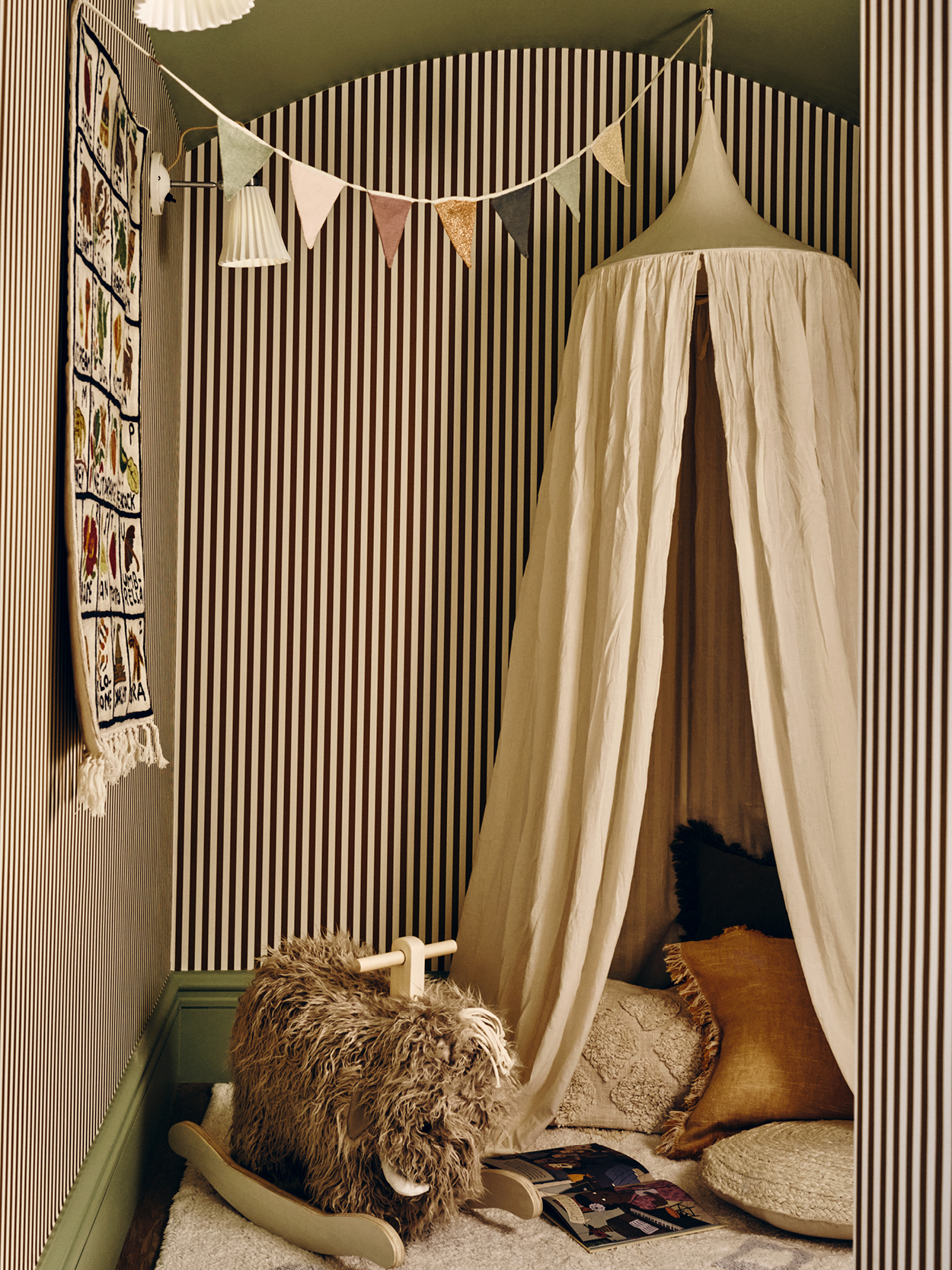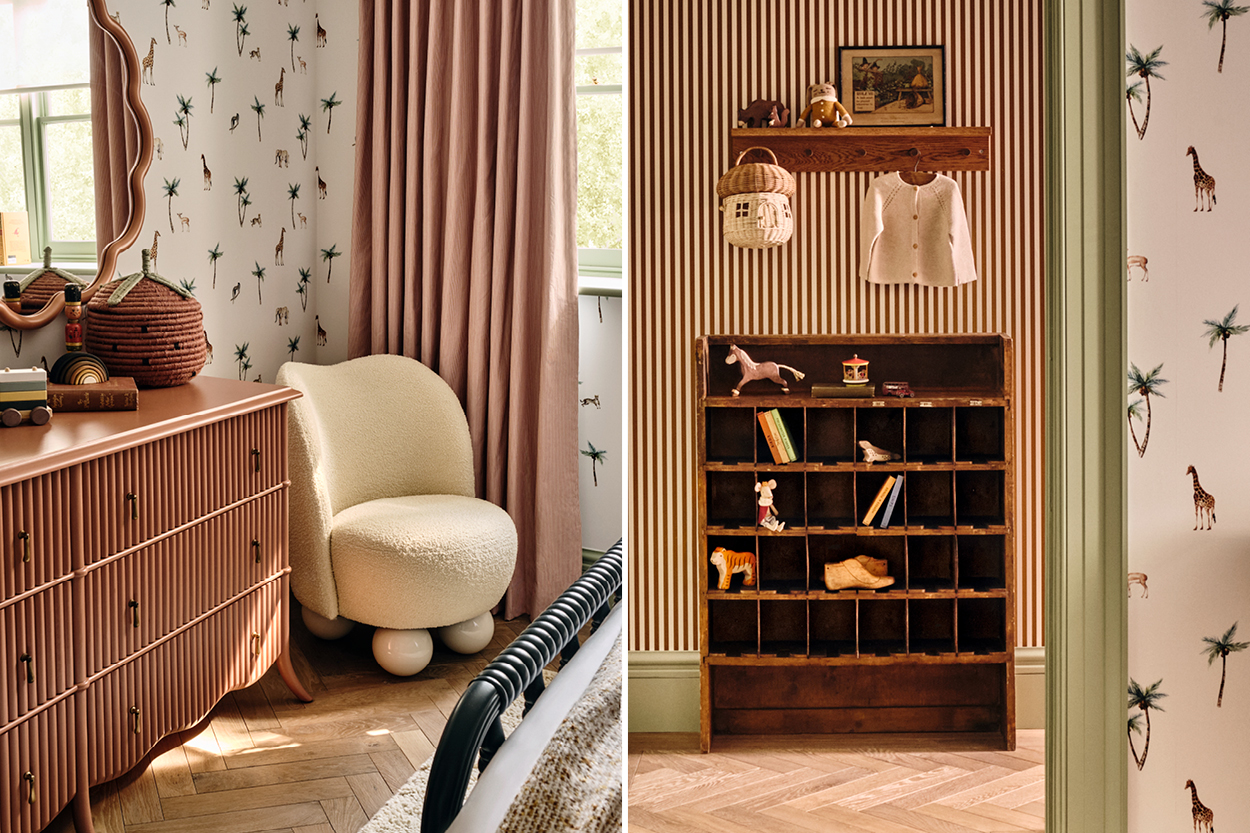 Throughout the home, a cohesiveness between the old and the new has been achieved via a courageous approach to furnishings. Lighting, for example, sees a combination of wall sconces, chandeliers and table lamps that run the gamut of time-periods and styles (some uber-modern, some wonderfully ornate) — all of which make statements in their own ways. Similarly, the furniture used not only offers tactile, warm accents, but stands as an ode to the designers' commitment to putting exceptional materials at the heart of this home — from curved, bouclé armchairs to shearling and velvet upholstery to rattan-backed chairs.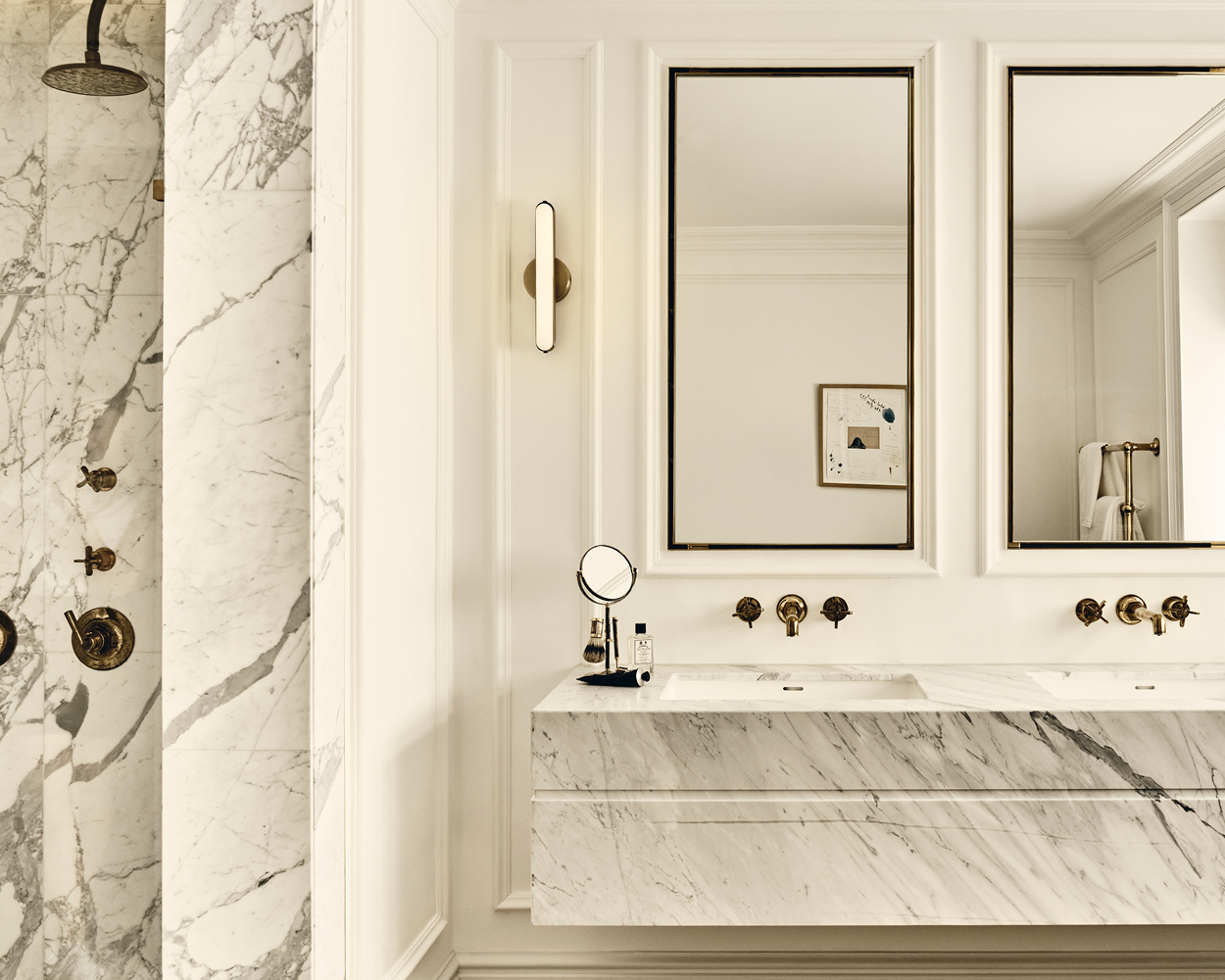 And lest we forget perhaps the most delightful addition for days spent indoors; the primary bathroom, complete with an undulating marble-slab-clad bathtub and brandished brass fixtures — a nod to the home's history. It is here that the idea of an urban retreat is exemplified (large bathrooms being a particular luxury in London), where an opulent material has been exquisitely tempered with historic details to feel less 'glamour' and more 'grandeur.'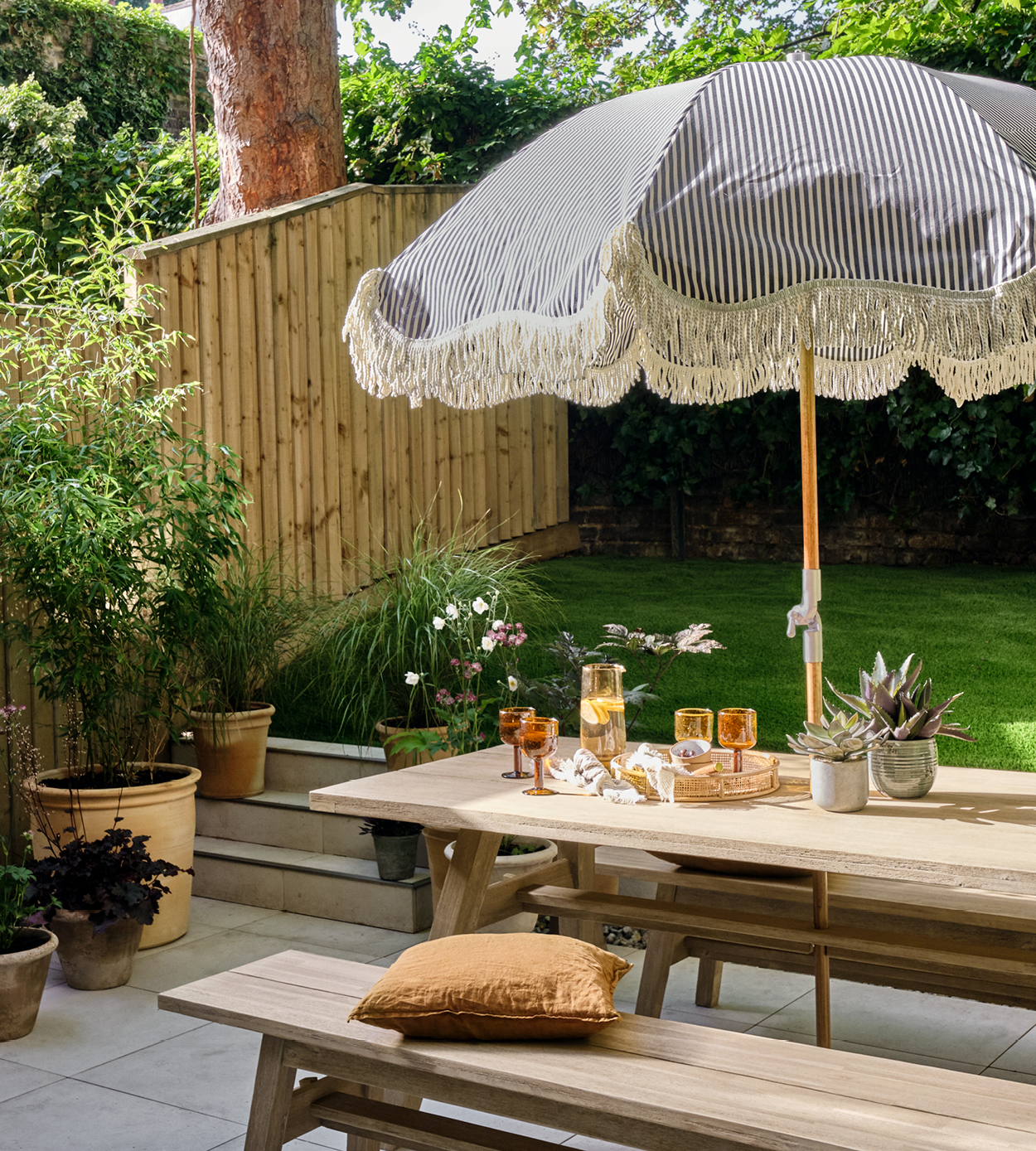 In designing a home that is as beautiful as it is highly practical for the realities of family life, Mapelli Mozzi and his team at Banda have triumphed. Designed for living, the Notting Hill Townhouse is a stellar example of the kind of exceptional modern spaces that can be created within a historic shell, and is certainly somewhere we wouldn't mind whiling away our days.