He is the highest point scorer in international test rugby, a three-time International Rugby Player of the Year, and is widely touted as the greatest first five-eighth to ever play the game, but Dan Carter's stellar career has been defined by more than just his achievements on paper.
His role in cultivating a sense of teamwork (in every team he has played for), his unparalleled resilience under pressure and the culture of winning he has whittled down to a fine art are all integral to Carter's legacy and — now that the All Black great has officially hung up his boots — are coming to the fore as key parts of his post-rugby life, too.
"I've known that I wanted to finish playing rugby for a while now," Carter tells me, "but being in lockdown in New Zealand with my family put everything into perspective." He continues, "I just realised that I didn't want to sign another contract overseas and I didn't have the drive to play rugby here… so I knew I was done."
For Carter, the need to explore new challenges coupled with a desire to spend more time with his young family, drove the decision to retire just shy of 39 years old, prompting an outpouring from the international rugby community of congratulatory odes to his historic career and lamentations that he was leaving the sport on which he had such a significant impact.
"To be able to retire on my own terms, with my body feeling fit and healthy so that I can still run around and play with my kids," Carter says, "I feel very fortunate. Not every rugby player gets that kind of retirement."
Indeed, life after retirement is looking bright for Carter, even if (by his own admission) he is still figuring it all out.
"For the last 18 years, my purpose has been to be the best rugby player in the world… that's what would get me out of bed in the morning," he explains, "so when that finished, I had to look at what my purpose was now, and how I could take what I had learned playing sport at the highest level and put that to use in other areas, like business."
Surprisingly, the skills Carter honed as a sportsman are not only translatable to other fields, but fields that at first, feel far removed from the rectangular green ones he is used to.
"I'm doing some work with Oxford University," he tells me, "they have an entrepreneurial centre for their students called The Oxford Foundry, and I'll be working with them on an ongoing basis, helping to mentor some of their young students and lending my knowledge and learnings around leadership to the programme."
He was also recently asked to speak to Oxford University's surgical team, explaining how he addressed the correlation between their internal dynamics and those of the teams on which he had played, like the All Blacks.
"Whether you're a sportsman or a scientist," he says, "everyone is trying to succeed, and we all have pressures on us. Given my experience working with teams on the field, I think I can help bring a good perspective and speak to the ideas more broadly…. and it's exciting," he continues, "I feel like a whole new world is opening up."
In a similar vein, Carter was also recently asked to address the scientists working tirelessly on creating the AstraZeneca Covid-19 vaccine. "I talked to them about performance under pressure and resilience," he says, "to try and help them with what they've been going through over the last 10-or-so months."
And while vaccine creation might feel a world away from professional sport, that feeling of having to perform under pressure is universal. In Carter's case, being able to share his learnings around not only dealing with that feeling but getting to a place now, where he welcomes it, is helpful to anyone, in any situation.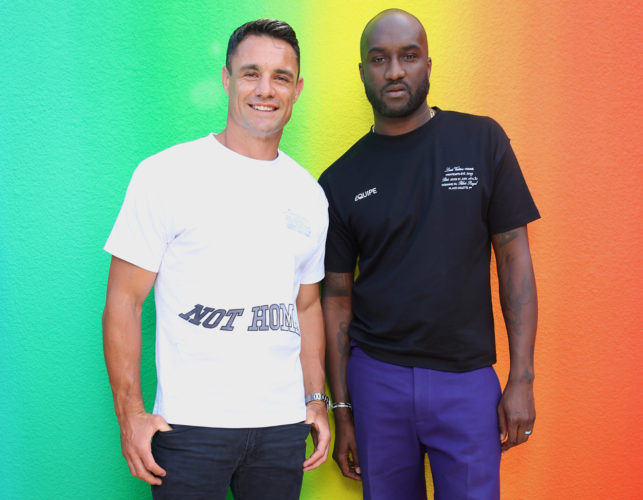 "Building resilience is about accepting that things can go wrong, and that it's okay to take some time to grieve before you establish new goals," Carter tells me. "Some of my biggest learnings came when I was pulled out of the Rugby World Cup in 2011 because of an injury. So when I speak to people, I'll tap into what I went through to deal with that disappointment before finally being part of the World Cup-winning side four years later, to offer them tools for when they come up against situations where their resilience is tested."
More than anything, retirement has put into sharp focus for Carter the ways in which he can take his rugby experiences and all that he misses from playing professional sport, and give them new focus.
He had his first taste of this when a stint living in Paris opened him up to the world of high-end fashion. Having established a relationship with luxury juggernaut LVMH, Carter was asked to conduct a Q&A with a conference of Louis Vuitton's global GMs, in which he realised just how much his experiences around building a culture, encouraging strong vision, a mindset of growth and the importance of work ethic and humility were as applicable to the work of those in the audience as they had been to him in his career.
In the subsequent years, Carter continued to build on his interest in fashion, collaborating with LVMH on projects (like his monogrammed rugby ball) and sitting front-row at some of the company's most important fashion shows (like Virgil Abloh's debut as the menswear designer for Louis Vuitton).
When asked whether he'll be putting his name to anything in the fashion sphere now, Carter remains equivocal but excited. "It's still early days, but I have few projects on the go around retail, fashion and design which will be unveiled later this year" he says, not giving too much away, "I really enjoy working in this space."
Of course, Carter will continue to work alongside a number of entities with which he has longstanding affiliations, and as he tells me, takes his position as someone who can make a real impact, seriously.
"I have an amazing platform to give back, and so will continue to focus on the foundation that I started with Richie McCaw and Ali Williams, iSport, as well as continuing in my role as an ambassador for UNICEF, both here and globally."
Despite having already had a significant impact on a whole new generation of rugby players, Carter is aspiring to something similar in his post-retirement pursuits. But don't expect this to be Dan Carter 2.0.
Rather than seeing his new opportunities as some kind of rebrand, Carter is simply seeking to redirect his influence, carrying his cache over from the insular world of sport to an assortment of projects that feel timely and intriguing. It is rare to encounter an ex-sports-star so willing to step outside their comfort zone.
In fact, Carter's transition presents as a unique study of a sportsman for whom sport certainly won't be the only defining career point and whose legacy will likely extend well beyond the bounds of rugby alone.
"I feel like I'm right back where I started," Carter says, "before my first test match, and I need to get comfortable with being uncomfortable because that's where the biggest growth is." He continues, "if it's all too easy over the next 10 years, I can tell you I won't be achieving much, so I'm excited for the challenges that lie ahead."