Talented florist Isabel Johnston first started in the floristry industry around eight years ago, and quickly built up a reputation for her signature naturalistic designs.
Johnston founded Isadia Floral with co-florist Lydia Reusser in November 2020, and together the duo is even more in demand for their unstructured yet elegant bouquets and floral arrangements that incorporate foraged plants, as well as flowers sourced from Auckland's flower markets.
Isadia offers retail bouquets and subscription flowers, personalised in-home and workspace styling, and flowers for weddings and events, with regular clients that include Muse Boutique, Kowtow, Fabric, Knight Associates and Monmouth Glass Studio.
With her innate eye for beauty and a love for supporting local or independent designers and retailers, here Johnston shares some of her favourite things.
What I do for a job described in one sentence: I am the co-founder of floral design studio Isadia.
My personal style can be defined by: Being a florist is messy work so most of the time it's practical — a combo of chunky knits and good denim paired with a nice pair of boots.
The last thing I bought and loved was: A red knit jumper from Paloma Wool, I am a big-time fan of the label and will be living in it this winter.
An unforgettable place I visited was: Croatia — everything about it is magical.
The next place I'd like to go to: Back to Italy! My favourite place in the world.
An object I would never part with is: My late dad's guitar.
On my wish list is: A puppy!
The design (building, person, item) that inspires me is: Dutch landscape designer Piet Oudolf — he is my idol.
My guilty pleasure is: The Real Housewives of Beverly Hills.
My secret talent is: My friends and I recently learnt a line dancing routine… not so secret but definitely a new talent I am excited to bring out at a party.
The best book I've read in the last year is: Auē by Becky Manawatu.
I can't miss an episode of: Mare of Easttown. I am a sucker for a good crime thriller.
My morning routine is: An early morning walk and coffee with my mum. I will treasure every moment I have living close to her and it always sets me up for a good day.
In my fridge you'll always find: Anchovies, capers and olives for whipping up my all-time favourite dish pasta puttanesca.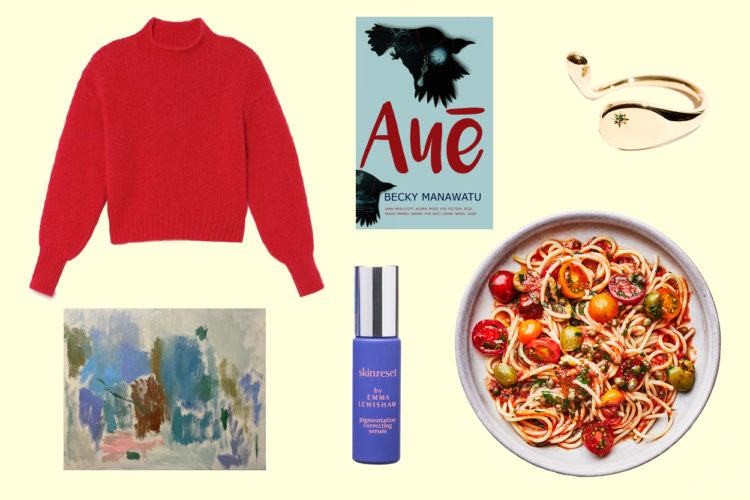 My favourite website is: The Planthunter — a beautiful online journal focusing on art, design, landscapes and culture in the plant world.
A gadget I can't do without is: My phone — it's a love/hate relationship being able to carry work in my pocket
The one artist whose work I would collect is (if price is not an issue): I recently fell in love with Auckland based Andrea Bolima's paintings. I would love to have one of her pieces on my wall at home.
The last meal out I had that truly impressed me was: We recently moved into a studio on Anzac Ave and discovered the best Indian food in Auckland at Hobson Indian Takeaways. It's a small hole in the wall and the samosa chats are incredible.
The podcasts I listen to are: This Is Love and Criminal — I am a big Phoebe Judge fan. I also embarrassingly enjoy a cheeky dose of My Favorite Murder for my true crime/comedy fix.
The best gift I ever received was: My friends got me the most incredible ring from Hera Saabi for my birthday this year. I will treasure it for the rest of my life!
The beauty/ grooming product I can't live without is: The Emma Lewisham Skin Reset Serum. It's magic.
The last music I downloaded was: Emahoy Tsequé-Maryam Guèbrou.
If I wasn't doing what I am, I would be: I studied landscape design and would love to practice this at some stage in my life! My business partner Lydia also studied and worked in the industry for a few years and we have chatted about incorporating this into our business at some stage in the future.
I have a collection of: Beach trinkets! My partner and I have a tradition of collecting little mementoes in the form of a shell or a cool looking rock each time we go on an adventure together.
My favourite way to unwind is: Hanging out with my cat PJ and my partner Richie — my two favourite people in the world.
One of the best pieces of advice I've ever received is: To live life in the present and be grateful for everything you have. Cliché but true.